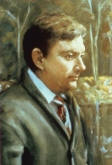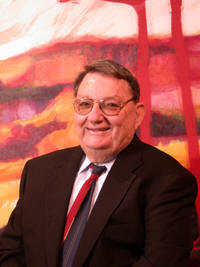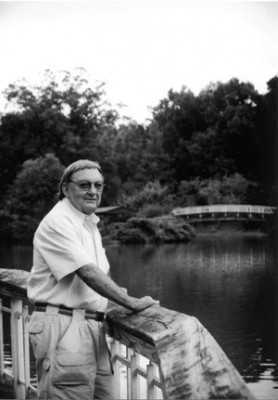 RICHARD (DICK) CHEVALIER BELL, FASLA, FAAR (1928-2020)
Born and raised by two generations of gardeners in Manteo NC, Dick Bell first came to Raleigh to attend NCSU studying landscape architecture. As a student, he assisted with the actual master plan of the University. He graduated in 1950 and, at age 21, was the youngest person ever to receive the prestigious Rome Prize Fellowship for study at the American Academy in Rome for two years. He apprenticed under Simonds & Simonds in Pittsburgh PA and Fred Stressau in Fort Lauderdale FL before returning to Raleigh to start his practice. Over 50 years, he designed many important area projects, including:

Figure Eight Island * Stone Mountain GA Master Plan * Pilot Mountain NC Master Plan * NC Legislative Building Grounds * Peace College Master Plan * NC Mutual Plaza * Shearon Harris Nuclear Plant * Falls Lake Master Plan * St. Mary's College Soccer Field and Serpentine Fence *Appalachian State University Master Plan * Painter Blvd (Greensboro) * 1964 Highway Beautification (I-95 between Wilson & Fayetteville) * 1962 Southeastern Flower & Garden Show at Dorton Arena
Bell did landscape design on several Modernist houses, including:
The Kistler-Hollstein House, Fayetteville, designed by Dan MacMillan
The Gerald Bell house, Chapel Hill, designed by Sumner Winn
The Joe Rowand Residence, Hillsborough, designed by Phil Szostak
The Frank Anderson House, Raleigh, designed by Milton Small
The Doug Fleet House, Figure Eight Island, designed by Oxenfeld and Newkirk
The Joan and Bob Allen House, Fayetteville, designed by Mason Hicks
The Mott P. and Jane McCulloch Blair, III House #2, Siler City, designed by Arthur Cogswell
Bell was the first recipient of the Award for Distinguished Professional Achievement from the NC Chapter of the American Society of Landscape Architects and a 2000 recipient of the Sir Walter Raleigh Award for Community Appearance. In 2014, he was awarded the ASLA Medal for Lifetime Achievements and Contributions to the Profession. His book is The Bridge Builders.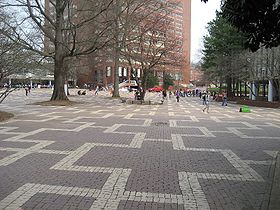 NCSU Brickyard, Raleigh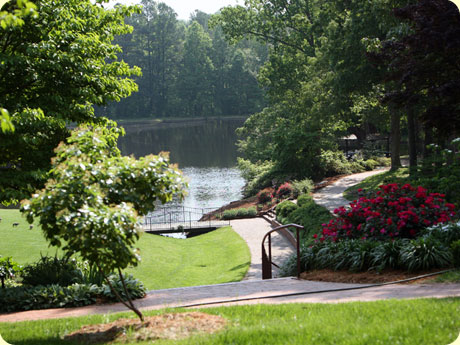 Meredith College, Raleigh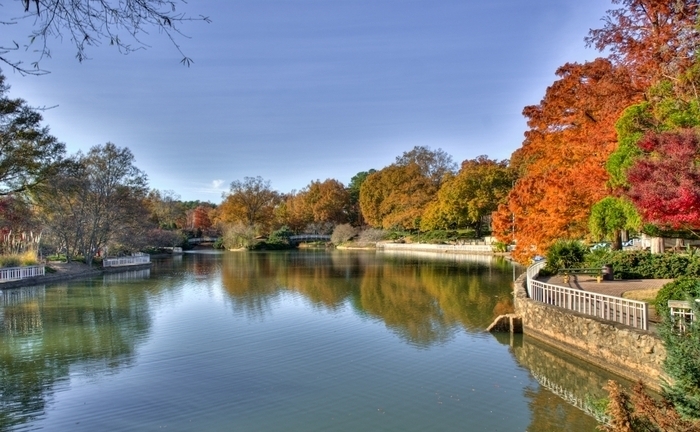 Pullen Park, Raleigh
Article on Bell and the Water Garden
Bell began building the Water Garden, one of Raleigh's first mixed-use developments, on 11 acres in 1955. At a time when "environmentally sensitive" was rarely mentioned, Bell created a place to live and work. From here grew one of the most substantial practices of landscape architecture in North Carolina. He also used the Water Garden as a living example of his belief that buildings should tread lightly upon the land and exist in harmony with the natural terrain and natural resources. Tucked among the stately hardwoods and pines, nestled with, rather than against, the landscape's natural grade and carefully preserved wetlands, Water Garden's contemporary buildings have always been completely at ease in their environment. Unable to maintain the buildings, Bell sold the property in 2007 to Nick Francis and Matt Somner who plan to redevelop it into a senior active residential community.
---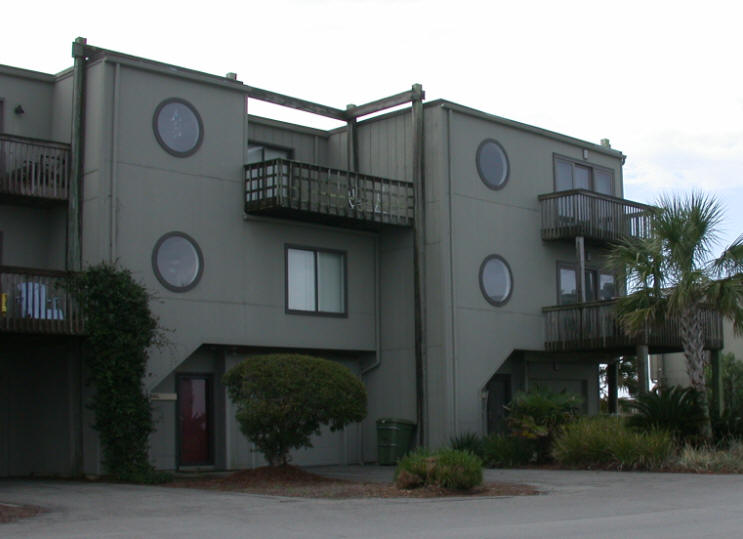 Around 1976 - Master Plan Development, Landscape Design and Conceptual Architectural Design for the Multi-family-Townhouses located in 8 1/2 Marina Village, Atlantic Beach NC with James Willis as the collaborating architect. Coastal management told Bell that he could not damage one blade of grass in building this project, a goal he met. Bell also saved the "maritime forest" of live oaks that were on the property, still there as of 2013.
---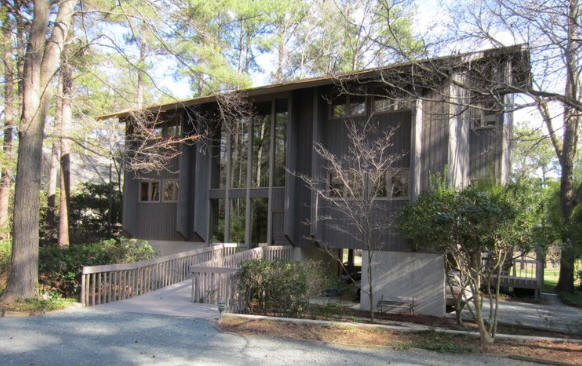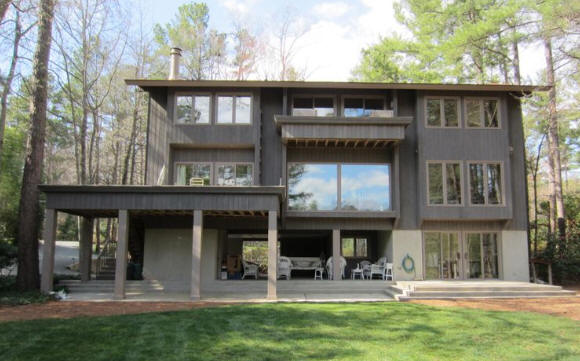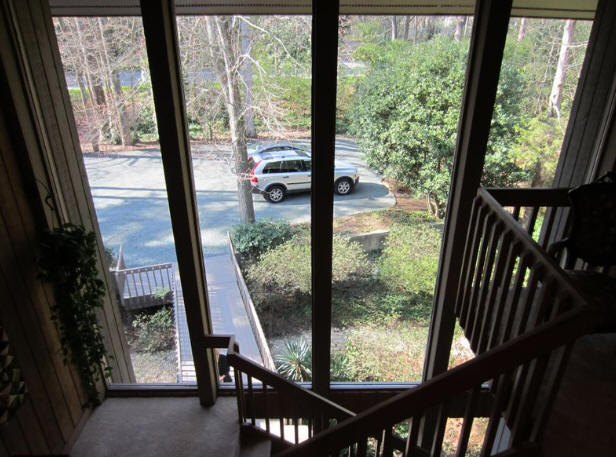 1977 - The Tom and Jo Anne Rose House, 2012 North Lakeshore Lane, Chapel Hill NC. Bell did the house design and the landscape design. Built by Security Building Company. Sold in 2012 to Elizabeth and Jeff Stringer.
---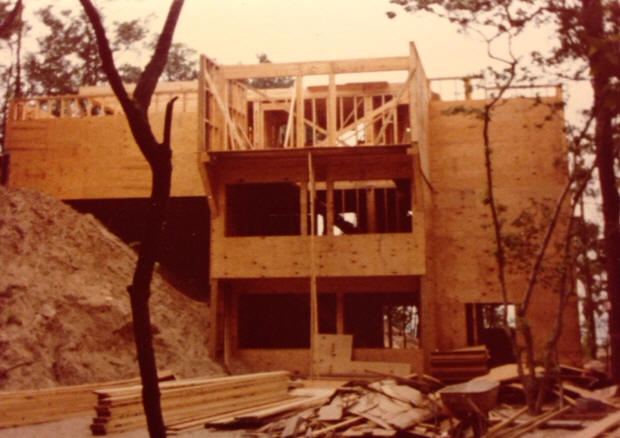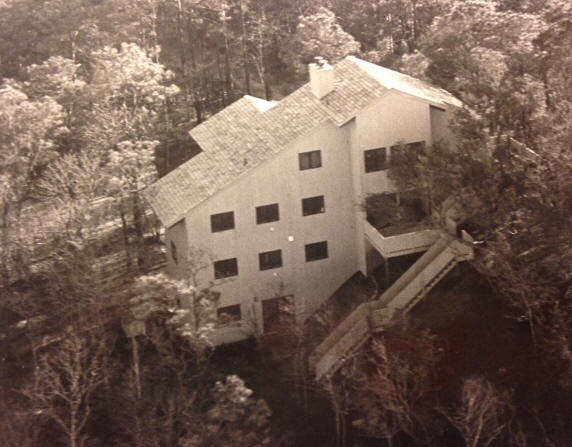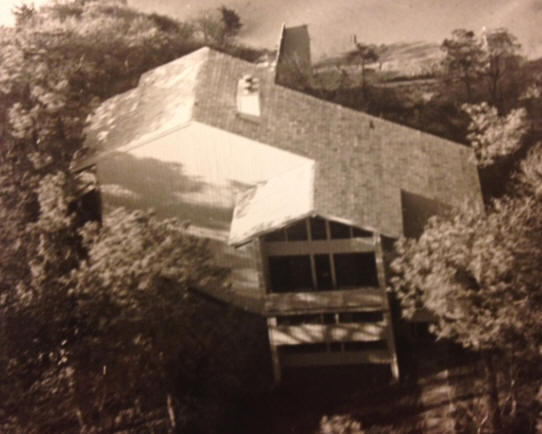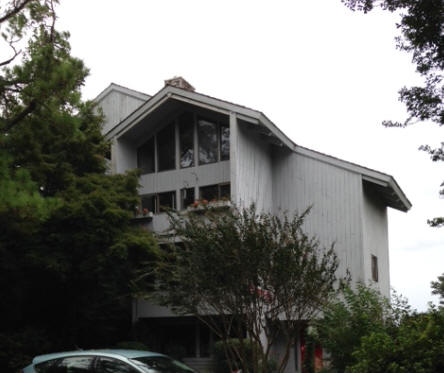 1982 - The Quentin and June Bell House, address unknown, Manteo NC. Designed for Bell's brother and his wife. Contemporary design. Has been sold.
---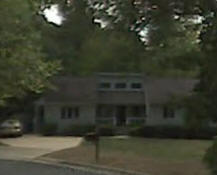 1988 - The Daniel and Claudia Pitt House, 20 Harvey Place, Durham NC. Bell did the house design and the landscape design. Built by Leon Meyers. As of 2012 owned by Brenda Nevidjon and Benjamin Staples.
---

Around 1990 - Multi-family Townhouses (three separate/individual developments within the Country Club)- Pembrooke Ridge Court, Warwicke Place and one other in Bermuda Run Country Club, NC. Daughter Sharon Glazener collaborated with Bell on the design of the townhouses along with David Bennett of Triangle Residential Designs. Built. Contemporary design.
---
Sources include: Dick Bell, daughter Sharon Glazener, Leon Meyers, Kim Weiss, Danielle Carr.