DOME HOUSES
Although the geodesic dome was invented some 30 years earlier by Walther Bauersfeld, Buckminister (Bucky) Fuller, while teaching at NC's Black Mountain College during the summers of 1948 and 1949, reinvented this idea - and it made him world famous.
Fuller also taught at Washington University in St. Louis MO. He came to the NCSU School of Design many times to teach. He is well-known for the Dymaxion house, of Wichita KS, below.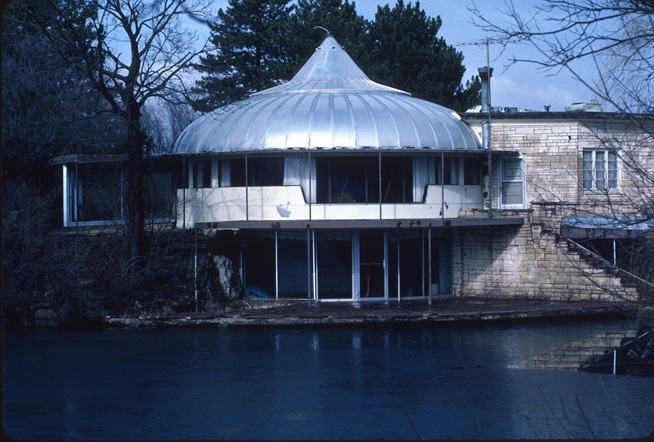 Fuller's dome enterprise, Synergetics, was joined by Thomas C.(T. C.) Howard, who became owner when Fuller left in 1958. T. C. Howard grew up in Denver NC and went to school at NCSU in Nuclear Engineering. He became an architect by passing the state architecture exam, establishing a reputation for brilliance that still endures.
In 1956, Synergetics was under contract to the United States Department of Commerce. They designed and test-built a 100-foot diameter trade fair pavilion dome in Raleigh. It was then flown to Kabul, Afghanistan and later used for trade fairs and expositions in South America, Africa, Europe and the Orient. That same year Synergetics designed and built what was at the time the world's largest free-span structure, a 384-foot diameter geodesic dome in Baton Rouge, Louisiana constructed for the Union Tank Car Company as a facility to house and repair railroad cars.
Synergetics Inc.'s dome business boomed, including commissions for the St. Louis Climatron at the Missouri Botanical Garden, left. A 125-foot diameter hemisphere was designed for use by Queen Elizabeth II when she visited Ghana, and other domes went to the Air Force Academy, the 1961 Seattle and 1964 New York World's Fairs, and to Cleveland, St. Louis, New Orleans, and Niagara Falls.
Howard was also an owner of Charter Industries, Inc., a firm that leased domes around the world.
Typically, domes are better suited as commercial rather than residential application.They can be erected on a moment's notice, provide an instant venue, then packed up to the next site. According to the Buckminster Fuller Institute, the largest geodesic-dome structures are:
Fantasy Entertainment Complex: Kyosho Isle, Japan, 216 m (710 ft).
Multi-Purpose Arena: Nagoya, Japan, 187 m (614 ft).
Tacoma Dome: Tacoma WA, USA, 162 m (530 ft).
Superior Dome: Northern Michigan University, Marquette MI, USA, 160 m (525 ft).
Walkup Skydome: Northern Arizona University, Flagstaff AZ, USA, 153 m (502 ft).
Poliedro de Caracas: Caracas, Venezuela, 145 m (475 feet). It was manufactured in Raleigh NC.
Round Valley High School Stadium: Springerville-Eagar, AZ, USA, 134 m (440 ft).
Former Spruce Goose Hangar: Long Beach CA, USA, 126 m (415 ft).
Formosa Plastics Storage Facility: Mai Liao, Taiwan, 123 m (402 ft).
Lehigh Portland Cement Storage Facility: Union Bridge, MD USA, 114 m (374 ft).
The Eden Project, Cornwall, United Kingdom
Adapted from Wikipedia and NC Architects and Builders.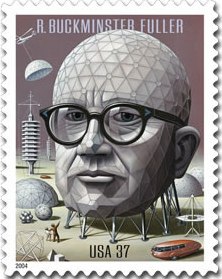 The 1967 Montreal Biosphere by Buckminster Fuller and Shoji Sadao.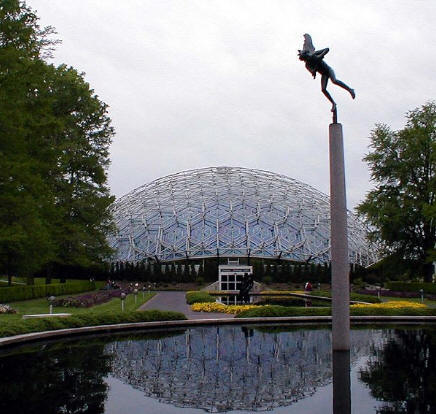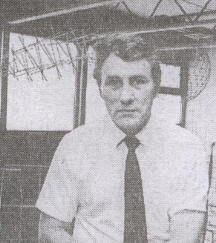 The St. Louis Climatron designed by T. C. Howard of Synergetics, above. Facebook page.
The 1958 Union Tank Car Dome in Baton Rouge LA was the largest clear-span structure in the world, 384 feet in diameter, when built. It was destroyed in 2007. T. C. Howard designed this dome, although most press releases cite Buckminster Fuller.