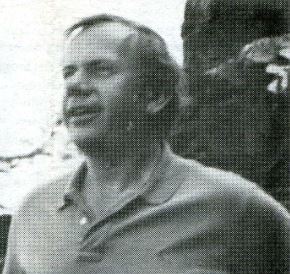 JAMES PAUL (J. P.) GOFORTH (1940-1990)
JP came to Chapel Hill in 1968 to attend UNC. He was from a poor farm family that lived near Statesville, NC. As an undergraduate he began working as a real estate salesman to help pay his way through school. By the time he entered the School of Law at UNC in 1973, he had already started Security Building Company. In 1976 he formed Goforth Properties to develop subdivisions. A partial list of local neighborhoods he created include Stoneridge, Village West, Ironwoods, Falconbridge, Northwood, Oaks II, Sedgefield and Coker Hills. By the early 1980's, JP owned Triangle Millwork, Chapel Hill Grading, Boyce Supply and Chapel Hill Electric, all of which supported the building trade. At one time his companies employed more than 150 people. JP seemed to have the Midas touch and weathered the early 1980's recessions better than his peers.

Starting in 1984, JP expanded to Wilmington NC but by 1989 America was in another recession. Housing prices crashed, especially in the high end markets of Chapel Hill and Wilmington. At that time Goforth had large land investments that had become unviable for development and a huge inventory of homes that could not be sold. His businesses in debt and tax officials were hounding him to pay taxes on land he could not sell.
JP was a master businessman, but because of complications from kidney surgery, he was no longer able to dedicate himself fully to his business. His cash flow was now well below what he needed to pay his suppliers and employees. He worked to liquidate assets to slowly pay off the debt but not fast enough. Being ill for some time limited the speed in which he normally worked and he also miscalculated the severity of the real estate downturn.
The Orange County District Attorney began to investigate his business since he was bouncing checks and not paying sales team commissions. Some investors because of his health encouraged him to take out a $12.5 million life insurance policy. While the lawyers tried to figure it all out, Goforth folded, selling his dream to businessman Frank H. Kenan in the fall of 1989. In spring of 1990, still in financial ruin, Goforth tragically took his life.

Goforth was Chapel Hill's greatest developer, creating many thoughtful, meticulously designed and beautiful homes and neighborhoods. He cared about the environment and carefully sited each home on the property, protecting native trees. Goforth dedicated almost every waking hour of his day to his business. His homes, especially the early custom ones, were exceptionally built and are still prized today.
There are many examples of his houses here.
Sources include: The Rise and Fall of Chapel Hill's JP Goforth, Chapel Hill Memories, April 15, 2011; John Couch, Jim Craig, Tom Heffner, Leon Meyers, Jill Ridky-Blackburn.