"A first class ticket to all things modern. Exceptional tour with attention to detail executed at every turn, thanks to George, Eleanor, and their assiduous team of volunteers. Bonus opportunity to speak directly with the architects, builders, and owners. I found my favorite home muse... until we visited the next dwelling.... Brimming with inspiration, sugarplums and modern homes have been dancing in my dreams ever since. Thanks to TMH for such terrific exposure to such exquisite gems in the Triangle. So glad I found your wonderful organization. Bravo!" -- Suzanne Kratzer
"Modapalooza was a hoot. Artie and I had a ball. I can only begin to imagine what it must take to charm folks into allowing a busload of visitors to interrupt their Saturday, schedule bus travel seemingly to the minute, arrange for a van full of barbeque to be waiting at just the right time on I-40, and keep a bunch of curious folks on schedule with a smile on your faces. All done with style and grace. Thanks for making it possible to have an intimate look at seven fine houses. It was a great day." -- Dail Dixon
"Thanks for the opportunity to go with you guys to Modapalooza last weekend. We had a great time. You arranged for some great homes on the tour. And as usual your hospitality was outstanding! Looking forward to more events with the Mod Squad." -- Jennifer Gundersdorff
"Thank you for a great day. You are a tremendous organizer and we both appreciated your care and leadership." -- Brigid Hogan
"What a nice one! Everything was so well organized, the houses were beautiful, the hosts were charming, we saw a lot of art, and we had a beautiful weather. What a day! Congratulations for this hard work and thanks a lot" -- Michele Bernoux
"We've been to many drive-yourself TMH tours, but this was our first bus trip. The tour was as well-designed as the homes we saw. What better way to see special homes than with nice fun interesting people. Thanks!" -- Mark and Leslie Zimmerman
"Modapalooza was not an event to miss and lookingforward to Modapalooza 2. Being able to talk to the owners and architects was a plus to seeing these incredible modern homes. Also, a plus was the art work these owners collect .. thanks for everything." -- Dale and Kayla Briggs
---
The 2012 TalkModern Lecture Series:
AIA NC Center, Raleigh
November 2012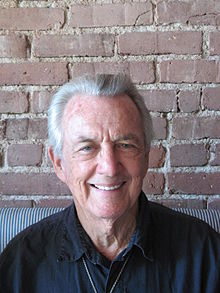 Richard Neutra's son Dion spoke on "Architecture: The View from Inside" to about 40 people.
---
Nowell's Architecture Movie Series
Galaxy Cinema, Cary
November 2012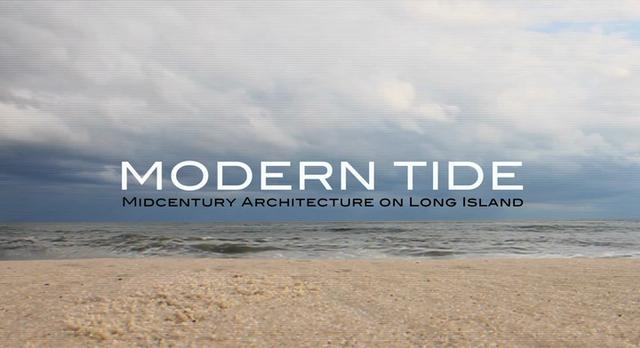 Modern Tide: Midcentury Architecture on Long Island (2012). About 45 people attended at our last (sniff, sniff) showing at the Galaxy Cinema, which closed in November 2012.
---

October 2012
T4A was at Triangle Brick's new building designed by Pearce Brinkley Cease + Lee. People got to create their own personal brick carving/sculpture.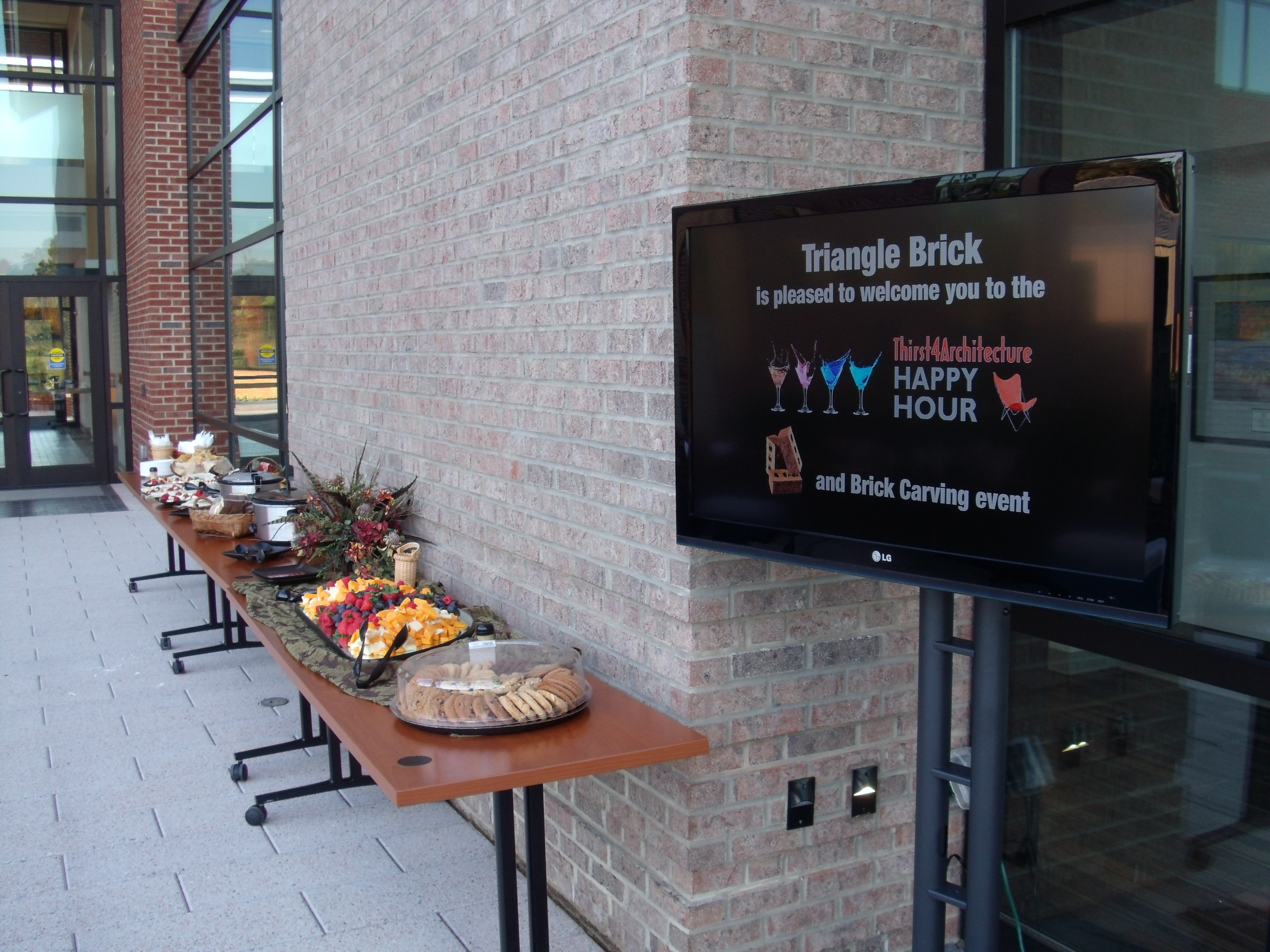 Featuring the "brick garden," a unique outdoor showcase of brick types, sizes, and shapes.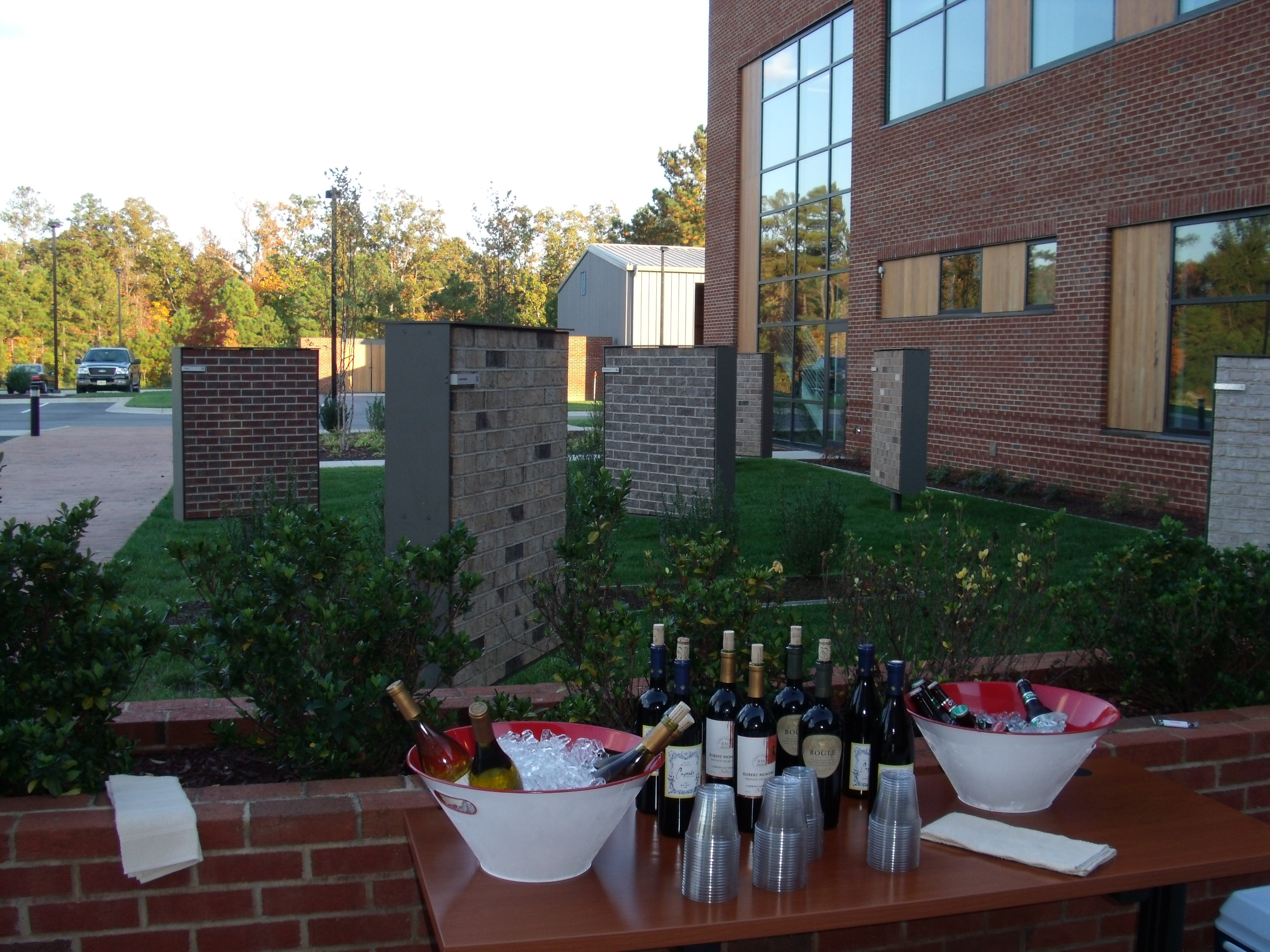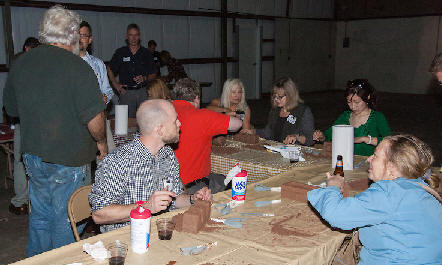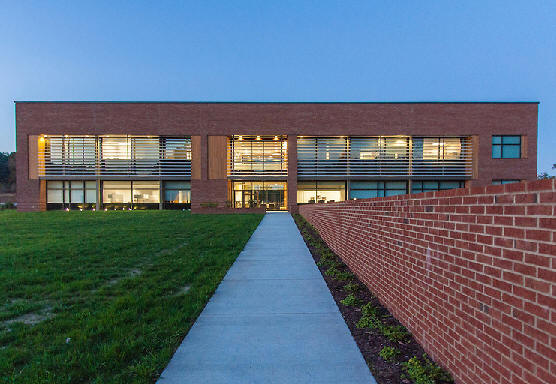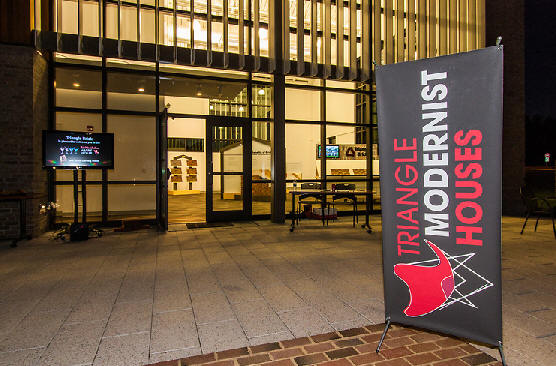 Last three photos by Trey Thomas.
---
TMH Five Year Celebration and Volunteer Awards
October 2012
Tarantini's, Chapel Hill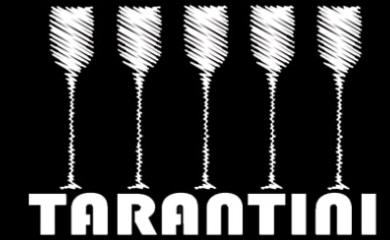 ---
The Burroughs Wellcome Headquarters Tour
aka the Elion-Hitchings Building
October 2012
This iconic building in Research Triangle Park has not been open for public tour for decades. By special arrangement with the building's new owners, TMH fans got inside one of architect
Paul Rudolph's
most compelling achievements, a tiered building completed in 1971. The building's futuristic interior, including the executive offices on the top floor, was seen in the 1983 sci-fi thriller "Brainstorm" starring Christopher Walken and Natalie Wood.
The building originally was the original US headquarters for UK pharmaceutical company Burroughs Wellcome. It was named "Elion-Hitchings" after two of Burroughs-Wellcome's innovative scientists – Gertrude Elion and George Hitchings, shown above, won the Nobel Prize for Medicine in 1988. That firm was later acquired by Glaxo which was merged with SmithKline Beecham to form GSK. GSK sold the buliding in June 2012 to United Therapeutics who gave special permission for the tour prior to the building's renovation. Over 300 people attended.
---
October 2012
Nowell's Architecture Movie Series
Galaxy Cinema, Cary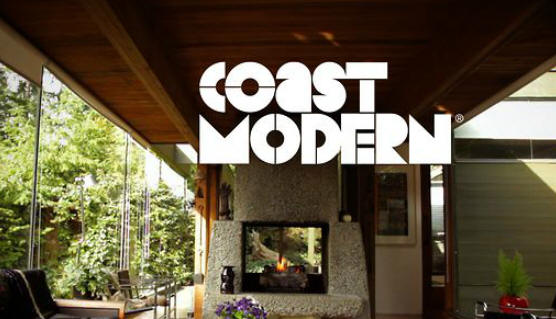 Coast Modern: Modern Architecture of the PacificStates (2012).
---
The 2012 TalkModern Lecture Series
Raymond Richard Neutra on Preserving the VDL Studio/Residencesin Los Angeles
October 2012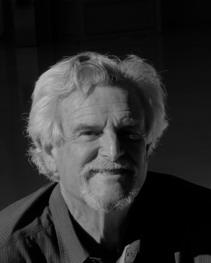 Over the last 35 years, Raymond Richard Neutra, Richard Neutra's youngest son, travelled the world to connect with his father's buildings, making profound connections totheir owners and occupants. He brings a unique perspective as a non-architect (an epidemiologist, in fact), a son growing up with a famous father, and a tireless preserver of Modernism all over the world.
Raymond raises awareness and funds for the restoration of the Richard and Dion Neutra VDL Studio/Residences, an ongoing social and technological experiment, left by his mother in 1990 to to Cal Poly Pomona College of Environmental Design.
Raymond described the ongoing efforts to restore the VDL compound including the philosophical issues encountered during the project.Introducing Raymond was the former Dean of the Cal Poly Pomona College of Environmental Design, NCSU College of Design Dean MarvinMalecha.
Proceeds from this talk benefit the VDL Studio. A dinner beforehand was sponsored by VMZINC.
---
Mayberry Modernism
Carolina Country Club
September 2012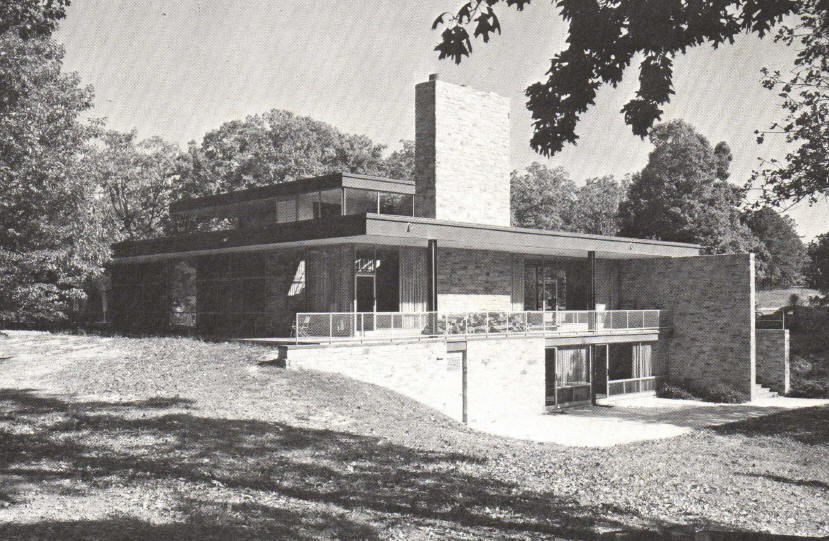 George Smart spoke on Mayberry Modernism to an enthusiasic crowd of 35. Here's a photo of the old club designed by Matthew Nowicki and Milton Small.
---
The Frank Lloyd Wright / Fallingwater Trip 3
September 2012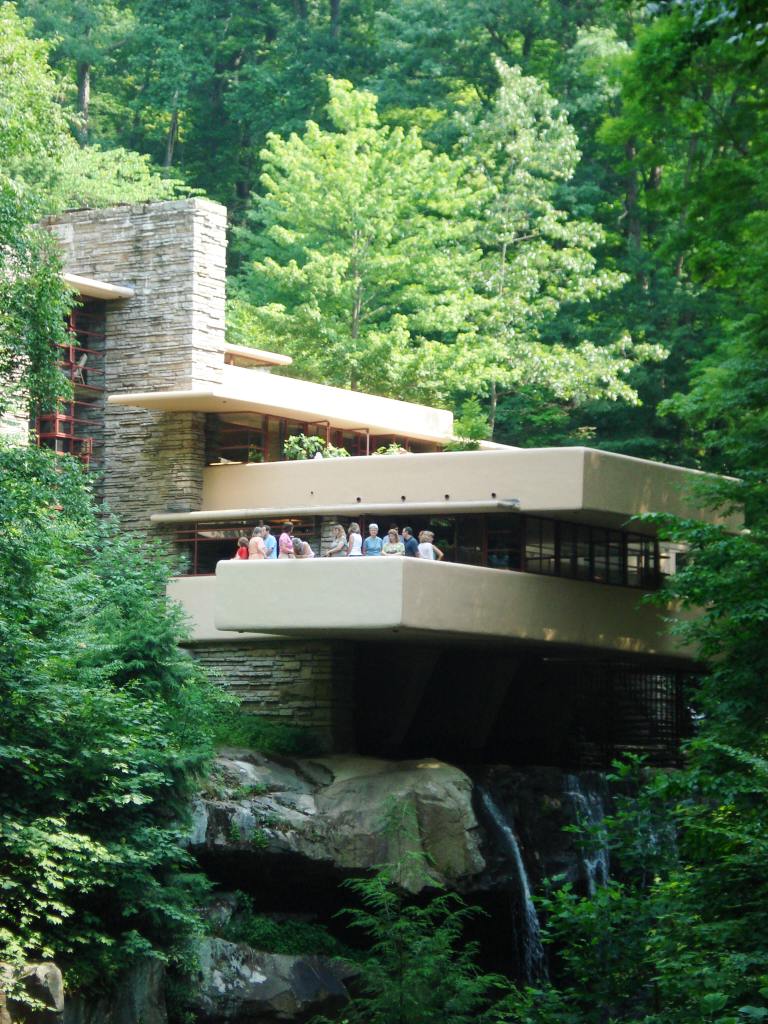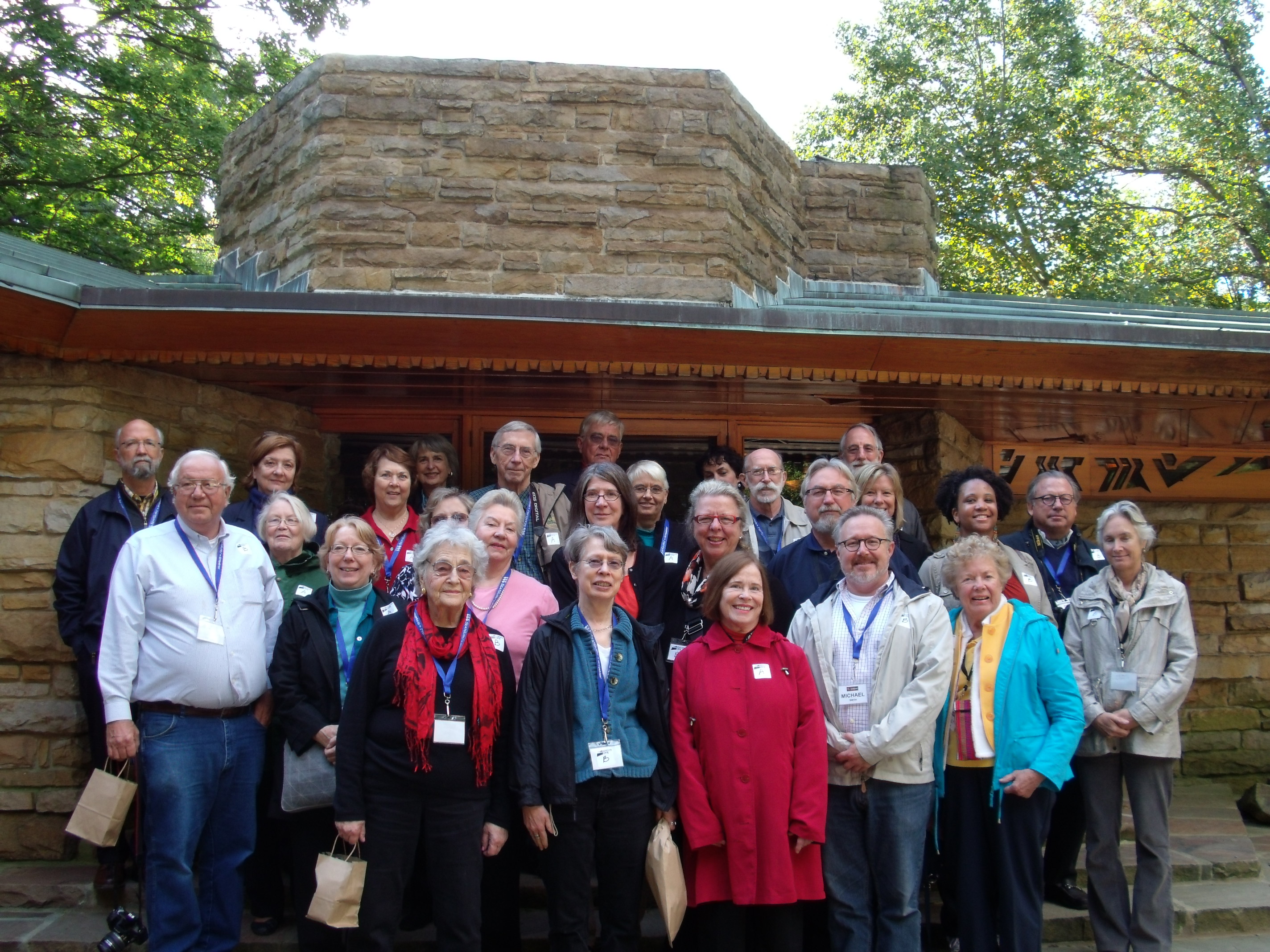 28 architectural adventurers visited
masterpiece, Fallingwater, had a private reception on one of the terraces, visited Wright's Kentuck Knob (group photo), toured the Ohiopyle area, visited a Neutra house in Uniontown PA, and visited the Abrams House in Pittsburgh in a whirlwind weekend!
"I thought it was wonderful. I can now cross Fallingwater off my bucket list! It was extremely well-organized, and everything went like clockwork. We got a lot in and definitely got our money's worth. Thanks for everything." -- Dianne Bertschfont
"Based on attending previous tours sponsored by Triangle Modernist Houses, I had very high expectations forthis trip to Fallingwater. I am thrilled to saythat all of my expectations were exceeded. This trip was well-planned and had tons of amazingarchitecture and sightseeingpacked into two days. Everyone commented how much we'd seen and done in a weekend! My experience was truly outstanding." -- Wendy Covington
"Carl and I had a wonderful time (I would have enjoyed myself a bit more had I been better prepared for the 3-hour class I had to teach on Monday evening!). I can't think of any ways to improve the itinerary (the Neutra house was a bonus--otherwise, I see that you're planning pretty much the same itinerary for next year). There was the right amount of time at each location--not too rushed, not too slow, with sufficient time for the unexpected contingencies that must inevitably happen on trips like these." -- Carolyn Miller
"I was very impressed by the seamless organization (the bus, the lunches, the streamlined hotel check-in) and the extras that made it a richer trip (the Wright DVD played en route, the chance to see an unknown Neutra house). I had balked a bit at the price when I learned that an extra place had become available, but now I know that I couldn't have covered that much territory in twice the time, that I would have been exhausted and stressed had I undertaken the trip on my own, and that I simply would not have gotten as much out of the experience. You may use any comments here to promote future trips. Many thanks for an inspiring weekend." -- Julie Johnson
"Many thanks for hosting the Fallingwater trip.It was wonderful andI cannot believe that we did so much in such a short time! Of course, the highlight was Fallingwater, which was even more magnificent than imagined! I had often seen pictures of the house - but "being there" took my breath away. Mr. Wright was truly a man of vision. Who else could have imagined a house built over a waterfall! Kentuck Knob was charming. The interior was warm and inviting, and enjoyed the pictures provided by the owners. Manythanks to them for allowing us to visit intheir home. Not to be missedwas thenearby mountain view which was magnificent! The house tours were expected, but unexpected was the lovelymountain drive, the stop nearacascading stream, theFrank Lloyd Wright movies, and delicious box lunches - who could ask for more! I was surprised by and delighted with the city of Pittsburgh. I did notrealize that it was so large.Glad that you suggested the tram fora view of the city. Also, very much enjoyed the Abrams house which wasunique and interesting! Thank you for being a wonderful tour guide and gracioushost. I look forward to additional trips." -- Ann Shivers
"Thanks for organizing a great trip. I loved the houses, loved the company and you made the trip so easy and fun. It was altogether brilliant! I look forward to joining you on another trip sometime soon."
-- Debby Lubell
"George, I first became aware of FLW's work over spring break my Junior year at Tulane University. Instead of going to a beach somewhere to get drunk and sunburned, a group of students (and chaperones -- it was the 60's after all!) from the Schools of Art and Architecture took the train from New Orleans to Chicago. We spent one day touring the Chicago Art Institute and another day touring the FLW buildings in the nearby suburbs of Oak Park and River Forest. I was hooked for life on his work! Over the years, my desire grew to see as many of his buildings as possible. Of course, Fallingwater topped the list. This trip was a dream come true for me. However, I did experience one big surprise that I never would have expected. While Fallingwater is truly a legendary icon, I discovered that I could not visualize myself living there (maybe in the guest house, but not the main house). On the other hand, I could and did visualize myself living at Kentuck Knob. I could easily imagine sitting in the living room at Kentuck Knob with my dog, surrounded by my books, my music, and my modest art collection. It is an image that I will enjoy for the rest of my life. If Fallingwater is a Las Vegas showgirl (or a Chippendales's guy), then Kentuck Knob is the girl (or guy) next door. Thank you for including Kentuck Knob on the tour, and also for including some "quality time" in Pittsburgh. This trip has changed my perception of Pittsburgh 200% for the better! I would love to visit Pittsburgh again sometime (just not in winter!). You've hit another one out of the park, George. Can't wait for Auldbrass. Thanks again." -- Linda DeShaw
"George you did it again! You are a 'weekend trip taker's' dream. Wayne and I so loved our transforming trip to Fallingwater, Kentuck Knob, and inspirations beyond. So much joy, camaraderie, vision, and creative stimulation in 36 hours! Thank you for your gift of organization, maximizing time spent on quality sites, surprises, planned 'down time', and ultimate focus on the very worthy project of preserving, maintaining, and encouraging modernist homes. Best wishes to you and yours for continued success!" --Shirley Drechsel
---
---
Concert of Wills: Richard Meier and the Making of the Getty Center (1997)
September 2012
North Carolina Museum of Art
From the New York Times Review:
The Getty Trust commissioned Maysles Films to document the process of bringing the billion-dollar project to fruition. And the filmmakers' access permitted them to record the arduous, often contentious events that led to the opening of the Getty Center. Meier, noted for his spare white enameled modernist buildings, was, from the outset, up against the local residents and a conditional use permit with more than 100 provisions, including one that insisted that the exteriors of the center be constructed primarily of stone. Along the way, Meier was also pitted against John Walsh, the director of the J. Paul Getty Museum, and Walsh's traditionalist focus on an interior design that would best display the center's collections. Toward the end, the Getty Trust, with Harold M. Williams as its president and chief executive and Stephen Rountree as its vice president, turned to Thierry W. Despont, an architect who concerned himself with the interiors, and Robert Irwin, an artist charged with landscaping the center's central gardens -- a man who clearly vexed Mr. Meier, usually seen maintaining a rather cheerful if long-suffering demeanor. Throughout, Meier struggles to realize a conception that no end of meetings and drawings and scale models seem ever to make visible in full subtlety and glory to anyone but himself. Ever, that is, until the very end.
---

September 2012
North Carolina Museum of Art
Sponsored by Hanbury Preservation Consulting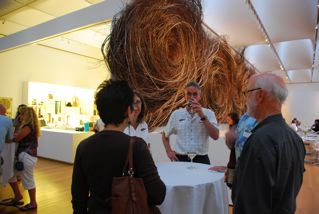 About 70 people attended. Photo by Leilani Carter.
---
McConnell Studios hosted over 140 people in Raleigh with food, a great band, free etched glasses, and a chance to view his amazing creations around the giant studio. Photo by Leilani Carter.
---
Modernism at Risk
Durham Engineer's Club
Croasdaile Country Club
August 2012

George Smart spoke on Mayberry Modernism.
---
THE 2012 George Matusmoto Prize
The Matsumoto Prize for North Carolina Modernist residential architecture is a unique competition featuring $6,000 in honors, a blue-ribbon jury of internationally-known architects, public voting, and an optional video component. The Jury and People's Choice winners were announced August 2, 2012 at the AIA North Carolina Center.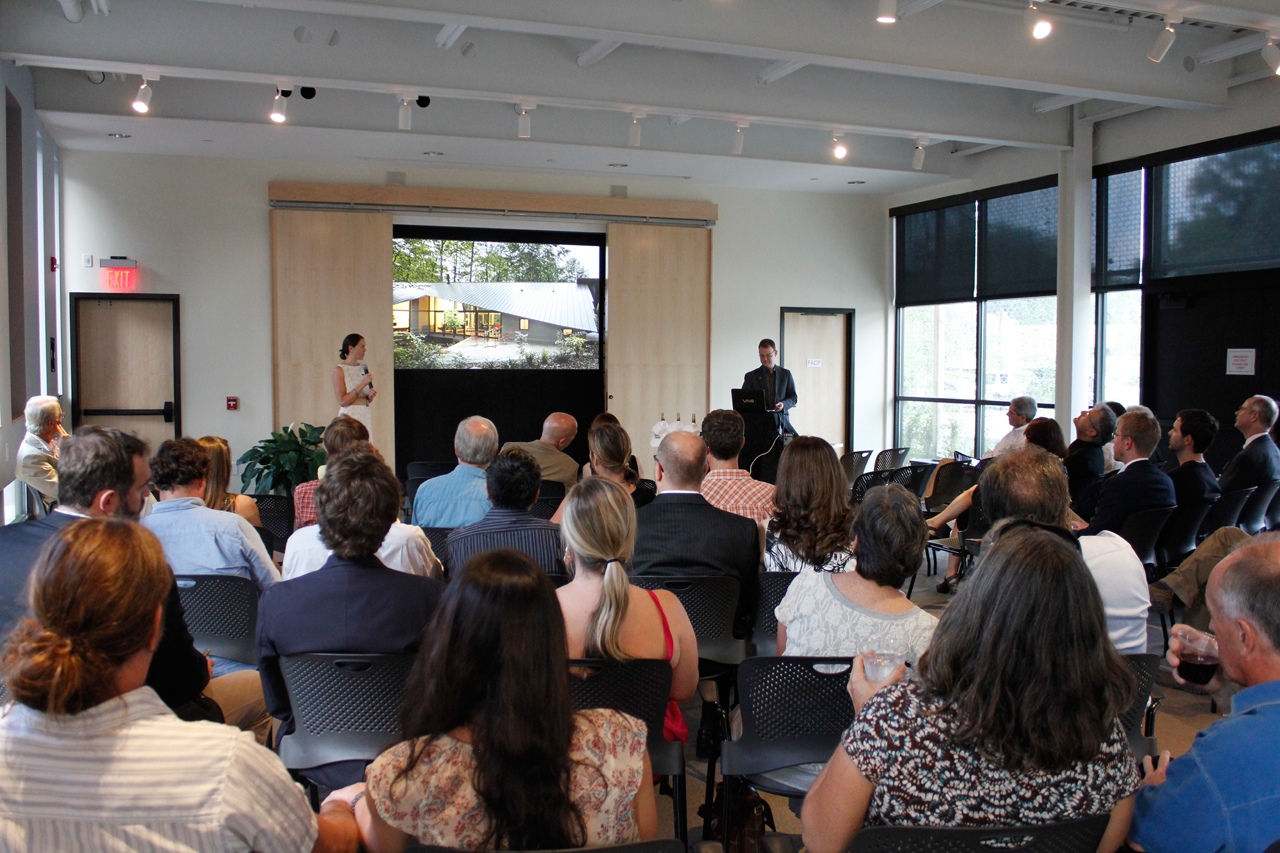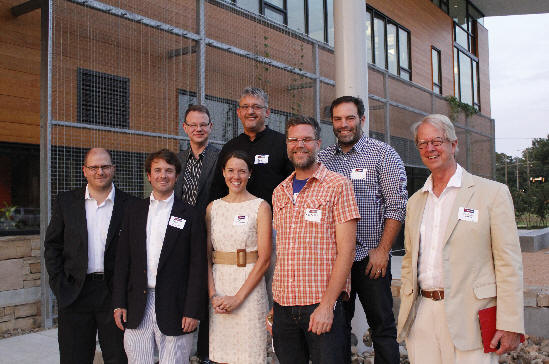 Mike Rantilla, Adam Sebastian, sponsor George Smart, emcee Erin Sterling Lewis, John Reese, Will Alphin, Vinny Petrarca, jury chair Frank Harmon.
Jury Prizes
People's Choice Prizes

1st place:
Adam Sebastian
, The Hole One House
2nd place:
Scott Ogden
, The Althea Way House
3rd place:
Will Alphin
, The Taylor House
---

Brian Shawcroft, AIA, Raleigh
July 2012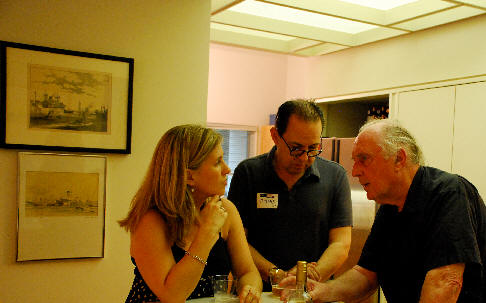 About 75 people enjoyed great food from Mitch's Tavern atarchitect
Brian Shawcroft's
amazing Raleigh home/office in West Raleigh.
---

RATIO Architects, Raleigh
June 2012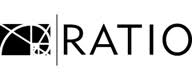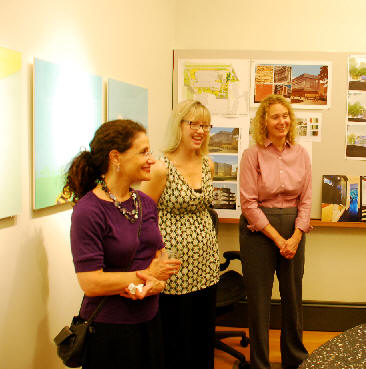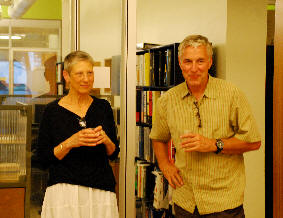 Many thanks to Louis Cherry FAIA for opening up his office for this month's T4A.
Party photos by Leilani Carter.
---
Modernism at Risk
Durham County Library, Durham
June 2012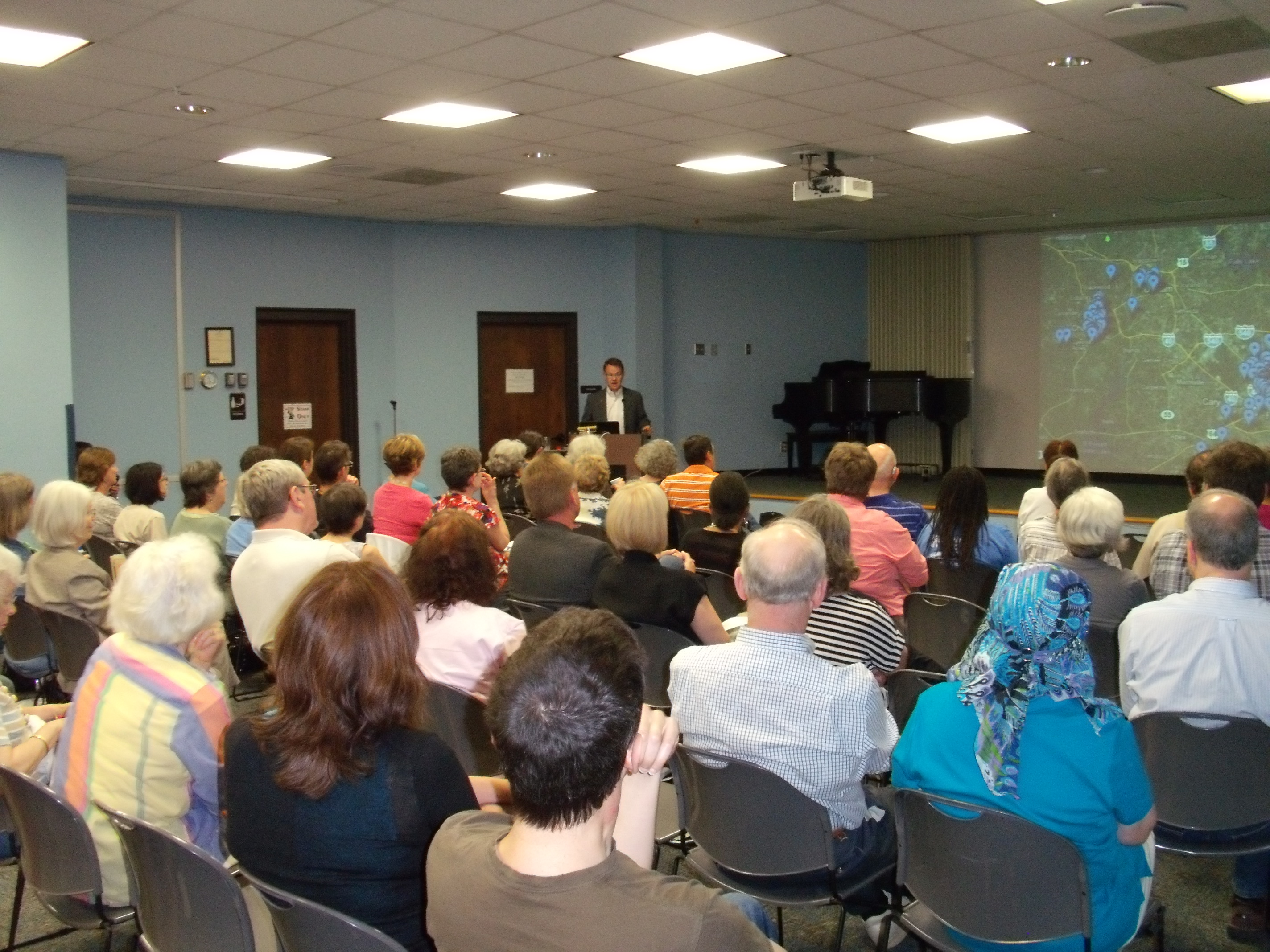 87 people attended George Smart's talk, Mayberry Modernism, at this
1980 library designed by Hackney Knott and Sears.
---
Modernism at Risk: Modern Solutions for Saving Modern Landmarks
AIA North Carolina Center for Architecture and Design
June2012
Modernism at Risk is an international photographic gallery that travelled the world including the Art Institute of Tampa, the Preservation Foundation of Palm Beach, the AIA New York Center for Architecture, Lund University in Sweden, the University of Florida-Gainesville, the University of Montreal, and the University of Michigan Taubman School of Architecture.
A project of the World Monuments Fund, Modernism at Risk consisted of 27 large-scale photographs by noted photographer Andrew Moore of six Modern landmarks. Central to the exhibit was engaging the public to care about modern buildings and to demonstrate that these buildings can continue to be economically and functionally viable.
The exhibit also included rare architectural models from the NCSU College of Design and NCSU Special Collections. Some had not been viewable to the public in 40 years! There was also a slideshow of destroyed and endangered NC Modernist houses. Photos by Leilani Carter and Lesley Glascock. About 350 people attended.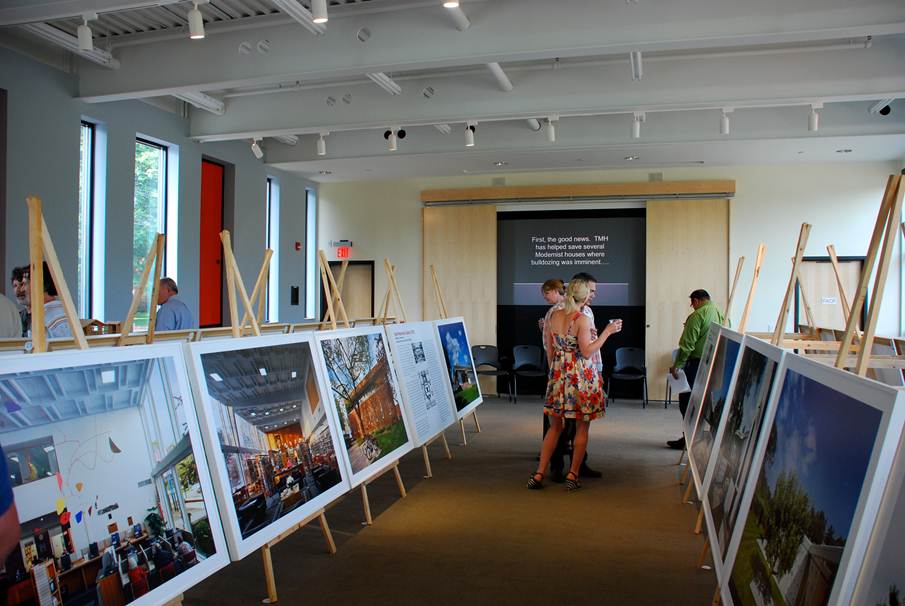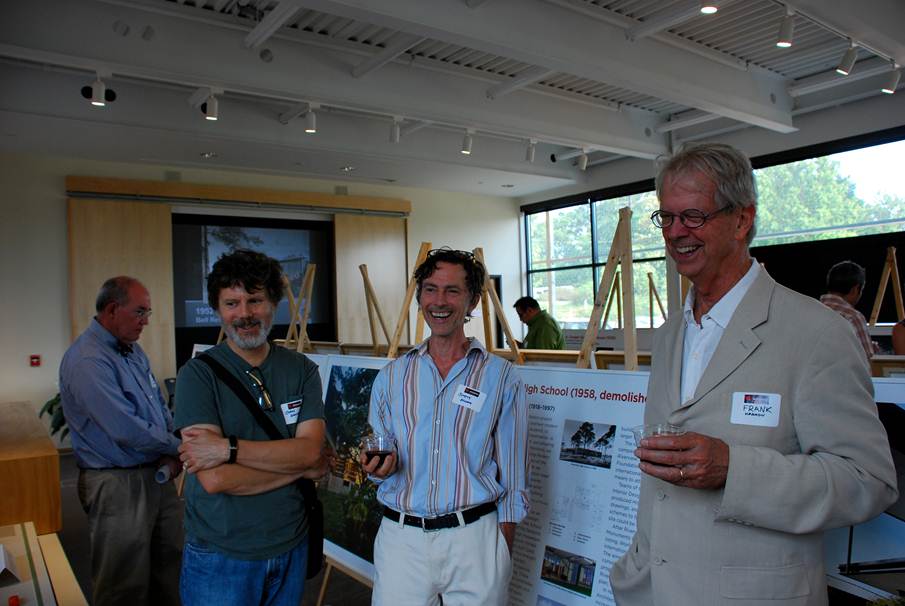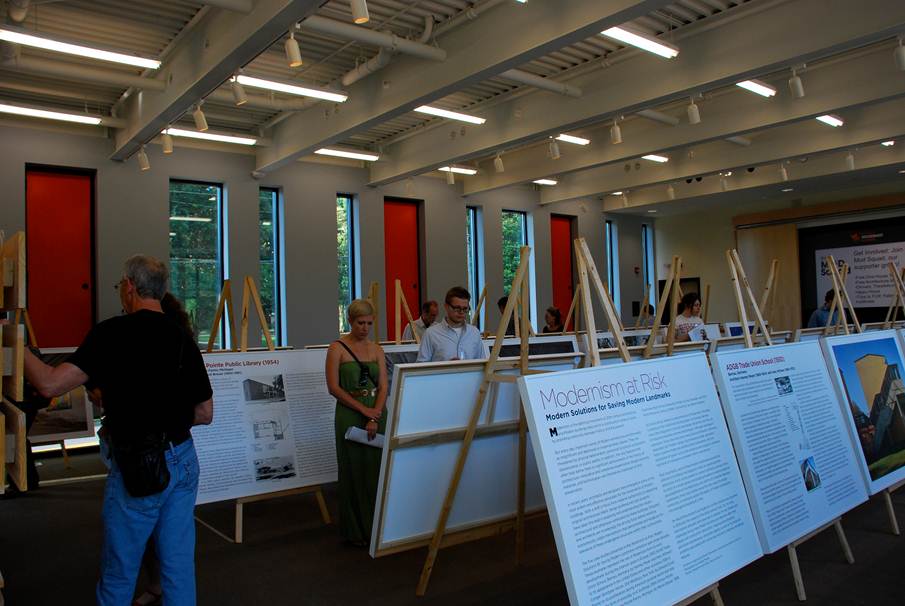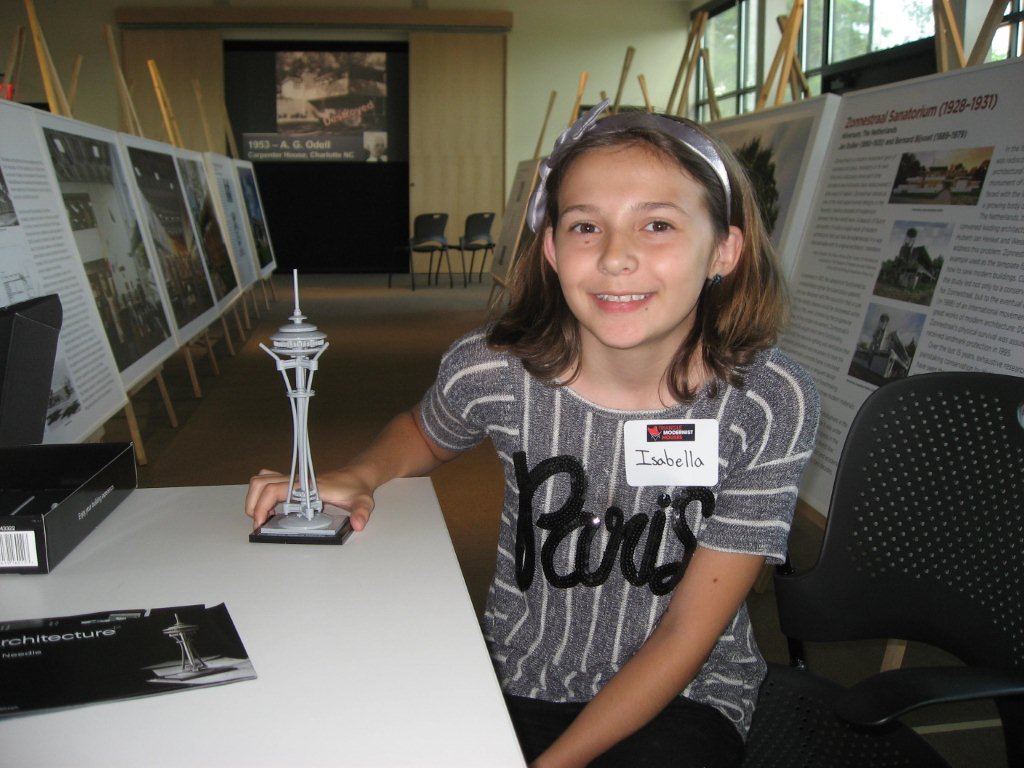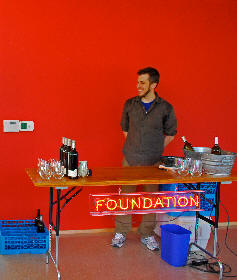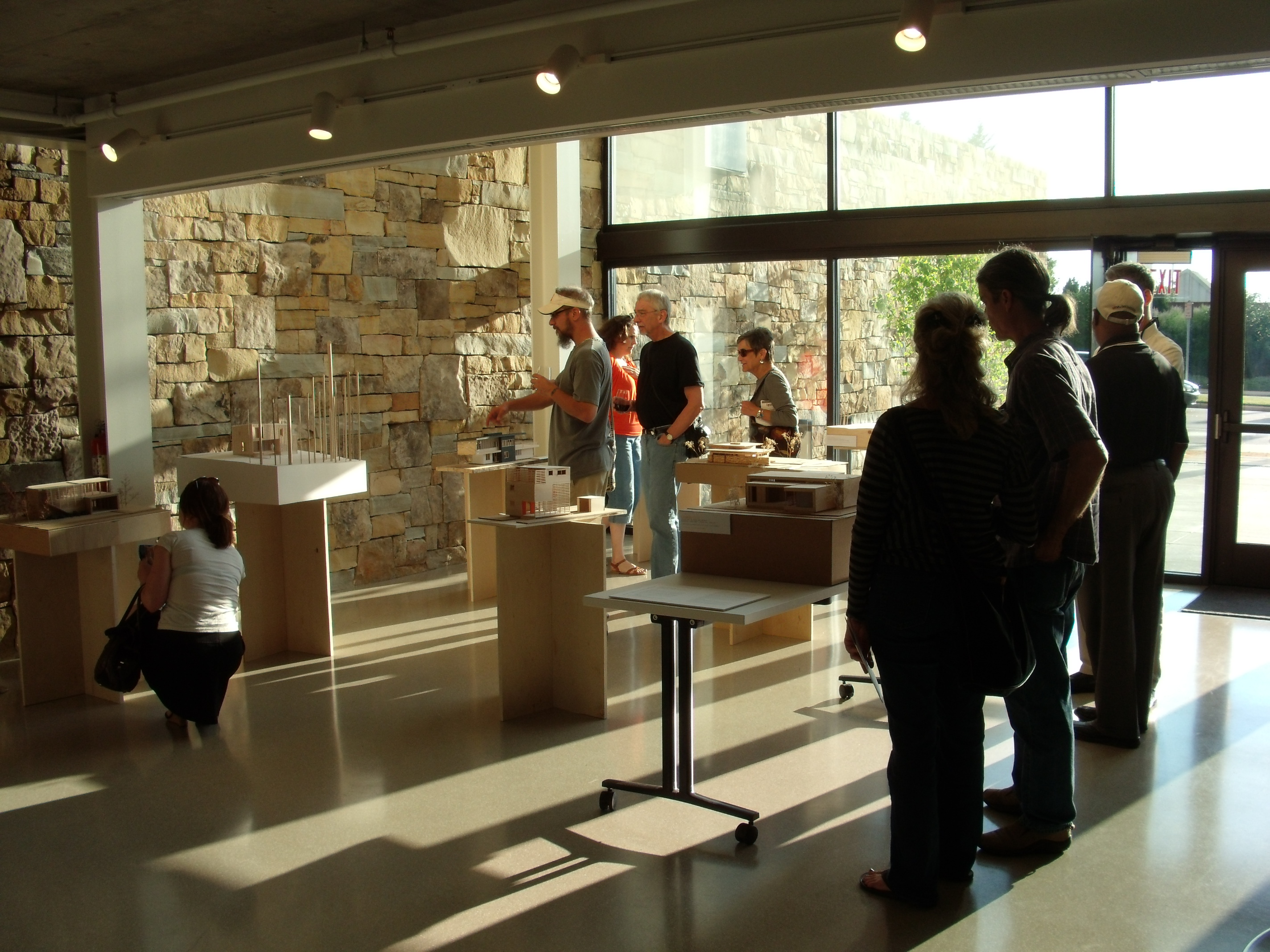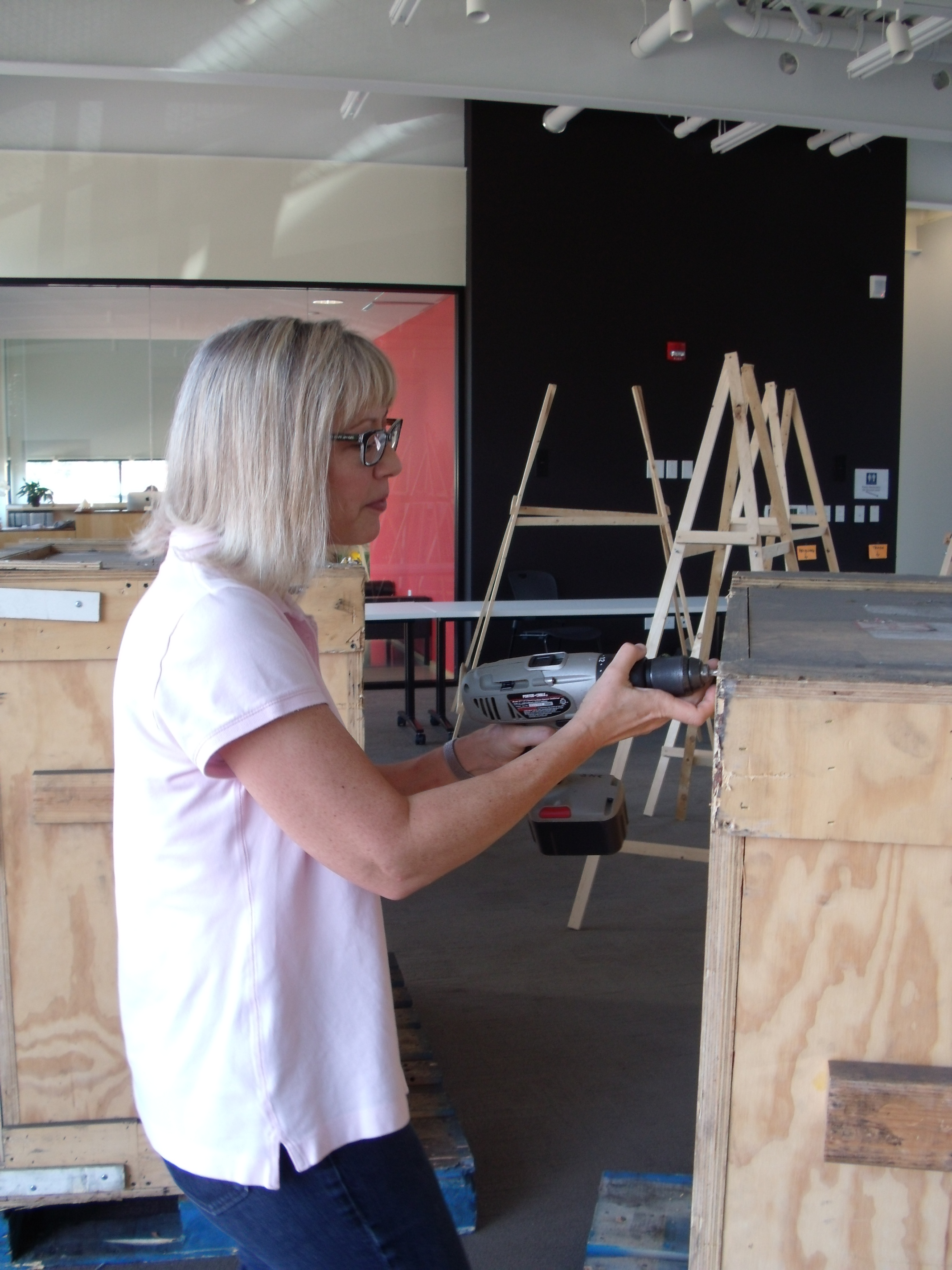 A project of the World Monuments Fund, Modernism at Risk consists of 27 large-scale photographs by noted photographer Andrew Moore representing five case studies exploring the role designers play in preserving Modern landmarks. Central to the exhibit is engaging a larger public to care about modern buildings and to demonstrate that these buildings can continue to be economically and functionally viable. Read more about it
here
.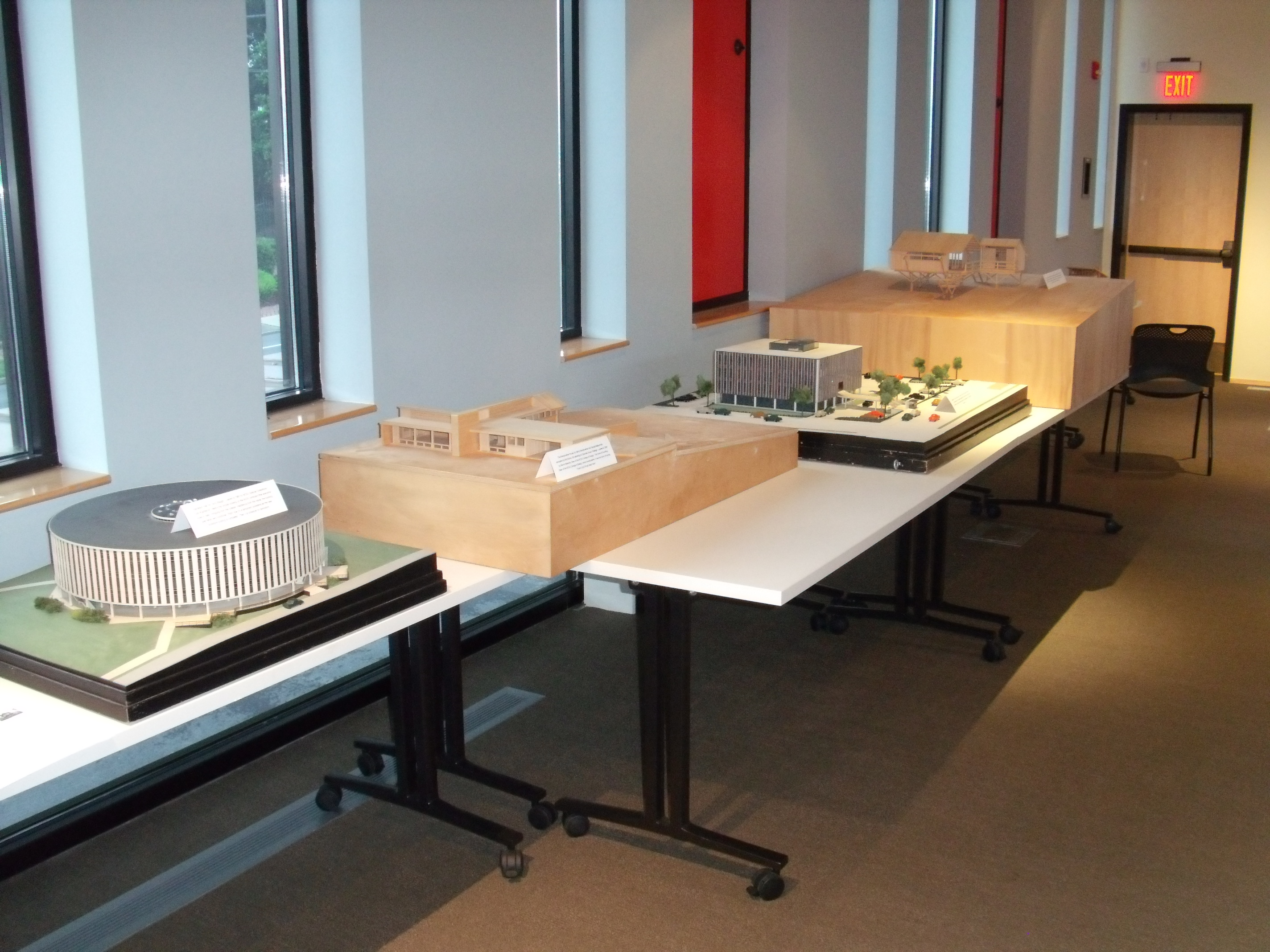 Exclusively for this exhibit, North Carolina State University loaned six architectural models rarely if ever seen by the public, including the Douglas Fir House, above, by George Matsumoto (destroyed); the NC Medical Society Building by Milton Small; the Kamphoefner House by Milton Small and George Matsumoto; the Fadum House by James Fitzgibbon; Harrelson Hall at NCSU by Terry Waugh (scheduled for demolition); and Raleigh City Hall, designed by Milton Small (scheduled for demolition). Many thanks to NCSU Special Collections / Todd Kosmerick, and the NCSU College of Design / Dean Marvin Malecha. There were also new Modernist house models on display by architecture students from the studios by Professor David Hill.
TMH had a slideshow of North Carolina houses either endangered or no longer standing, including the 1954 Catalano House, above, designed by NCSU School of Design Professor
Eduardo Catalano
.
---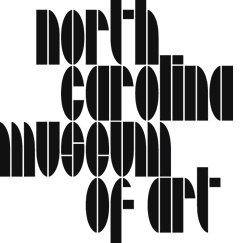 May 2012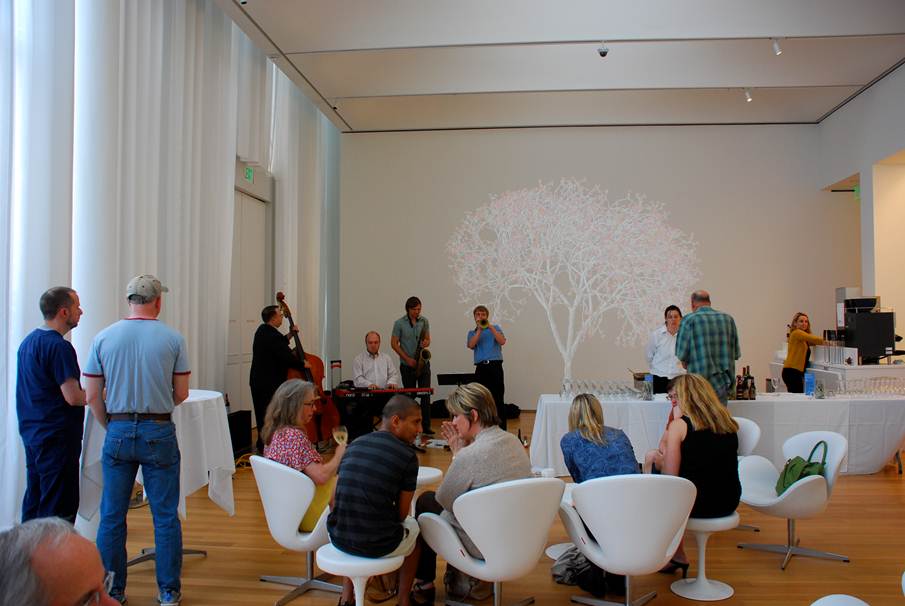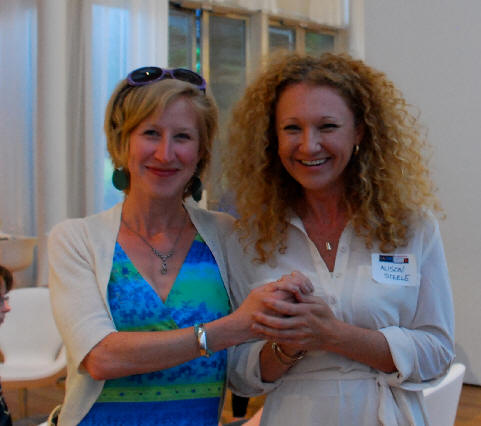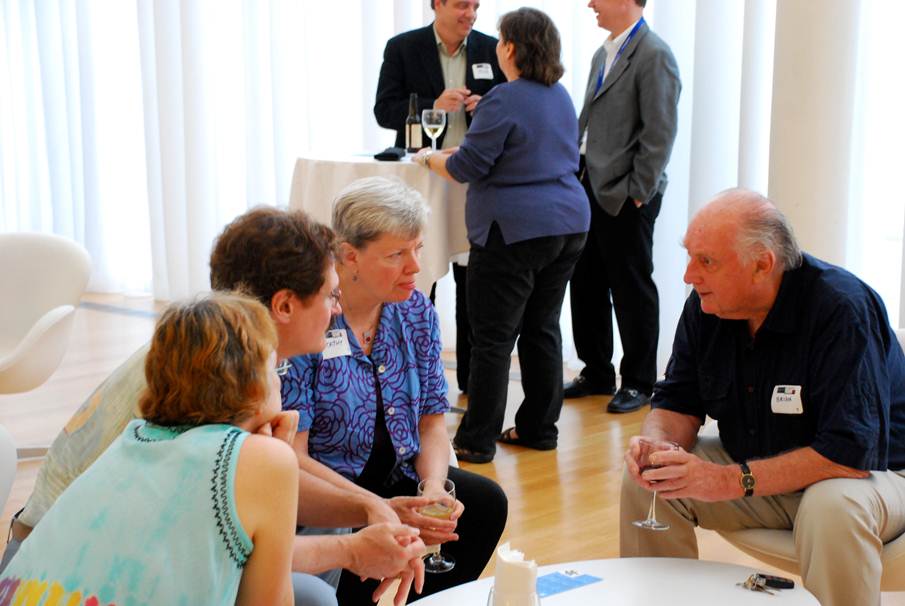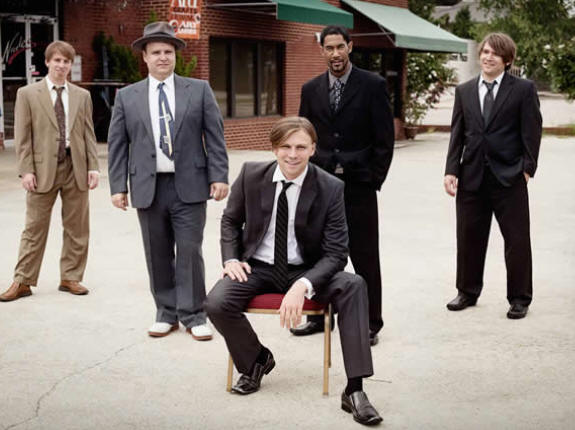 Live music by Peter Lamb and the Wolves, cash bar, food for purchase, plus giveaways from the TMH archives. About 110 people attended. Party photos by Leilani Carter.
---
May 2012
Mayberry Modernism
Lappas+Havener Landscape Architects
Durham NC
Eight people from the firm attended George Smart's talk, Mayberry Modernism, at their offices.
---
May 2012
Mayberry Modernism
Chatham County Library, Pittsboro NC
About 30 people attended George Smart's talk, Mayberry Modernism, at this new building designed by RATIO Architects (formerly Cherry Huffman).
---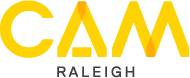 April 2012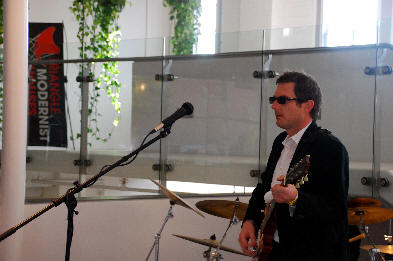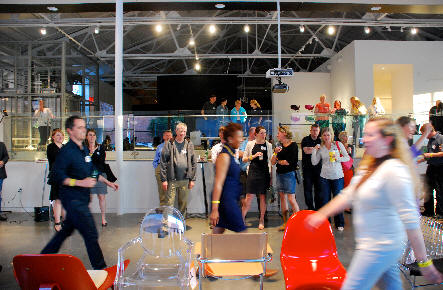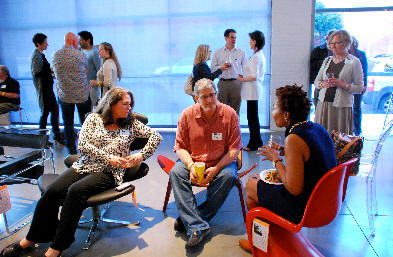 This season's first T4A Happy Hour featured CAM's recent exhibition, Born Digital, great food and drink, entertainment from Eyes Go Lightning, an all-architect and engineer rock and roll band, and a wild game of musical Modernist chairs sponsored by Nowell's Contemporary Furniture. Refreshments provided by ModernHomeAuctions.com. About 120 people attended. Photos by Leilani Carter.
---
The TMH Hope Valley Modernist House Tour
April 2012
Over 400 people spent a gorgeous spring Saturday afternoon in the beautiful Hope Valley neighborhood of Durham -- touring four unique homes, one brand new, one four years old, and two beautifully renovated mid-century moderns. This was TMH's 29th house tour. Photos by Leilani Carter.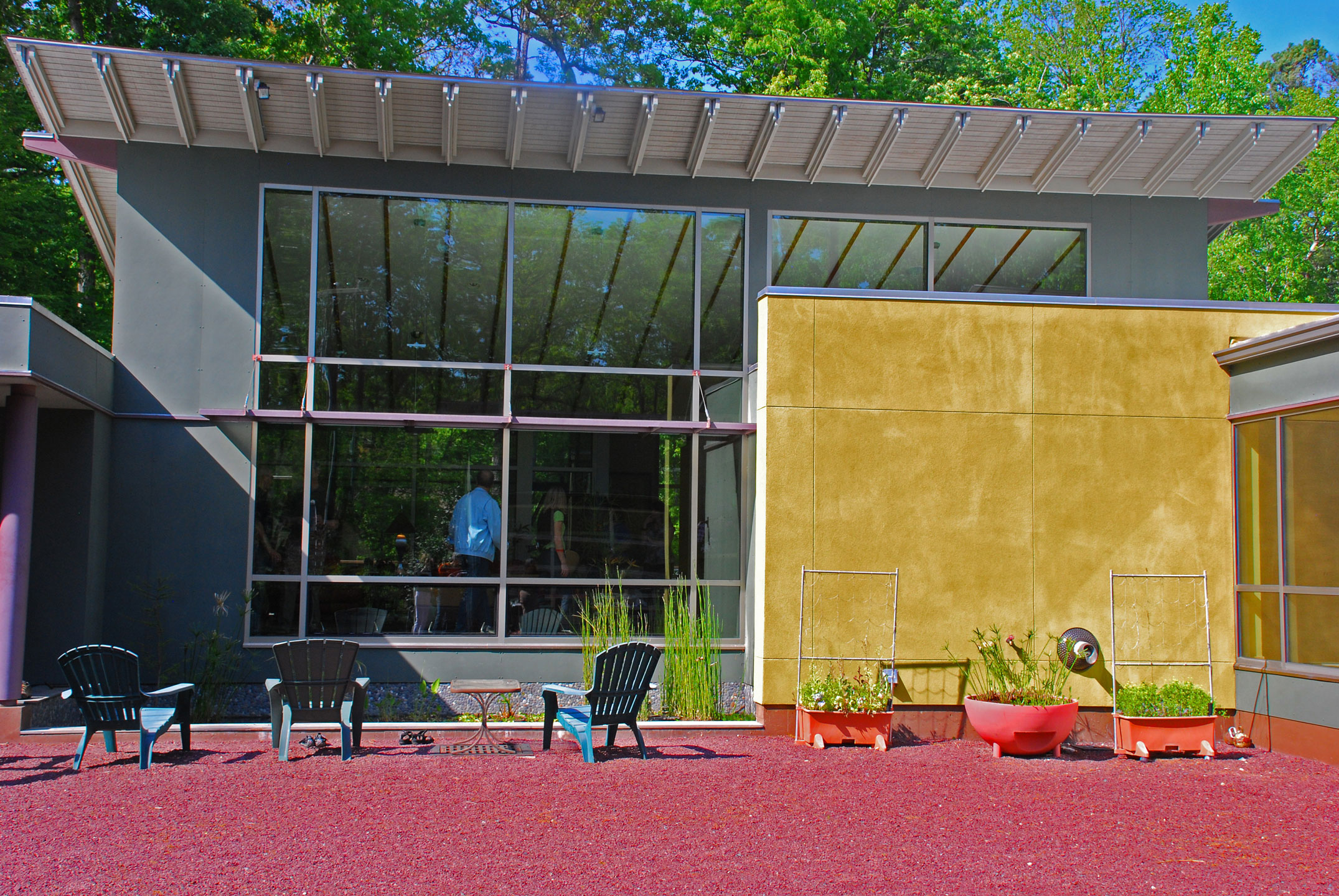 The 2008 Monica Hunter House, designed by architect
Bill Waddell
and built by Andrew Krichman.
The 2011 Patel House, designed by architect Sanjeev Patel.
Built by Rick Allen, Synergy Building.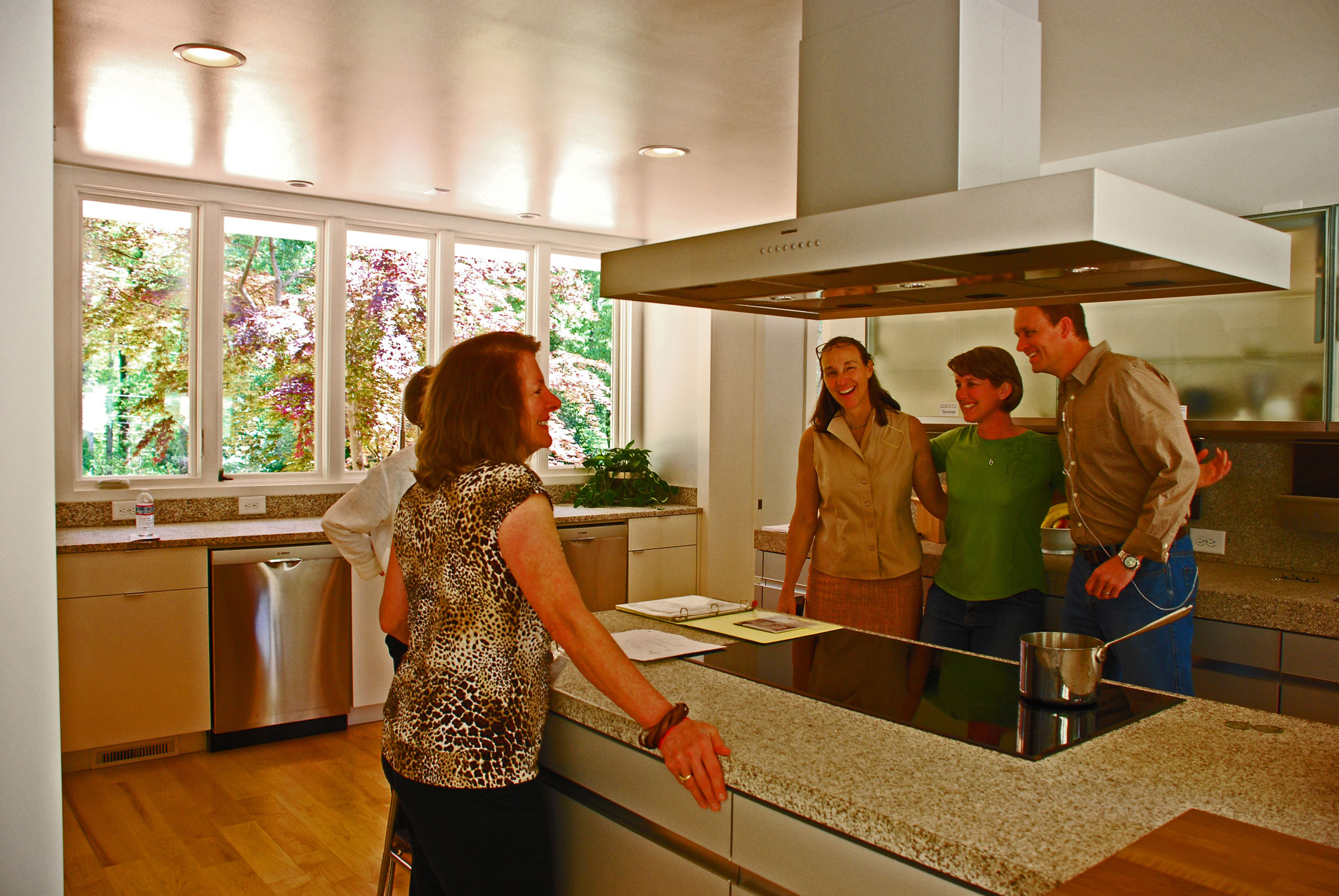 The Coonrad/Chute Residence, a mid-century modern ranch renovated and expanded by architect Ellen Cassilly.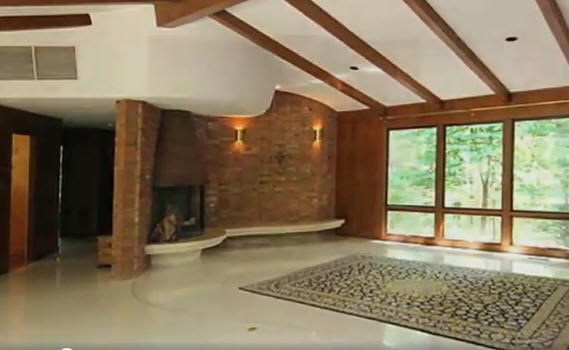 The Miriam and Henry Nicholson House, designed by architect Robert (Judge) Carr.
---
March 2012
Galaxy Cinema, Cary
2011-2012 Nowell's Architecture Movie Series