October 2014
NCModernist Thirst4Architecture
Frank Harmon Architect
Prairie Ridge Ecostation, Raleigh
The 2014 T4A series is powered by
Emilie Huin / 501 Realty,
specializing in Modernist houses in the Triangle.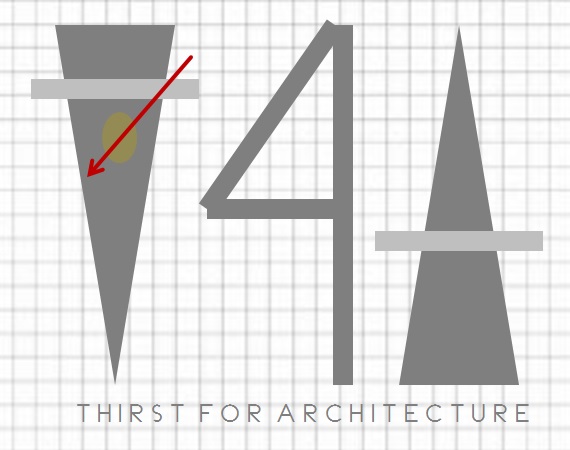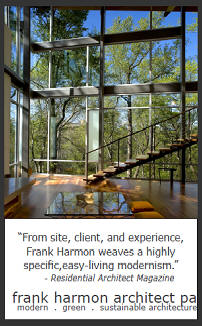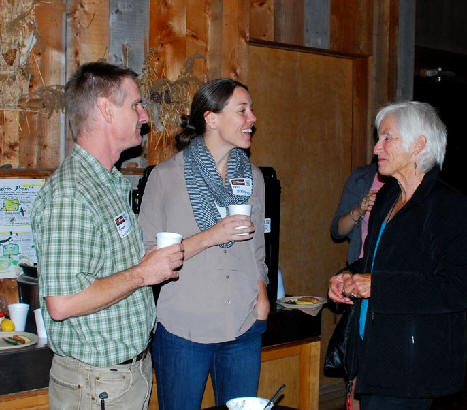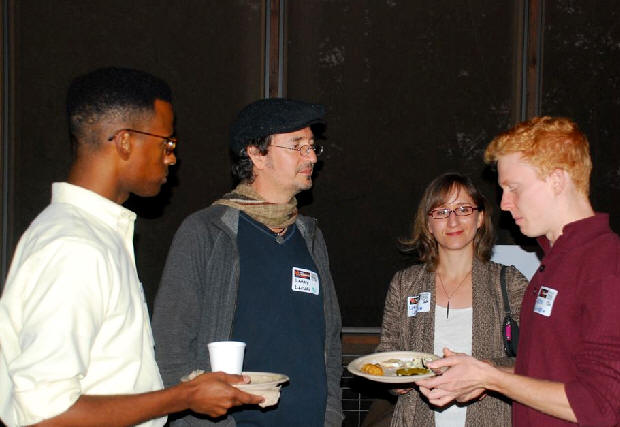 At what was described by many as the perfect weather moment, 80 people gathered at sunset, hosted by Frank Harmon and his staff, at the Prairie Ridge Ecostation, an outdoor classroom he and Sara Glee Queen designed ten years ago. Built by
Randy Lanou
. Photos by Leilani carter.
---
---
The Frank Lloyd Wright/Fallingwater Tour
September 2014
25 architectural adventurers went on NCModernist's annual trip to Fallingwater, Frank Lloyd Wright's masterpiece; another remarkable Wright house, Kentuck Knob; a house by Robert Venturi; a house by Richard Meier. And an architecture cruise through the rivers of Pittsburgh!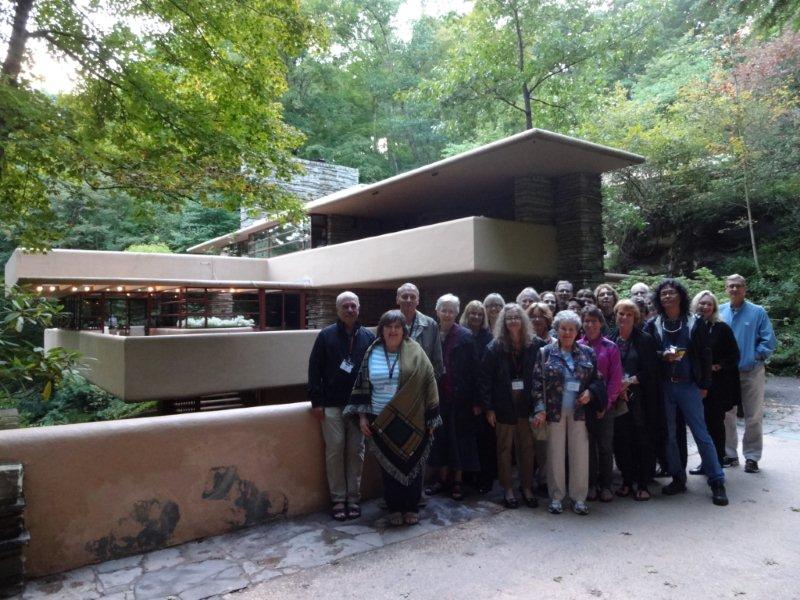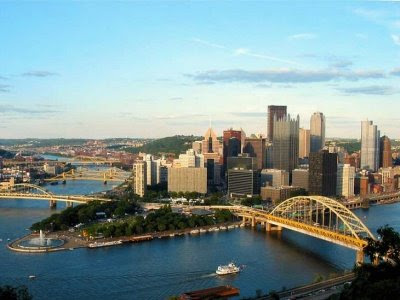 ---



September 2014
Preservation Durham/NCModernist Duke Forest Modernist House Tour
Duke University originally developed the Duke Forest neighborhood, just south of Duke University's campus, for faculty and staff in the 1960's. Many homes are still owned by Duke-related families. While Duke Forest includes a mix of architectural styles, there are more mid-century modern houses than anywhere else in Durham.
The 1966 Knight House, aka the Duke University President's House, designed by
Alden Dow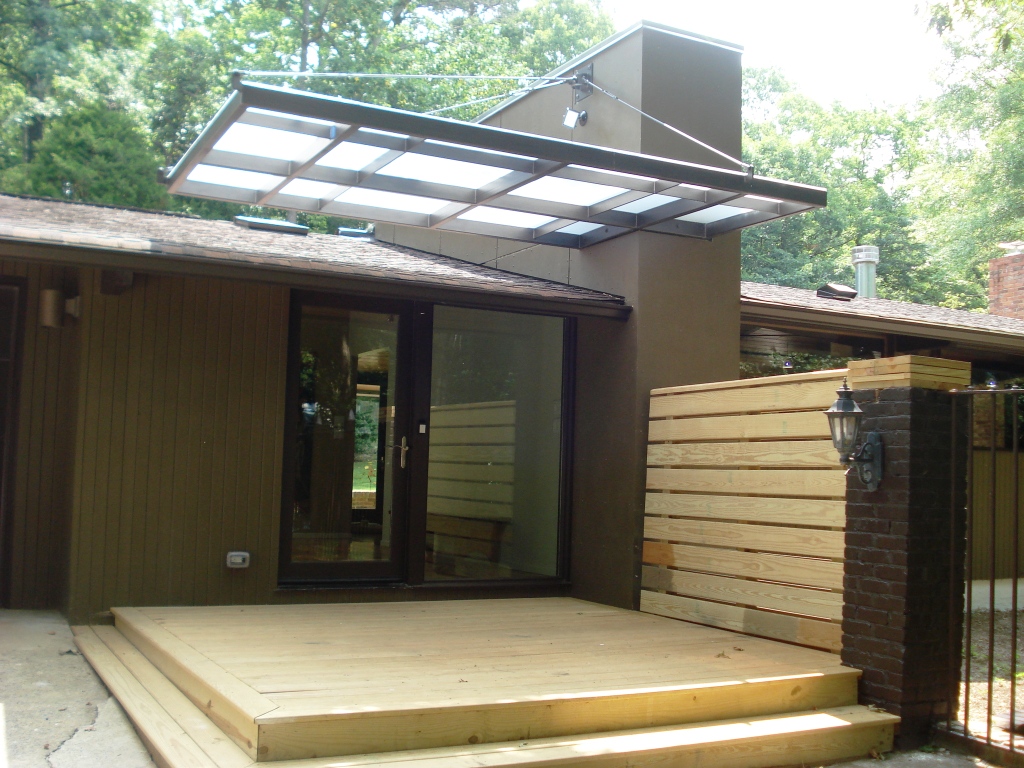 The 1969 Booth House, 1817 Woodburn, a Deck House renovated by architect Bill Waddell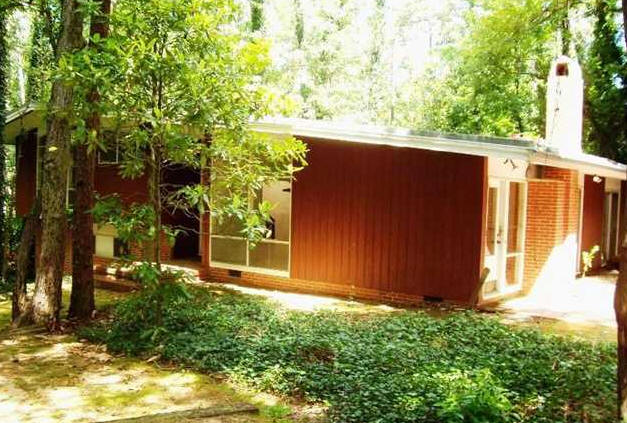 The 1956 Heyman House, 1216 Woodburn, designed by Kenneth Scott, renovated by Eric Lazzari.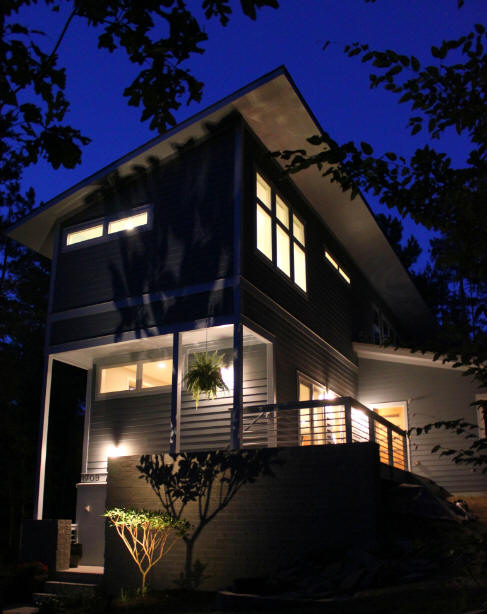 The 2013 Jeff and Charity Strang House, 1709 Tisdale, designed by Randy Lanou of BuildSense. Special guest Erik Mehlman of BuildSense.
---


September 2014
Raleigh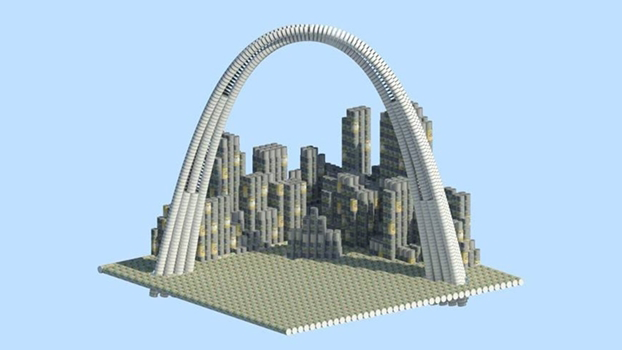 NCModernist's George Smart was a juror for the annual food drive/design competition. Here's the winning design, made of cans of food which will be donated to families in need.
---
August 2014
NCModernist Thirst4Architecture
McConnell Studios, Raleigh NC

The 2014 T4A series is powered by Emilie Huin / Coldwell Banker HPW,
specializing in Modernist houses in the Triangle.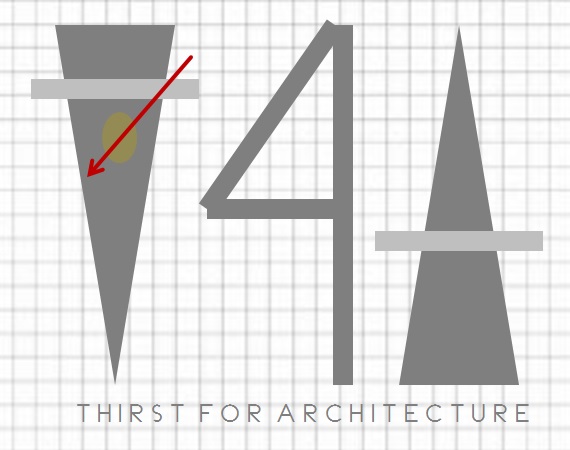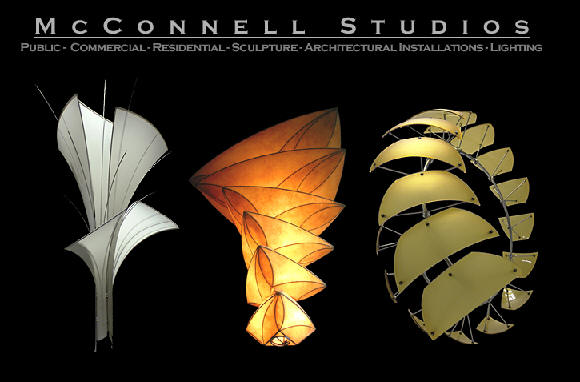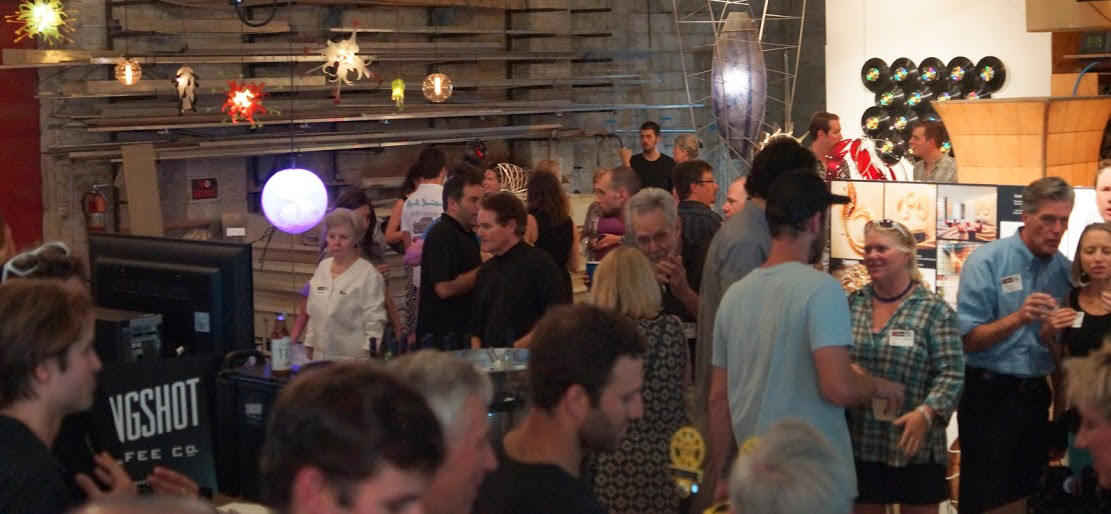 Over 150 attended Matt McConnell's annual studio party! Photo by Rebekah Laney.
---
August 2014
Hillsborough's Secret Museum
Hillsborough NC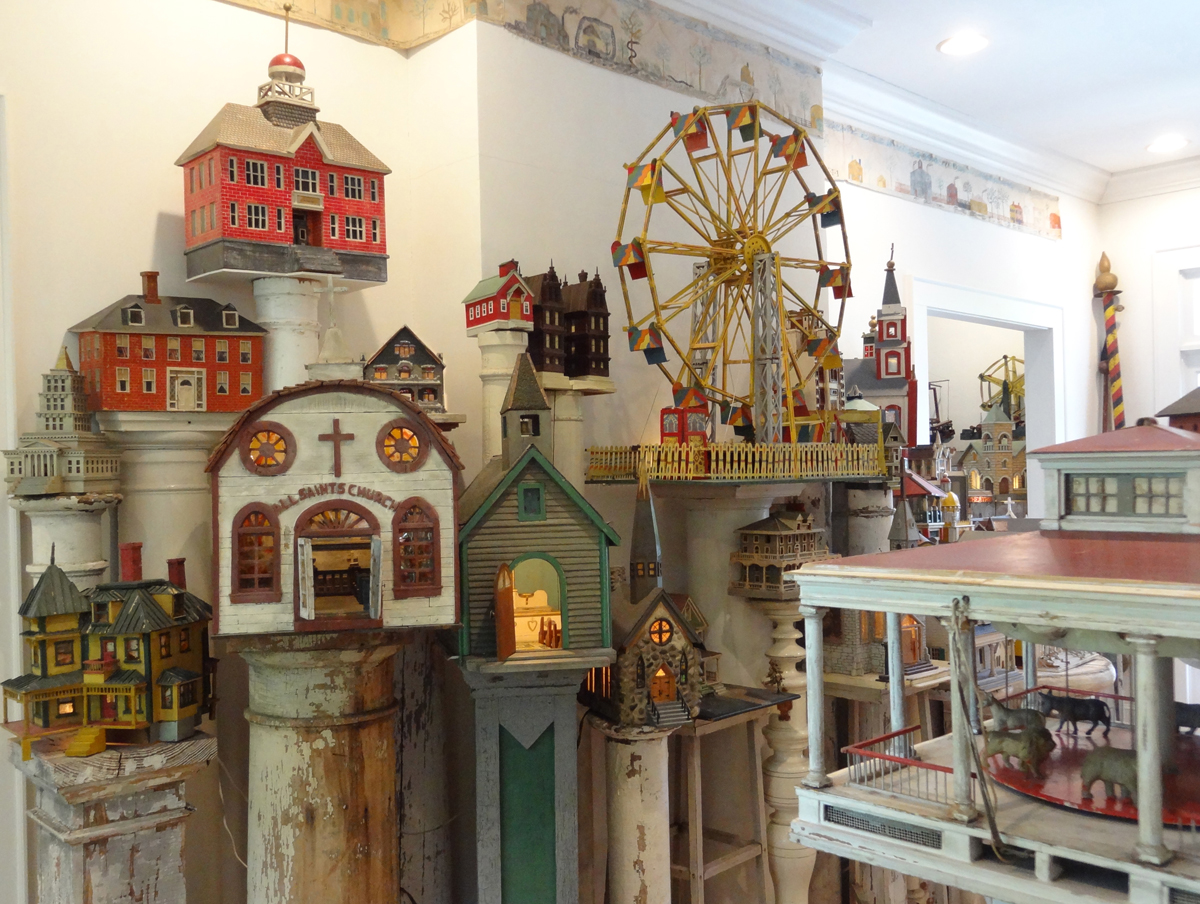 In the historic district of Hillsborough, Steven Burke and Randy Campbell's home – a grouping of five modern Greek Revival buildings they have designed on the site since 1994 – is a private museum, not routinely open to the public. It contains the nation's largest collection of American folk art buildings, over 1,000 renderings of houses and stores, Ferris wheels and carousels, gas stations and factories, Grant's Tomb and Independence Hall, theaters and schools, an ice rink and a bowling alley, bridges and castles and churches. Made mostly from the 1860s until about 1950 by largely anonymous persons, the buildings of real or imagined communities tell much about our culture, history, and architecture. This event was a rare opportunity to see the nationally unique collection and to experience, in small scale with large delight, our architectural history.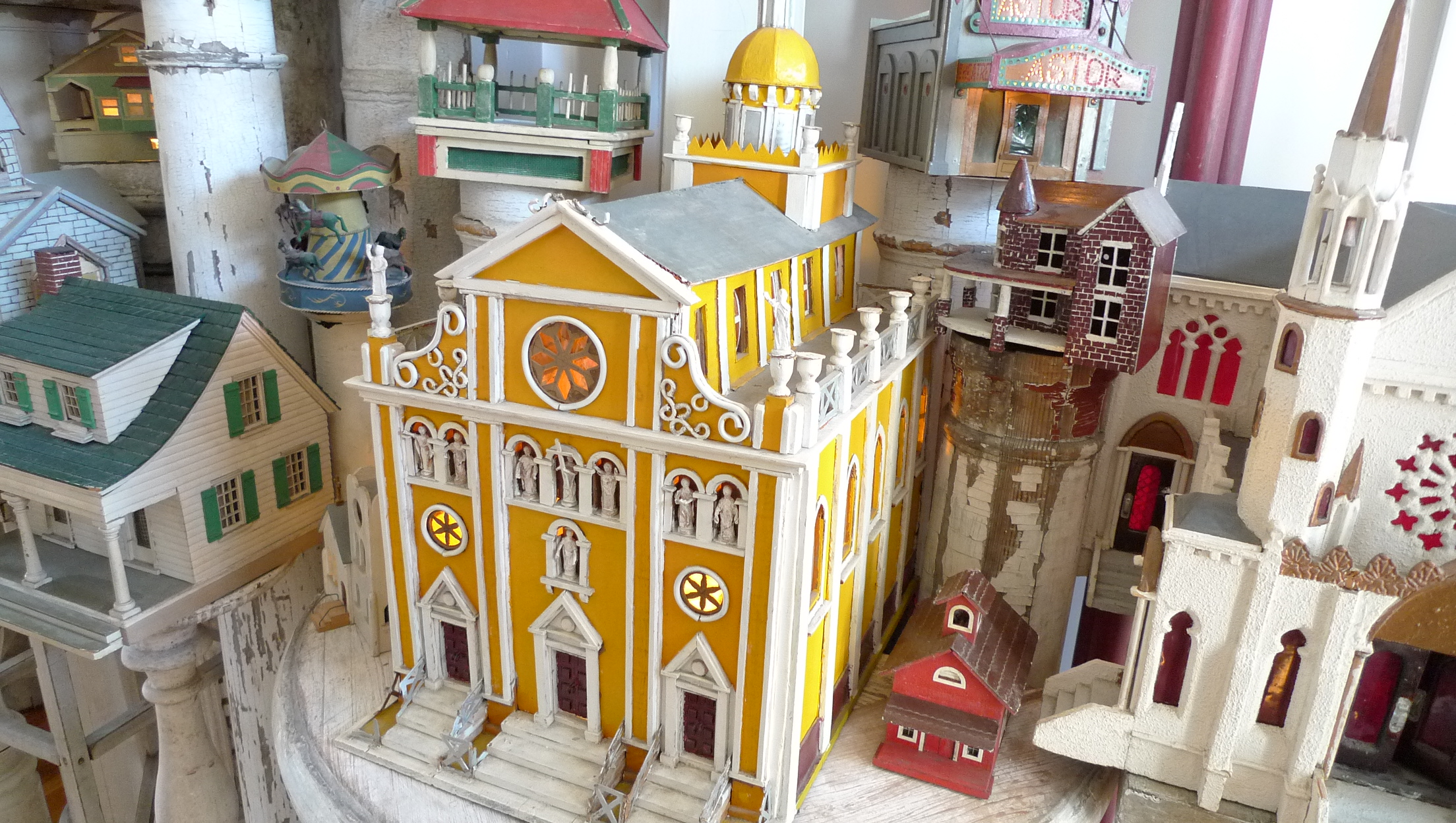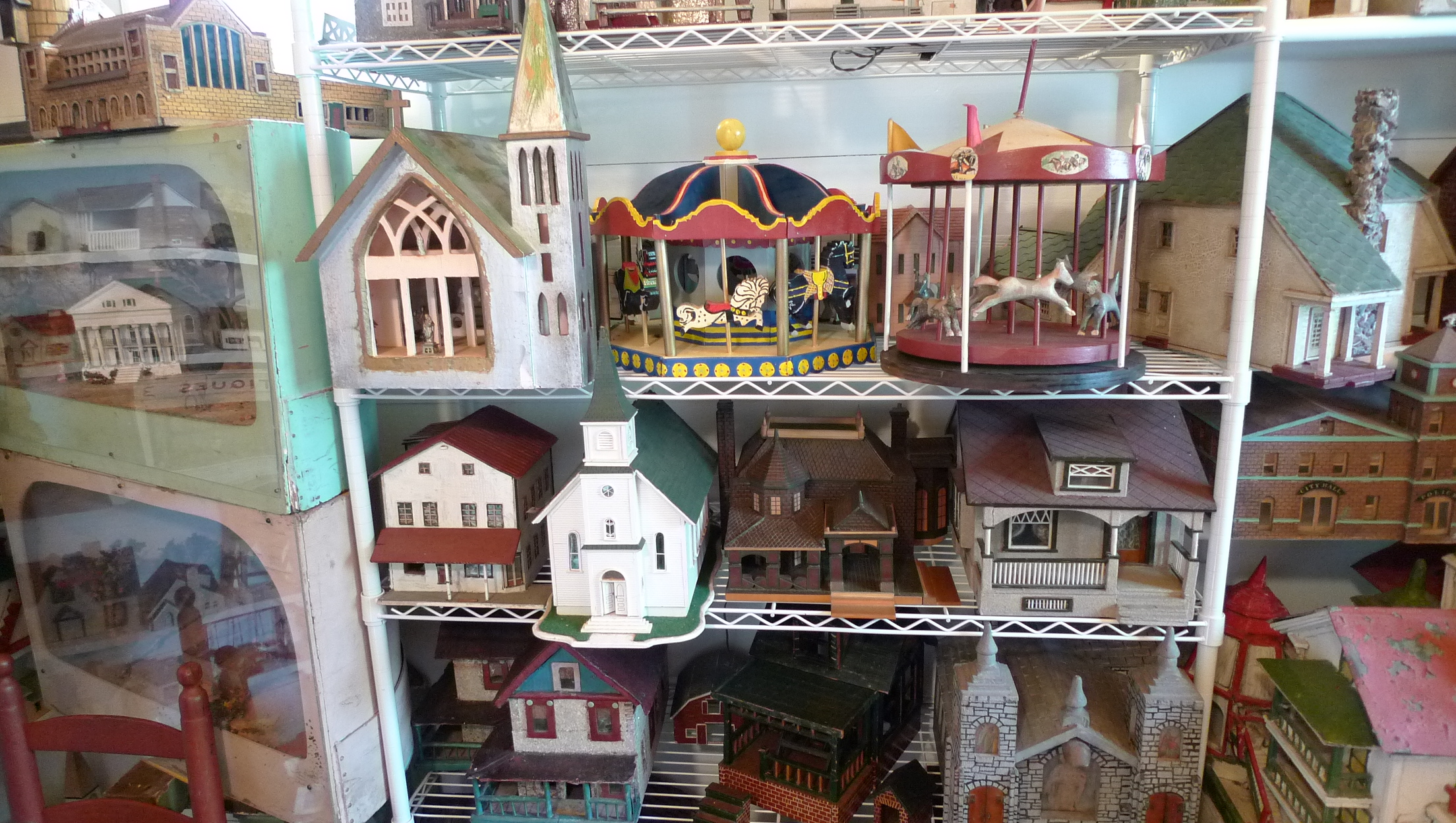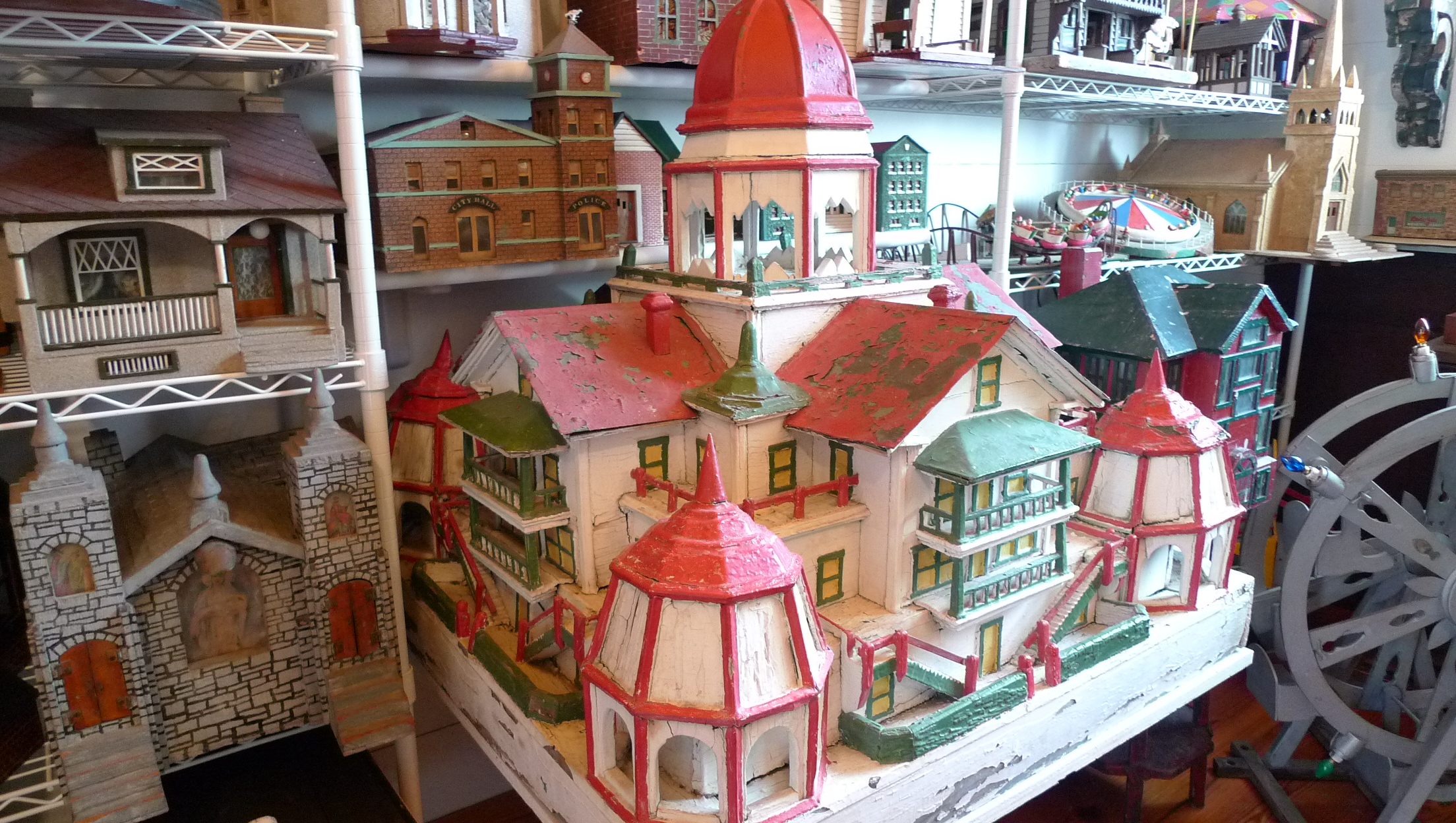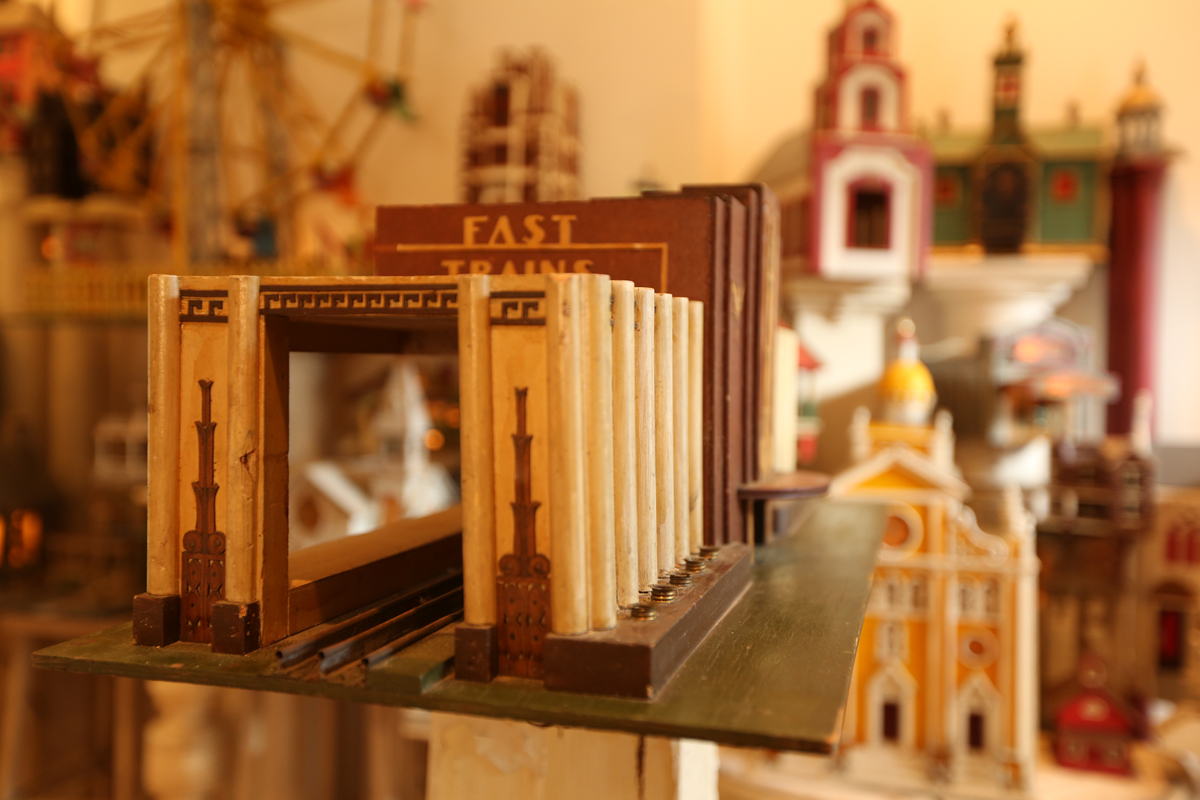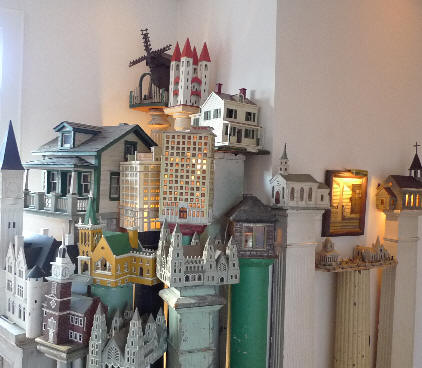 ---
August 2014
The 1969 Arthur Cogswell House Tour
Chapel Hill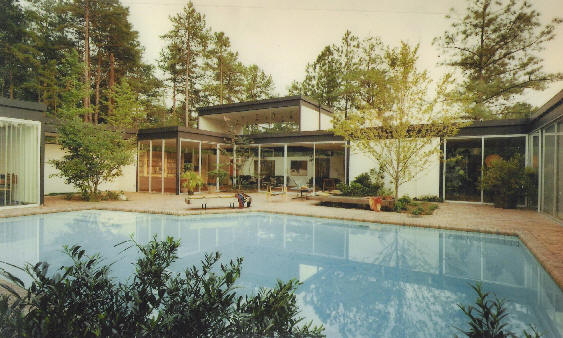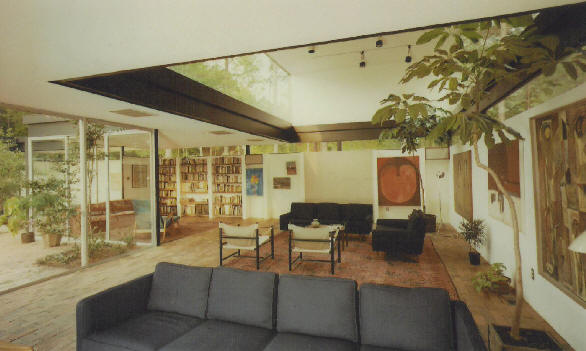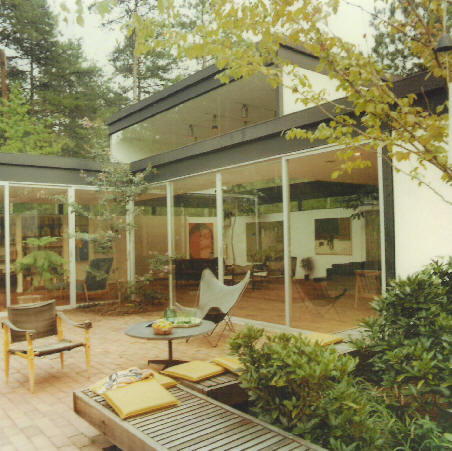 This extraordinary example of mid-century architecture is considered by many to be one of Arthur Cogswell's most inspired residential designs. Built in 1969 as his personal residence, the home won an AIA North Carolina Design award in 1971 and was one of the first homes in the state to be built around a courtyard pool. Cogswell's daughters Elizabeth and Amanda (who grew up in the home) were on hand for the crowd of over 300 people.
---
---
July 2014
Mayberry Modernism
West Regional Library, Cary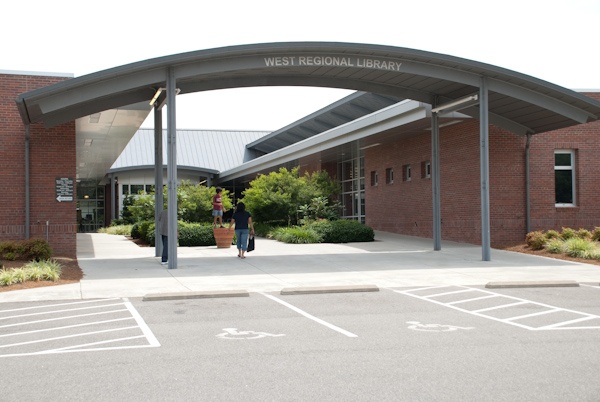 35 people attended at this Cary library designed by Clearscapes of Raleigh.
---
---
July 2014
Mayberry Modernism
Cameron Village Library, Raleigh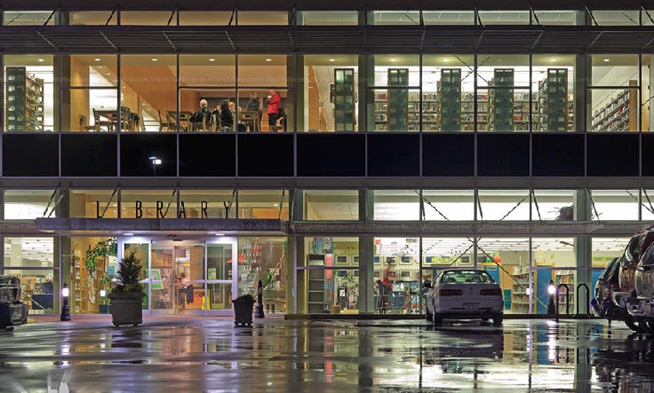 35 people attended at the Cameron Village Library, designed by Louis Cherry of Cherry Huffman Architects (later RATIO). Photo by Matt Robinson.
---
---
---
---
---
---
---
---
---
---
---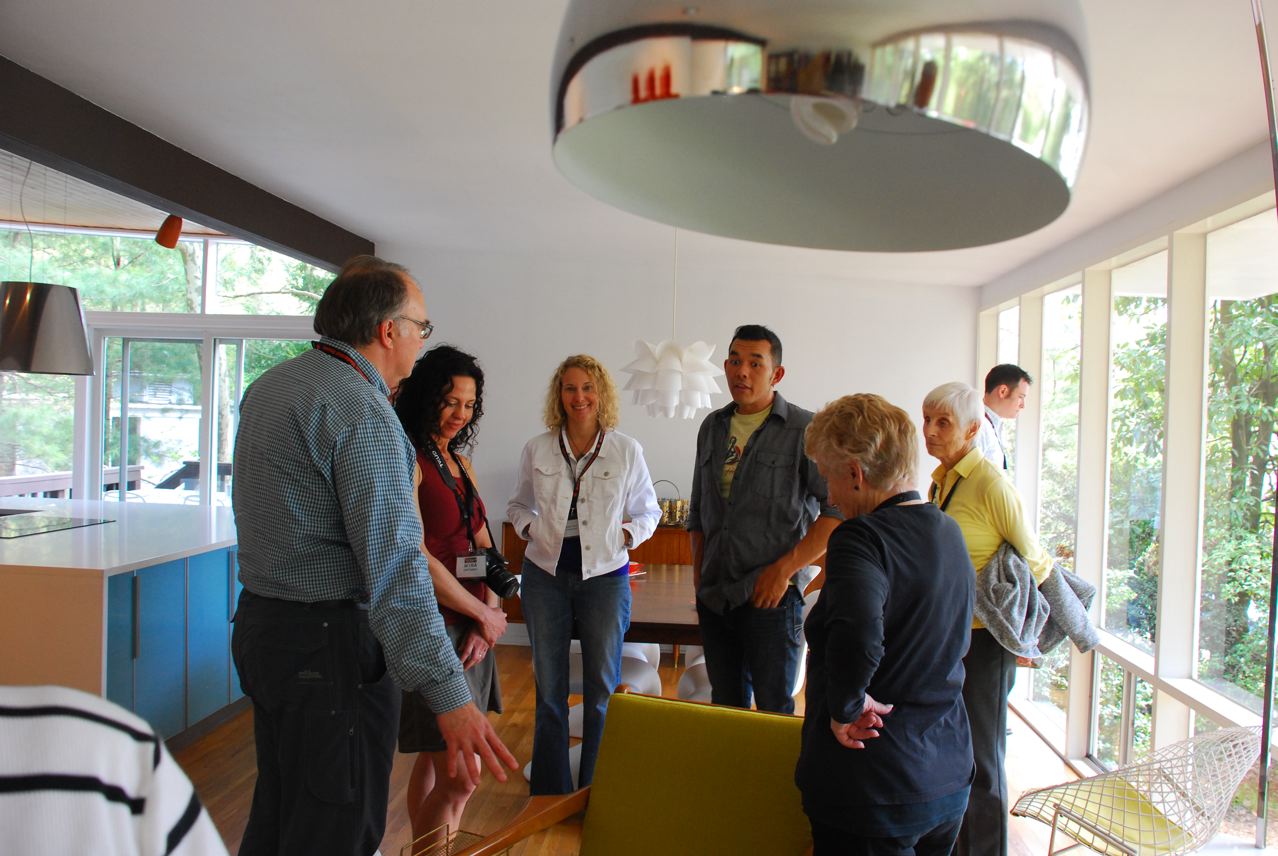 We were on theHollin Hills Mid-Century Modern Tour, seeing six great houses and gardens. Many thanks to the Hollin Hills committee for their extraordinarily generous and customized hosting. We were completely blown away by the attention to detail in the houses! Photo by Leilani Carter.
We visited Frank Lloyd Wright's Pope-Leighey House in Alexandria and the Pre-Columbian Pavilion by Phillip Johnson at Dumbarton Oaks. Photos by Leilani Carter.
WThen, through special arrangements exclusive to NCModernist, we toured two houses generally closed to the public: The Marden House, also by Frank Lloyd Wright, dramatically situated on the Potomac, and the Hooper II House, Marcel's Breuer's marvel near Baltimore. Middle two photos by Leilani Carter.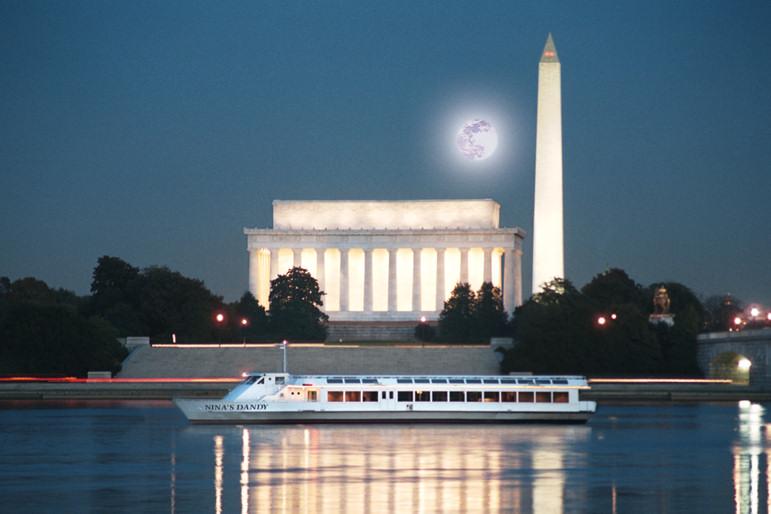 And there was a dinner cruise on the Potomac, plus the National Building Museum and the Hirshhorn Museum. 24 people went on this great trip. Many special thanks to Billy Dunlap and Jim Kimsey, Richard and Tatyana North, Deborah Rodgers and Eleanor Stell, Tania Ryan and the Hollin Hills Tour Committee.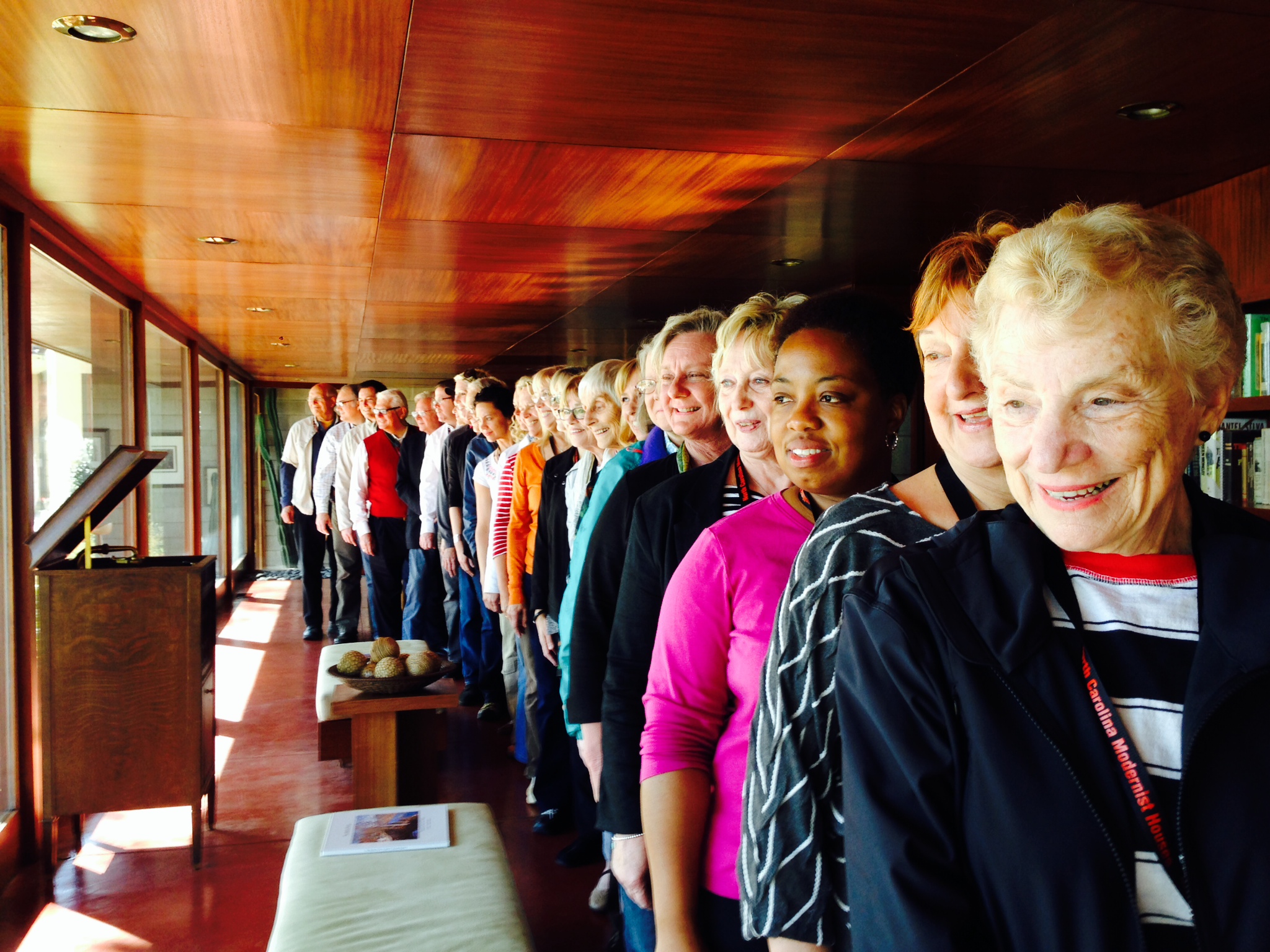 While we were in DC, we ran into Tara Barthelmess, Project BauHow students from Rolesville HS, who separately toured the Pope Leighey house, below: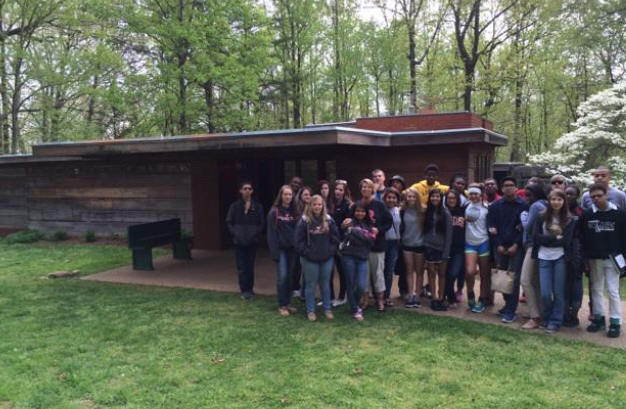 ---
March