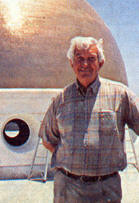 STUART OLIVER BAESEL, FAIA (1923-2009)
Baesel was born in Charlotte and graduated from Central High School in 1940. He attended UNC-Chapel Hill, served in the Army Air Corps in World War II, and completed his undergraduate degree in architecture at NCSU in 1949. He married Betsey London in 1949 at The Church of the Good Shepherd in Raleigh, after which he completed postgraduate work at Cranbrook in Michigan and Fontainebleau, France. They lived inCharlotte, New York City, and Columbia SC before settling in La Jolla CA in 1972. Both died in 2009.
Baesel worked for Odell in Charlotte, Skidmore Owings Merrill in New York City, and Lyles Bissett Carlisle and Wolfe inColumbia SC. He was extremely active in the SC AIA and edited the SC AIA Review of Architecture during the 1960's.
A new position as director for design for JN Pease and Associates in Charlotte moved him into larger architectural projects. He moved to La Jolla CA and focused on houses and buildings reflecting the bright sun, cool colors and clean lines of the Mediterranean. He and wife Betsey also owned a flat in Villefranche sur Mer on the Cote d'Azur in France where they lived off and on for ten years.