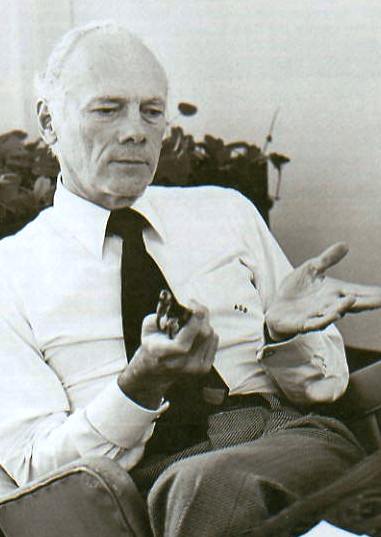 ARTHUR GOULD (A. G.) ODELL, JR., FAIA, PE (1913-1988)
---
Odell grew up in Concord NC. He attended Duke University starting in 1930 then transferred to Cornell University, graduating in 1935. After additional training at the Ecole des Beaux Arts in Paris, he did a grand tour of Europe and returned to New York City to work with Wallace K. Harrison, who would later head the team that built the United Nations building. He also worked with industrial designer Raymond Loewy, the man who gave the Studebaker its classic aerodynamic lines. Odellcame to Charlotte in 1939 and set up a one-man office. During WWII he served in the US Army Corps of Engineers. After the war, he built one of the largest and most influential architectural businesses in North Carolina, Odell Associates, which continues today.
According to Charlotte historian Dan Morrill, Odell had nothing but disdain for the architecture he observed when he arrived in Charlotte in the late 1930s."There was nothing here," said Odell, "that illustrated the honesty of stone as stone, steel as steel, glass as glass. Everybody was still wallowing in the Colonial heritage." It was the Charlotte Coliseum that gave Odell international fame. At the time, it was the largest unsupported dome in the world.
Odell became Charlotte's champion of the International style and devoted his considerable talents and energies to reshaping the city.
Odell's residential work was under the radar, done only for close friends and large corporate clients.
Odell was President of AIANC from 1943-54 and became the first national AIA President from North Carolina in 1965. In 1973, a number of the Odell staff left to form Clark Harris Tribble and Li. Facing health problems and a second palace revolt, he sold most of his stock in 1979 to a younger management team. By the 1980's, Odell alumni had spawned some 40 practices. He retired in 1982 but continued to come into the office, even when that required a nurse. He lived at
2149 Sherwood Avenue
, Charlotte. Odell did not design the traditional 1925 house but extensively remodeled it over his career, attracting media attention such as the cover of the of October 1955 Better Homes and Gardens, below: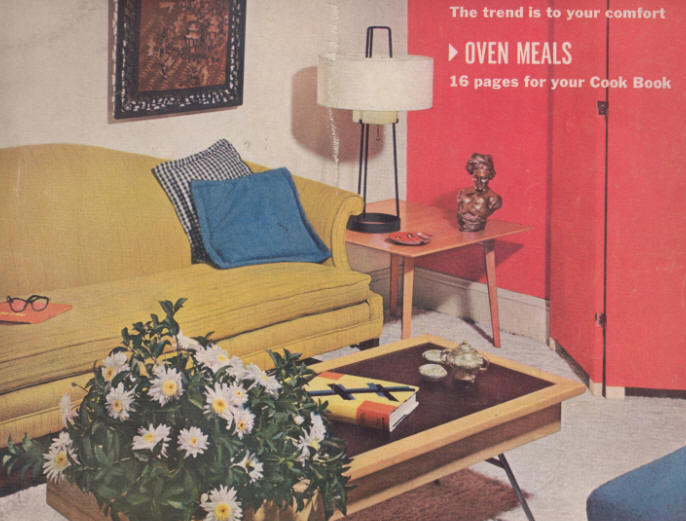 In the Triangle, Odell's most well-known building is the Blue Cross Blue Shield building in Chapel Hill, below. Technically a rhombus, the shape of the building has been most frequently referred to as a trapezoid, which is also true, as a rhombus is also a trapezoid!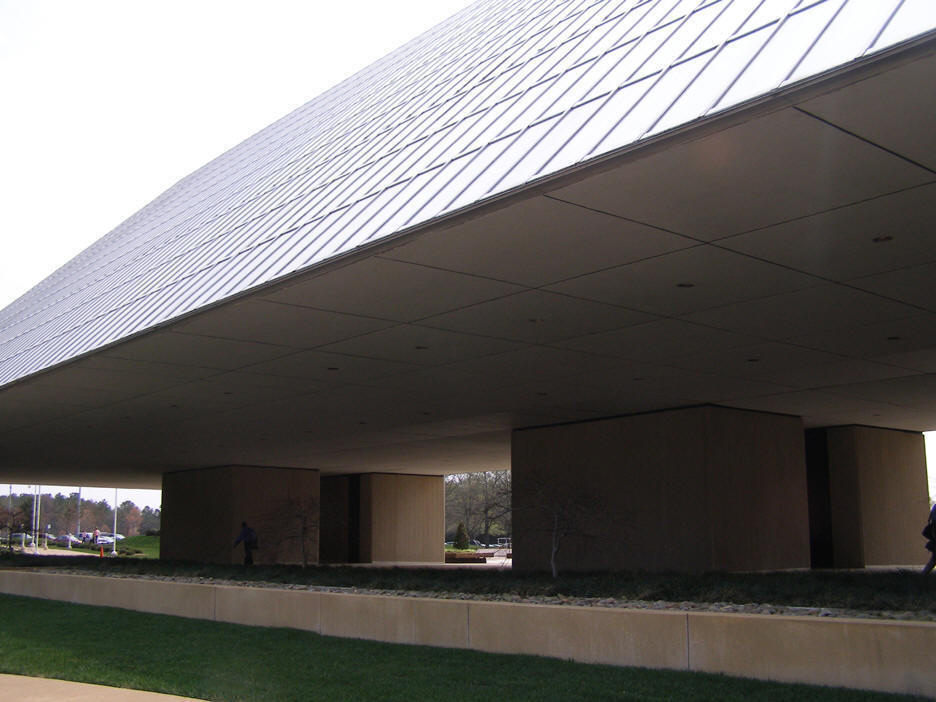 According to Michael Warner, hired by Odell in 1966, Odell thought BCBS was the firm's best work. The principal designer was Odell architect and sculptor Charles McMurray.
Odell designed much of the original Research Triangle Institute campus in Research Triangle Park, including the circular chapel-like Dreyfus auditorium, below, since destroyed.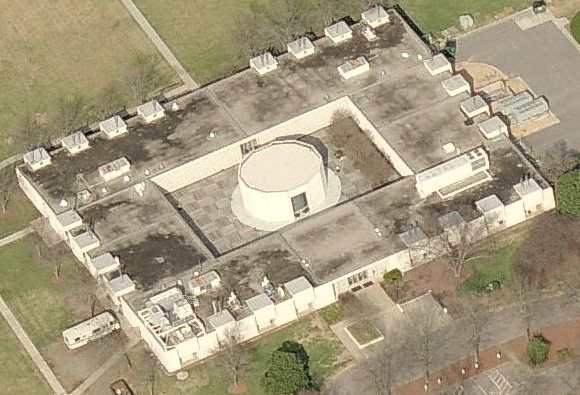 Odell designed the Wachovia Building in Downtown Raleigh, below.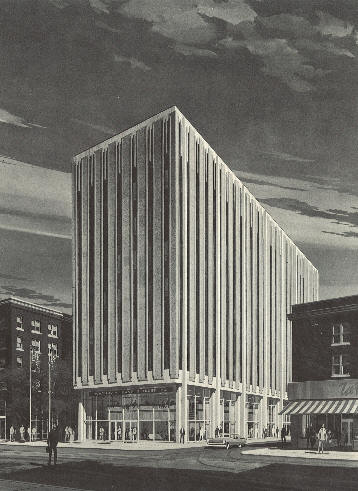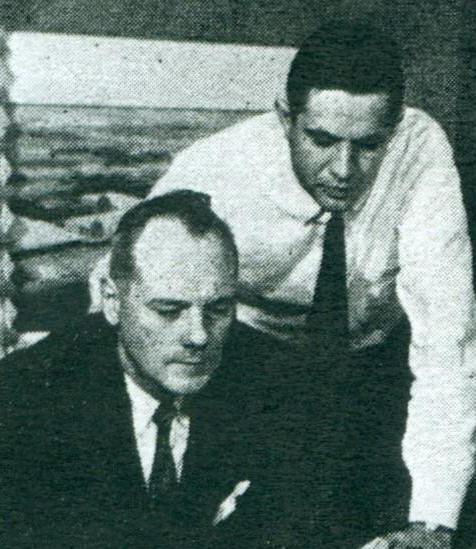 Odell (left) with employee Al Cameron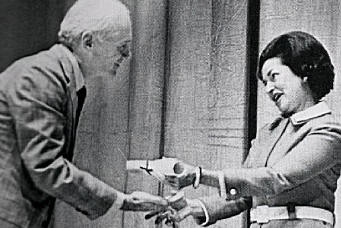 Odell receiving an award from Lady Bird Johnson in 1968.

From Progressive Architecture, May 1957, a huge feature on Odell's work.

Odell brochure from the 1960's provided by Walter Bost, who started with the firm in 1950.
News 14 Carolinas coverage of Lassiter House, four months away from demolition. TMH's national endangerment alert helped bring this house a new owner in May 2011.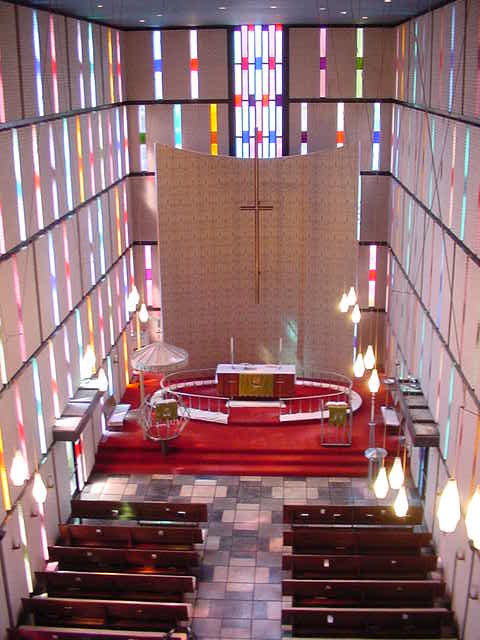 The award-winning 1959 Holy Comforter Lutheran Church in Belmont NC. The project architect was Charles Bates. The acoustics are quite extraordinary.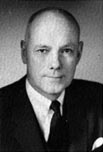 "Architecture is 10% art and 90% business." -- A. G. Odell
Additional Resources: Odell Archives at the UNC Charlotte J. Murrey Atkins Library.
---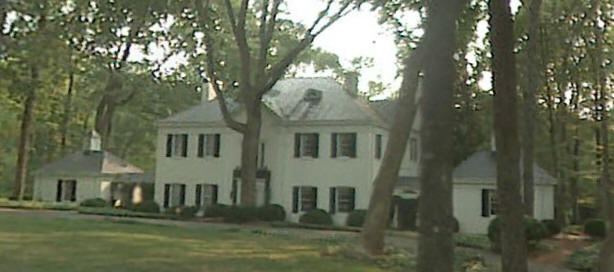 1941 - The Dr. Elias S. and Gloria Faison House, a traditional design, 2110 Stonebridge Lane, Charlotte. Still in the Faison family as of 2011.
---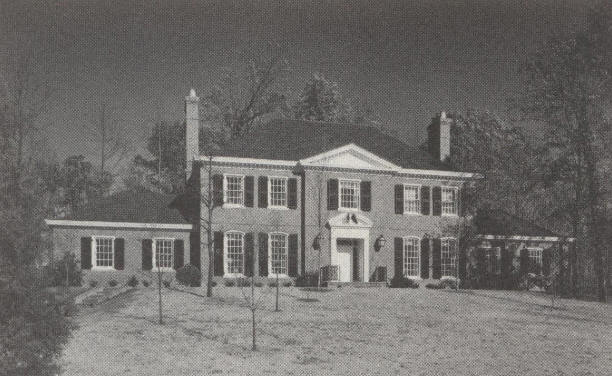 1945 - The Sam McDonald House, 319 Colville Road, Charlotte NC. Top photo appeared in an Odell brochure in the 1960's. Sold to Grubb Family Trust.
---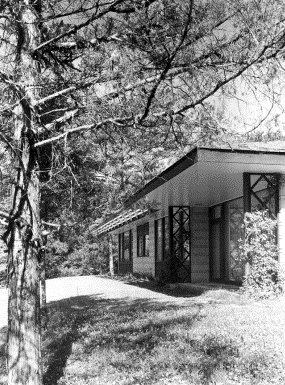 1947 - The Kenneth R. and Betty Phillips Shupp Residence, Sharon View Road, Charlotte. This was the very first Modernist house in Charlotte.Needs verification. Not sure if it is still standing. The Shupps previously lived at 424 Eastover in a 1930's house designed by Martin Boyer.
---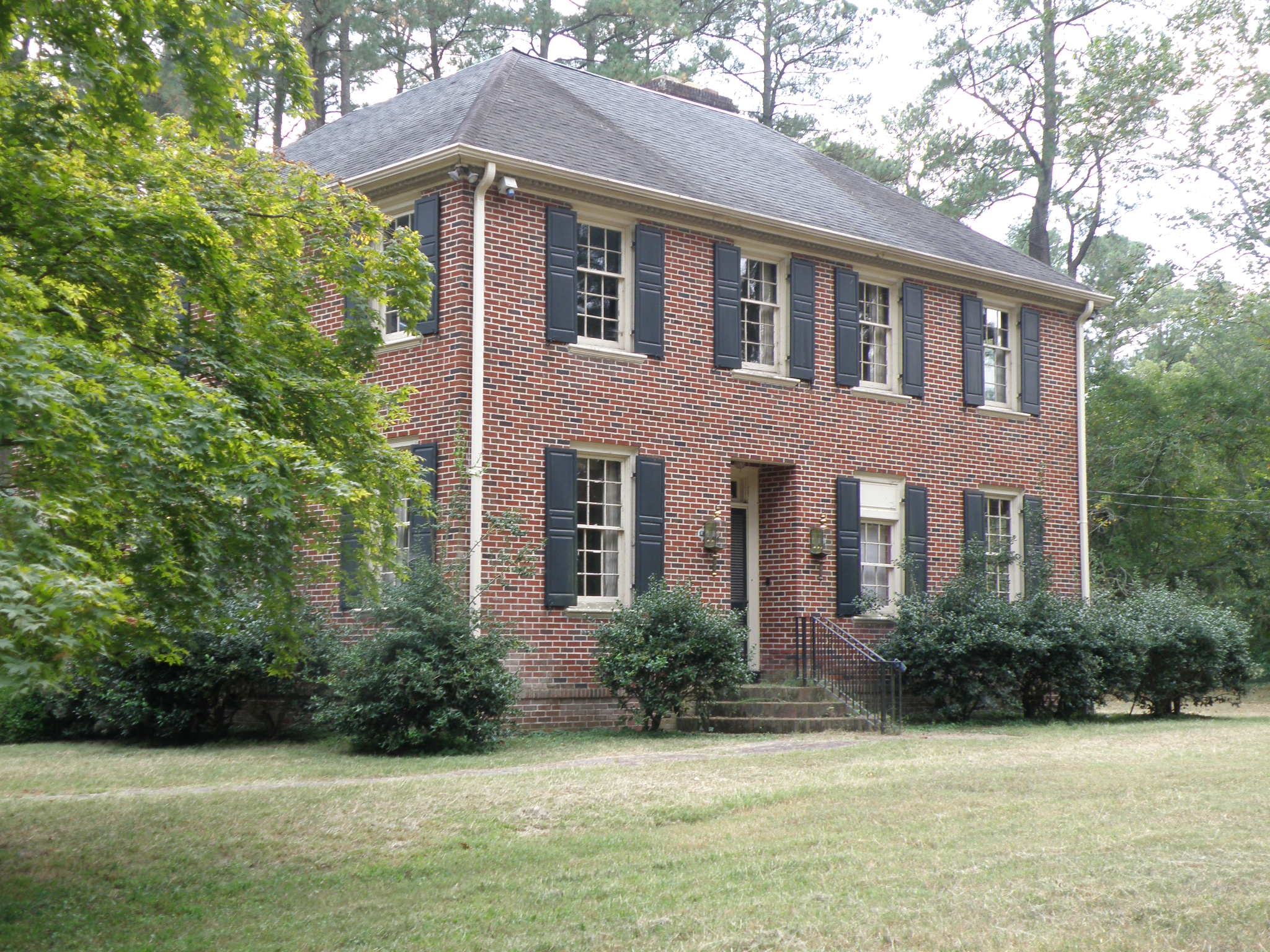 1949 - The Emerson P. and Emily Cross Jones House, 1105 Clay Street, Franklin VA. The Jones and the Odells were friends. Needs verification as anOdell design. Sold in 2011 to Frederick and Adrienne Taylor.
---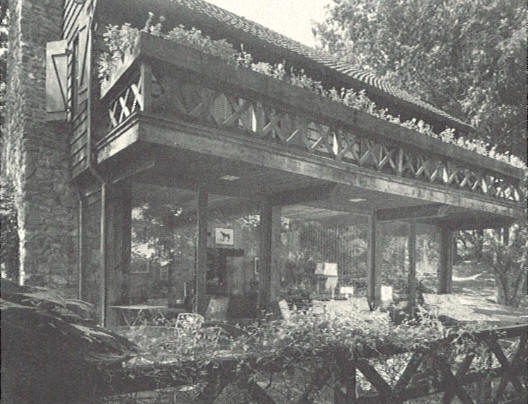 Around 1950 - The Henry A. Lineberger House, Roaring Gap NC. Sold to Mike and Sayre Lineberger Tribble. There was an addition.
---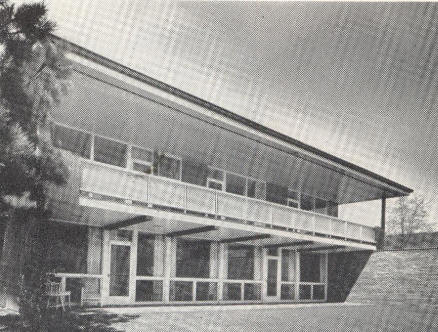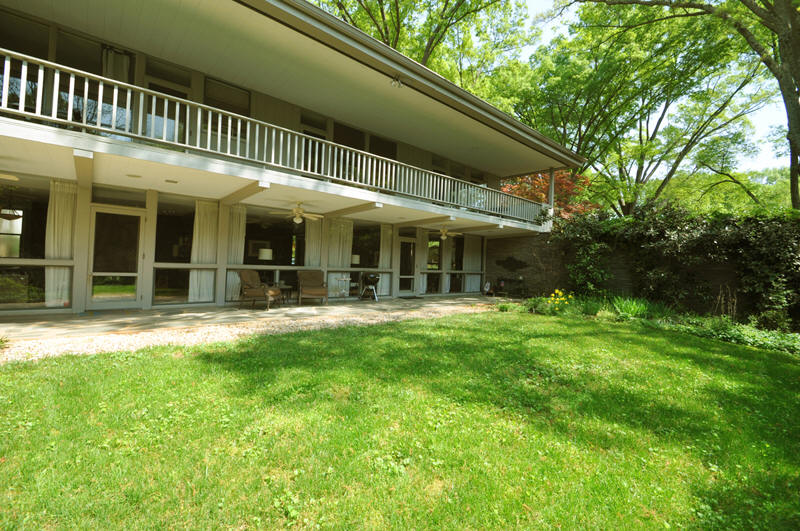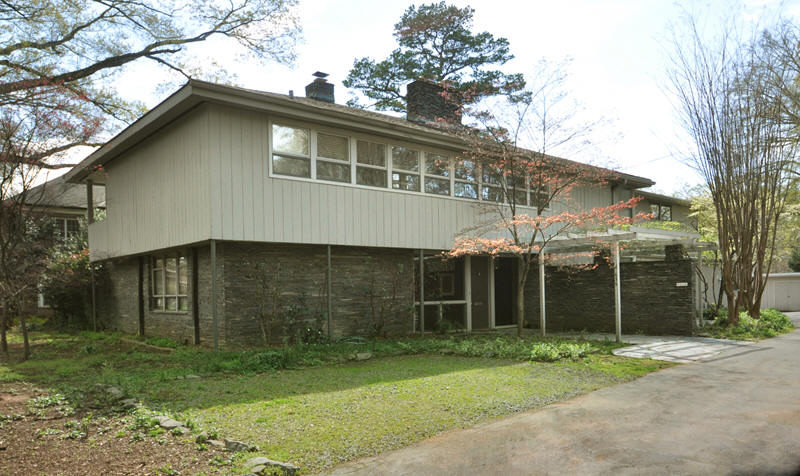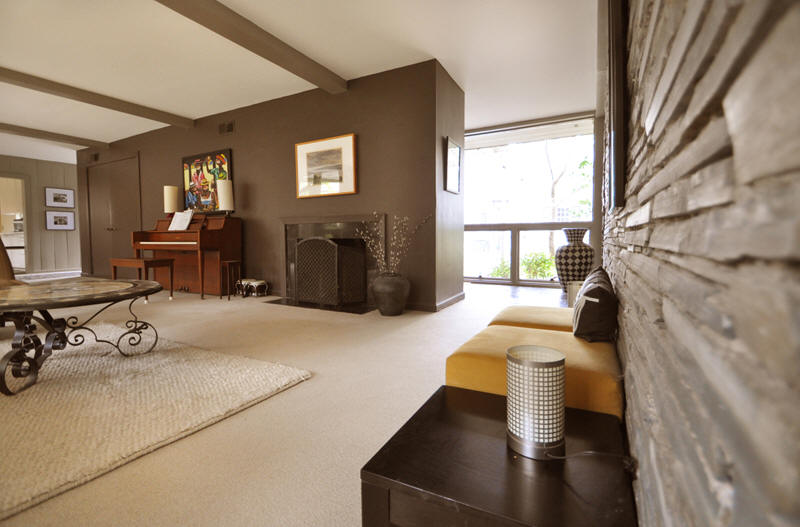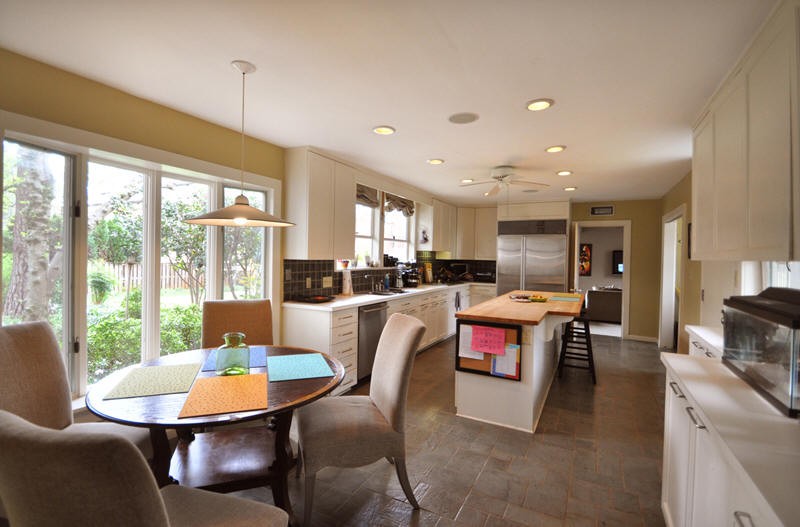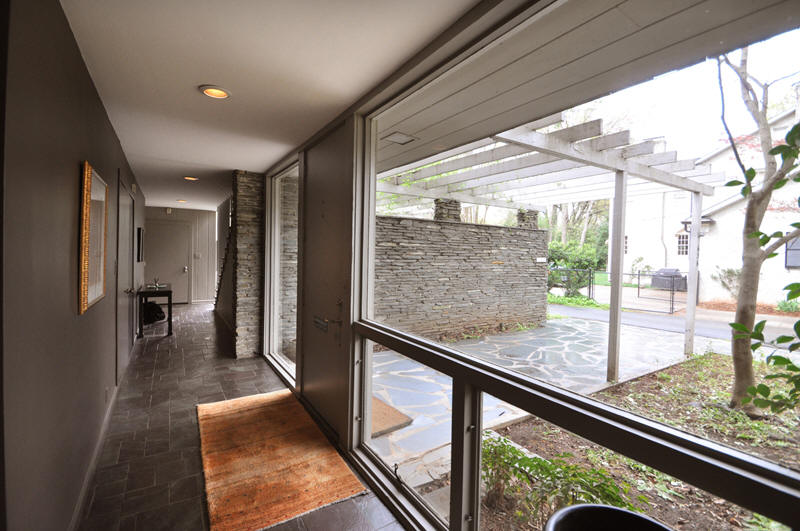 1951 - The Paul H. Efird House, 636 Llewellyn, Charlotte. According to his son, Paul (Woody) Efird, Odell's firm made an intricate model at the time, location now unknown. Sold more than once. Sold to Thomas and Robin Byrnes. Sold in 2013 to Charlotte, Brooks, and Edwin F. Lucas.
---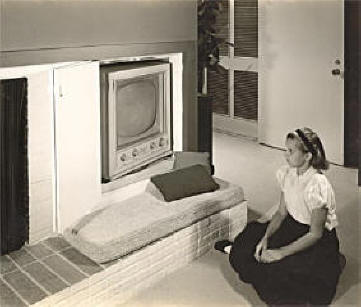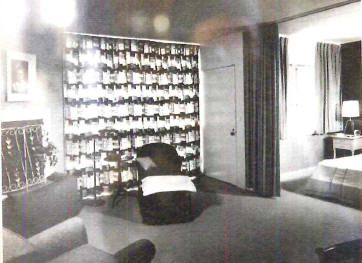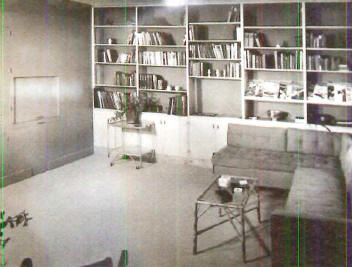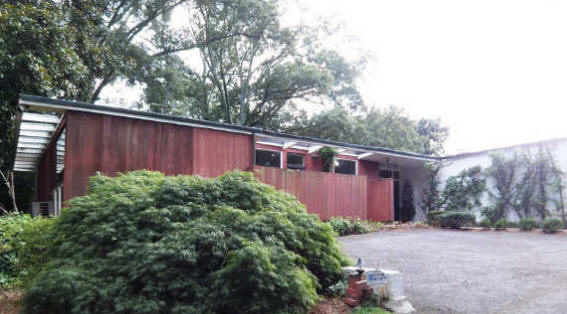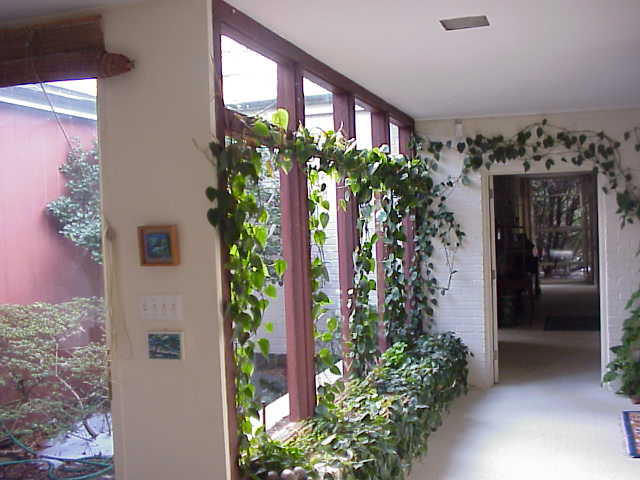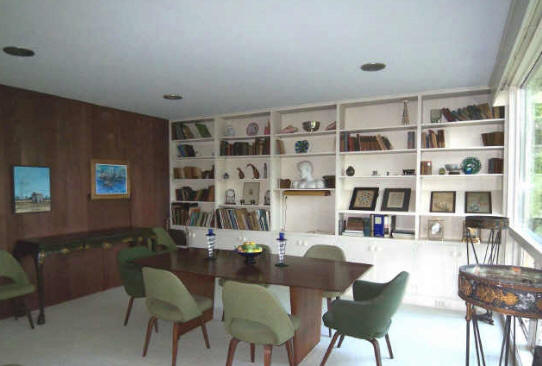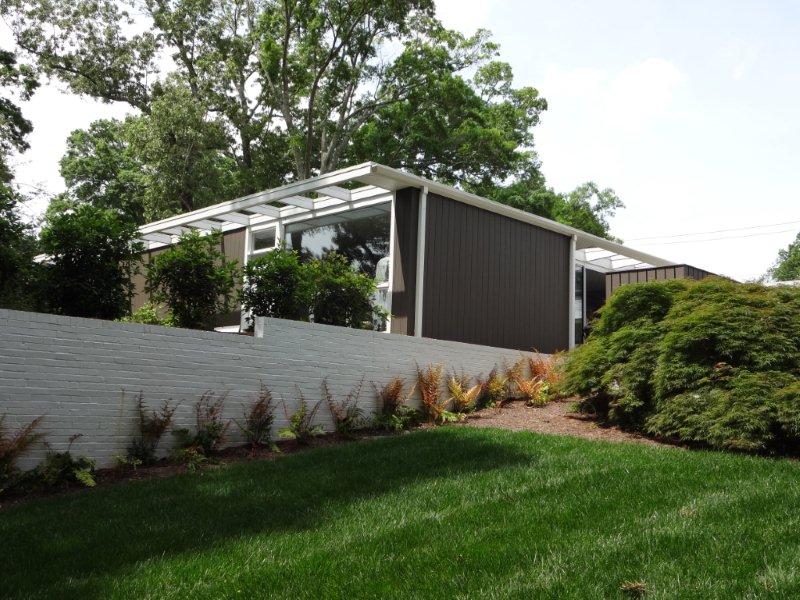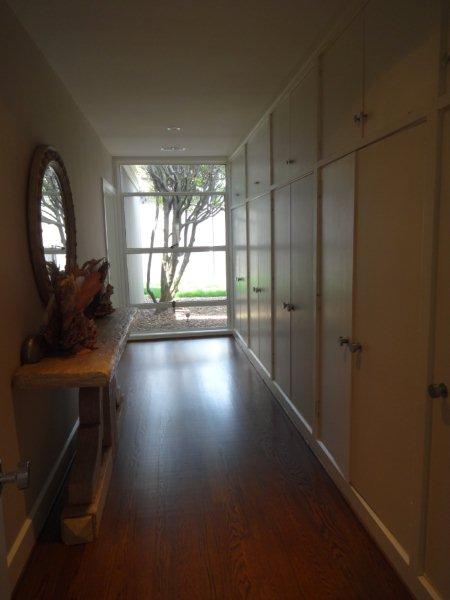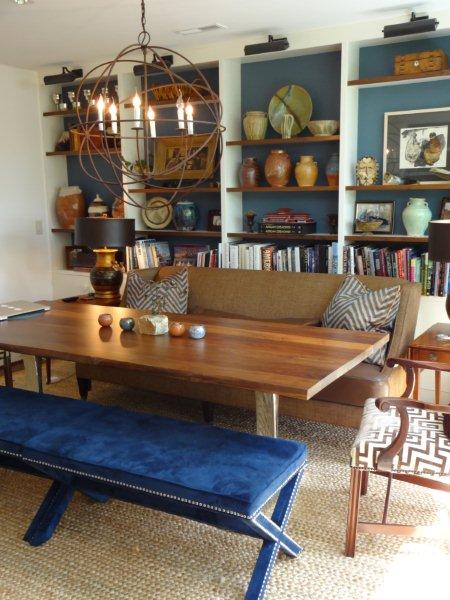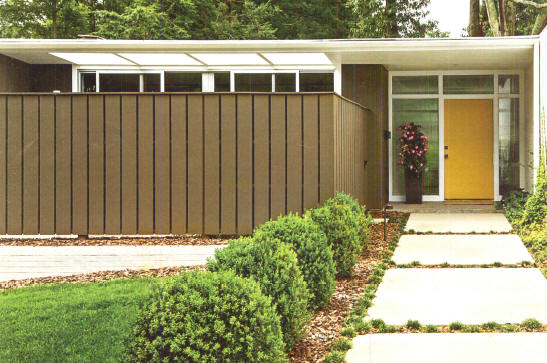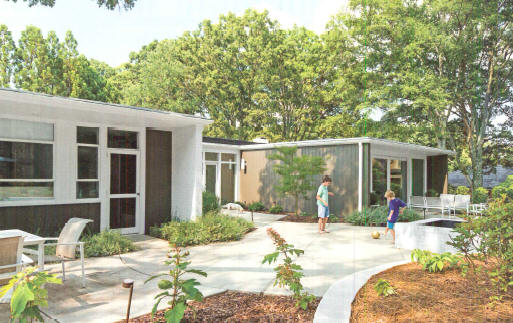 1952 - The Robert (Bob) and Elizabeth Lassiter, Jr. House, 726 Hempstead Place, Charlotte.Commissioned 1951. Steel beams support the roof and allow large open spaces to predominate throughout the interior. A particularly ingenious dining table could be set in the kitchen, complete with food and adornments, and slid through the wall into the dining room. Appeared in Better Homes and Gardens, September 1956. Charles McMurray did an addition in the 1970's. Included a saltwater pool at one point.
The house was going to be destroyed in 2011. NCModernist, Historic Charlotte, and Modern Charlotte launched a national demolition alert, and the house was sold in 2011 to John and Leslie Culbertson. Matt Benson of Meyer Greeson Paullin Benson in Charlotte did a renovation in keeping with the original Odell design. bottom three photos. Ted Cleary was the renovation landscape architect. Featured in Southern Living, March 2015.
---
1952 - The Ted Schramm House, 151 Ingleside Drive, Concord NC. The Schramms and the Odells were family friends with a common background in textiles. Sold to Pamela and Daniel McDonald.
---
---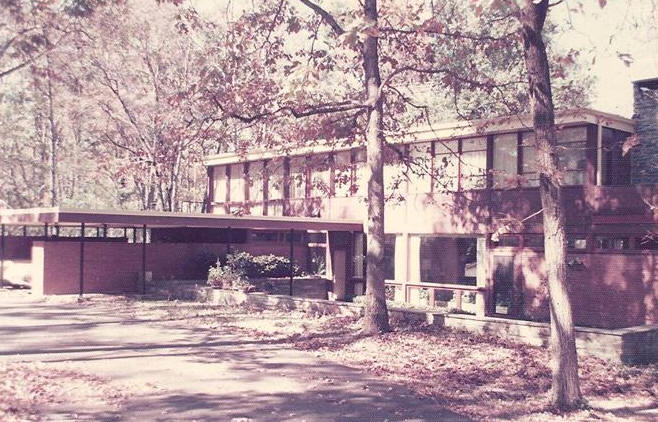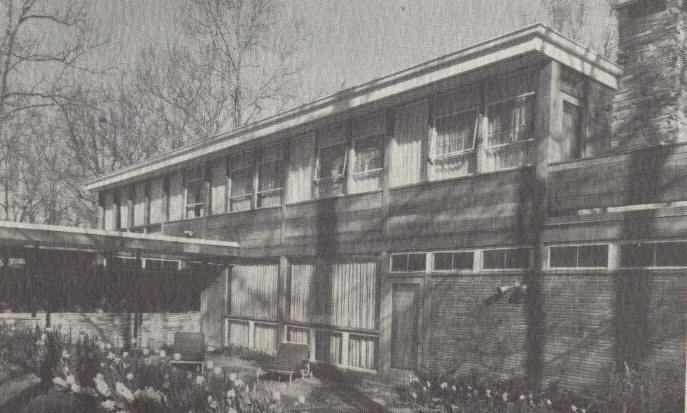 ---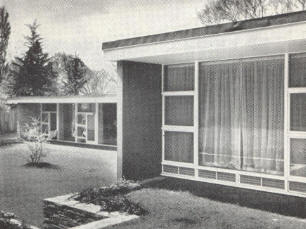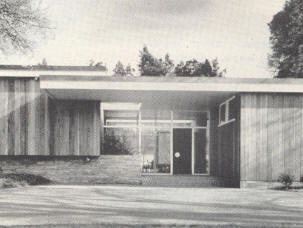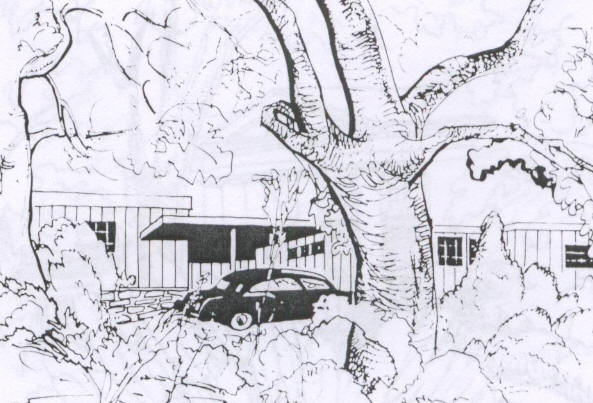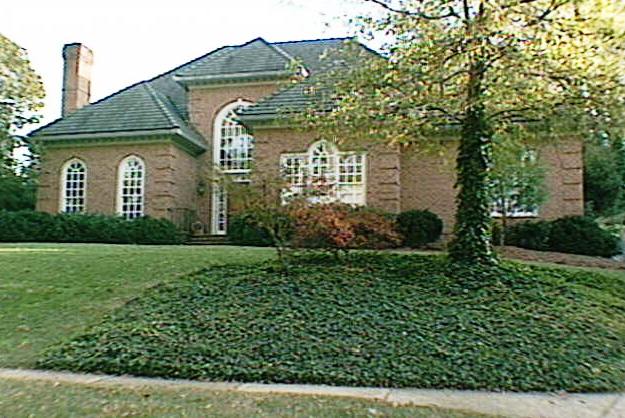 About 1953 - The James (Jimmy) Cannon Residence, 801 South Edgehill Road, Charlotte. Mrs. Cannon added on four rooms. Appeared in Town and Country Magazine May 1953. Featured in May and Sep 1954 issues of Southern Architect. The house was destroyed in the 1980's, the lot subdivided, and the house replaced (bottom photo).
---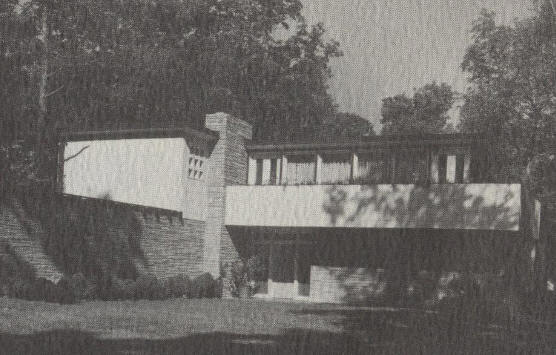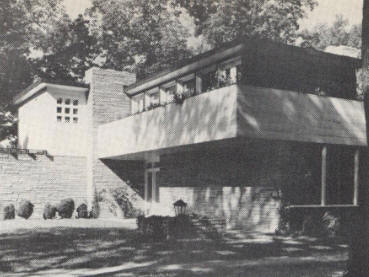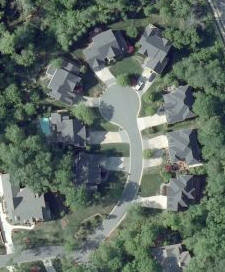 About 1953 - The A. G. Carpenter House, 2708 Sedgewood Circle, Charlotte. Destroyed and replaced by a cul-de-sac of houses, above, right.
---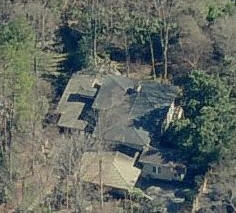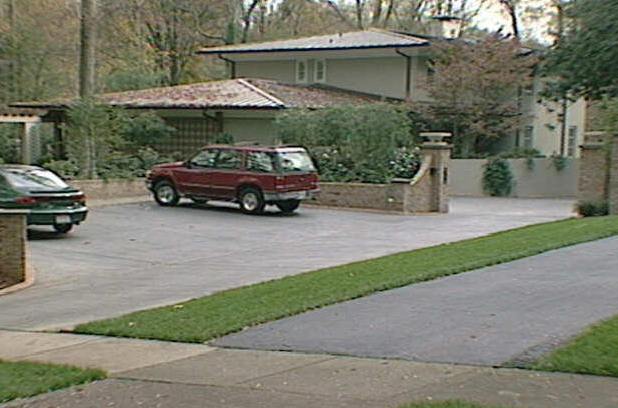 1954 - The Rose and Phillip Gossett House, aka the Jackson-Bright House, 555 Hempstead Place, Charlotte. Sold to Tom Bright. Sold to Max L. Jackson. Sold in 1995 to Raleigh Hortenstine. Sold in 1998 to James W. Thompson. Has been expanded and remodeled to such an extent the original design is unrecognizable. Sold in 2005 to Lisa McGeough. Sold in 2013 to Catherine T. and William L. Dawson.
---

1953 - The O'Herron House, Charlotte. Photographed at some point by Joseph Molitor.
---

1956 - The Williams House, Charlotte. Photographed at some point by Joseph Molitor.
---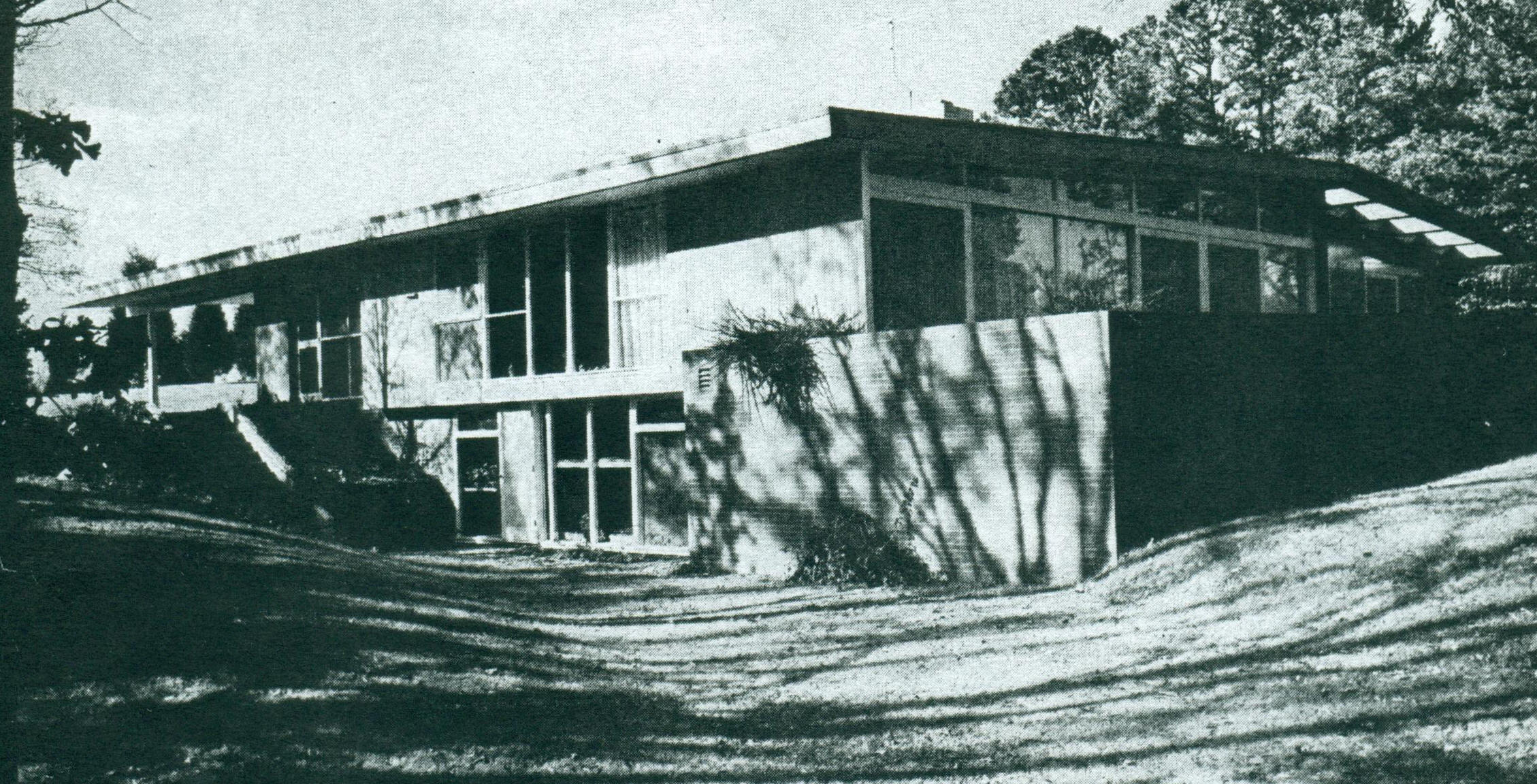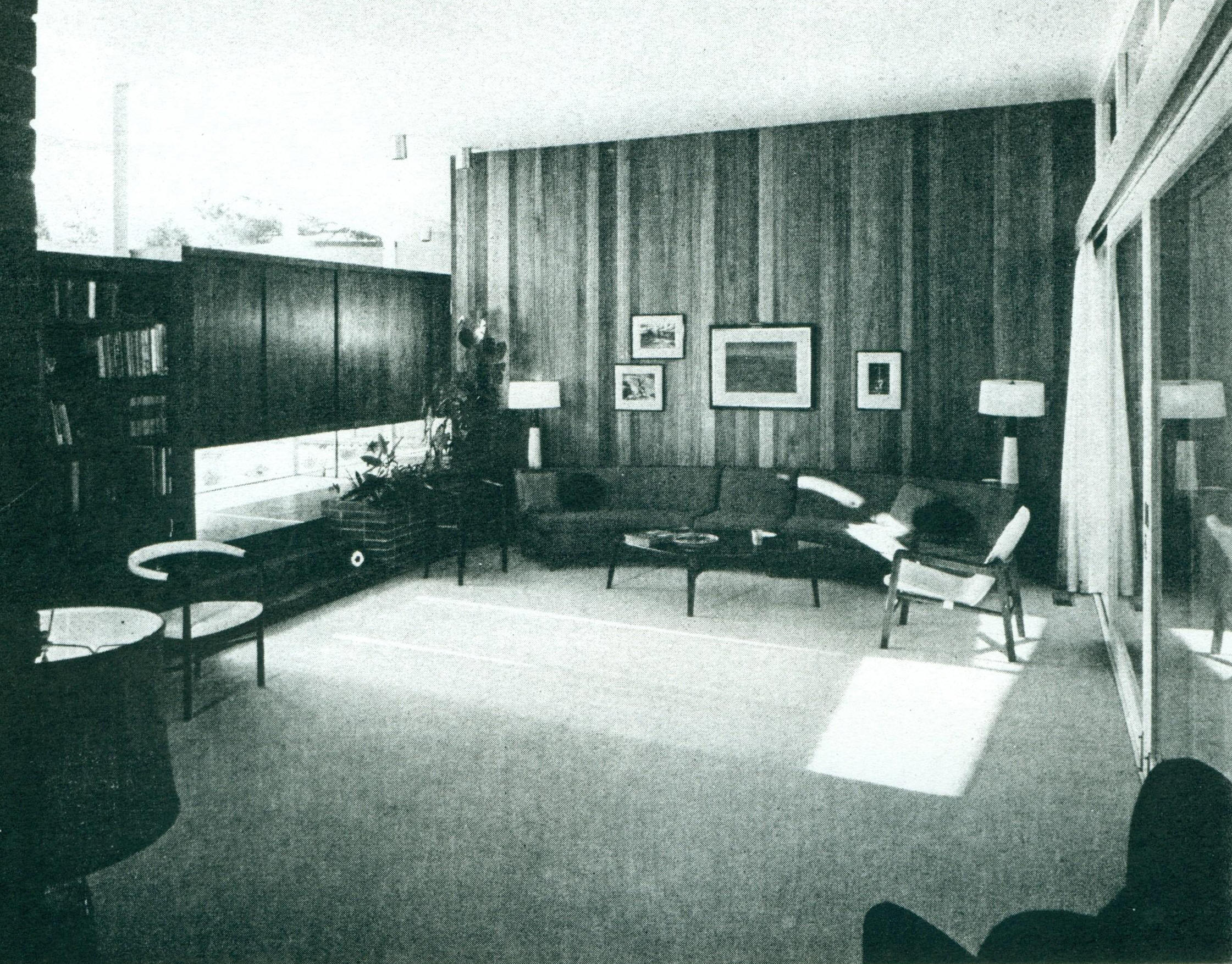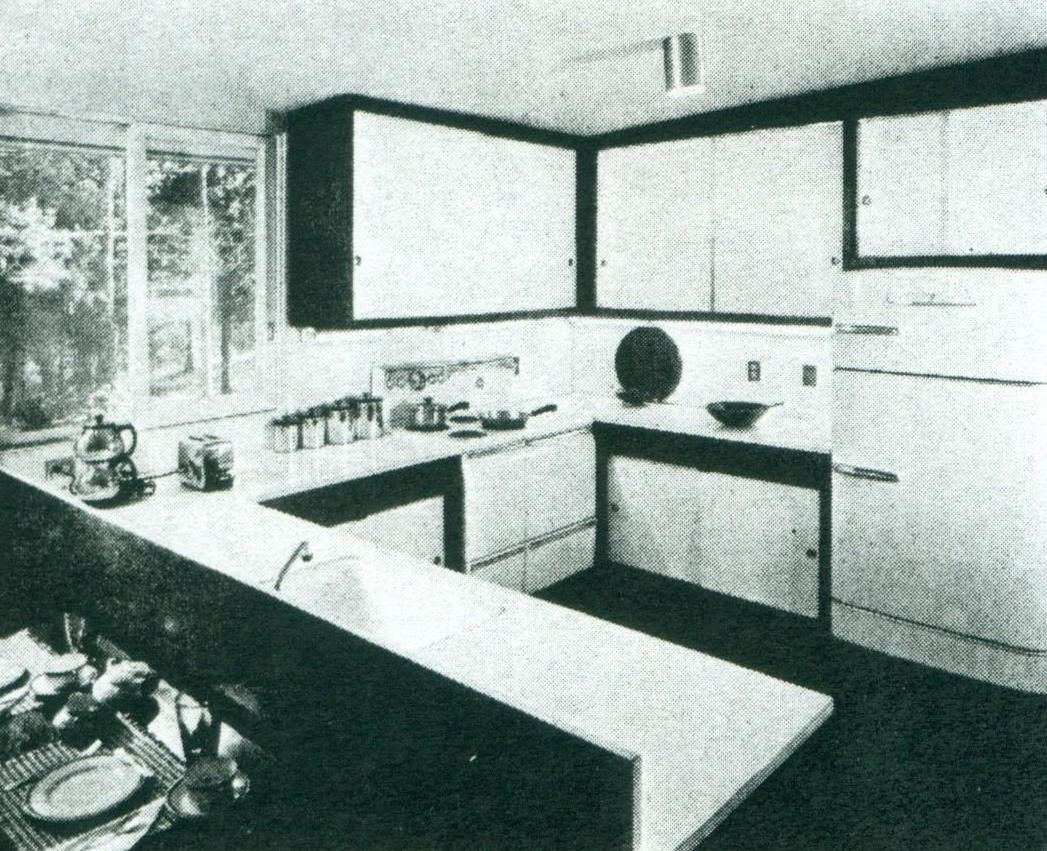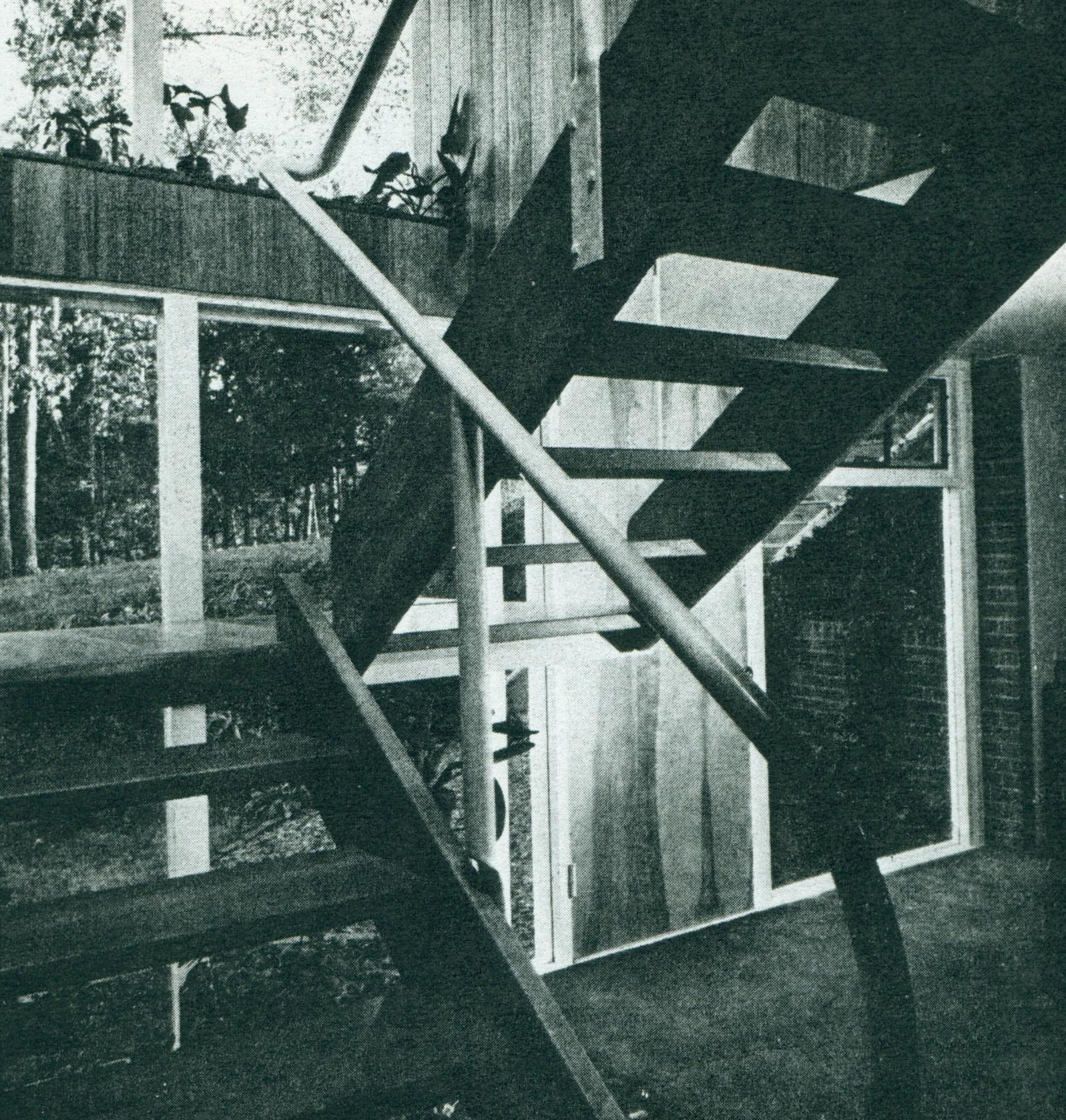 1957 - The Robert W. and Anna A. Johnson Work Residence, ???? English Gardens Drive, Charlotte. Destroyed around 2004. These photos appeared in Progressive Architecture May 1957. When the Works moved to Chapel Hill (and built a new Modernist house designed by Charles Kahn), it took five years to sell the one in Charlotte. The Works later built a third Modernist house in Raleigh with architect Brian Shawcroft.
---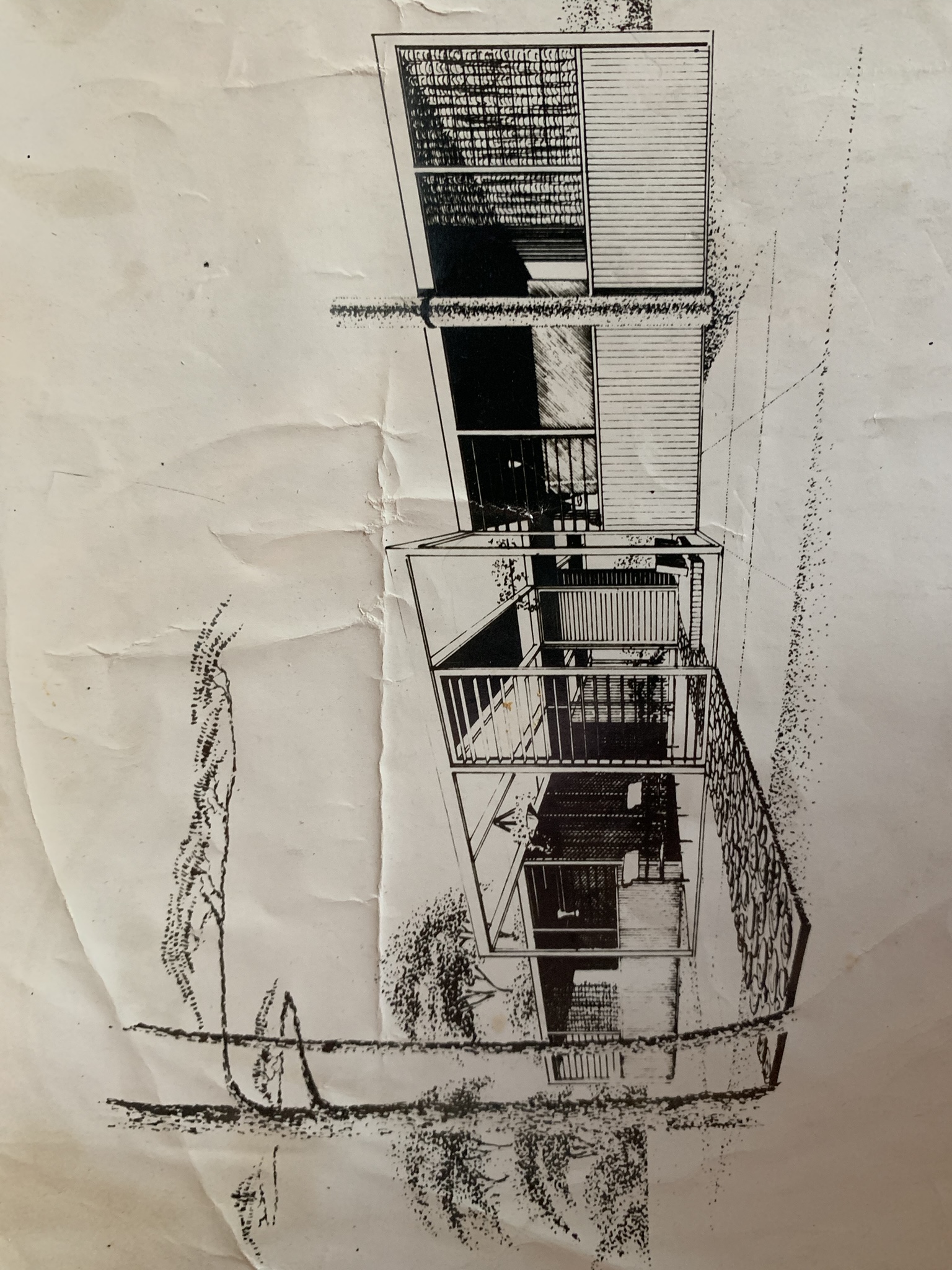 Around 1960 - Winner, Morton Arboretum Small Home Competition. Project architect was Charles Bates.
---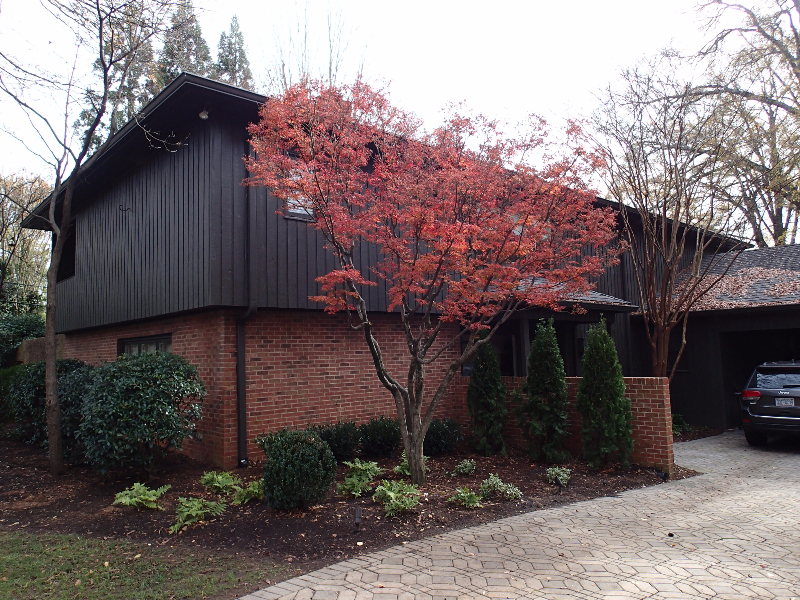 <![if !vml]>
<![endif]>
1973 - The Harry Flynn and Jo Ann R. Wolfe, Jr. House, 410 Lockley Drive, Charlotte NC. Assumed Odell, needs verification. Built by Eastern Construction Company of Greenville SC. Sold in 1993 to Victor R. and Janet P. Harouny. Sold in 2008 to Thompson-Richards Real Estate Investments LLC. Sold in 2019 to Thompson Family Associates LLC. Deeded later in 2019 to Dennis L. and Sharon K. Thompson. Renovated in 2019 by architect Lindsay Hance McCullough, bottom photo.
---

Year Unknown - Hampton Road, Charlotte NC.
---

Year Unknown - House in Concord NC. Has been converted to a medical clinic. Do you know the address or the original owner?
---

Year Unknown - The Odell family boathouse, outside of Concord NC on Lado Lake. Destroyed. Do you know the address?
---