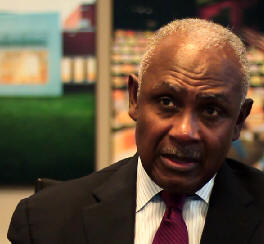 HARVEY BERNARD GANTT, FAIA (1943-)
Gantt grew up in Charleston SC. His father was a carpenter and his early talent for drawing led to the choice of a career in architecture. After attending Iowa State University 1960-1962, he was repeatedly denied admission into Clemson University's Architecture program starting in 1961. After exhausting all administrative appeals, he took Clemson to court on charges of discrimination and won, gaining admission in 1963 and graduating in 1965.
From 1965 to 1968, he interned at Odell in Charlotte, the first black architect the firm had everhired.He graduated in 1970 from MIT with a Masters in Architecture and became founding partner of Gantt Huberman in Charlotte in 1971.
Gantt was until recently the most politically active architect in North Carolina. He was on the Charlotte City Council from 1974 to 1983; the Mayor of Charlotte from 1983 to 1987; and served on the North Carolina Democratic Party Executive Council, the Democratic National Committee, and the National Capital Planning Commission. Under his leadership, the commission adopted a strategic plan for city monuments and selected sites on the National Mall for the Martin Luther King Memorial and the World War II Memorial.
In 1990 and 1996, he ran unsuccessfully against incumbent North Carolina Senator Jesse Helms in two highly polarized races. Barack Obama was a volunteer for his campaign in 1996.
Gantt received the AIANC Award of Excellence in Architecture in 1981 and has also received received honorary degrees from Winthrop College, Queens College, Clemson University, Johnson C. Smith University, and Belmont Abbey College. He won the AIANC Gold Medal in 2017.

2013 Interview