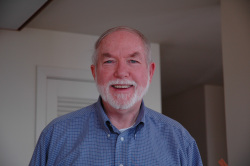 JAMES MATTHEW (JIMMY) EDWARDS III AIA
(1937-2012)
Help locate the following houses. Write george@ncmodernist.org with any information or photos.
---
Jimmy Edwards was born in Raleigh NC, the son of architect James Edwards Jr. who founded the architectural firm of Edwards Associates in 1939. Edwards received his architecture degree from Georgia Tech then remained in Atlanta for a few years. He moved back to Raleigh to join Edwards Associates; shortly thereafter in 1964 his parents were killed in a house fire. Jimmy remained in Raleigh and eventually worked with his father's former partner, architect Arthur McKimmon II. In 1990, the partnership became McKimmon Edwards Shawcroft with the addition of Brian Shawcroft. That partnership dissolved around 1992. After a few other partnerships, Edwards ran his own firm.
Edwards is known for houses and churches, as well as university, corporate, medical, and government buildings particularly in Raleigh and the surrounding region. In the early 1980's, he began working with developer Jud Ammons that led to the Springmoor Life Care Retirement Community in Raleigh, the first large scale retirement community in North Carolina. His archives are primarily at NC State University.
---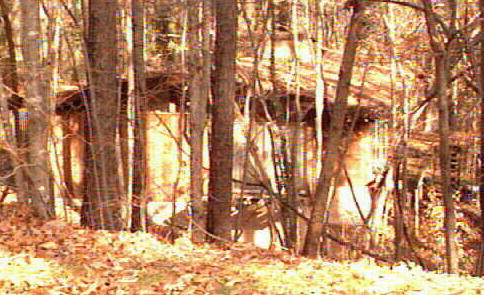 1965 - The James (Jimmy) and Karen K. Edwards House,

5518 Parkwood Drive

, Raleigh. Still owned by Karen Edwards as of 2012.
---
<![if !vml]>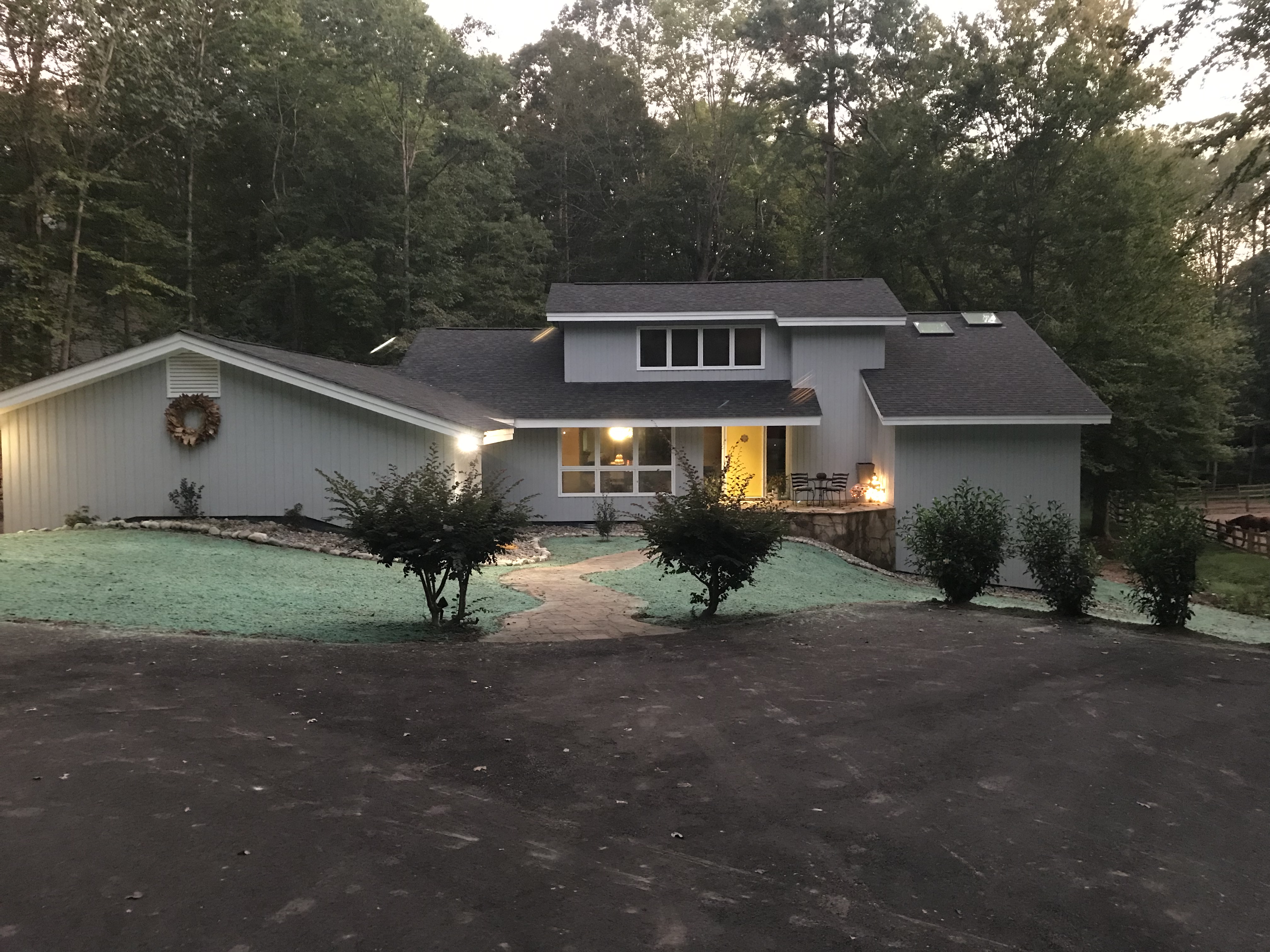 <![endif]>
<![if !vml]><![endif]><![if !vml]>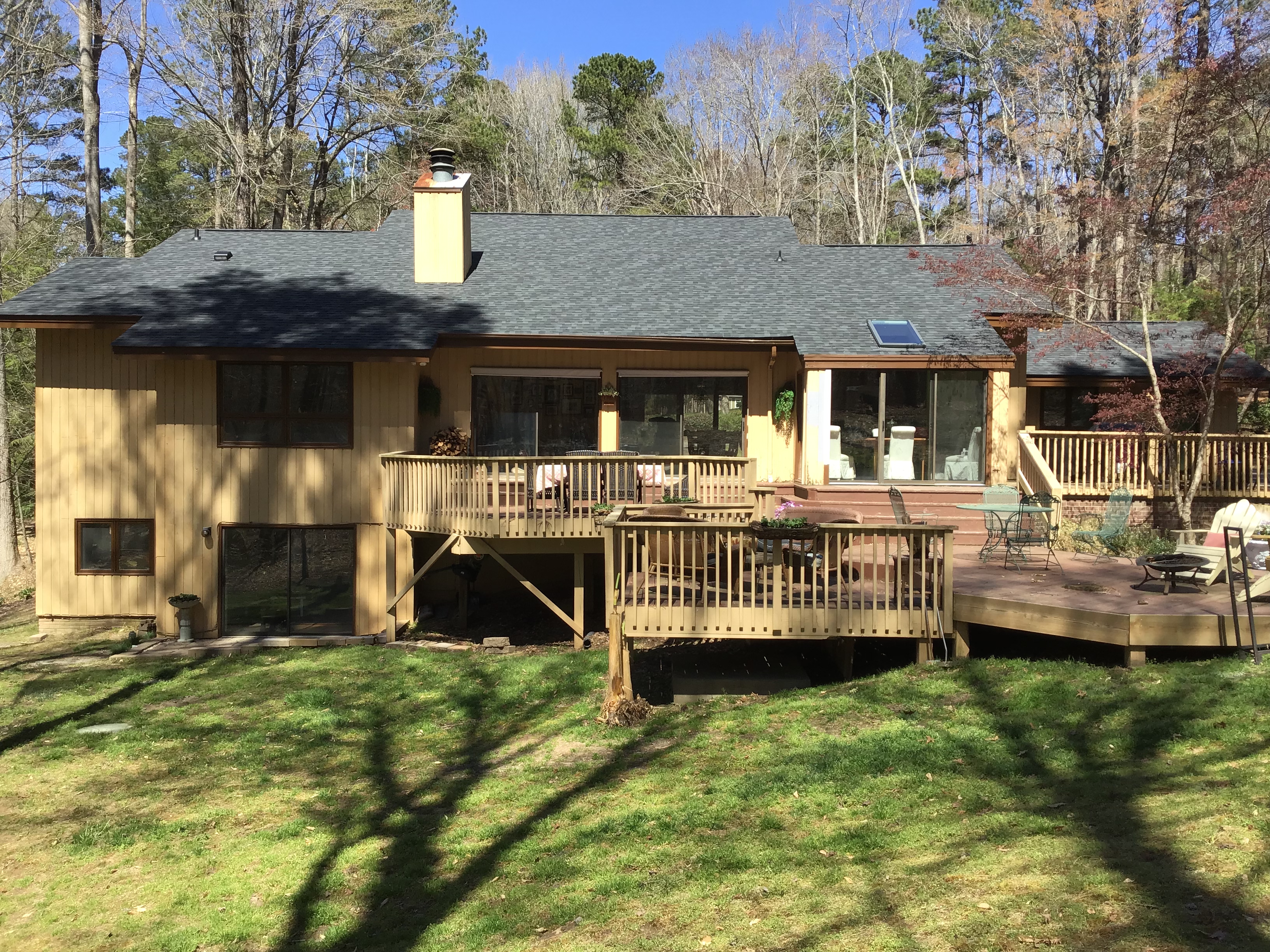 <![endif]>
1983 - The David P. Miller House, 11804 Appaloosa Run, Raleigh NC. Sold in 1989 to Randolph Chapel. Sold in 1994 to John and Camille Lipe. Sold in 1995 to Wayne and Jessica Myles. Sold in 2011 to David and Jeralyn Wright.
---
These are the house projects of both James Jr. and James III. We need help to locate the following houses and determine which ones were Modernist! Write george@ncmodernist.org with any information or photos.
Dixon, W.T. 1969
Altantic Beach Baker, Julian house 1950
Altantic Beach Taylor, J.P. b. house 1983
Ashe Co. Evans, Marshall Residence 1994
Atlantic Beach Bland, Alton house 1958
Atlantic Beach Joyner, W. T. beach house 1954
Atlantic Beach McKimmon, Arthur addition 1947
Atlantic Beach Pate, Edwin house 1955
Atlantic Beach Ragland, W.M. b.house 1965
Atlantic Beach Ragland/Badham/Coxe b. house 1965
Atlantic Beach Smith, Lee b. house 1975
Atlantic Beach Taylor, Phil b. house 1954
Bartons Creek Bratton, John, Sr. house 1984
Bartons Creek Harley, Don house 1969
Bayleaf Farm Reynolds, Ted R. alter/add
Burlington Ellington, R.N. house 1967
Butner Milikin, R.D. house 1956
Cary Barnes, L.L., Jr. house 1970
Cary Poole, J.G. Jr. prop. house 1986
Cary Williams, C.S. house 1969
Chapel Hill Howell, James prop. house 1992
Chapel Hill Peyton, Thomas G. house 1960
Chapel Hill Robertson, Wyndham alter/add 1992
Clinton Butler, Algernon alter 1981
Clinton Wells, Robert C. house 1974
Dunn Purdie, Mrs. Ed Jr. house/add 1955.77
Durham Clark, Loran house 1971
Durham Smith, Haywood house 1958
Edenton Beachgrove add 1981
Edenton Boyle, Terrence W. alter/restor 1978
Fayetteville Kelly, Sterling various ?
Figure Eight Worth, George b. house 1979
Fuquay-Varina Ashworth, Joseeph S. house 1983
Garner Allen, David G. add 1975
Garner Lloyd, W.L. house 1963
Goldsboro Bordon, Edwin Jr. house 1969
Greensboro Booker, E.N., Jr. house 1984
Greenville Dunn, Worth house 1989
Greenville Hardy, Ira alter 1977
Henderson Brigham, John house 1959
Henderson Cooper, Marshall Jr. house 1975
Henderson Dennis, H.A. house 1952
High Rock Lake Grubb, R.L. guest house 1983
Highmeadows Bell, F. Durant terrace 1974
Houston, TX Elderidge, .P. Jr. house 1972
Kinston Smith, Grover house 1966
Leesville Oliver, Dr. Jim U. house 1981
Leesville Trott, Graham cabin 1955
Little River Boyer, Larry house 1979
Louisburg Griffin, W.T. house 1958
Louisburg Perry, Cary house 1972
Louisburg Perry, W.C. house 1954
Louisburg Stewart, Marcus house 1954
Moorehead Cty Smith, Alton b. house 1986
Moorehead Cty Taylor, Phil b. house 1981
Mt. Airy Woltz, W. K. house 1954
New Bern Holding, George house 1973
New Bern Holding, R.P. house 1969
New Bern Holding, R.P. guest house 1971
New Bern Mohn, N.E. house 1951
New Bern Webb, Dr. Thomas F. prop house 1981
New Port News Cochran, Ed add/alter 1974
Newport News West Caleb house 1964
Pawleys Island Chatneuff, C.L. alter/add 1981
Pine Knoll Shores Cutler, Dorothy house 1972
Pine Knoll Shores Roebuck, Dan B. House 1984
Pinehurst Woltz, William K. house 1978
Raleigh Adams, Carlyle add 1993
Raleigh Adams, Tom add 1968
Raleigh Alexander, T.W. add 1953
Raleigh Allen, Robert house 1991
Raleigh Anderson, Fred add 1993
Raleigh Andrews, Russ details 1983
Raleigh Andrews, Russ house 1991
Raleigh Andrus, Thomas, Jr. house 1987
Raleigh Armstrong, Frank alter 1980
Raleigh Arnold, Marks Add 1988
Raleigh Aulis, G.A. add 1978
Raleigh Babson, James W. house 1966
Raleigh Bacon, Zach, Jr. renov 1992
Raleigh Badger, Alex S. add 1977
Raleigh Badham Richard house 1992
Raleigh Badham, Richard house 1961.64
Raleigh Bailey, James H. house 1963
Raleigh Baker, John H. alter/add 1984
Raleigh Baker, Julian add 1969
Raleigh Barringer, Thad alter/add 1964
Raleigh Beal, William house 1964.68
Raleigh Beilman, Donald S. prop. house 1983
Raleigh Bell, F. Durant house 1964
Raleigh Berson, George L. add 1979
Raleigh Bertram, John house 1950
Raleigh Bizzell, Ed add 1991
Raleigh Blenheim Subdivision map 1986
Raleigh Bolton, William E. house 1971
Raleigh Bratton, John Jr. alterer 1984
Raleigh Bratton, John, Sr. house 1991
Raleigh Briggs, Thomas house 1968
Raleigh Broughton, Melville, Jr. house 1968
Raleigh Brown, Bruce house 1970
Raleigh Bugg, C.P. house 1964
Raleigh Burton, Nancy house 1993
Raleigh Burton, W.M. house 1966
Raleigh Burton, W.M. house 1993
Raleigh Carlton, Alfred, P. house 1987
Raleigh Cerwin, Robert prop. alter 1976
Raleigh Chalou. Bob house 1992
Raleigh Chatneuff, C.L. house 1949
Raleigh Cherry, Sally house 1956
Raleigh Claydon, Caroline Renov/add 1992
Raleigh Cobb, Donnell E. add/alter 1978.83
Raleigh Cooper, Annie house 1972
Raleigh Cox, Gertrude M. house 1977
Raleigh Crampton, Gregory renov. 1980
Raleigh Cutler, D.H. house 1950
Raleigh Dameron, T.B., Jr. house 1959
Raleigh Daniels, Frank, Jr. alter 1987
Raleigh Davis, Bobby C. house 1962
Raleigh DeRossi, Marsden, B. add 1983
Raleigh Dillard, Starke house 1991
Raleigh Dorsett, James K. prop. alter 1979
Raleigh Edwards, Charles alter/add 1985
Raleigh Edwards, George S. house 1970
Raleigh Edwards, George S. Jr. pool house 1989
Raleigh Edwards, J.M. III Residence
Raleigh Edwards, John, A. house 1967
Raleigh Edwards, Roger house 1982
Raleigh Edwards, Ron house 1971
Raleigh Egerton, Courtney house 1959
Raleigh Ehringhaus, J.C.B. alter 1950
Raleigh Elliot, T.W. house 1955
Raleigh Ellisberg add 1992
Raleigh Engstrom, Dr. Todd prop. house 1990
Raleigh Etheridge, R.W., Jr. house 1957
Raleigh Etheridge, W.C. house 1950
Raleigh Evans, Marshall porch add 1987
Raleigh Farley, W.W. add 1961
Raleigh Finley, A.E. Alter 1960
Raleigh Gada, Preston house 1972
Raleigh Gaddy, Charles house 1976
Raleigh Gilliam, Patsy detail 1987
Raleigh Gilliam, W.F. house 1967
Raleigh Glass, J. Carter add 1987
Raleigh Goodman, Ray prop. house ?
Raleigh Goodwin, George house 1949
Raleigh Green, Clifford house 1960
Raleigh Greene, John, Sr. house 1976
Raleigh Greene, Sara terrace 1977
Raleigh Gudal, Clarence renov. 1977
Raleigh Gupton, Stephen, T. house 1970
Raleigh Habel, fred house 1954
Raleigh Harden, Bert add 1985
Raleigh Harden, Bert add 1990
Raleigh Hardison, Drs. prop. alter 1982
Raleigh Harer A.E. house 1994
Raleigh Harrelson, Frank house 1955
Raleigh Harris, Larry house 1966
Raleigh Haven House modif 1975
Raleigh Hill, James C. house 1977
Raleigh Hitch, J.M. garden plan 1956
Raleigh Hitch, John add 1976
Raleigh Hitch, John add ?
Raleigh Holding, Robert house ?
Raleigh Hull, Keith house 1986
Raleigh Interact playhouse 1986
Raleigh Jackson, William E. II add sketch 1985
Raleigh Jeffreys, Charles house 1961
Raleigh Jenkins, A.M. house 1964
Raleigh Jernigan, John alter 1979
Raleigh Jernigan, Leonard house 1990
Raleigh Johnson, Earl house 1959
Raleigh Johnson, Earl house 1969
Raleigh Johnson, Earl props' add 1989
Raleigh Jones, H. Reed house 1965
Raleigh Jones, James Jr. alter/add 1986
Raleigh Kane, John M. add 1988
Raleigh Kaplan, Sol house 1972
Raleigh Kilgore, Ben W. III house/ass 1983
Raleigh King, Doris E. add 1981
Raleigh Knight, Eugene S. add 1971
Raleigh Koontz, Calvin B. add 1977
Raleigh Ladwig, Harold house 1972
Raleigh Lassiter, Thomas, J. alter 1982
Raleigh Lawerence, Don house 1971
Raleigh Lee, Willis prop. house 1976
Raleigh Lilly, Edward G. house 1972
Raleigh Lilly, Edward G. entr 1993
Raleigh Lilly, Edwards G. add 1991
Raleigh Linville, J.F. house 1950
Raleigh London, George house 1956
Raleigh Lovick, Annie house 1956
Raleigh Lynch, Mark house 1956
Raleigh Lynch, Mark G. prop. house 1980
Raleigh Macleod house/ren 1981.88
Raleigh Madry, Raymond Jr. add 1980
Raleigh Manly, Issac house 1961
Raleigh Manly, James house 1962
Raleigh Markle, Willard G. house 1974
Raleigh Marshall, Penn house 1961
Raleigh Marshall, R. E. house 1950
Raleigh Martin Wlliam add 1956
Raleigh Martin, Bill house 1976
Raleigh Maupin, Armistead house 1949
Raleigh McCarthy, Jack prop. house 1984
Raleigh McConnell, John D. prop. alter 1977
Raleigh McDonald, P.H. house 1957
Raleigh McKimmon, Arthur house 1956
Raleigh Meredith Presid. House renov 1971
Raleigh Meredith Presid. House house ?
Raleigh Miller, Dr. Philip home 1994
Raleigh Miller, Lee house 1966
Raleigh Moore, Joseph L. house 1984
Raleigh Morgan Reasident Court courtyard 1981
Raleigh Musselwhite, Marvin prop. house 1980
Raleigh Newsome, M. C. alter 1984
Raleigh Nichols Drive apt. alter 1982
Raleigh Noneman, Jack house 1991
Raleigh Norris, Thomas A. house 1968
Raleigh Page, Ernest add 1964
Raleigh Page, WIlliam S. alter 1986
Raleigh Page, Winston L. alter/add 1985
Raleigh Park, Bruce add 1988
Raleigh Park, John A. house 1969
Raleigh Parker, Fred P., II alter 1981
Raleigh Parsons, L.R. house 1952
Raleigh Paschal, George W., III house 1987
Raleigh Paschal, addit to residence 1993
Raleigh Paschal, Robert C. house 1987
Raleigh Peeden, James Jr. alter/add 1982
Raleigh Peterson, Alan H. alter/add 1987
Raleigh Pinyoun, Roy house 1953
Raleigh Poole, Gregory Sr. house 1977
Raleigh Poole, R.F., Jr. house 1961
Raleigh Pope, John garage add 1982
Raleigh Powell, T.C., Jr. house/add 1951
Raleigh Price, Robert R. alte/add 1979
Raleigh Proctor, William house 1979
Raleigh Ragland, Trent Jr. house 1985
Raleigh Rice, John T. cabinet 1977
Raleigh Riddick, Anna guest house 1959
Raleigh Roberson, C.B kitchen 1981
Raleigh Rogers, Jimmy renov. 1975
Raleigh Root, Aldert prop house 1953
Raleigh Rose, Betty Poole alter/add
Raleigh Ross, Williams alter/add 1961
Raleigh Rumsey, Peter alter/add 1977
Raleigh Sanders, W.M. house 1955
Raleigh Schweidler, J.F. prop. add 1987
Raleigh Scott, Donald R. alter 1982
Raleigh Scott, James add
Raleigh Shackleford, Dan house 1955
Raleigh Shavlik, Ronnie alter 1984
Raleigh Shaw, H.M., Jr. alter/renov 1962
Raleigh Shaw, Henry alter 1990
Raleigh Shuping, L.B. alter 1980
Raleigh Simpson, Sam details 1979
Raleigh Sinclaire, Gordon alter/add 1961
Raleigh Sinclaire, Louis add 1977
Raleigh Skinner, Julia alter 1963
Raleigh Smith, Alton house 1957
Raleigh Smith, Alton add 1991
Raleigh Smith, Arnold add 1973
Raleigh Smith, Charles L. house 1950
Raleigh Smith, Gordon house 1973
Raleigh Smith, Lee pool 1975
Raleigh Smith, Lee C. house 1967
Raleigh Smith, Sherwood Jr. house/add 1973.84
Raleigh Smith, Sherwood Jr. house/add 1990
Raleigh Sparrow, Nathaniel gar. & alt. 1977
Raleigh Starling, Norwood alter 1977
Raleigh Steele, Jack house 1956
Raleigh Stone, Richard alter 1968
Raleigh Taylor, Philip house 1962
Raleigh Taylor, Zachary add 1991
Raleigh Techet, Steven house 1989
Raleigh Thompson, C.L. alter 1964
Raleigh Thompson, Elizabeth renov 1963
Raleigh Tillery, Paul house 1955
Raleigh Tomlinson, Travis house 1953
Raleigh Toms, Herbert L. house 1968
Raleigh Towler, Reid add 1990
Raleigh Trott, William add
Raleigh Truesdale, Jack house 1956
Raleigh Tucker, Garland S. III add 1983
Raleigh Tucker, Garland S. III garden 1986
Raleigh Tuttle, I. G. alter 1962
Raleigh Tyler, Runyon house 1989
Raleigh Tyler, Betsy house 1990
Raleigh Upchurch, T.A house 1953
Raleigh Upchurch, T.A. details 1956
Raleigh Urquhart, Richard A. Jr. house 1954
Raleigh Vaughn, Marcus house 1965
Raleigh Venters, Nickye add/renov 1992
Raleigh Vick, W.C. house 1967
Raleigh Walker, James house 1958
Raleigh Walser, Frank add 1962
Raleigh Warren, Robert S. Jr. house 1977
Raleigh Webb, Dr. Alex house 1974
Raleigh Webster, Christopher house 1967
Raleigh West, Mrs. Louis alter/add 1971
Raleigh White, Howard house 1956
Raleigh White, Lorentz house 1951, addition 1961
Raleigh White, S.M. garage 1992
Raleigh White, Snydor house 1967
Raleigh Wilkerson, Charles house 1963
Raleigh Willet, Robert W. house 1963
Raleigh Williams, Cross add/renov 1992
Raleigh Williams, John A. house 1949
Raleigh Williams, John C. detail 1964
Raleigh Williams, John C. residence 1992
Raleigh Williams, Mason Addition 1992
Raleigh Williams, Murray house 1990
Raleigh Williams, Robert house 1953
Raleigh Wilson, Alex house 1969
Raleigh Winston, Bob alter. 1991
Raleigh Winston, Charles M. Addition 1993
Raleigh Winston, R. W. house 1940
Raleigh Wooten, L.E. house 1970
Raleigh Worth, George house 1964
Raleigh Worth, Hal III house 1976
Raleigh Worth, Hal, Jr. house 1955
Raleigh Worth, Thomas add 1958
Raleigh Wright, Isaac house 1960
Raleigh Yarbouough, Mary E. renov/add 1963
Raleigh Yates, Joseph alter 1968
Raleigh Smith, Charles, Lee alter/add 1986
Roanoke Island Evans, Charles D. prop. house 1982
Roanoke Rapids Elmore, WIlliam G. house 1982
Rocky Mount Griffin, C.A. house 1951
Roxboro Wagstaff prop alter
Sanford Stewart, Roy house 1978
Smithfield Batton, Woodrow house 1963
Smithfield Creech, Max house 1972
Smithfield Holding, Frank house 1974
Smithfield Pernell, Carlton prop house 1977
Smithfield Taylor, Marvin alter/add 1974
Smithfield Taylor, Marvin alter 1985
Smithfield Wellons, Elmer prop renov 1974
Smithfield Williams, C.S. alter/add 1971
Spooners Creek Warren, R.S. Jr. house 1968
Raleigh Paschal, Mr. and Mrs. addit to residence 1993
Troy Capel, Jessie S. original house plan 1938
Troy Capel, Jessie S. alter/add 1985 and 1993
Wake County Louis, M. James house 1985
Wake County Manly, Fred house 1974

Wake County Park, Ben F. house 1974
Wake County Parker, Jordan house 1982
Wake County Poyner, James prop house 1985
Wake County Ragland, W. Trent Jr. house 1961
Wake County Shaw, Henry house 1966
Wake County Shaw, Jane house 1979
Wake County Watkins, William house 1966
Wake County Yates, Joseph W. III house/add 1976.85
Wake Forest Mackie, George house 1973
Warrenton Tisdale, Wright prop alterer 1974
Watauga Clement, Charles house 1975
Waycross, Ga Kopp, John house 1953
Williamsborough Urquhart, R. prop house 1967
Williamston Lee, Willis alter 1979
Williamston Lilley, Lawrence house 1956
Williamston Robertson, Raymond house
Williamston Thigpin, Joe house 1954
Wilmington Booker, E.N., Jr. house 1982
Wilmington Metts, John add 1956
Wilmington Venters, Victor house 1974
Wilson Blake, Walter house 1973
Wilson Hackney, Thomas J., Jr. add/alter 1984
Wilson Holdford house 1971
Wrightsville Beach Reynolds, Ted R. b. house
No location Boone, Dan 1992
No location Bradshaw, Preston sketches 1976
No location Collins, Bobby Prop. house 1982
No location Duke, David alt 1989
No location Green, John
No location Ling, Dr. and Mrs. add 1993
No location Logan, John yard 1993
No location McKay, Dr. and Mrs. alt 1993
No location Moore, Ralph Addition 1993
No location Paschal Addition 1993
No location Ragland, W. Trent, Jr. boat house 1961
No location Sealy, Robert b. house
No location Taylor, Phil prop house 1986
No location Tom Hunter dead files
No location Williams, Ward
No location York, Smedes adds 1981.88.93