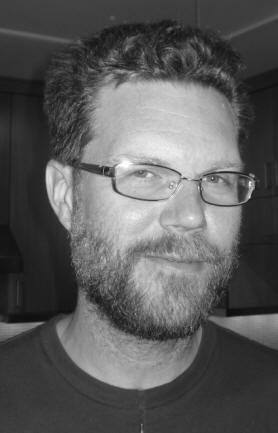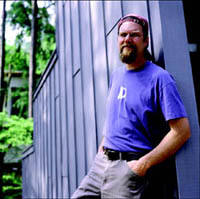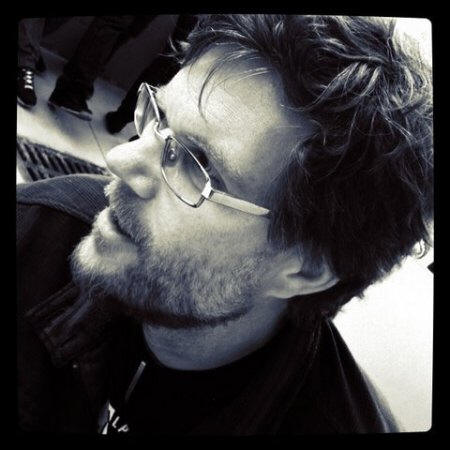 WILLIAM (WILL) JACKSON ALPHIN, JR. (1966-)
Will Alphin spent the earlyyears of his career as a carpenter, cabinet and furniture maker. Founded in 1995, his firm Alphin Design Build won numerous awards for residential remodeling and new home construction, including Triangle Business Journal's GREEN award for a single family residence in 2008. Alphin, a contractor with an unlimited license, holds a Bachelors Degree in Architecture from NCSU's College of Design. In 2017 the company changed their name to REdesign.build.
2017 Residential Design Magazine
---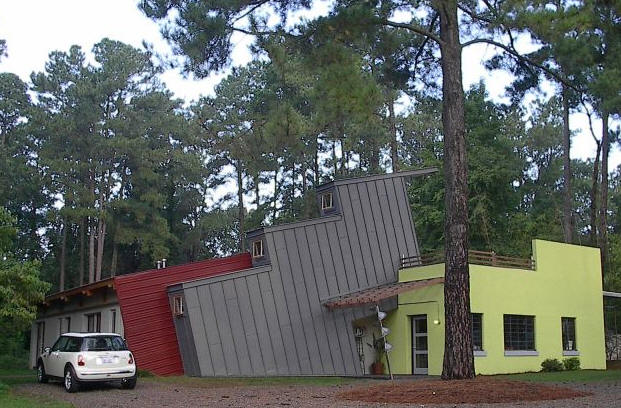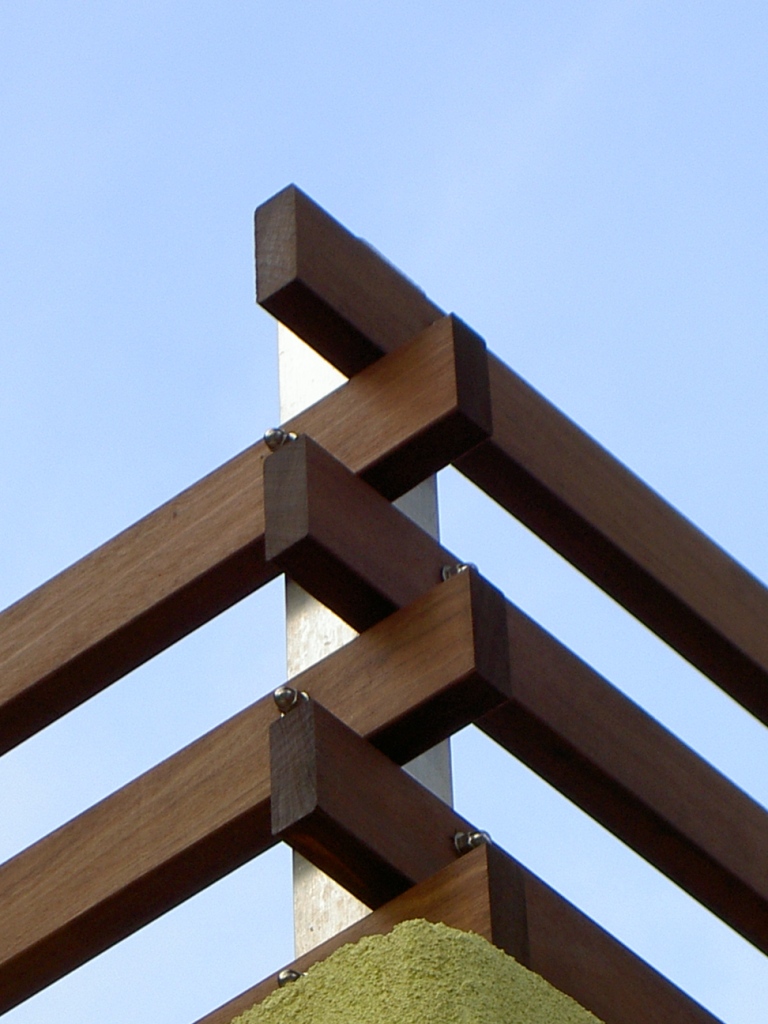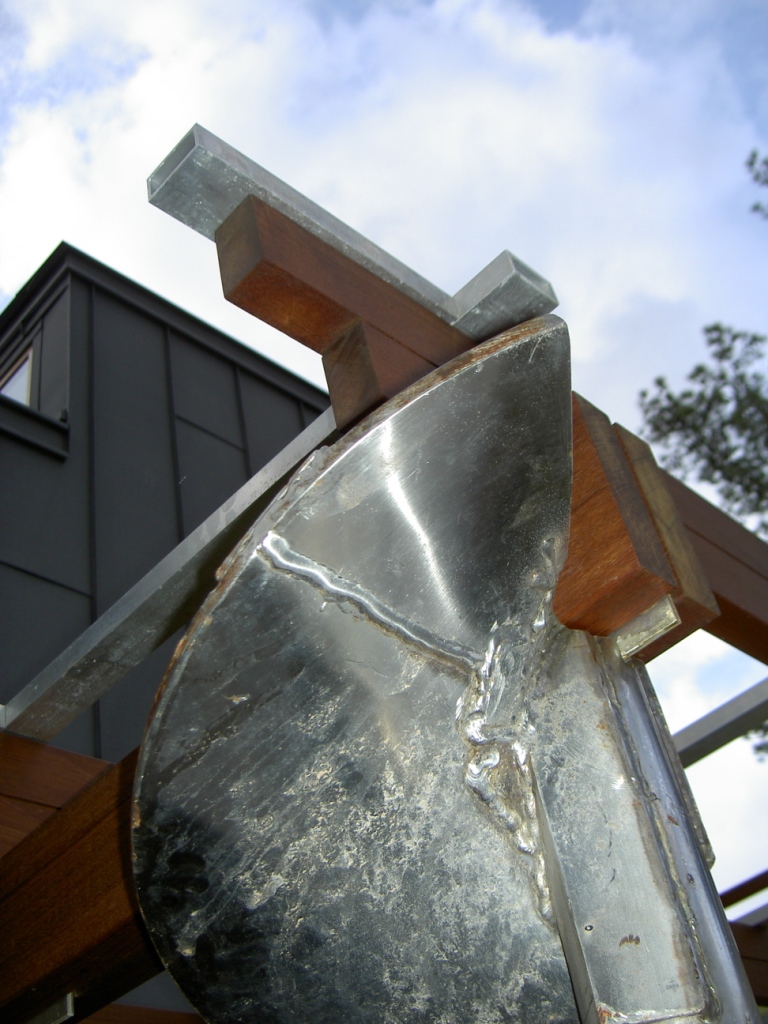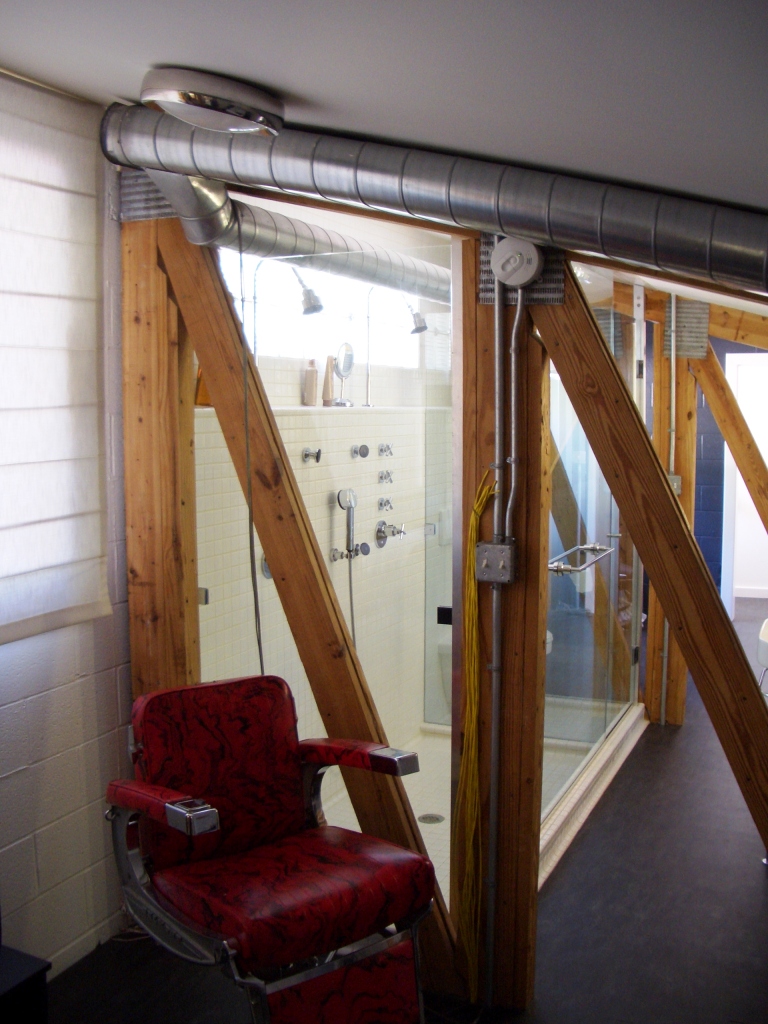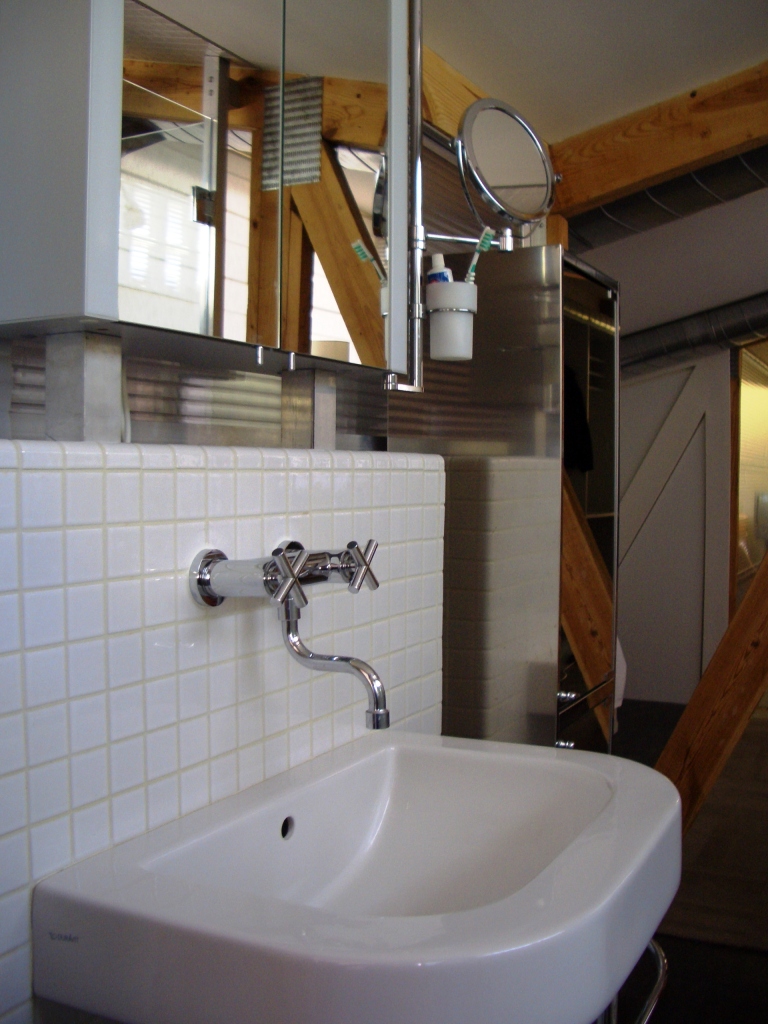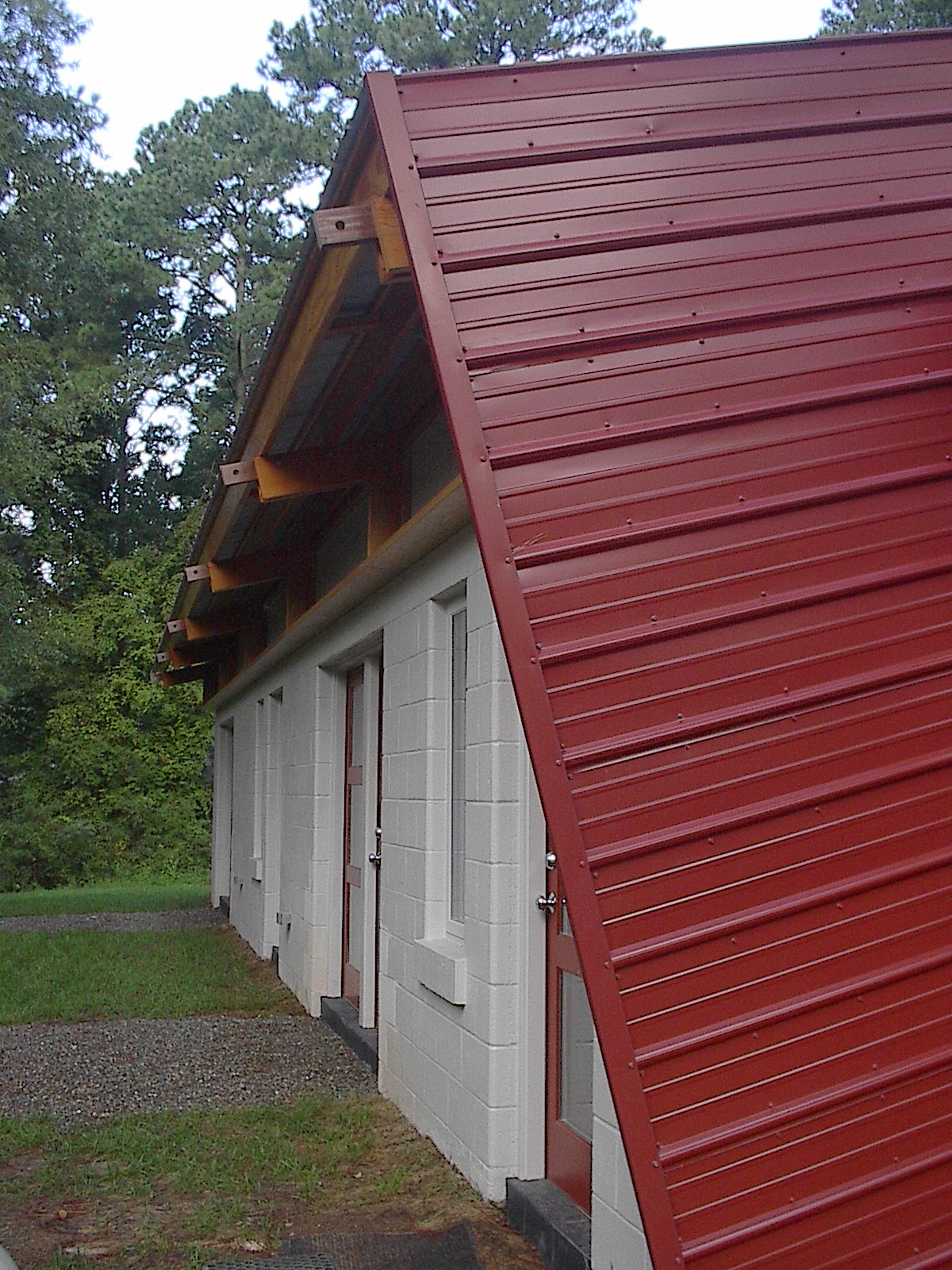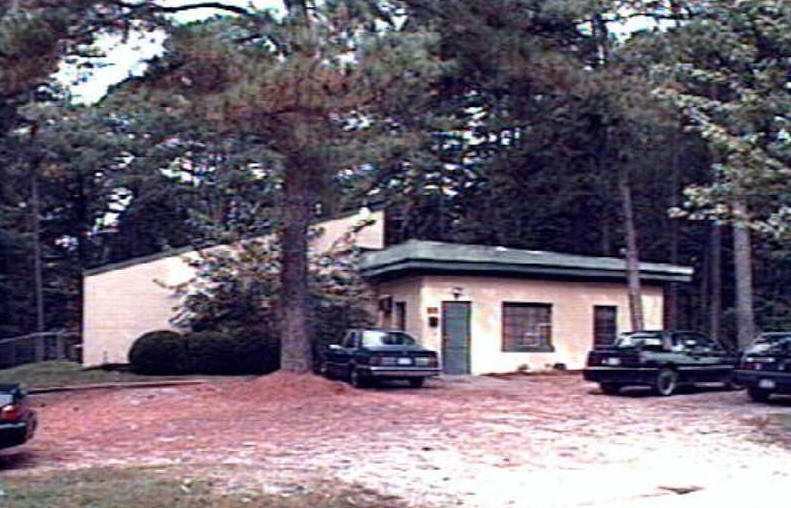 1999 - The Will Alphin and Kay Jordan House, 915 Tower Street, Raleigh. They took an old cinder block preschool (bottom photo) with high ceilings and concrete floors and turned it into a modern marvel. The kitchen, dining and living areas occupy what used to be classrooms. The former nursery and lunchroom are now a home office, bedroom and a bath. A master suite loft was added to the existing roofline, allowing a lot of extra space.
---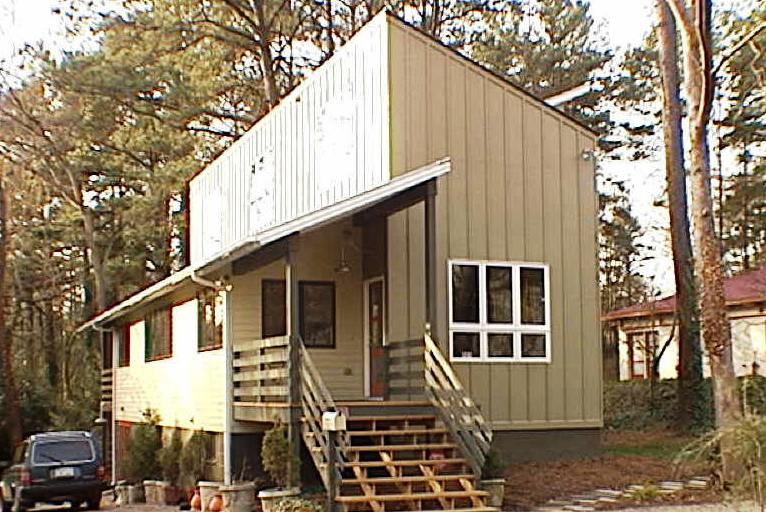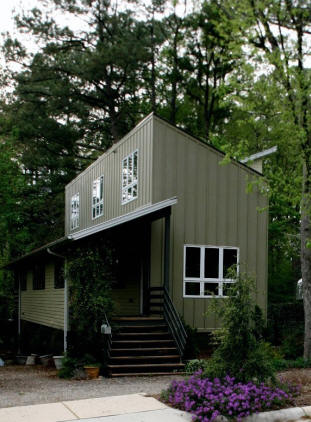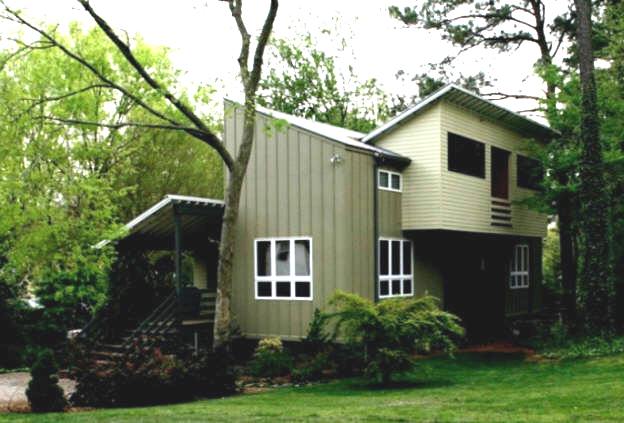 2004 - The Dawn Leonard Residence, 909 Tower Street, Raleigh. Alphin's first house designed from the ground up. The owner is a hairdresser and works from the front room. According to Alphin, "the house is two stories plus a full basement, just over 2000 feet heated, 1100 feet of basement, and 200 feet of porches, one in front and a screened in the rear. The upstairs and downstairs are essentially completely open with two vertical 'cores' serving to separate the uses of their otherwise open plans. For greater privacy there are two large panels that can be rotated into place to close off the salon." As of 2012 still owned by Leonard.
---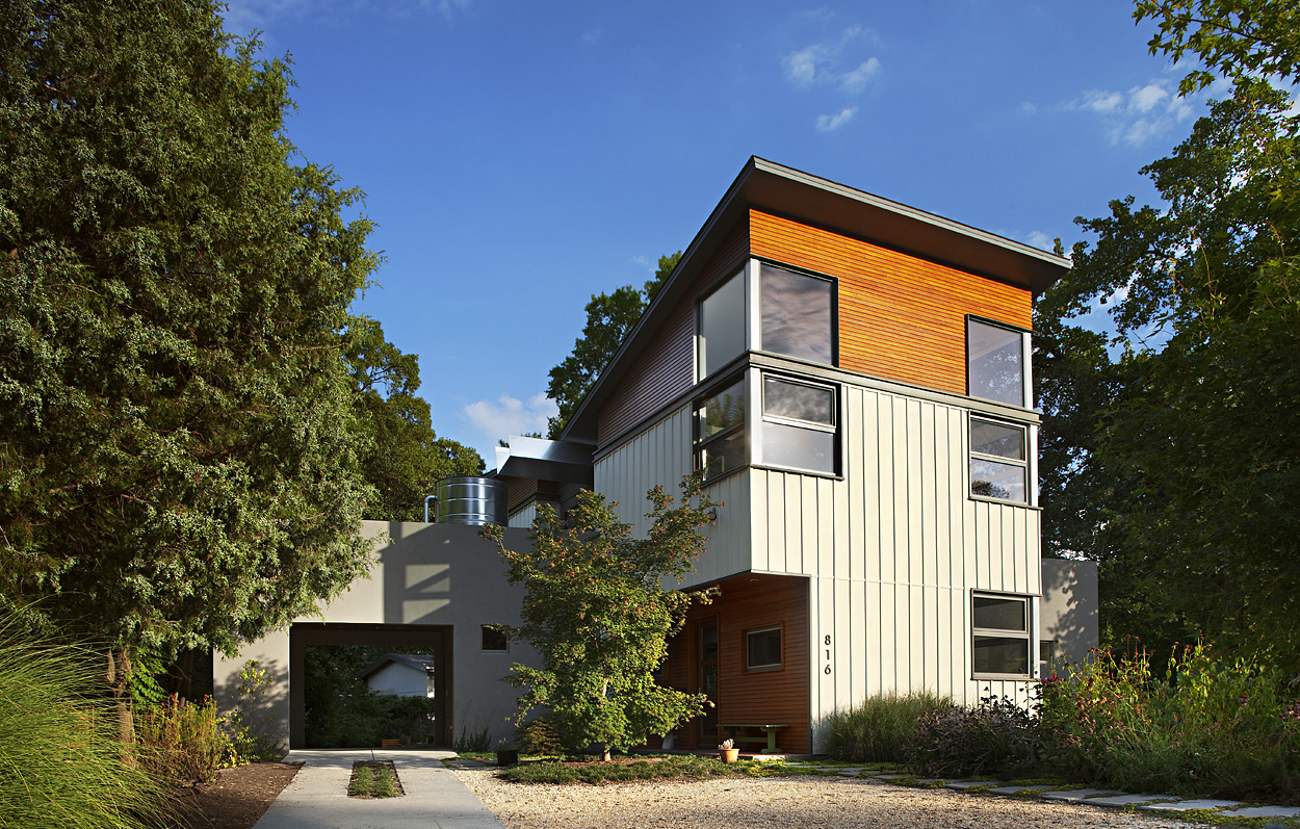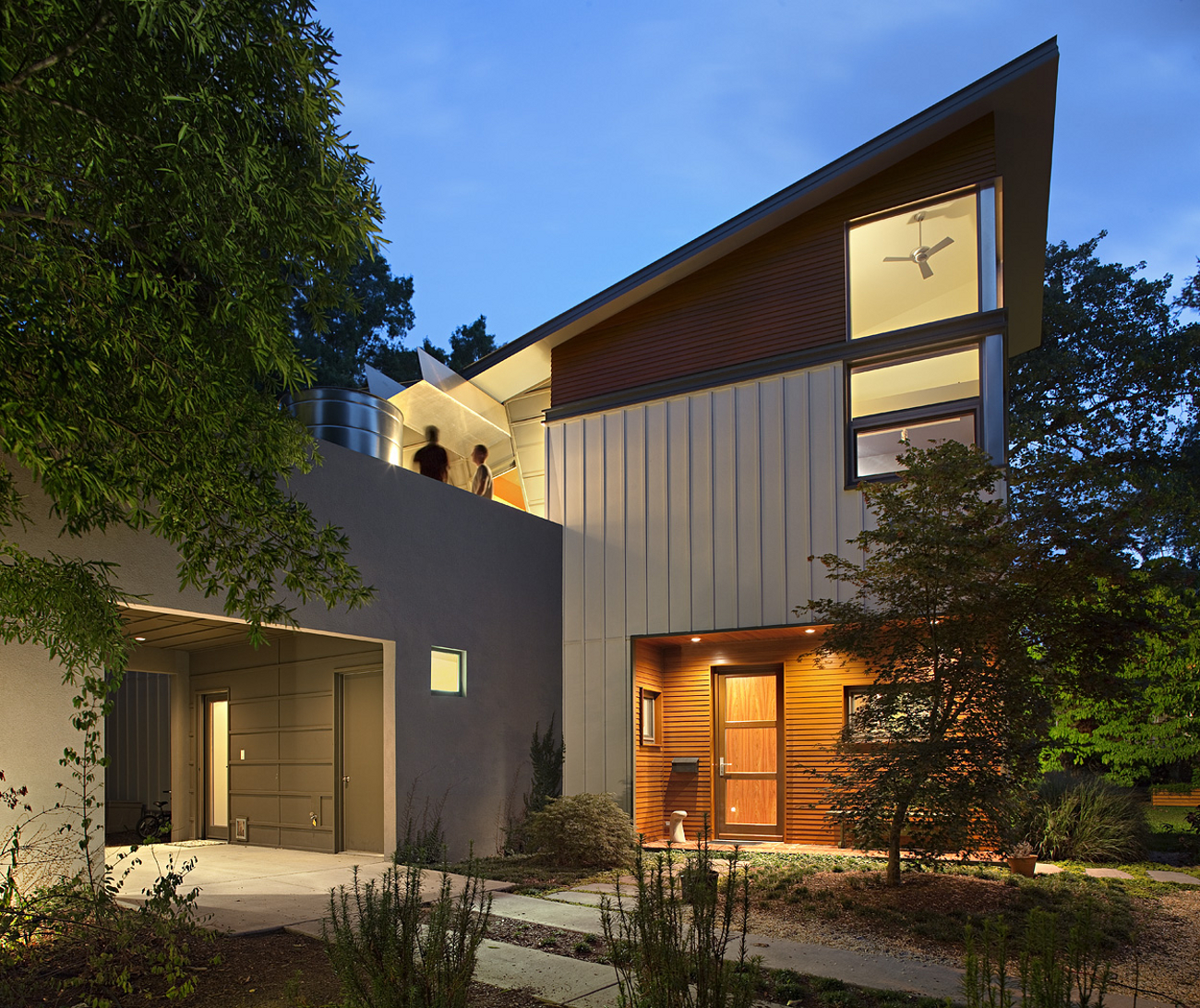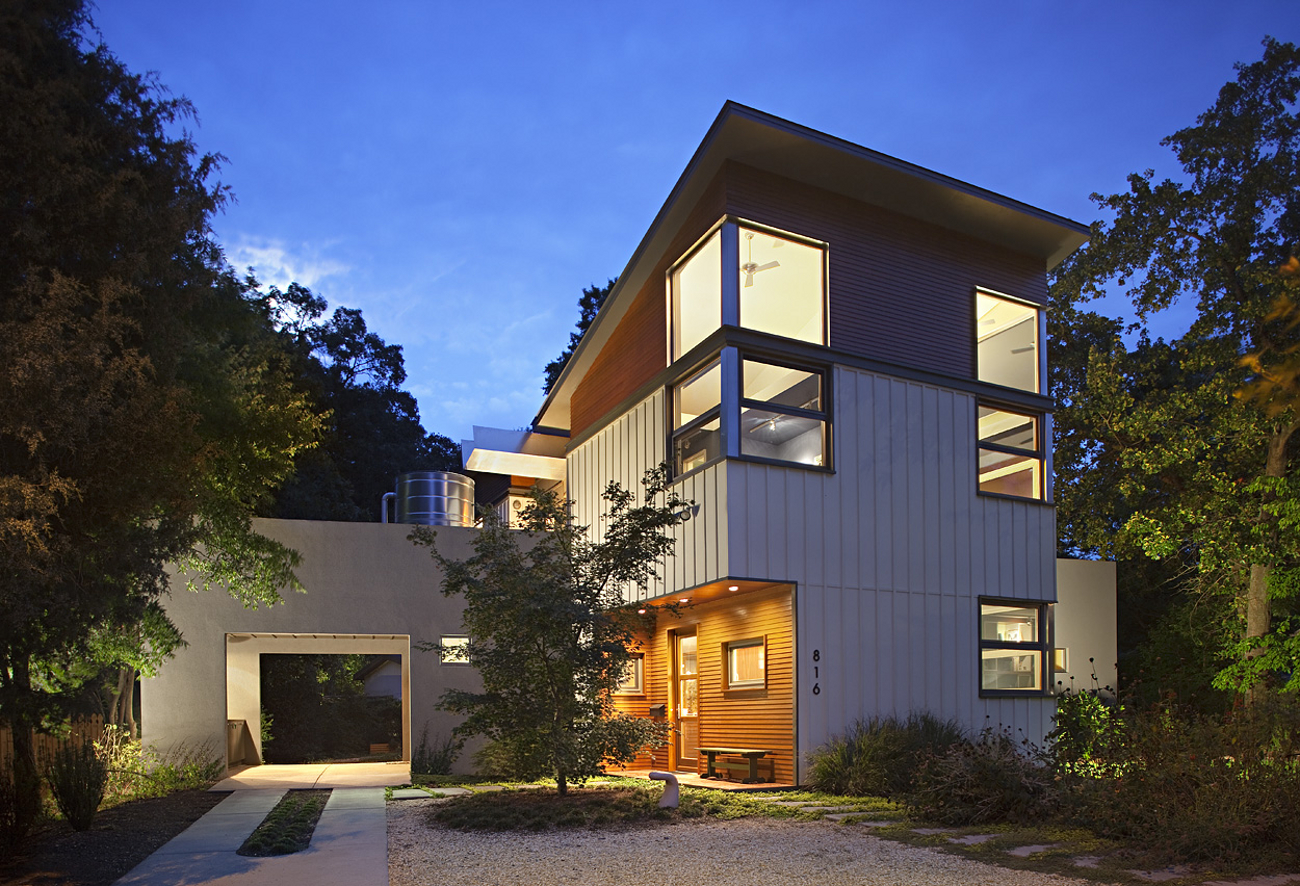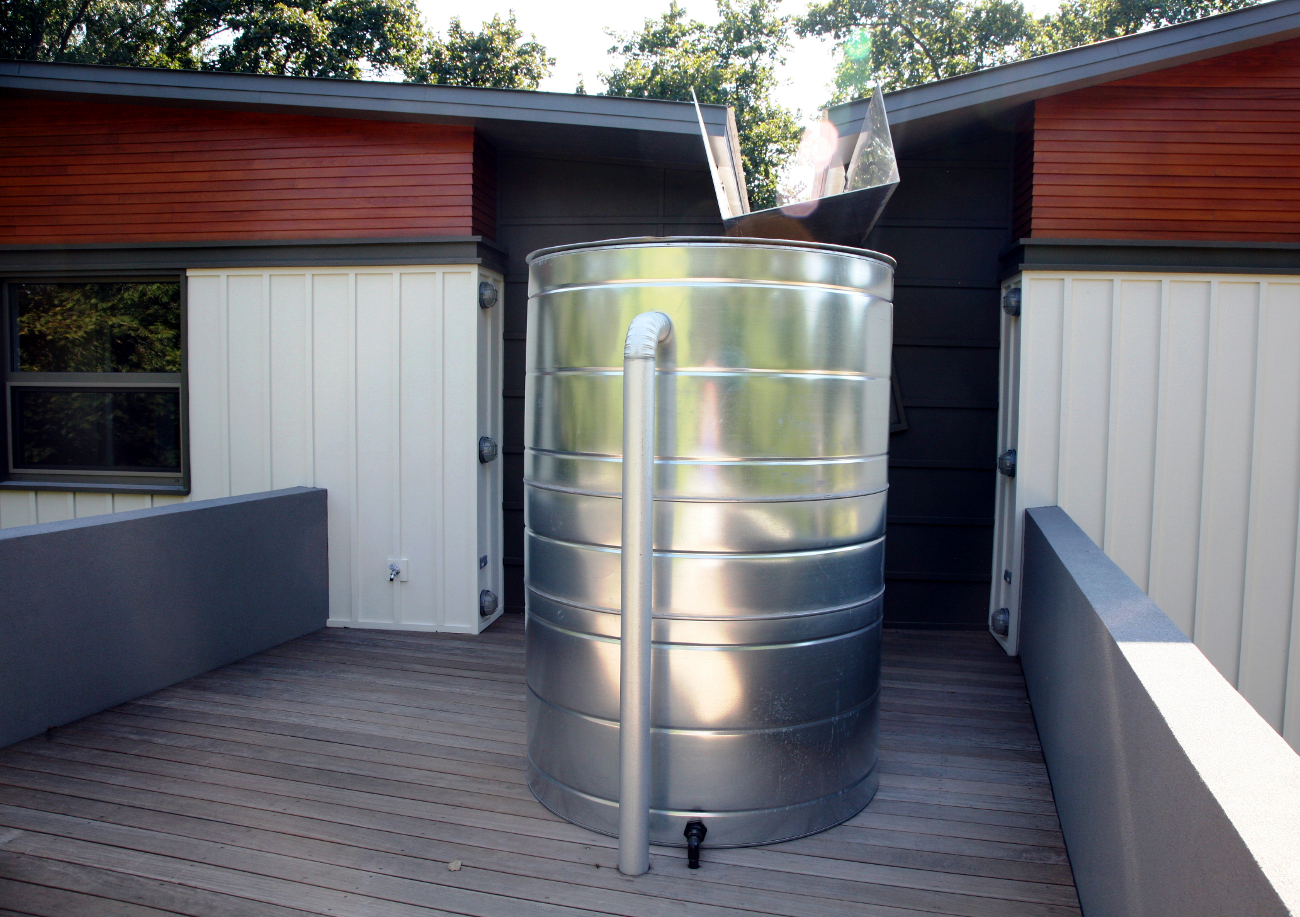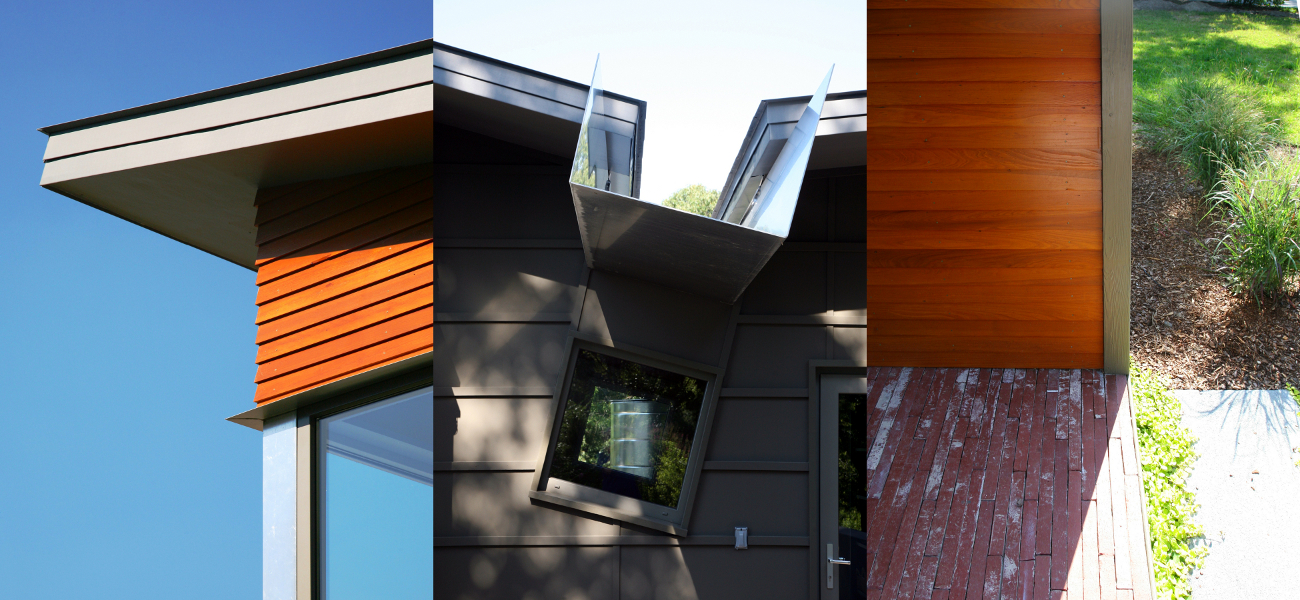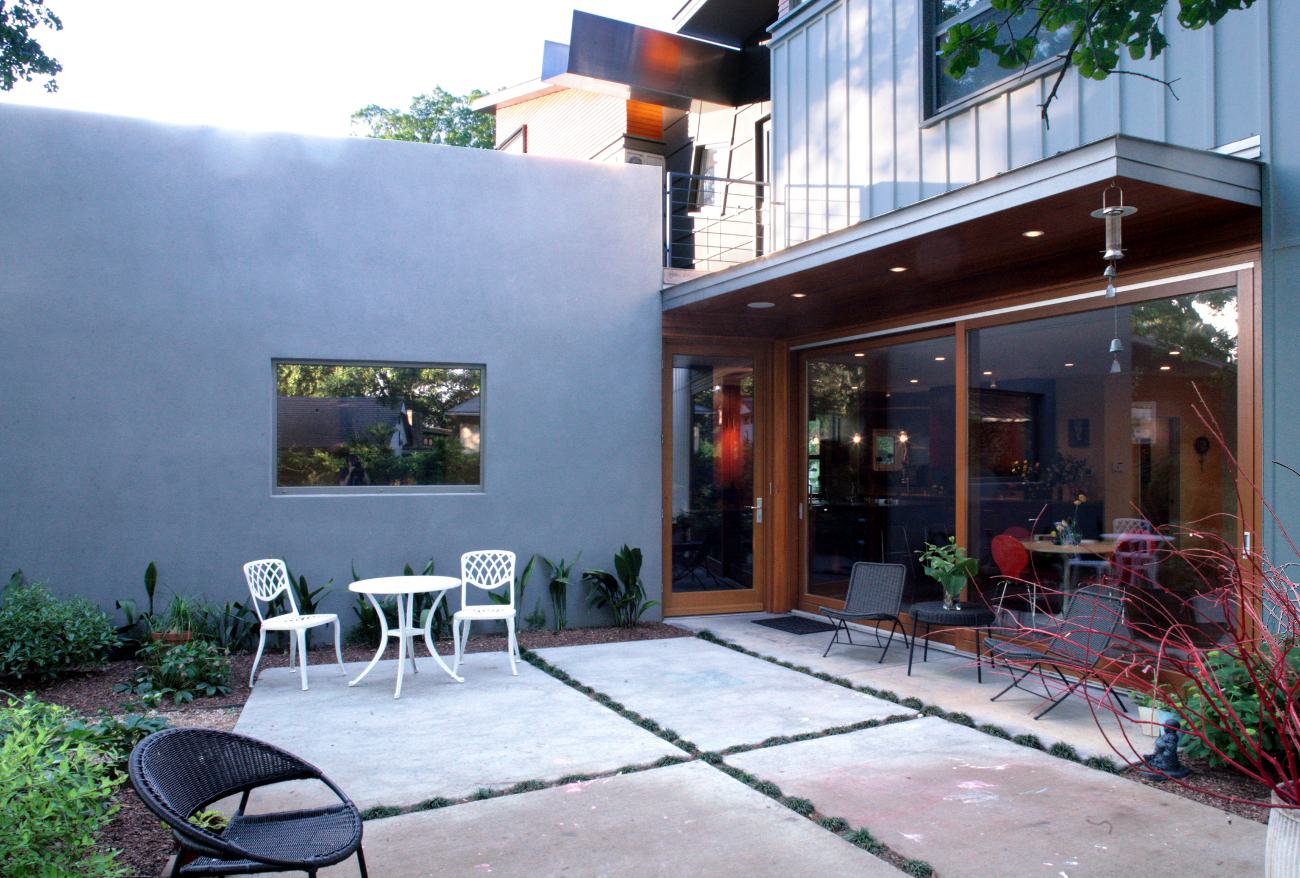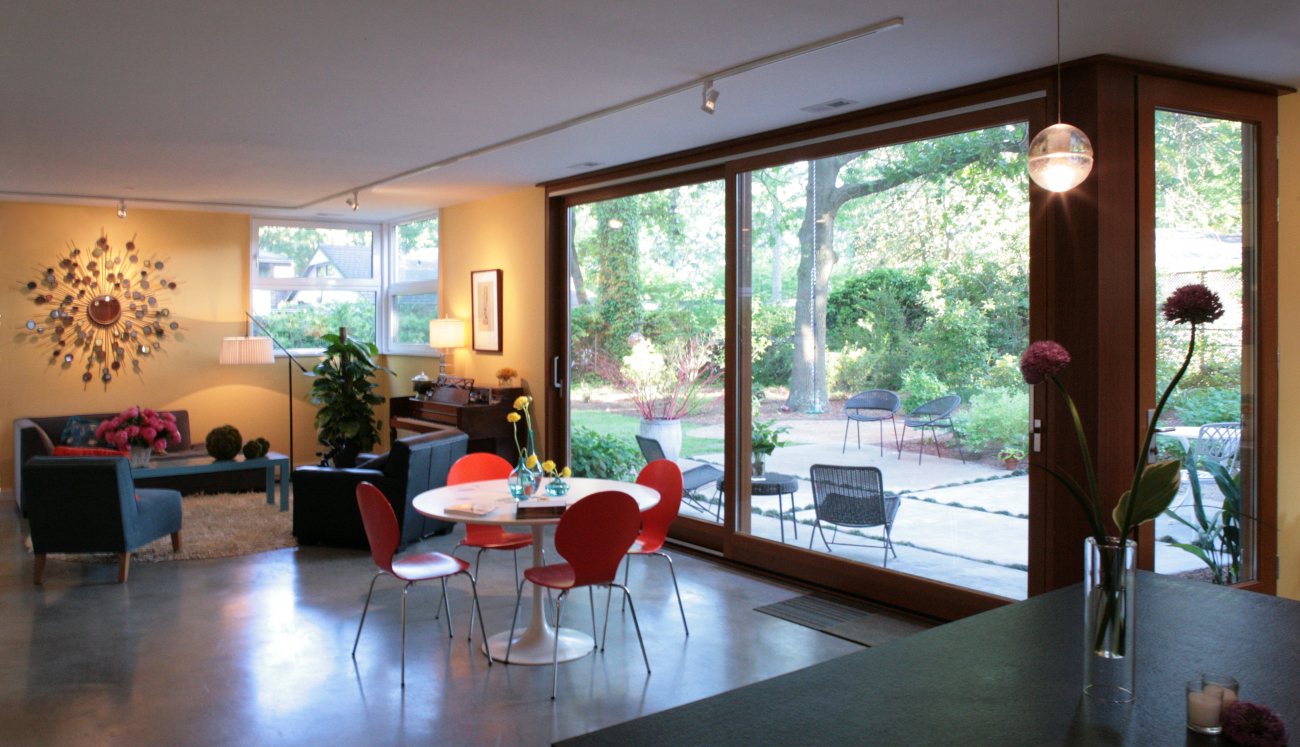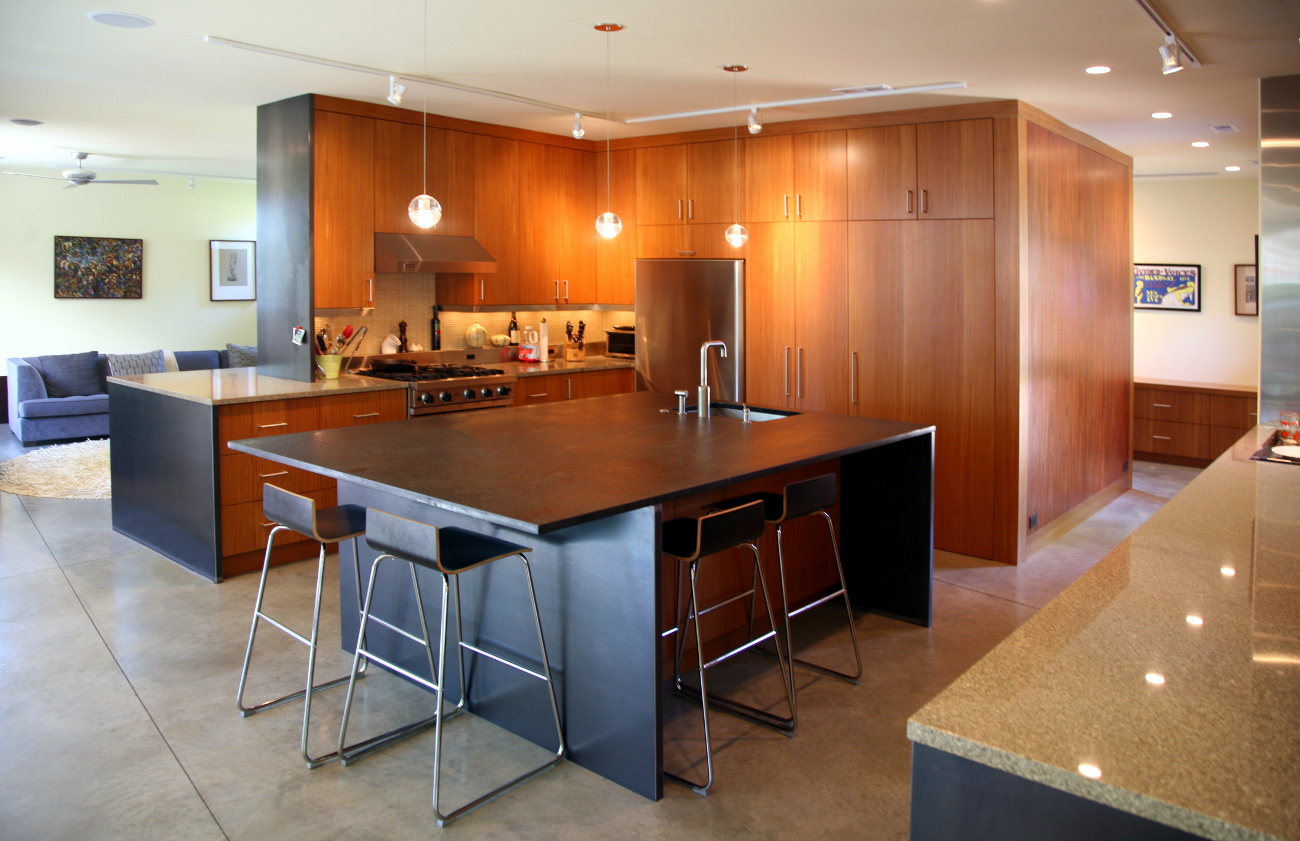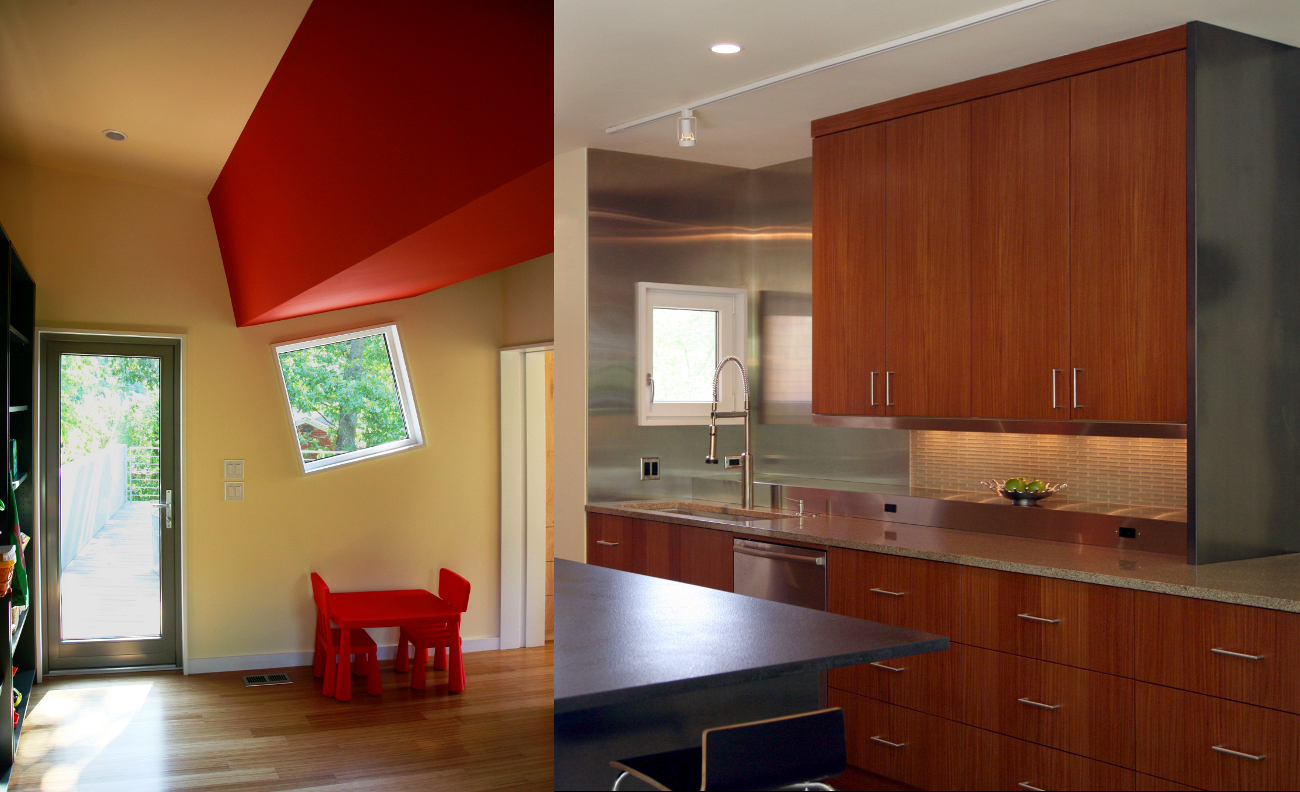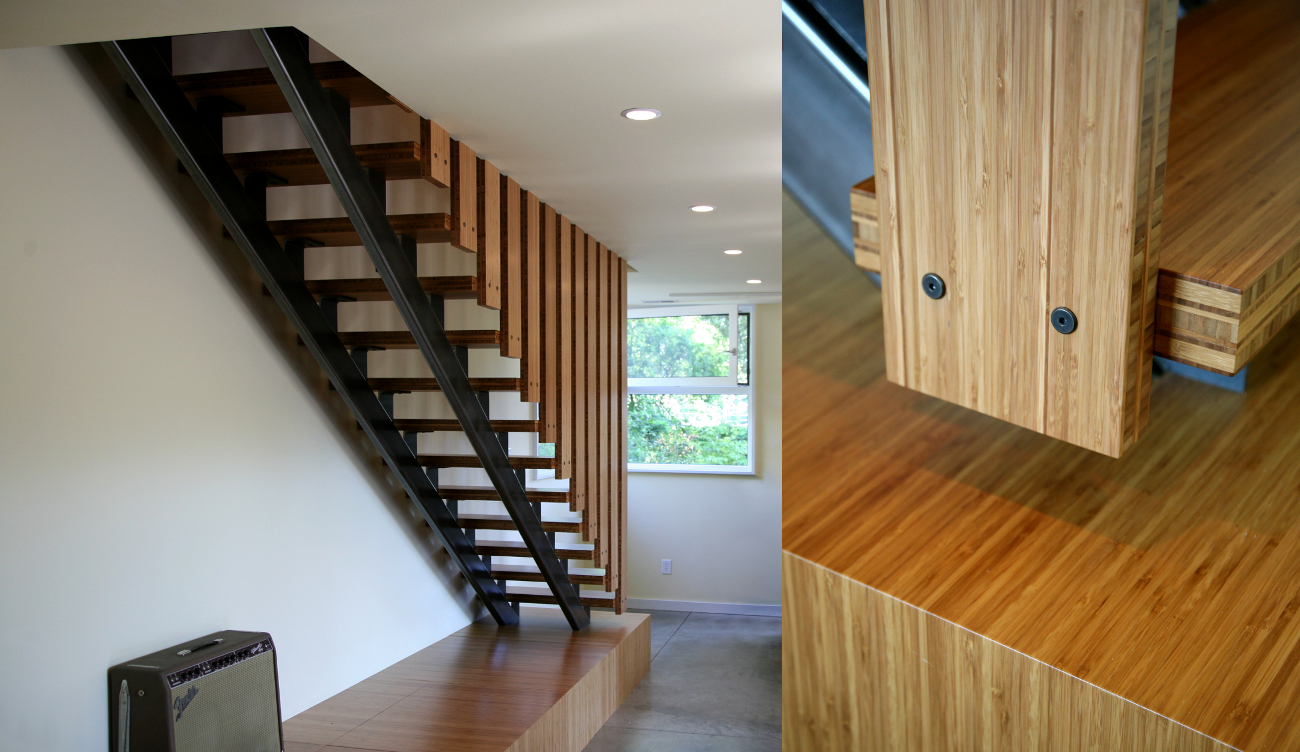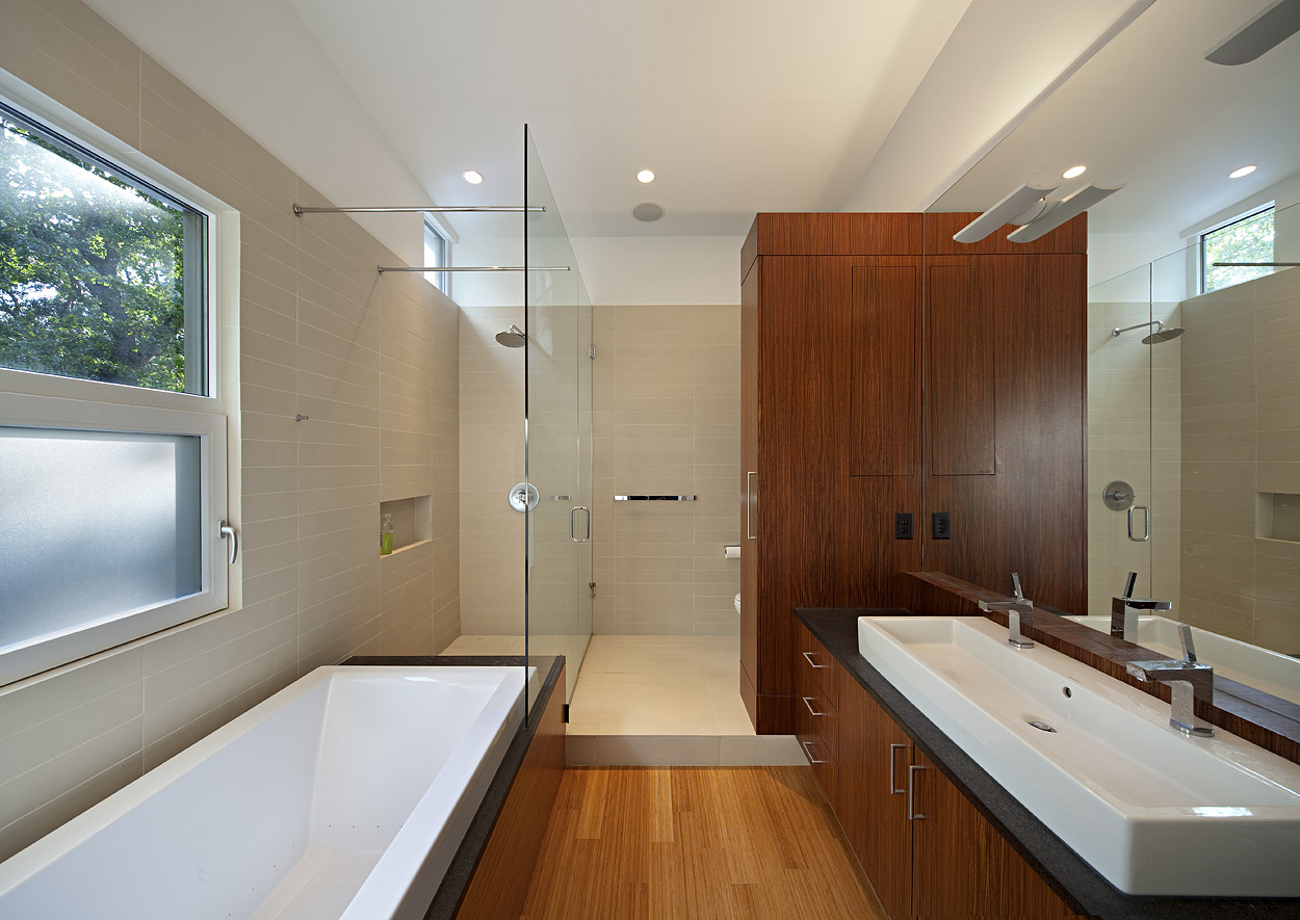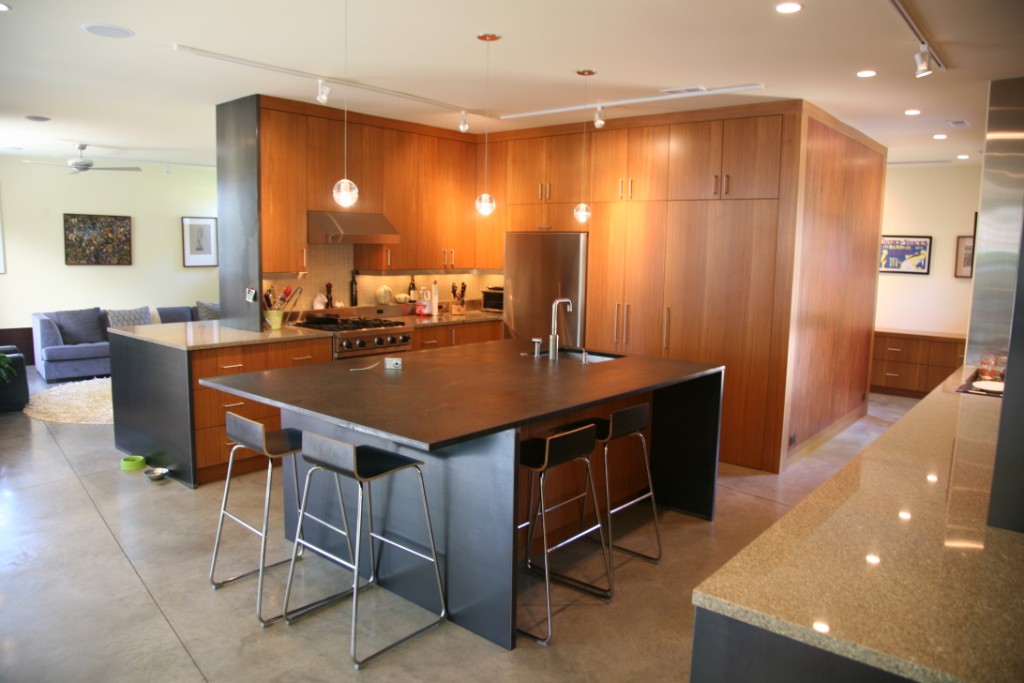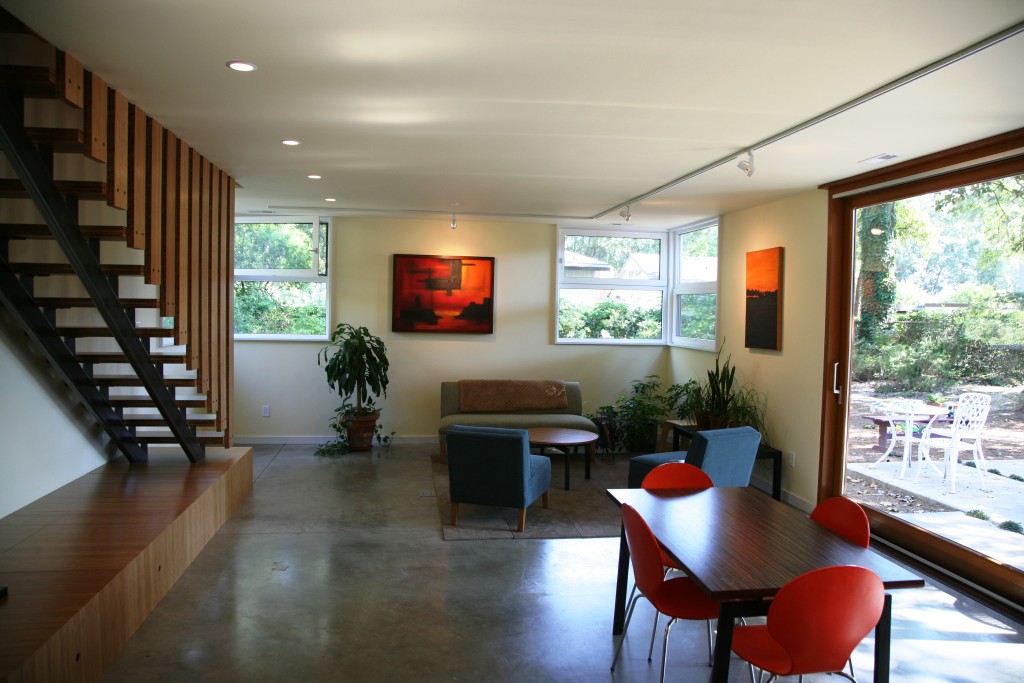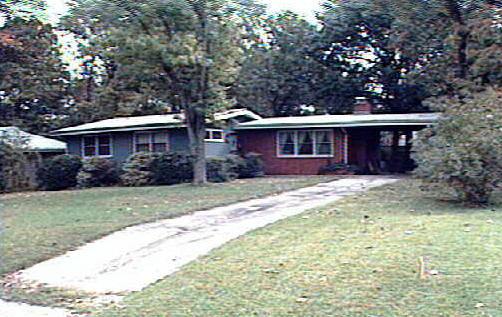 2008 - The Zachary (Bo) and Heather Herring Taylor House, 816 Graham Street, Raleigh, on the site of a ranch house (bottom photo). Heather is the daughter of the late Troy Herring, a noted Raleigh architect. The house is chock full of exquisite cabinetry custom built by owner Bo Taylor.
Tile by Elegant Stone and Tile. Counters by Brazeal Stone. Custom metal work by Ben Galata. Solar and radiant by Home Energy. Windows and siding doors by Henselstone. Bamboo floors by Sedaris Hardwood Floors. Glass and mirrors by Carolina Glass and Mirror. Zinc roofing by VMZinc installed by CDN Roofing. Backsplashes: Stainless Steel Fabricators. Rainwater Collection System: Rainwater Solutions. CDN Copper and Sheet Metal Demolition:Habitat for Humanity Reuse Center. Custom Steel: Galata Designs. Project manager, Steve Rouse.
The second floor terraces feature a really simple and elegant rainwater harvesting system by Rainwater Solutions. Won 3rd Place People's Choice in the 2012 George Matsumoto Prize. Deeded to Bo Taylor in 2011. Top three photos by Mark Herboth.
---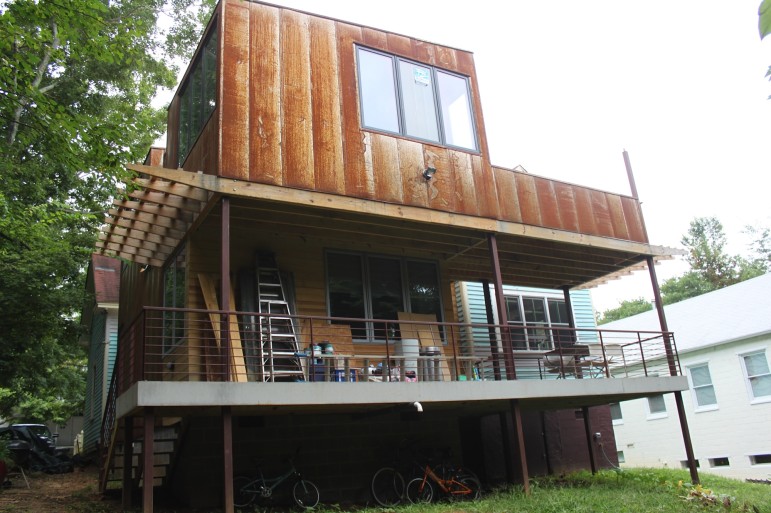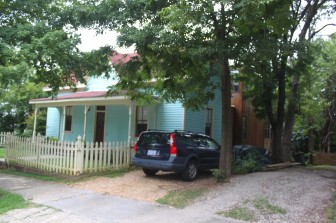 2013 - The Nick and Coleen Speaks Renovation,
208 Linden Avenue
, Raleigh. Photos by Laura Baverman.
---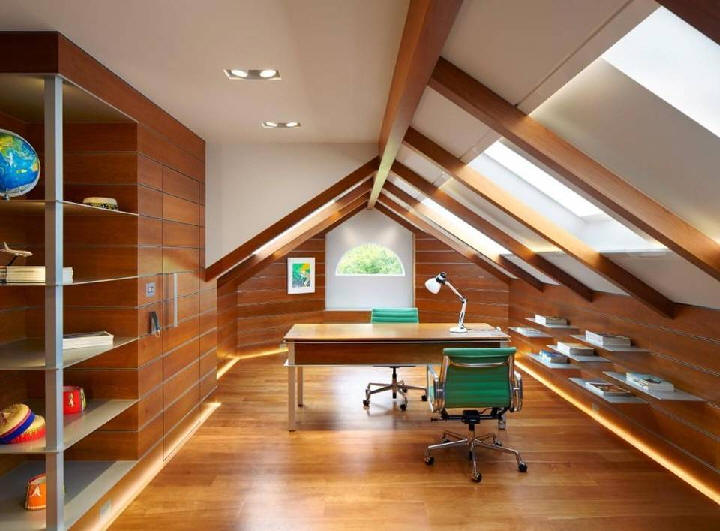 2014 - aka the Garrett Renovation, Cary. Photo by Mark Herboth.
---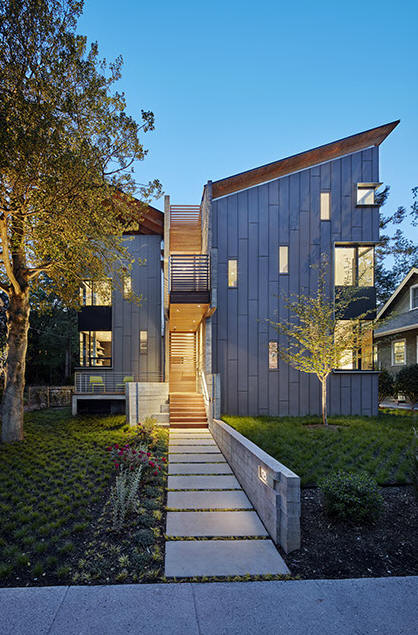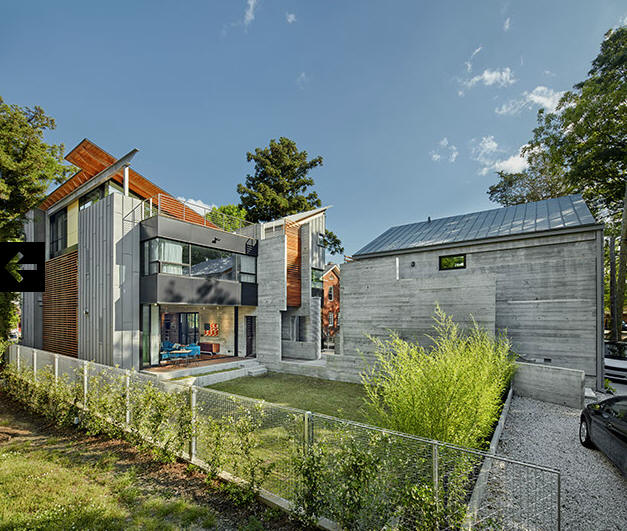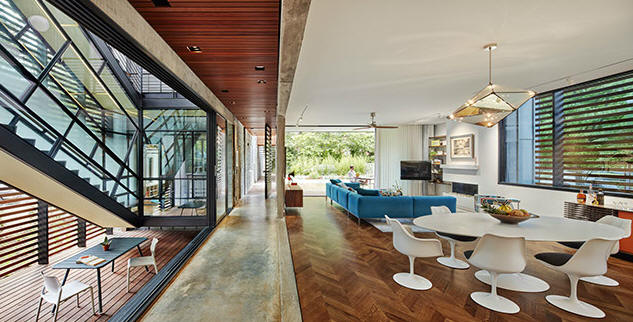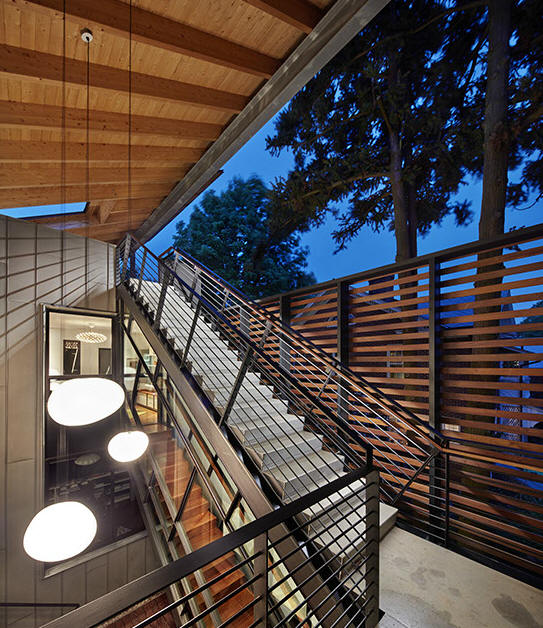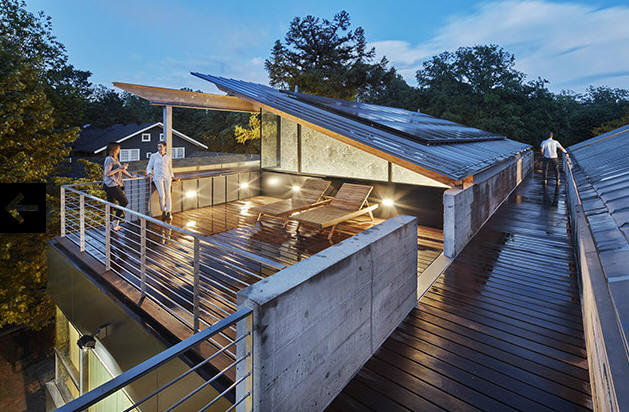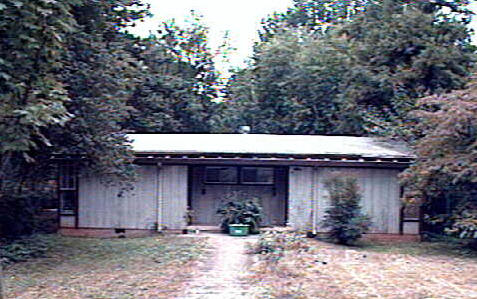 2015 - The Wiliam and English Sall House,
123 Hillcrest Road
, Raleigh. Commissioned 2013. Photos by
Jim West
. Built on the site of a 1972 house, bottom photo, designed by
Ralph Reeves
. Interior design by Kay Jordan. 1st place winner of the 2016 juried George Matsumoto Prize.
---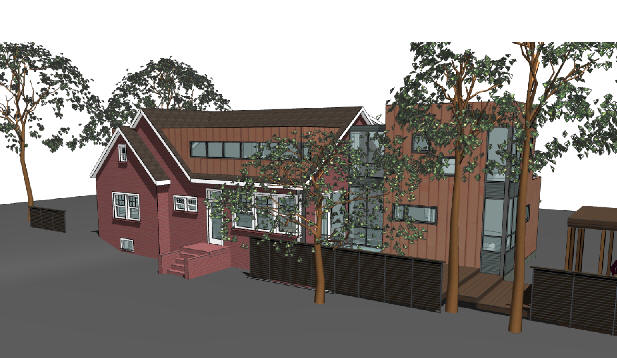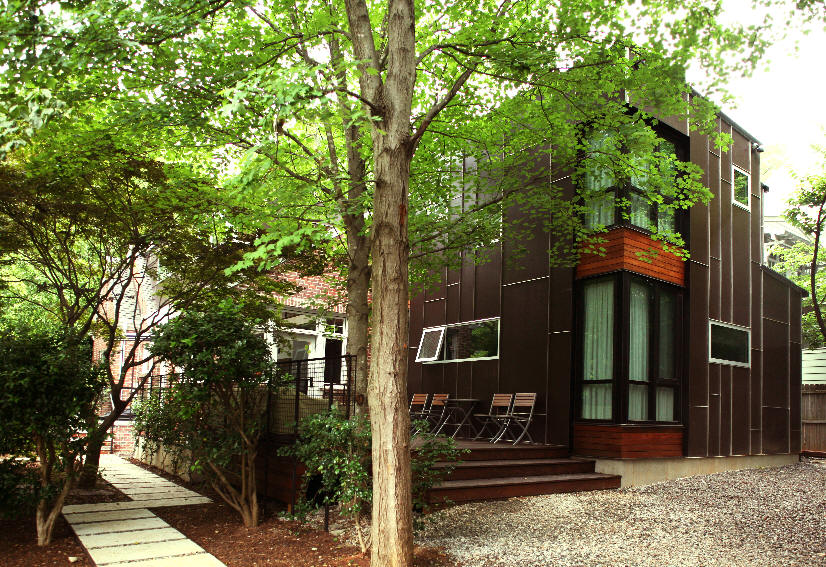 2016 - The Mangano Renovation, 521 West Aycock Street, Raleigh.
---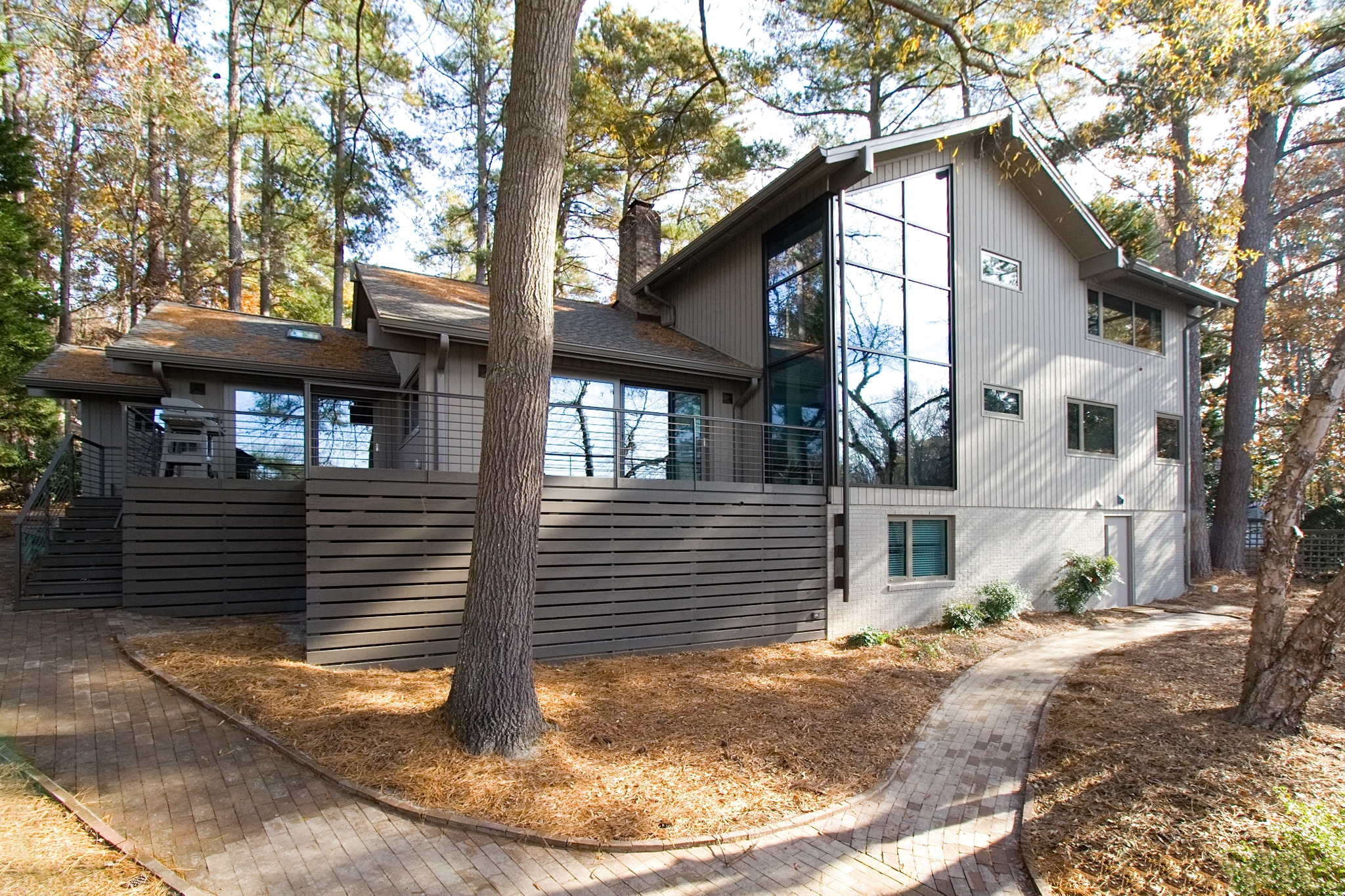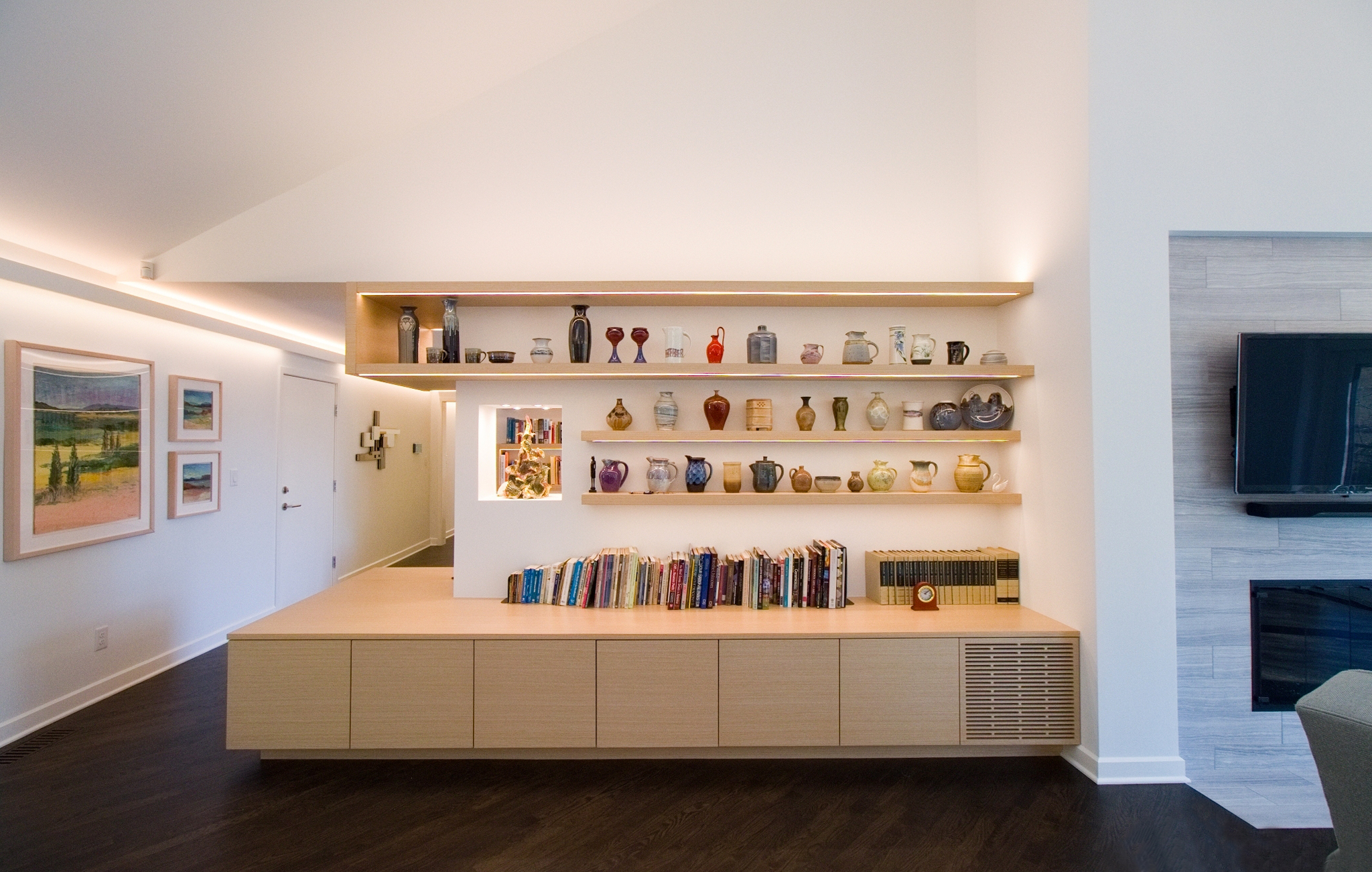 2018 - The Fran and Verl Dennis Renovation, 115 Overview Lane, Cary.
---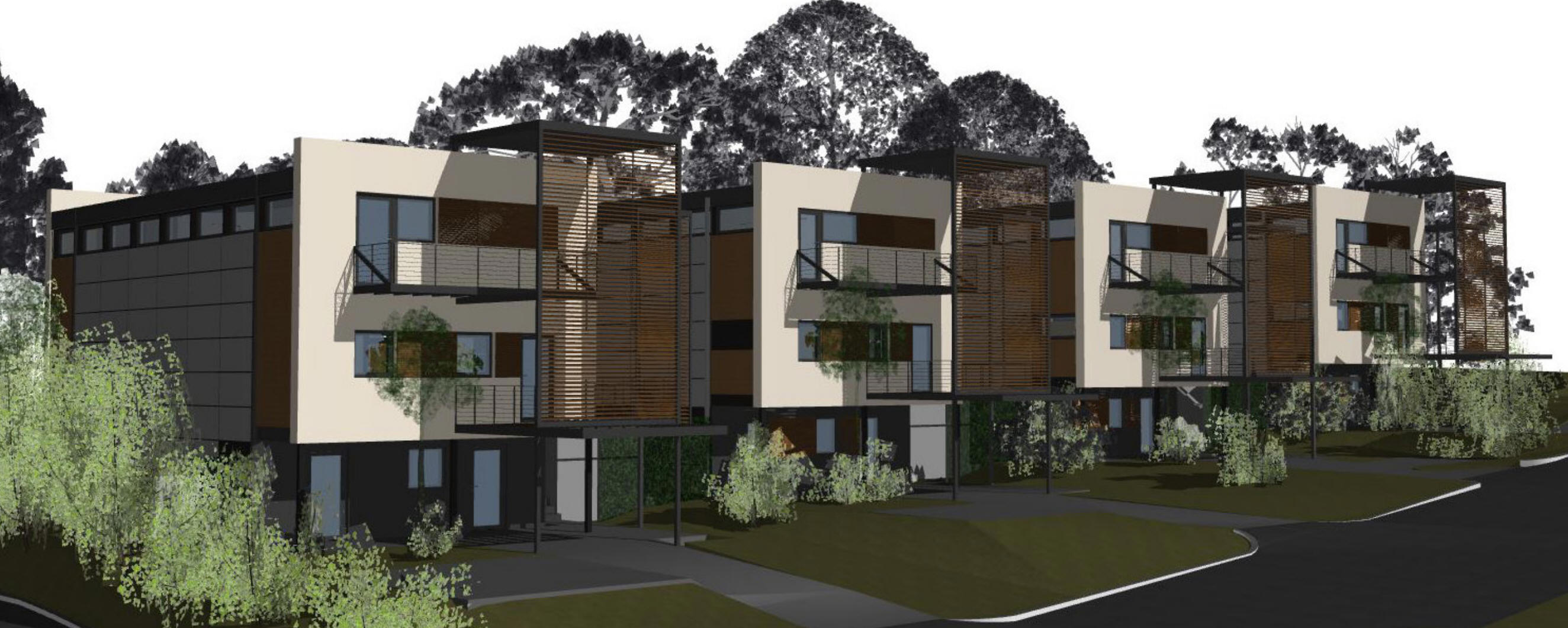 2018 - Tower Street Passivehaus, Tower Street, Raleigh.
---



2019 - Dogwood Lane Renovation, Raleigh.
---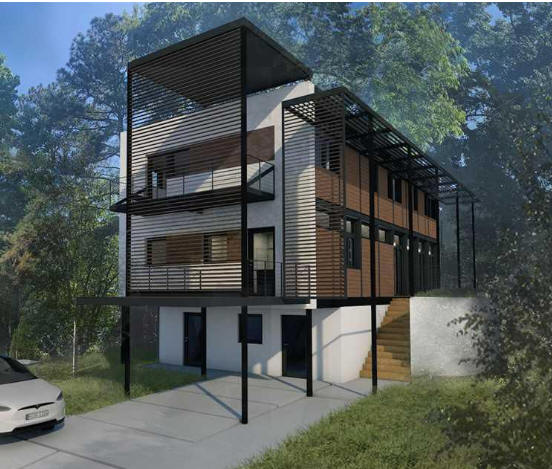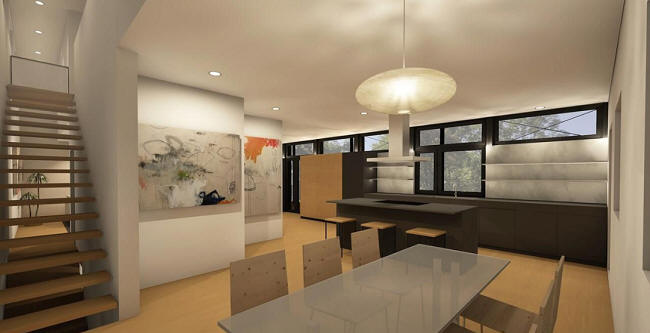 2019 - 926 Tower Street, Raleigh.
---