Leif Valand was born in Norway and came to Jersey City NY as a boy. He attended the Pratt Institute and earned a BArch from New York University. He practiced architecture in Scarsdale NY then moved to Raleigh in the late 1940s to design the Cameron Village Shopping Center for developers J. Willie York and R. A. Bryan. The vision was massive for that time, comprising 65 stores, 112 offices, 566 apartment units, and 100 private houses.
During his heyday, he was one of the most prolific architects in Raleigh. With just a few employees, his extensive contacts with Raleigh's business and real estate elite gained incredible commissions. Cameron Village Shopping Center was just the beginning. Later came Cameron Village Office Buildings, Cameron Village Apartments (St. Mary's, Smallwood, Nichols, Daniels), Enloe High School, The Federal Building on New Bern Avenue, North Ridge Country Club, North Hills Shopping Center, the Central Raleigh YMCA, the Velvet Cloak Hotel, the State Administration Building, the Raleigh Women's Club, and St. Michael's Episcopal Church. In 1969, Valand took on a partner, Nelson Benzing. By 1984, Valand was very ill and retired. Benzing closed the firm. Few records remain. According to Benzing, Valand's blueprints were lost by his executors.
New Projects researched by Mary Ruffin Hanbury. A
ll projects in Raleigh, North Carolina unless otherwise noted.
1947 Cameron Village
1950 Washington Terrace Apartments
1951 College View Apartments, Greenville North, Carolina
1951-1954 Various Ridgewood houses
1953 Apartments, Goldsboro, North Carolina at Beech and Daisy
1954 Forest Hills houses, Garner, North Carolina
1954-1956 Longview Shopping Center, Commercial Buildings
1954 Tri-City Shopping Plaza, Shopping Center Gary, Indiana
1954 Sweet Gum School, Caswell County, North Carolina
1954 W.T. Grant Store, Goldsboro, North Carolina
1954 Western Union Building
1955 Raleigh Farmers Market / Wholesale Produce Market
1955 St Michaels Church
1956 McCracken Supply Co
1957 Lions Club "Dream Home" exhibited at State Fair
1957 Kraft Foods Company
1957 (New) St Saviors aka St Timothy's
1957 Ridge Road Baptist Church
1958 First Federal Branch, New Bern Ave
1958 Hillsborough St YMCA
1958 Enloe High School
1958 Kellogg Switchboard and Supply co
1958 College Inn Motor Lodge
1958 Citation Model Homes in Lakewood and Woodcrest
1960 Presbyterian Synod HQ
1961 Camp Seafarer Arapahoe, North Carolina
1961 North Carolina Bar Center
1961 First Citizens Branch Bank Downtown Blvd
1961 Norfolk Southern Railroad Offices
1962 North Carolina Military Center and Armory Building, location unknown
1962 Gateway Plaza Shopping Center
1963 North Hills Shopping Center
1963 Peden Steel
1964 Charles Aycock Junior High School
1964 Pepsi Cola Bottling Plant
1965 First National Bank of Eastern North Carolina, Farmville, North Carolina
1965 Velvet Cloak Inn
1965 St Ambrose
1966 Ray Bryan House Goldsboro, North Carolina
1966 Low Income Housing Chapel Hill, North Carolina
1967 Public Service of North Carolina Building
1968 Warren and Northampton County State Welcome Centers
1968 Thomas Woods, Tire Sales and Service
1968 Raleigh Woman's Club
1970 North Ridge Country Club
1972 Northaven Apartments
1975 Northgate Shopping Center Durham
Ridgewood Shopping Center
Eastgate Shopping Center
Four Seasons Mall Greensboro, North Carolina
University Mall Chapel Hill, North Carolina
Holly Hill Mall Burlington, North Carolina
Country Club Homes
WPTF Building Salisbury Street
Quail Corners Shopping Center
Cameron-Brown Headquarters
The Lakes Apartments
Rehabilitation/Additions
1957 NCSU YMCA
1958 Jeans Department Store Interiors
1963 Addition to Mary E. Phillips School
1963 Raleigh Little Theater Improvements
1967 Mayview Convalescent Home new wing
1968 Apex Elementary School Cafeteria Addition
1969 Downtown Parking Deck
1970 Meredith College Cate Center
1971 Timberlake Apartments
1972 State Highway Patrol Heliport Hangar and Landing Pad
1972 Manley Street United Church of Christ
1972 North Haven Apartments
1972 Park Buildings at Carolina Pines, Biltmore Hills and Millbrook
Collaborations
1950 Camp Lejune Housing with Edwards, Pugh and McKinnon
1956 Occidental Building with Kemp, Bunch and Jackson
1961 Recreation Buildings at Lions, Jaycee, and Chavis Park; and Arts Building at Pullen Park with Charles Graves
1965 State Archives Building with F. Carter Williams
1965-1967 Department of Administration Building with F. Carter Williams
1967 Federal Building with Lowenstein- Atkinson
Valand and his wife Wymene and three sons lived in a 1952 house at 706 Woodburn Road, Raleigh NC. Designed by Charles Davis of Cooper Haskins. 2200 square feet, below. Valand would later adapt the one-level house for his wheelchair. That house was sold to Justine Rozier in 1989. Sold in 2009 to Alma M. Gaines.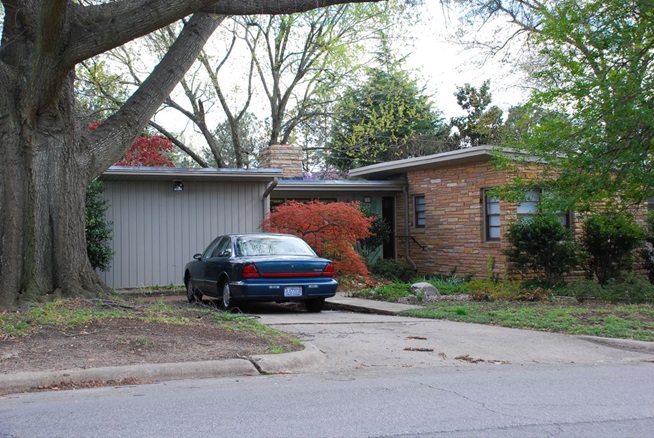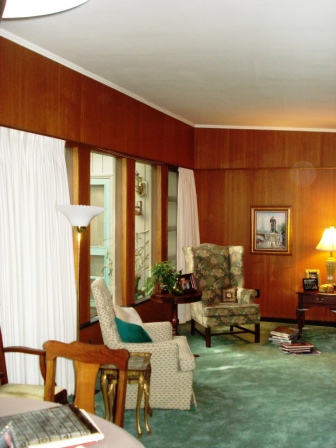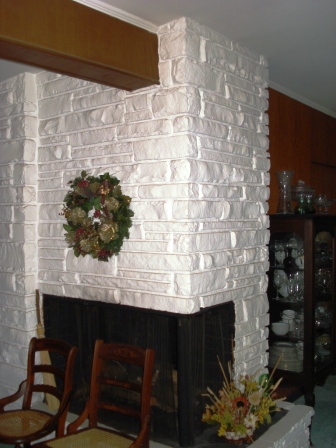 ---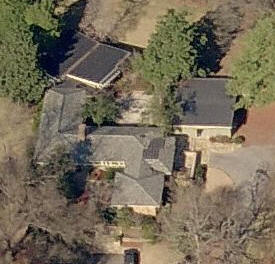 1946 - The J. Willie York Residence I, 1904 Craig Street, Raleigh NC. The 3.5-acre traditional ranch home of prominent developer J. Willie York, one first ranch-type houses in Raleigh. Deeded to his son, former Raleigh Mayor George "Smedes" York. Two additions, as shown above, at the left and right rear of the house.
---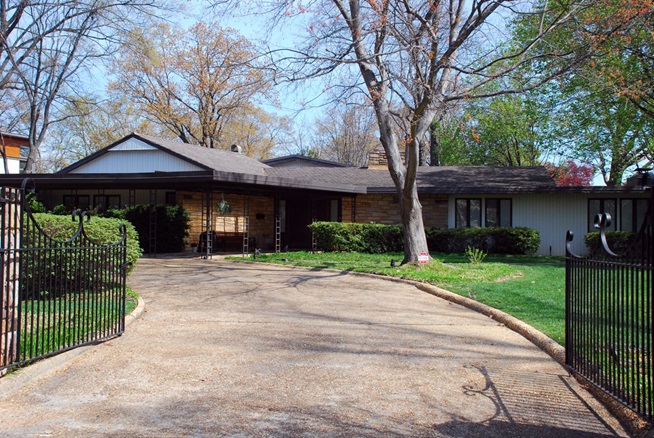 1950 - The James and Florence C. Poyner House, 710 Smedes Place, Raleigh NC. Deeded to his son James Poyner III in the 1990s. Deeded to Edythe Poyner. Sold in 2015 to Frank Thompson and Charman Driver. Destroyed in 2019 for a new Modernist house designed by Katherine Hogan and Vinny Petrarca. Photo by Leilani Carter.
---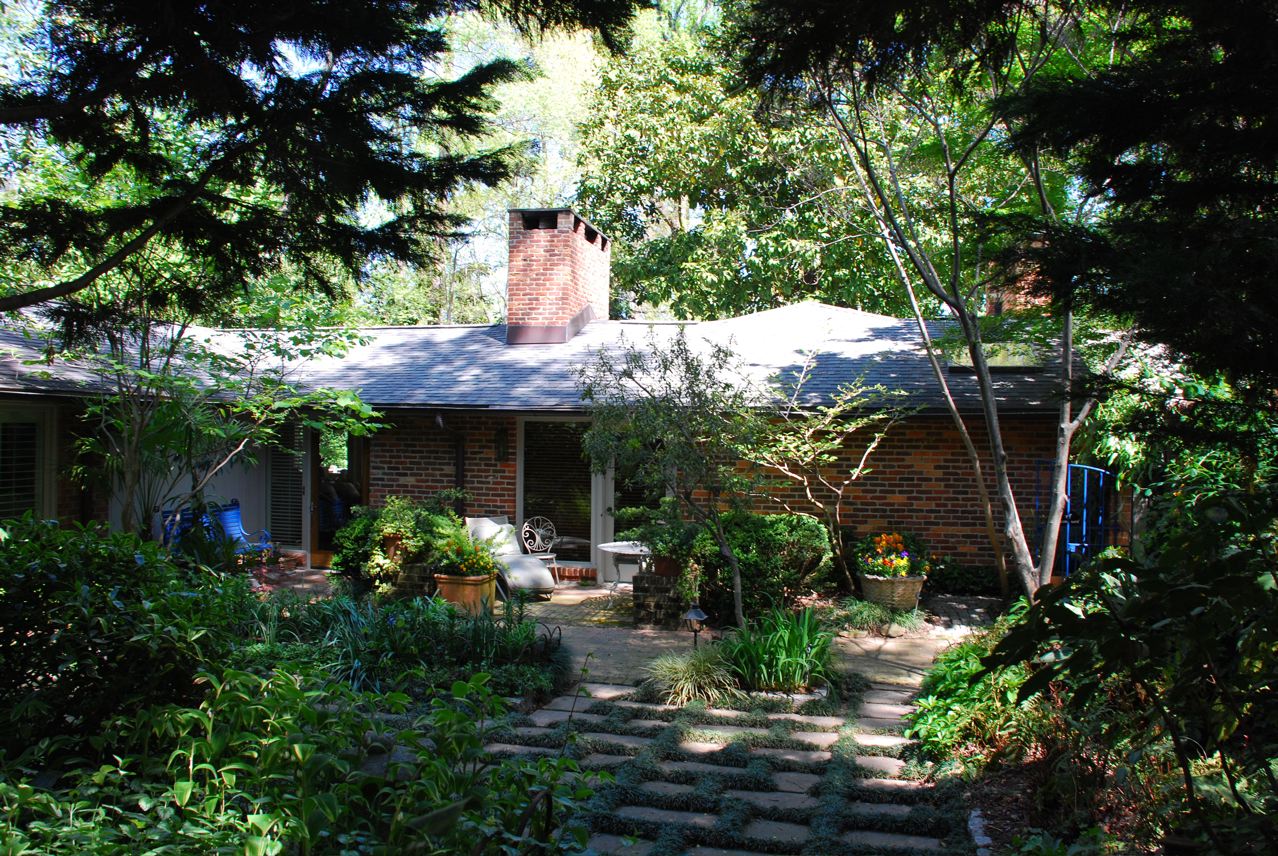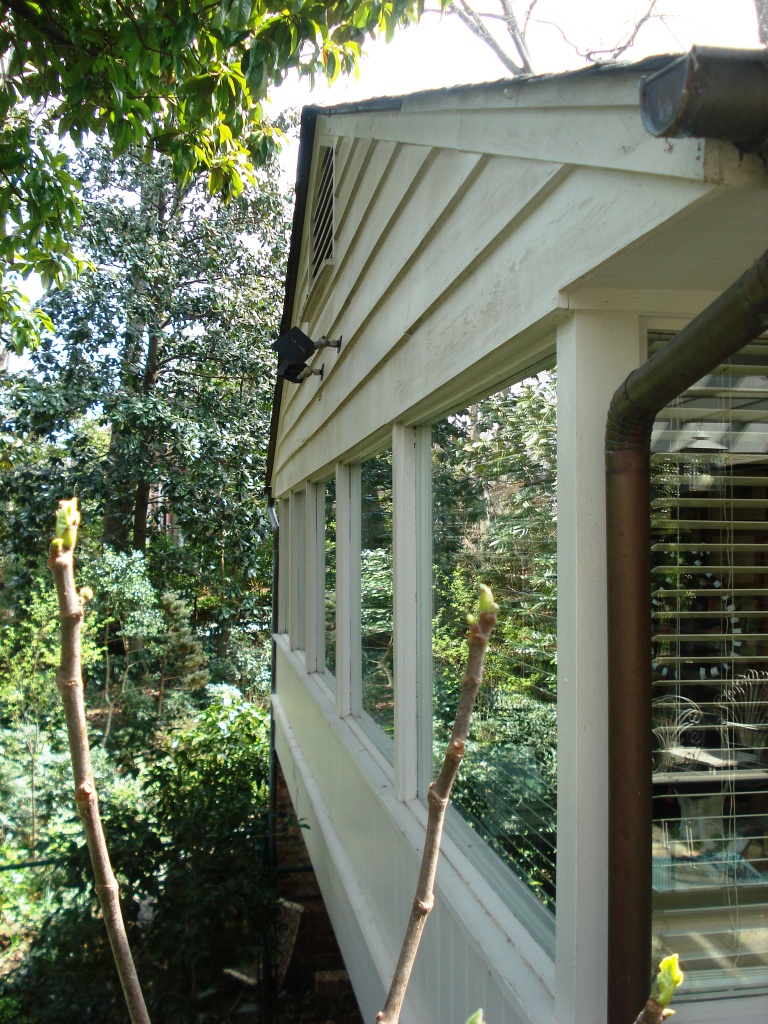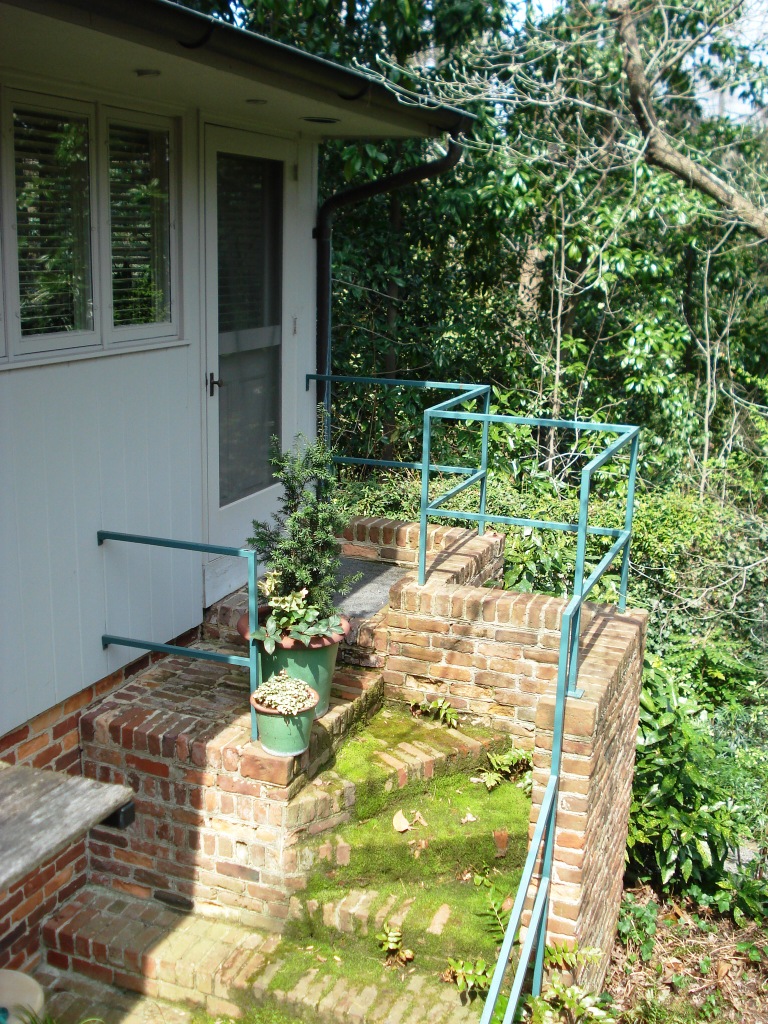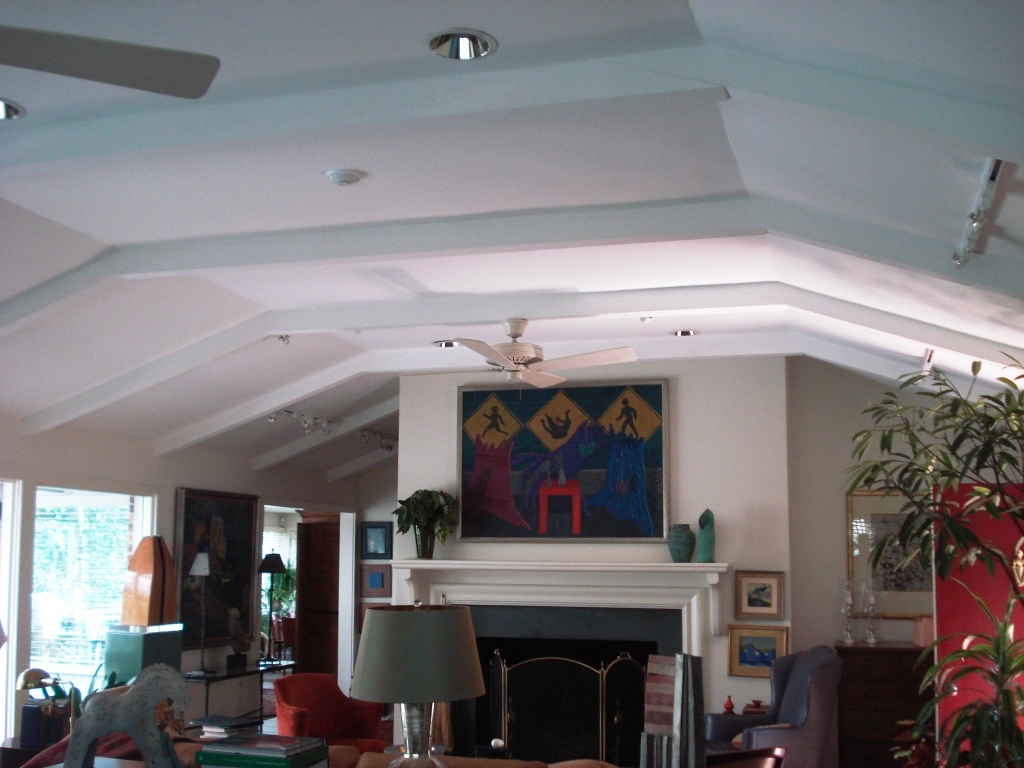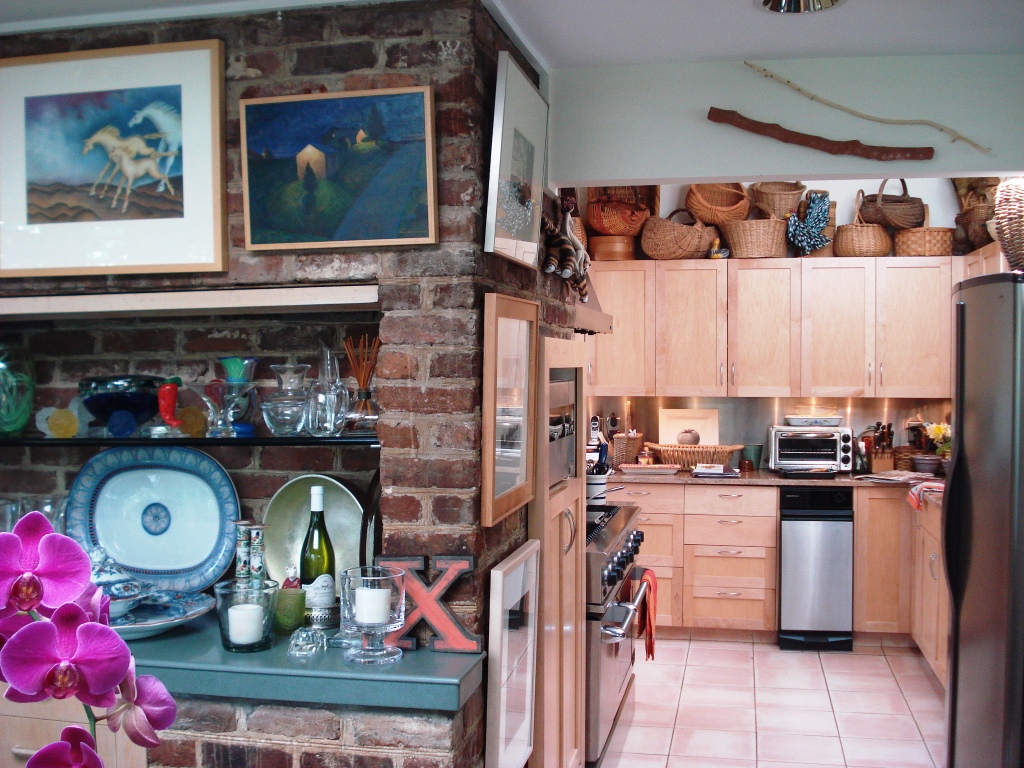 1950 - The Peden Guest House on 909 Willliamson Drive, Raleigh NC. Adjacent to the main Peden house. There was a small fire in 1958 which required remodeling. In 1965, a bedroom wing was added. The family allowed the Junior League of Raleigh to use it as offices during the late 1960s until the Pedens retired in 1983. Their larger multistory home next door was too large and not on one level, so they moved here, expanding the kitchen and adding a deck. After they passed away, daughter Melissa Peden got it as of 1996. Hurricane Fran brought her a quick housewarming present, a new roof. Top two photos by Leilani Carter. Other photos by George Smart.
---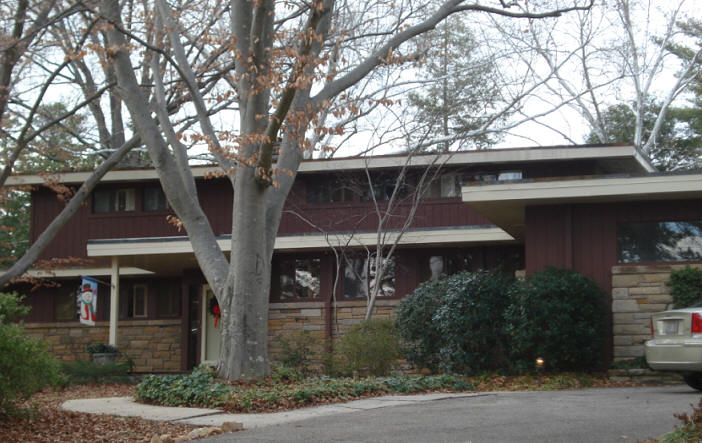 1951 - The Ed N. and Helene Richards House. 2116 Banbury Road, Raleigh NC. Richards was the developer for Country Club Homes, Northridge Country Club, and North Hills Mall. Richards was instrumental in attracting architect Nelson Benzing to join Valand's practice. Sold to Robert and Evelyn Andrews in 1975. Sold in 1985 to Samuel and Bonnie Thompson who still owned the property as of 2011.
---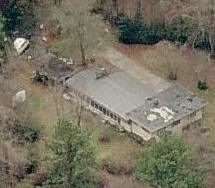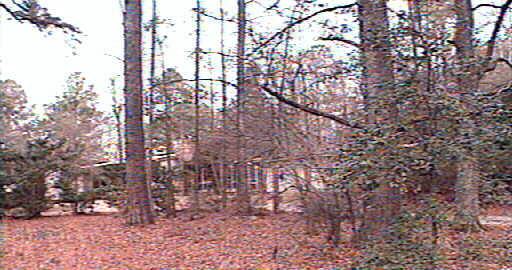 1952 - The Frederick (Fred) and Mary Dixon House,
105 King William Road
, Raleigh NC. The project architect in Valand's office was Robert Hall, who later bought the house. Sold in 1954 to Marion Wyatt. Sold to a Parrish. Sold in 1963 to Robert and Jane C. Hall. Paul McCobb designed the living room. Sold in 1982 to Cyril Allen. Sold in 2016 to Judith O. Womack. Architect
Dail Dixon
grew up there.
---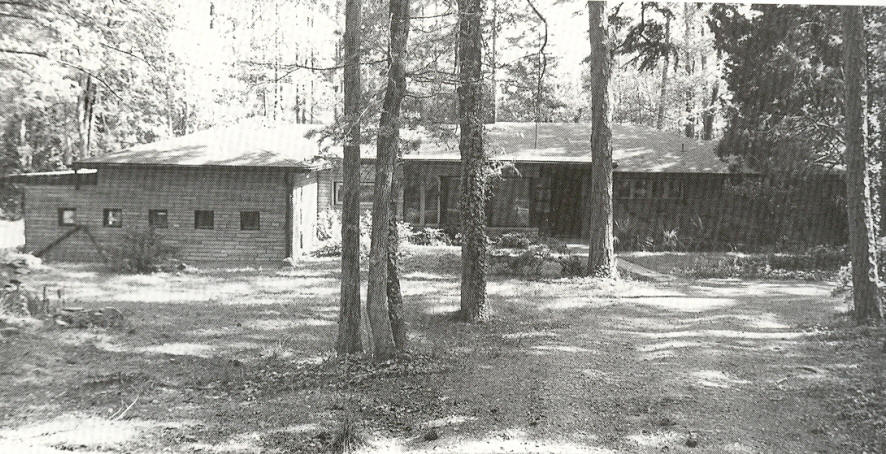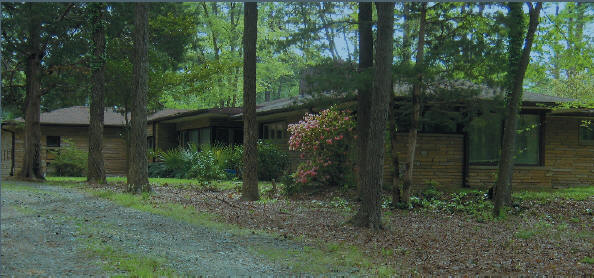 1952 - According to architectural historian M. Ruth Little, Valand is the likely architect for the Thompson House, 715 Greenwood Road, Chapel Hill. 2796 sf. Sold to Harry and Erma Gold in 1973. Sold in 1992 to Thomas Krenitsky. Sold in 2001 to Joseph Sica. Sold in 2003 to Thomas Tucker. Sold in 2008 to Joseph H. Sica Trust. As of 2011 owned by Airco LLC. Sold in 2012 to Monica Truemper and Andreas Ritter. Sold in 2013 to Arturo Morasoft.
---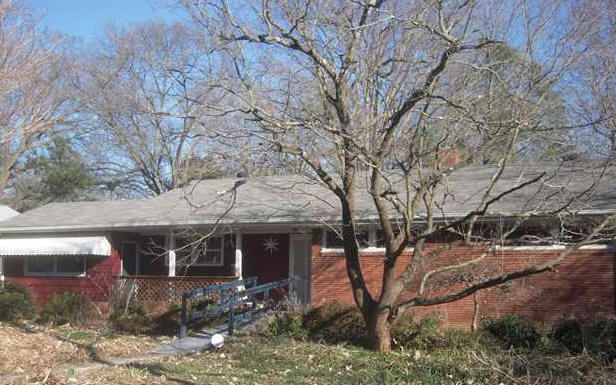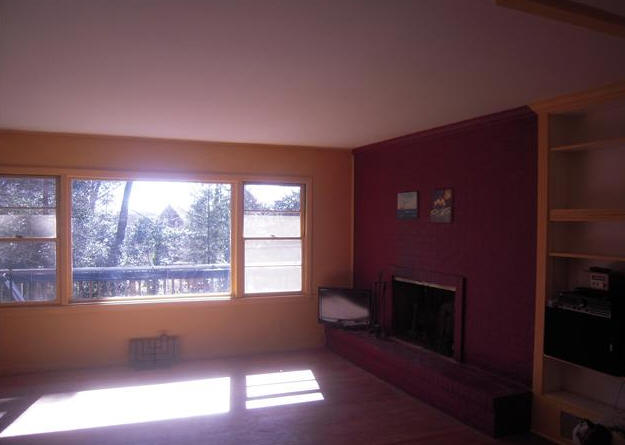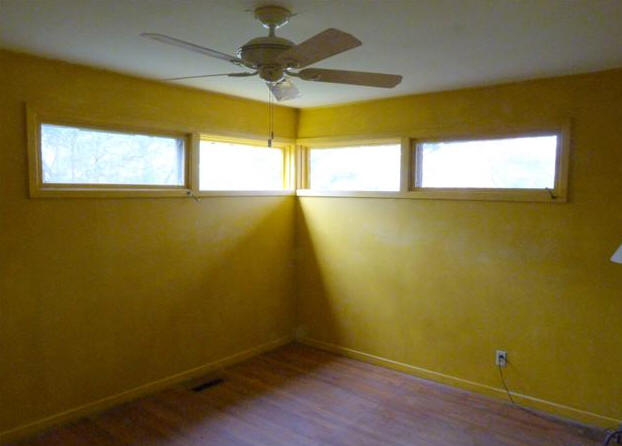 1952 - The William C. King House, 618 Daniels Street, Raleigh NC. Sold in 1959 to Cary H. Caudell. Sold in 1959 to Joe R. Chambers. Sold in 1960 to Mary H. White. Sold in 1977 to Mary White's heirs. Sold in 1977 to Jean White Wilson and Barrett D. Wilson. Sold in 2003 to Jean White Wilson. Slightly modern house. Sold in 2014 to Tamari Lenee and Brandon David Fair.
---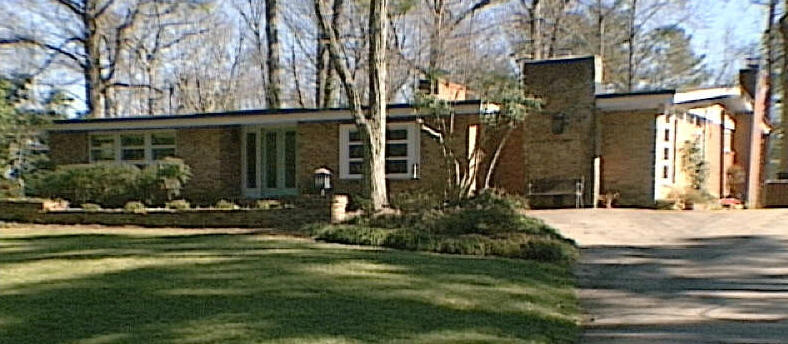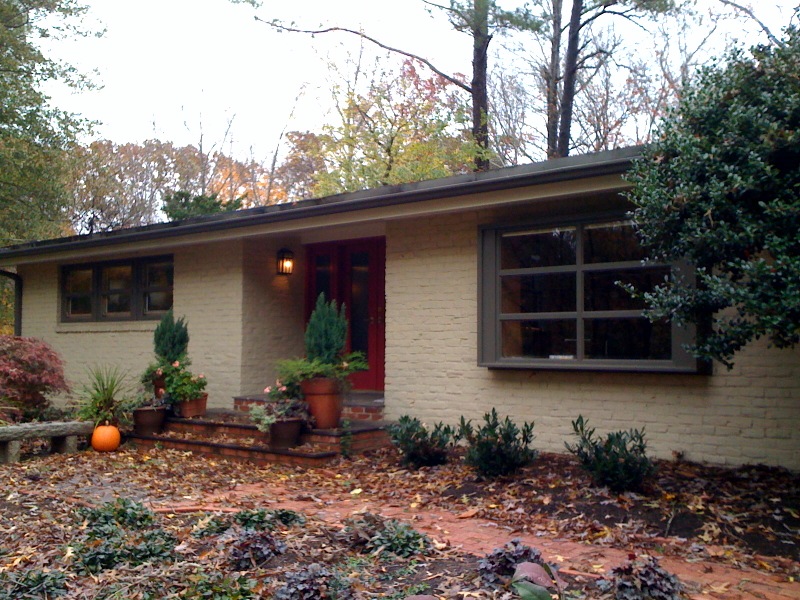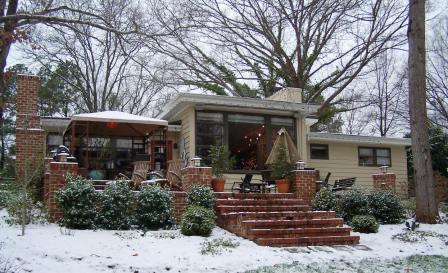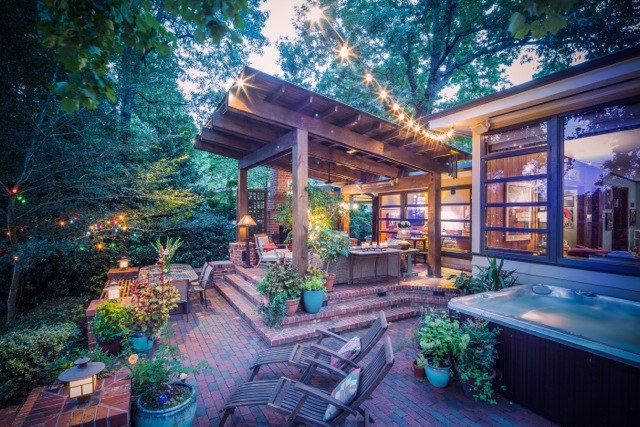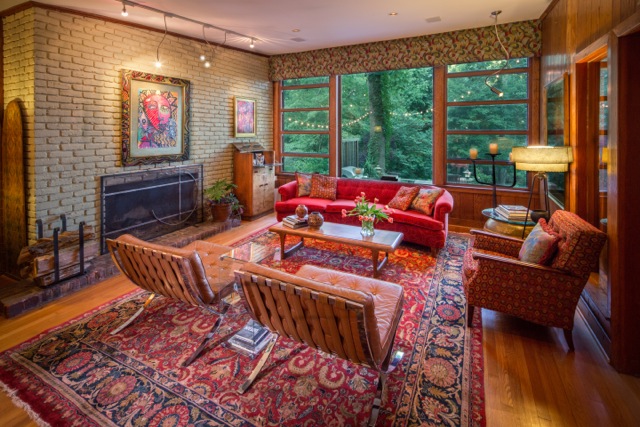 1952 - The George Viall Residence, 3100 Granville Drive, Raleigh NC. The view out the window is the Carolina Country Club golf course. Sold in 2002 to Andy and Melinda Knowles. Sold in 2020 to Doug and Debbie Bergeson. Bottom two photos by Melinda Knowles.
---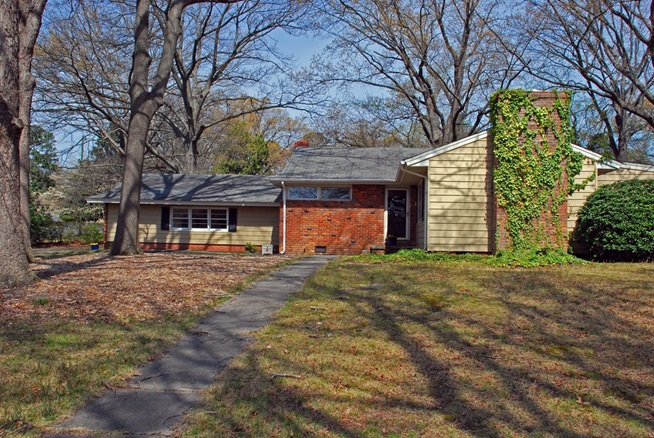 1952 - The Banks Kerr House, 703 Smedes Place, Raleigh NC.Sold to Elihue and Fleita Lewis in 1965. Sold to John and Clida Young in 1966. Sold in 1985 to John and Susan Williams. Photo by Leilani Carter.
---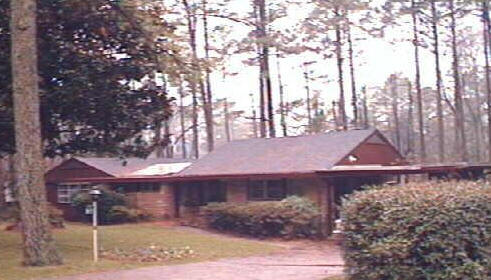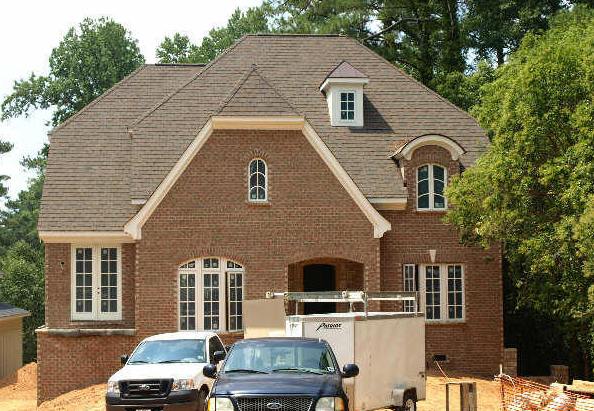 1953 - The I. J. and Sophie Green Residence, 1715 Picadilly Lane, Raleigh NC. Upon Sophie's death it was sold to Tuscany Construction Group in 2006 who destroyed it in 2007. In 2009, the new house (bottom photo) was sold to Shervin Tahssili.
---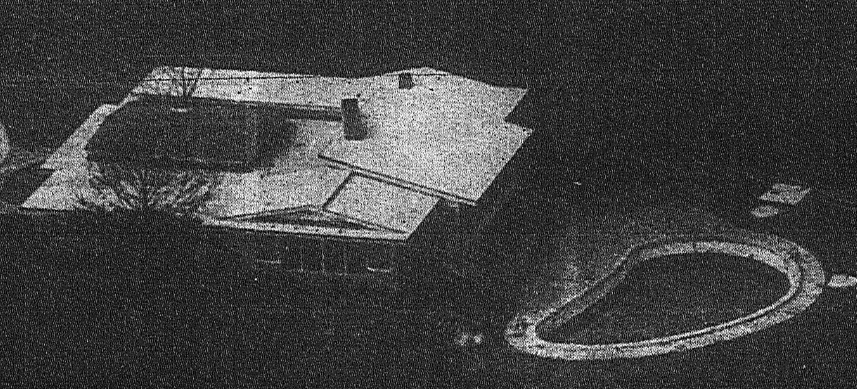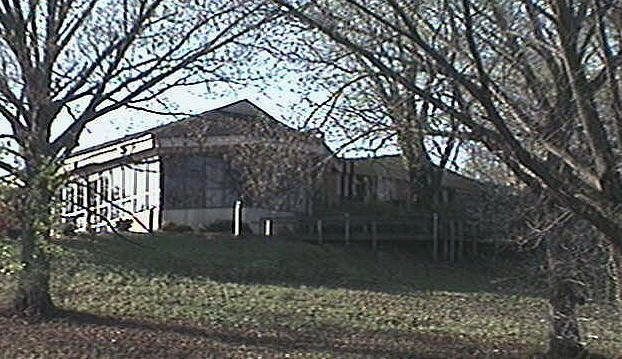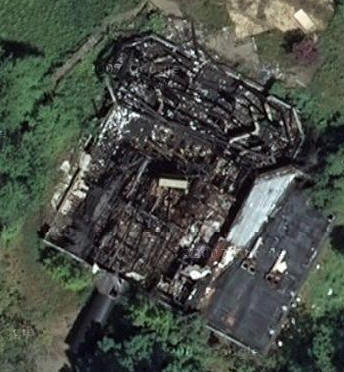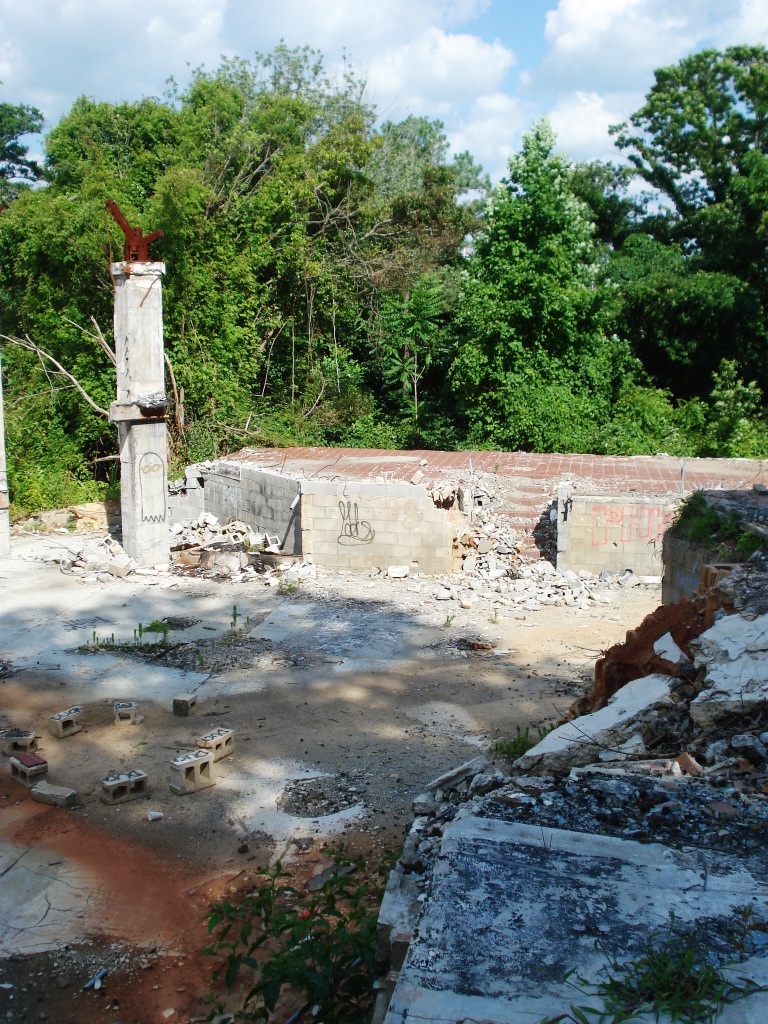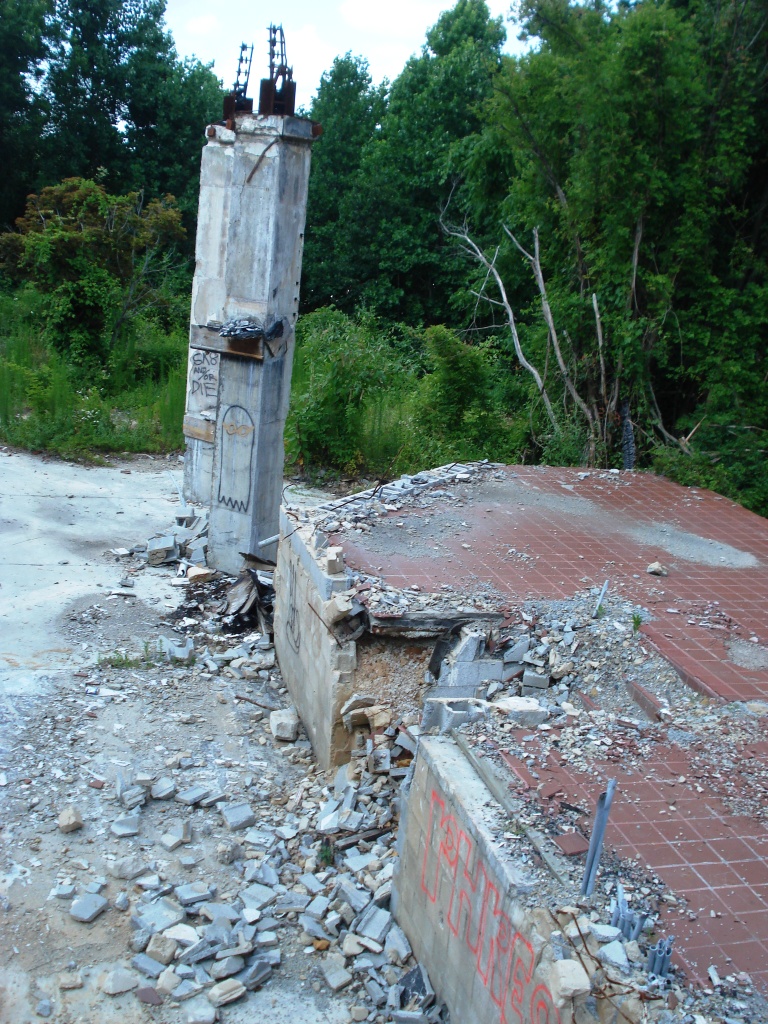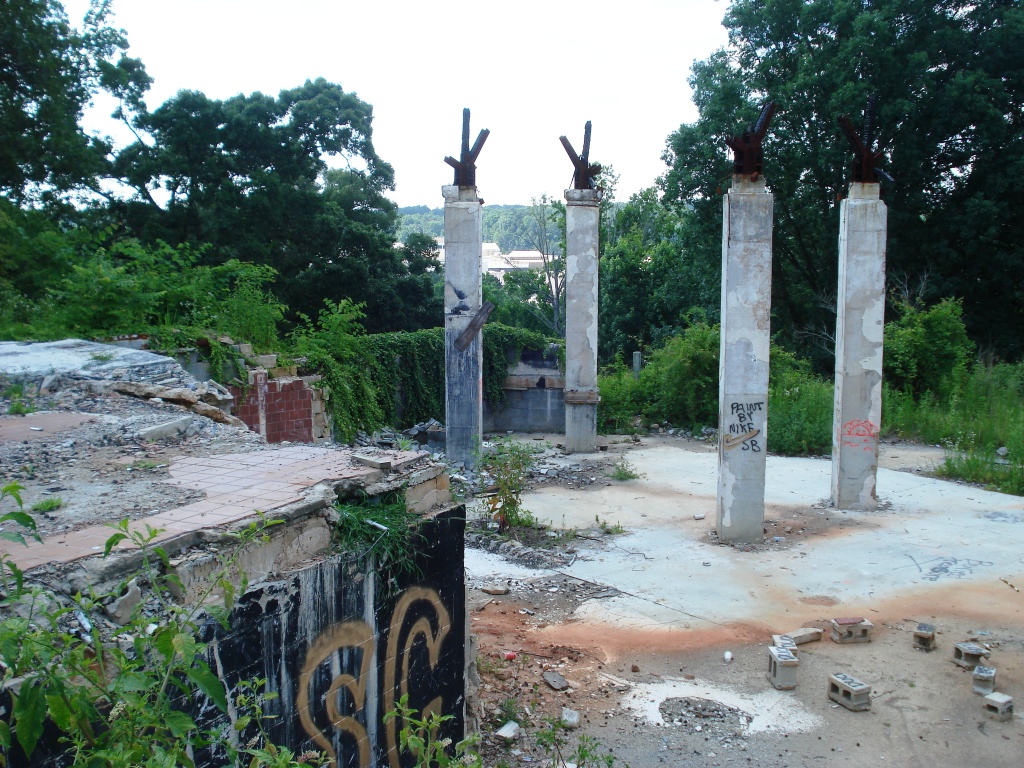 1956 - The Pierce Oliver "Kidd" Brewer House, 5509 Homewood Banks Drive, Raleigh NC.The property was also known as "Belle Acres" after Brewer's mother, Jennie Belle Jones Brewer. Brewer was a star football player and coach then an aide to two U.S. senators. In the 1950s he bought 115 acres of land at what was then outside of Raleigh near the intersection of US 70 and the forthcoming Raleigh Beltline. Soon this area would become Crabtree Valley, one of the biggest shopping centers in the South.
This fabulous house was high above Crabtree Creek, the first in Raleigh to have both indoor and outdoor swimming pools. It was featured in the News and Observer, 2/17/1957. Valand's son Mark recalls the house was featured in either Life or Look Magazine as well. In the mid-1980s, Brewer converted the house into Crossroads Restaurant. Brewer died in 1991. Eventually the restaurant closed and was replaced in 1993 by a new restaurant, It's Prime Only. That restaurant closed in 1999 and the building was abandoned for several years. It burned in 2005.
Brewer's nephew Ben Brewer recalls that "the home was built as a square horseshoe. One pool was located just North of the home by about 30 feet. It overlooked the Crabtree Valley where the Mall now sits. In the younger years we would sit by the pool and look over the acres down to a pretty good sized lake. The lake site would probably be in one of the Mall parking areas...if not directly inside the mall. The second smaller pool I would say measured 15 feet by 20 feet in size. It was on the inside of the horseshoe. There was a tree growing right through the ceiling to the outside. I don't recall exactly, but I think the roofing there was some kind of hard plastic covering. The east wing of the horseshoe had the bedrooms and bathrooms in it. The top of the horseshoe, if it were standing on end, housed a very large living room and kitchen all open. Then on the east part of the horseshoe was another middle sized room used for personal talking. It didn't get much use as I recall. Most family gatherings took place in the main grand room. It had floor to ceiling glass panels which gave one a panorama view of all of the area east to west and north for as far as the eye could see." As of June 2009 all that remained were a few concrete beams.
---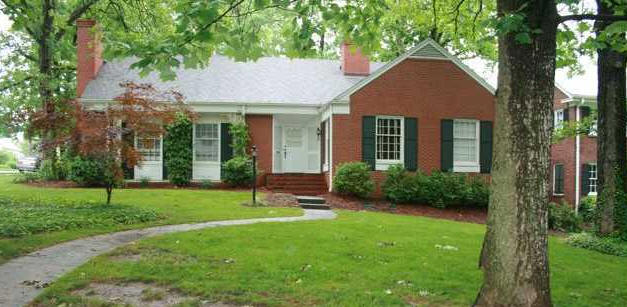 1959 - The Elsie R. and Dewey D. Sanderford House,
1520 St. Mary's Street
, Raleigh NC. Traditional design. Sold 1990 to Carolyn M. and Edward M. Bizzell, Jr. Sold in 2009 to Sheppard K. Ames.
---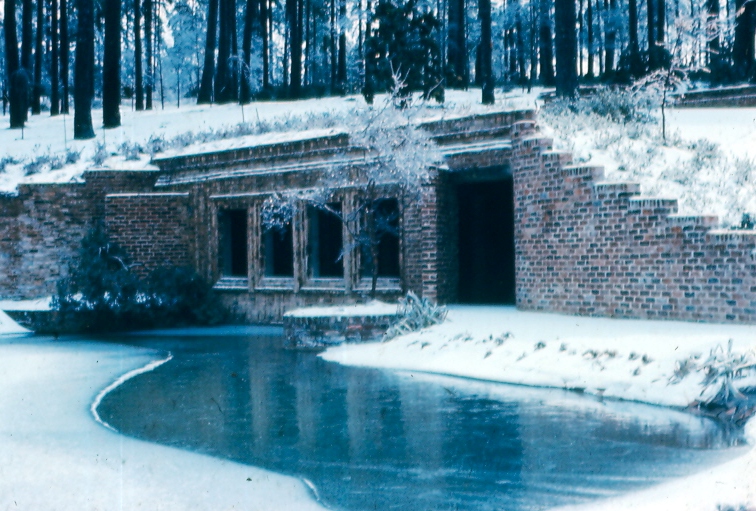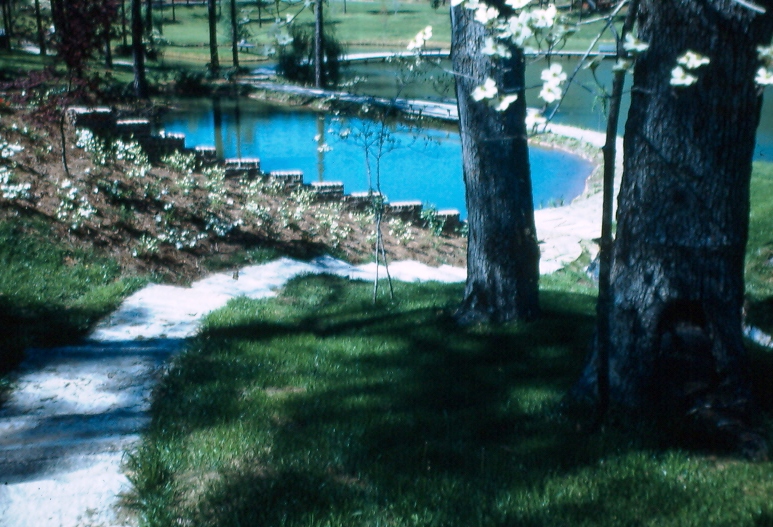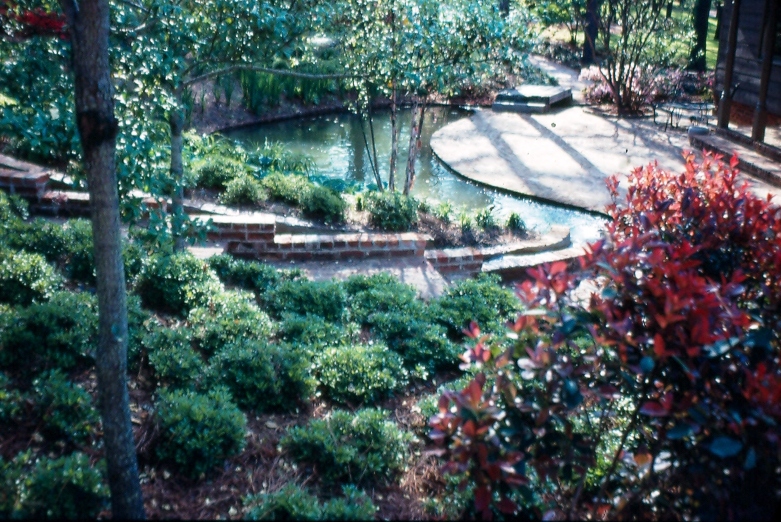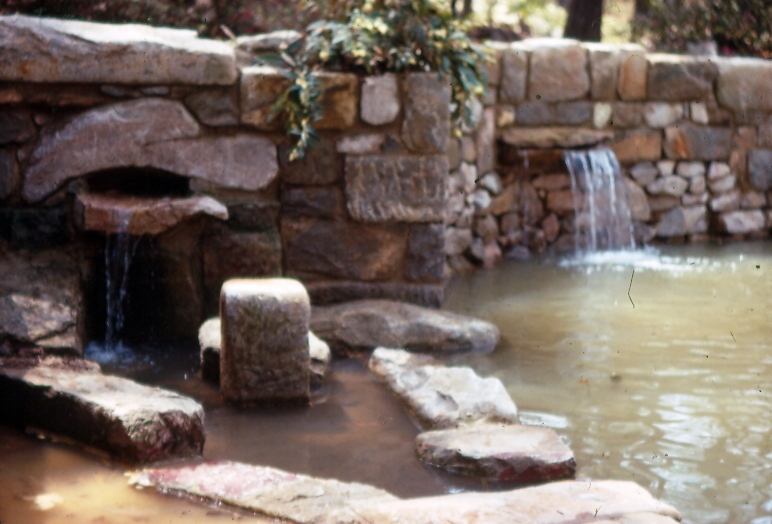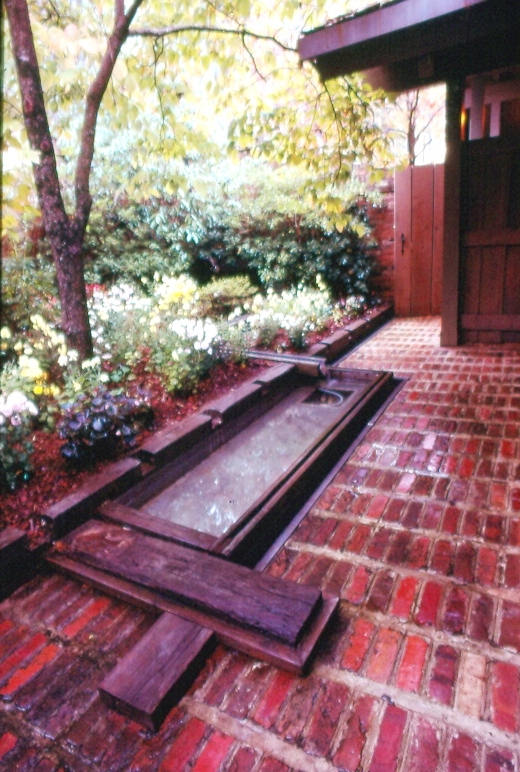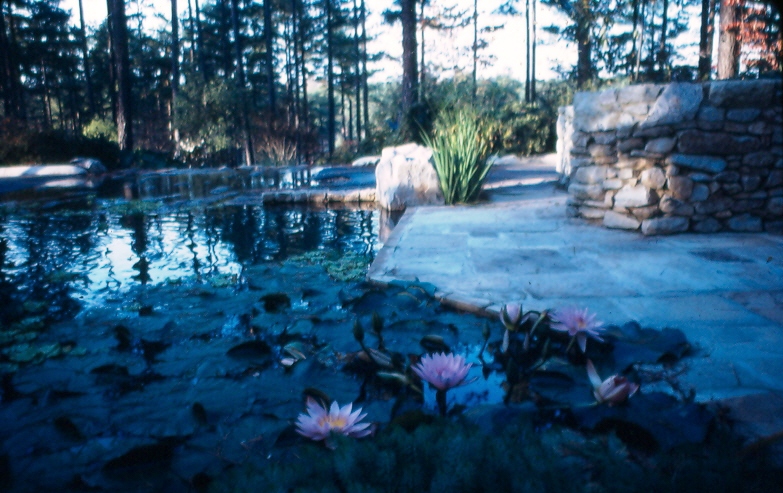 About 1963 - The J. Willie York House II, Pleasant Valley Drive, Raleigh NC. The house took several years to build. It became known for its immaculate gardens and landscaping by Lewis Clarke.In 1972, it was damaged by fire that broke out about 2:30pm in downstairs family room spread to an adjoining bedroom. It was slated to be remodeled as a clubhouse for an apartment complex but was destroyed instead. Photos by Lewis Clarke.
---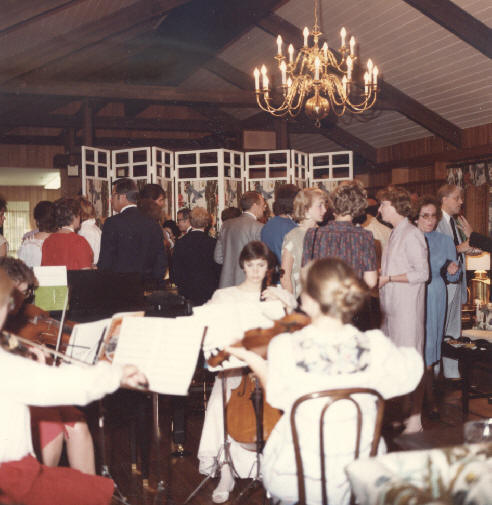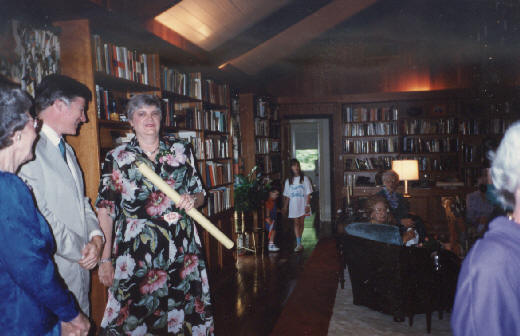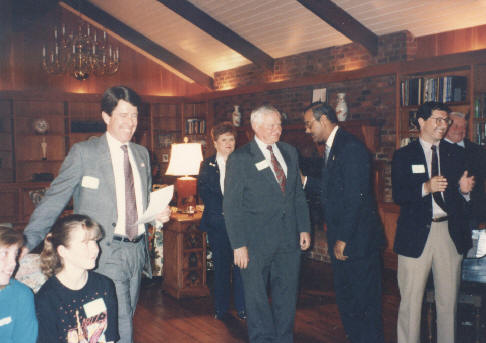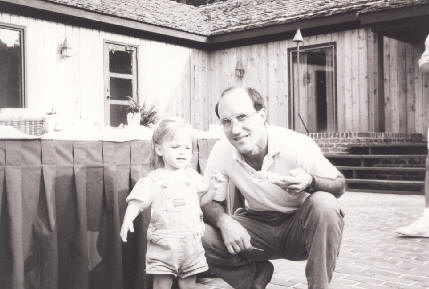 About 1970 - The J. Willie York House III, Newton Road, Raleigh NC. York moved out decades later and gave the property to adjacent Ravenscroft School. The U-shaped building featured two bedroom wings and one common area wing all joined by an interior garden. Along one side was a conservatory 60 feet long which featured a swimming pool. The school destroyed the house for a new building in 2007. Landscaping by Lewis Clarke
. Photos by Ravenscroft. It was really quite a substantial house; if you have photos of the exterior, please contact us.
---
Sources include: Mary Ruffin Hanbury, M. Ruth Little's The Development of Modernism in Raleigh 1945-1965, son Mark Valand, Smedes York, Phil York, Charles Davis, Yona Owens, Ben Brewer as told to Dave Potter.
---