2011 Advisory Council, left to right:David Hill/NCSU College of Design, Doug Brinkley/PBC+L, Dail Dixon, Jessica Johnson Moore/More Space Studio, Jerry Nowell/Nowell's Contemporary Furniture, George Smart, Chris Chinchar, John Morris/Goodnight Raleigh, John Chiles, Erin Sterling Lewis/in situ studio, Tobias Kaiser/Modernist Realtor, and Robin Abrams/NCSU College of Design. Not shown:Thomas Crowder/Architektur PA and Kim Weiss/Blueplate PR.
Board of Directors:Deborah Chay, Sharon Glazener / Principal, Bell Glazener Design Group (Vice Chair and Secretary), George Smart / Managing Partner, Strategic Development Inc. (Board Chair), Eleanor Stell / NC State University, Deborah Rodgers.The car is a Delorean and the house is a Lustron. Photo by Allen Weiss.
This film chronicles the life and career of Louis Sullivan as an artist -- and what he tried to do for American architecture. Much of the footage is made up of moving shots that trace building details and ornamentation not readily seen by the naked eye. Sullivan had a quixotic belief in the unbreakable connection between social values and architecture that never took root in the American consciousness. Sullivan never felt completely comfortable in either the vanishing world of nineteenth-century romanticism or the unsentimental and mechanized one of the twentieth century. The film looks at how Louis Sullivan's genius exerted such a tremendous influence on the development of the most famous architect who ever lived,Frank Lloyd Wright.
Third, the 2011 Alex Cedeño House, aka the James River House, designed by Raleigh's Tonic Design and built by Shearman Associates. We met builder Michael Shearman of Shearman Associates, Tonic project manager Kevin Wade, and owner Alex Cedeño. Photos by John Suddath and Leilani Carter.

We had lunch underneath the round 1960's Markel Building, designed by visionary Haigh Jamgochian. He originally planned a mushroom-pod-style building but budgetary restrictions led to a design based on a baked potato wrapped in aluminum foil. Each floor is covered with a single piece of aluminum. The crinkles were personally created by the architect with a sledgehammer. We met Jamgochian and learned about his vivid and wonderful career.




The day's ending highlight was the Walter and Inga Rice House designed by Richard Neutra and built on Lock Island. After walking across the one-lane bridge, one finds a jawdropping residence with absolutely stunning views overlooking the James River.

"What a great learning experience ... not only did we get to see some of the modernist gems of Richmond, Virginia but we also heard first hand from Jam (Haigh Jamgochian) on not only how the battered aluminum was applied to the exterior of the Markel Building but why. Then to top off the trip we heard from Perry the singing bus driver on our way home ... what a treat! Thanks and can't wait for the next adventure." -- Dale Briggs

"We did it again! The stalwart breakfast deliverer Sharon, cold hands, hot coffee, and the best of tours, that always work despite glitches, and the bus driver who can glide an impossibally huge bus down tiny lanes. And he has a another career performing R&B, Motown! We cut the boredom of I-95 with some cool sound. THIS BUS ROCKED! And why not...TMH ROCKS!" -- Leilani Carter

"Thank you for providing a wonderful experience in Richmond. I loved all of the buildings we visited. I felt an especially strong affinity for the Rice House. A few months ago I went to Artspace for First Friday and chatted with glass artist Madonna Phillips. She was displaying a new work of art which departed somewhat from her usual style. It is entitled "The Glass Room." She had been inspired by a book of the same name, which was written by Simon Mawer. The book is about a family that occupied a very modern house (with a glass room) in Poland at the time the Nazis took over. I wanted to read the book that had inspired Madonna to create her beautiful work of art, so I bought the book, read it, and was very moved by it. Ever since I read it, I have been envisioning the house in my mind, and when I walked up the hill to the Rice house, there it was!" -- Linda DeShaw

---
October 2011
The Rantilla House Tour, Raleigh

135+ people came out on a perfect fall day to see this award-winning Raleigh house designed by owner/architect Mike Rantilla. This private home literally springs upward from the pristine wooded site. Each floor is a discrete rectangular volume, clad in a different material and spun radially from a 40 foot tall, 18 inch thick solid concrete shear wall. Fully cantilevered stair treads project from the shear wall allowing light and views to pass through. Vertical circulation always maintains a close connection to the diagrammatic and structural centroid of the building. In less complicated terms, it was ridiculously awesome! Watch the video.

Many thanks to Mike and his wife Angela for opening up their beautiful home to TMH. Winner of the: 2009 AIA North Carolina Honor Award, 2009 AIA Triangle Honor Award, and the 2009 South Atlantic Region AIA Honor Award. Top three photos by Mark Herboth. Last two photos by Leilani Carter. More photos by Kate Walker.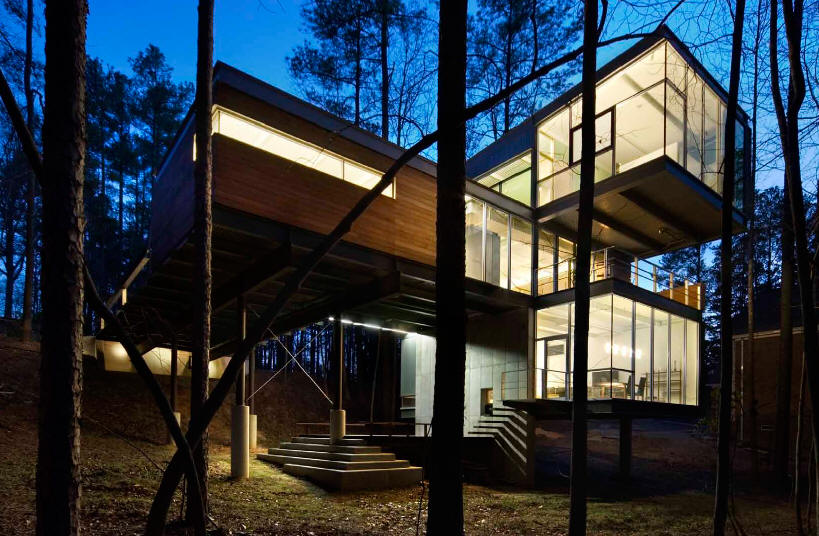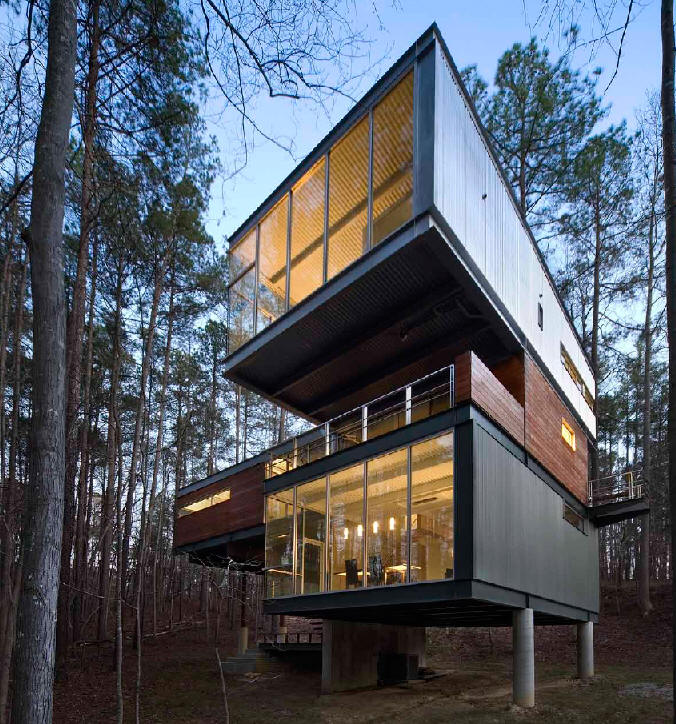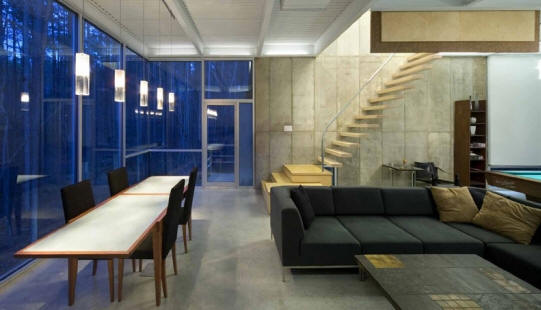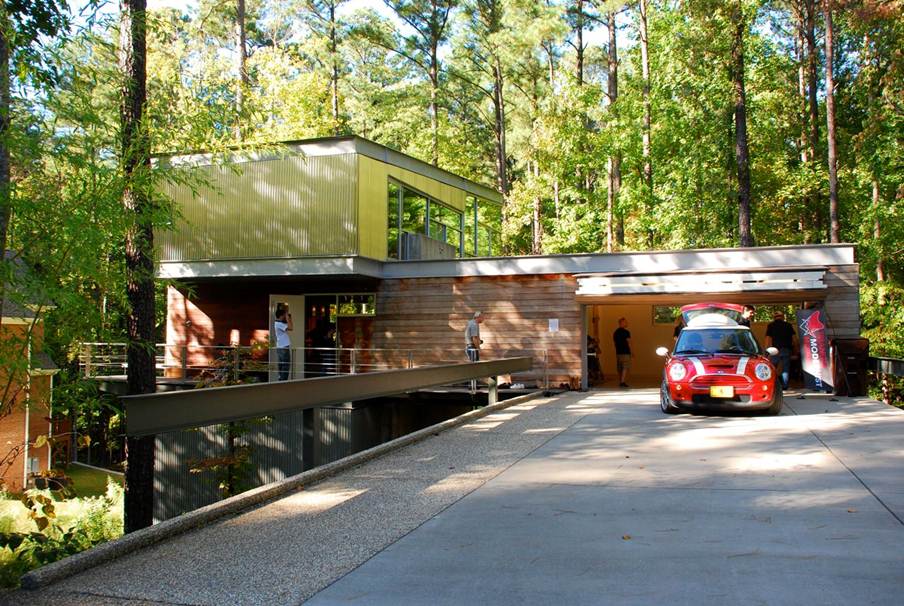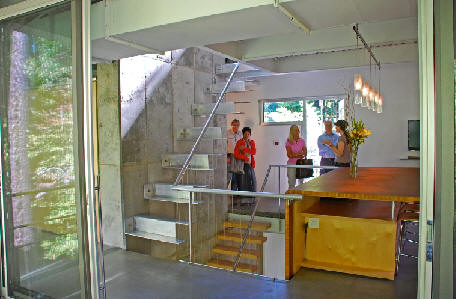 ---
September 2011
Capital Area Preservation Awards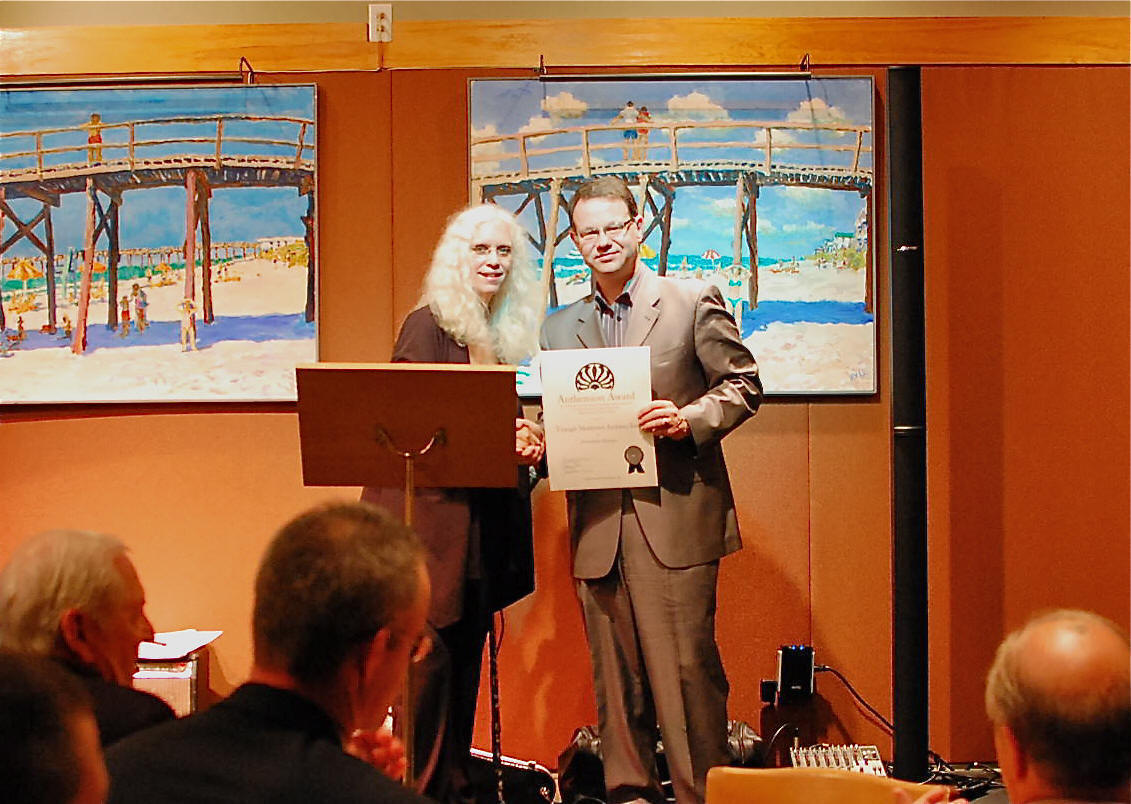 TMH won an Anthemion Award from Capital Area Preservation at Irregardless in Raleigh.
---

September 2011
Capital Bank Building, 333 Fayetteville Street, Raleigh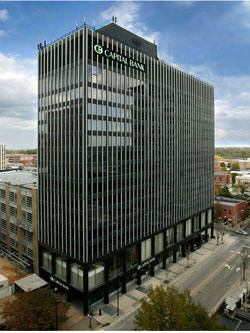 Sponsored by Pearce Brinkley Cease+Lee Architects.
About 40 people attended at this classic Emery Roth and Milton Small office tower.
---
September 2011
Mayberry Modernism: North Carolina's Modernist Legacy.

Preservation Durham Lunch and Learn Series, Pop's Restaurant, Durham.
About 40 attended. George Smart spoke on Mayberry Modernism.
---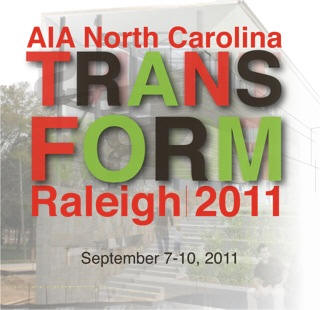 George Smart spoke on Mayberry Modernism to the AIA North Carolina Conference at the Raleigh Convention Center. About 80 attended. That night TMH sponsored a Late Night hospitality suite with Frank Harmon, architect for the AIANC's new Center for Architecture and Design.
---
August 2011
Chapel Hill NC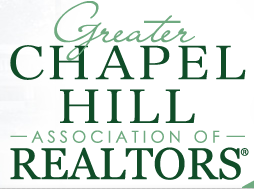 George Smart spoke on Mayberry Modernism. About 25 attended.
With 25 more on the waiting list, a second session was booked for November.
---
August 2011
Nowell's Furniture, Cary NC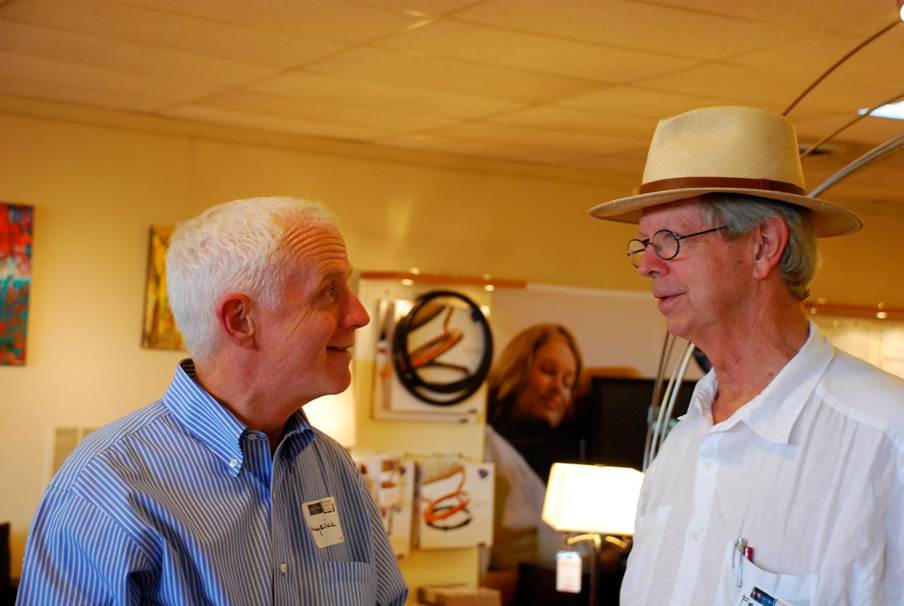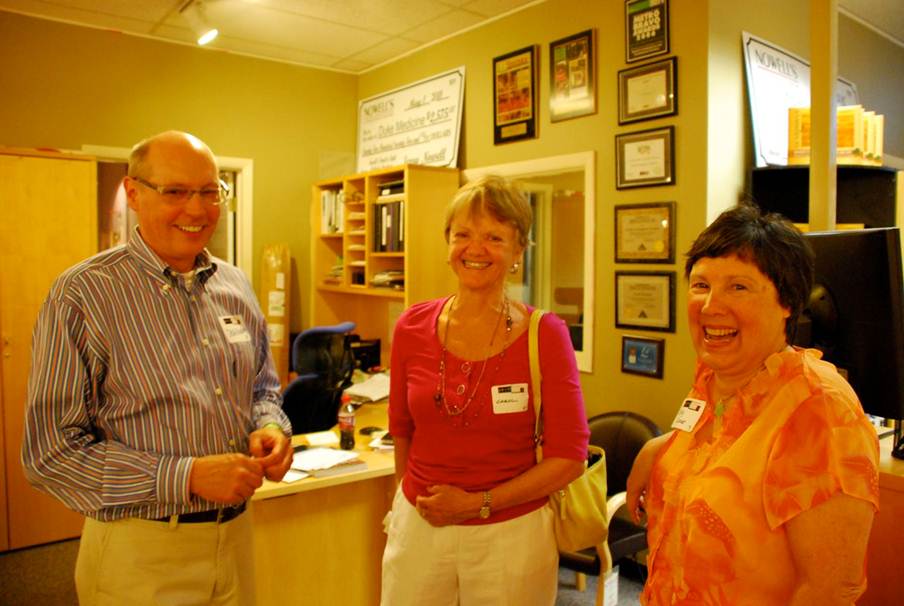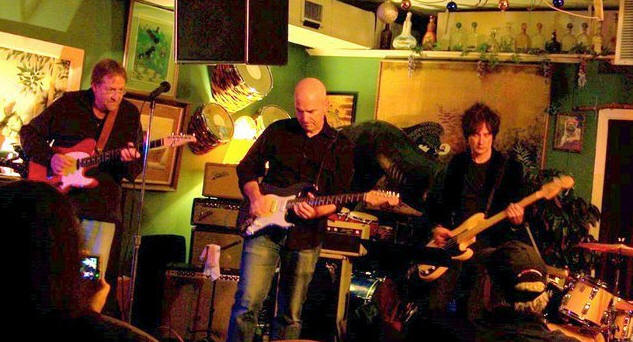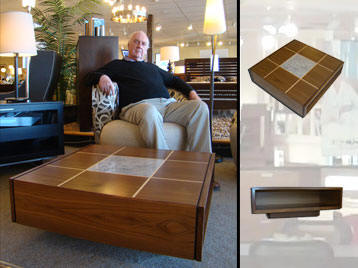 Live music by Third Expression.Booksigning by architectBrian Shawcroft.
These exciting, informal happy hours are free and open to the public. We welcome architects, artists, designers, interior designers, realtors, engineers, contractors, property investors, building managers, Modernist homeowners, materials and furniture dealers – or anyone with a huge crush on great architecture. Over 85 attended!
---
August 2011
Mayberry Modernism
South Regional Durham Library, Durham NC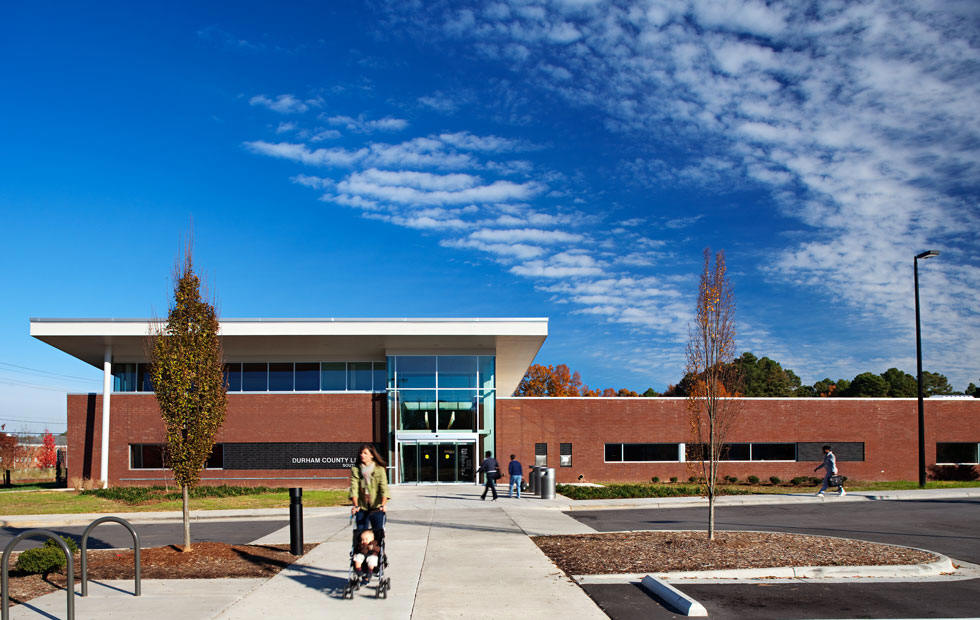 George Smart spoke on Mayberry Modernism in Durham's newest
library, designed by The Freelon Group.
---
August 2011
Hillsborough Modernist House Tour, Hillsborough NC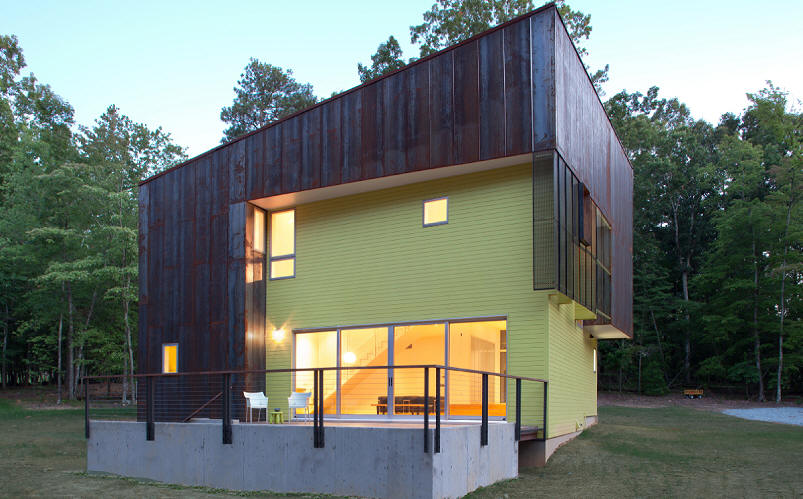 The 2011 John and Stacy Crabill House, aka Crabill Modern. Designed byTonic Design and built by Tonic Construction.Commentary by John Crabill.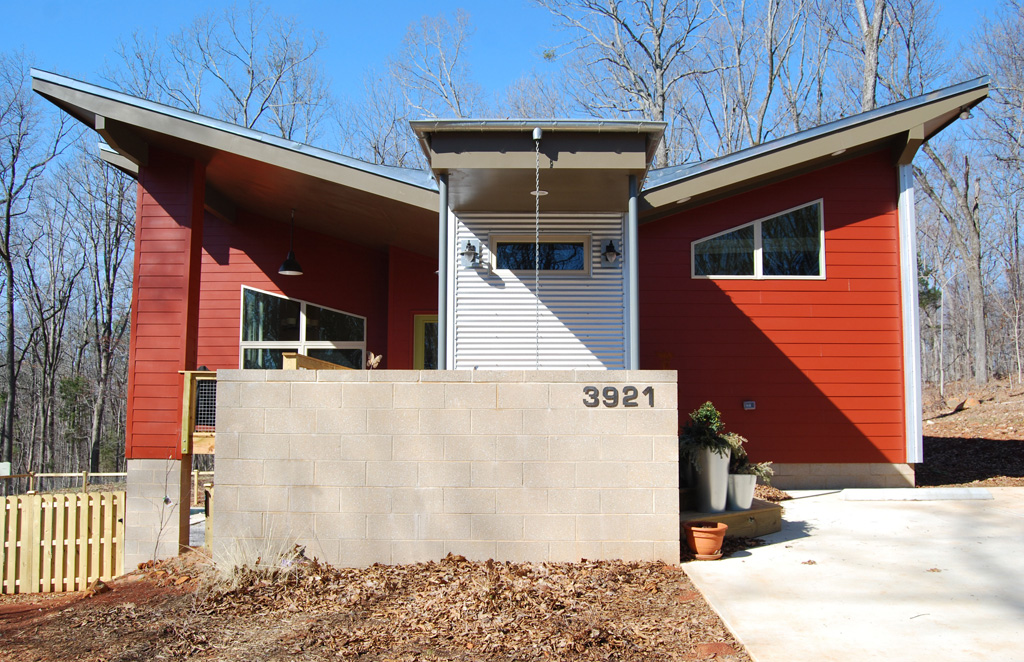 The 2010 Michael Hutchinson and Gerry Mauro House,
aka Riverbirch. Designed by Rusty Long.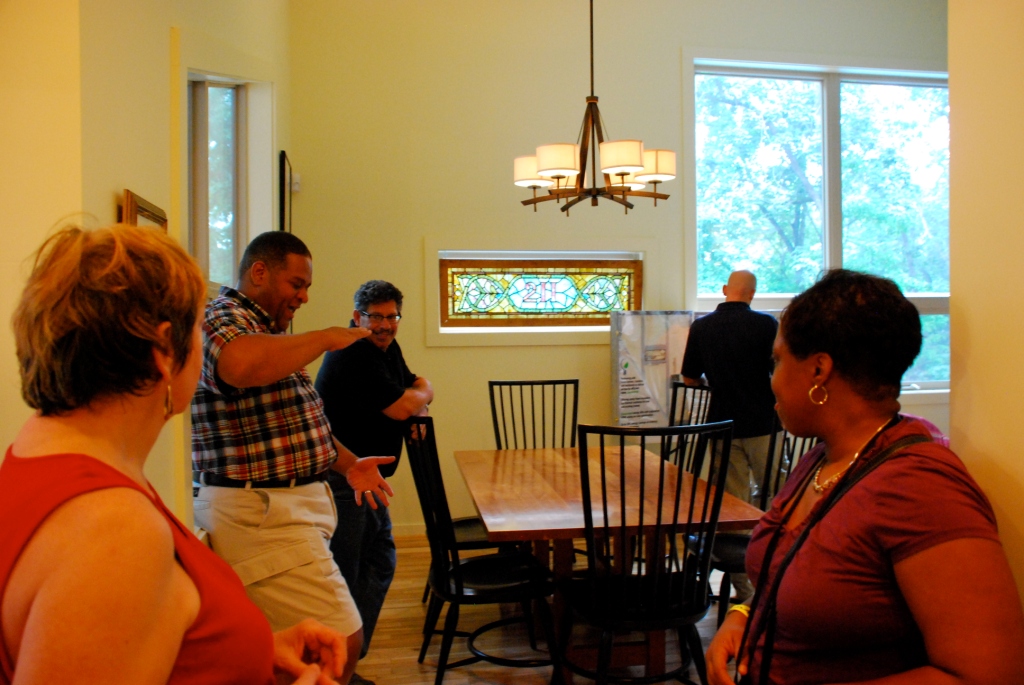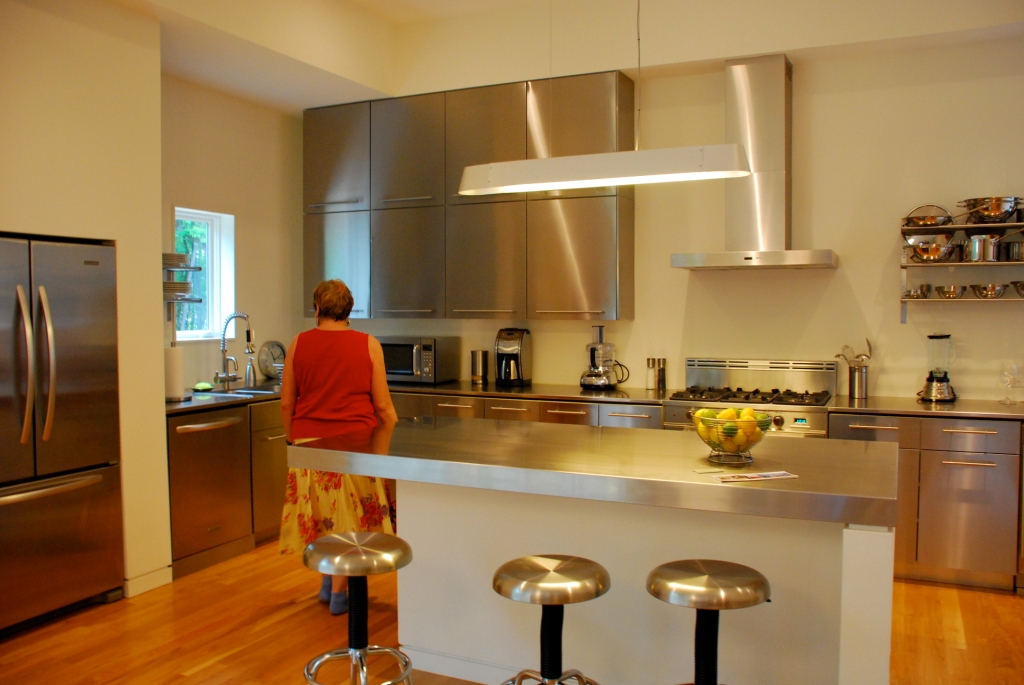 On a rainy Saturday, about 120 came out to see some of Hillsborough's newest Modernist homes. Mayor Tom Stevens was on hand to greet the guests.
---
July 2011
Vernacular Studio (now Gensler), Raleigh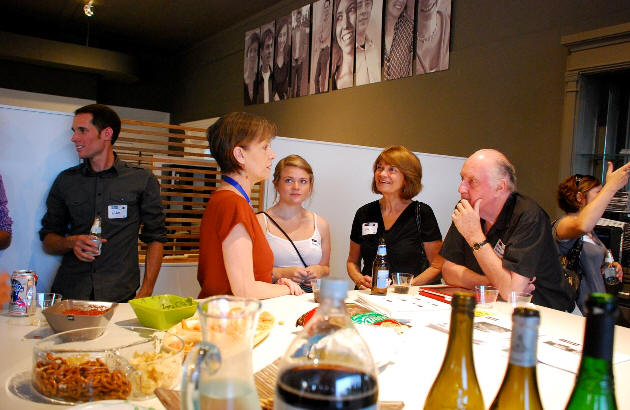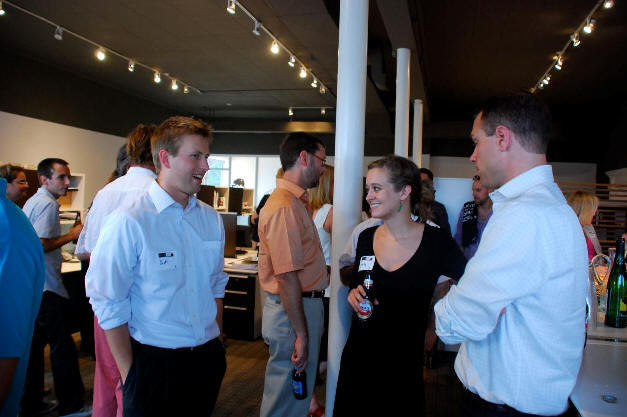 These exciting, informal happy hours are free and open to the public. We welcome architects, artists, designers, interior designers, realtors, engineers, contractors, property investors, building managers, Modernist homeowners, materials and furniture dealers – or anyone with a huge crush on great architecture. Well over 70 attended!
---
July 2011
The 1959 Carter Williams House Tour, Raleigh
aka Blue Haven, named for its distinctive Carolina blue stone.
Designed by
Carter Williams
FAIA. Landscape architect
Dick Bell
.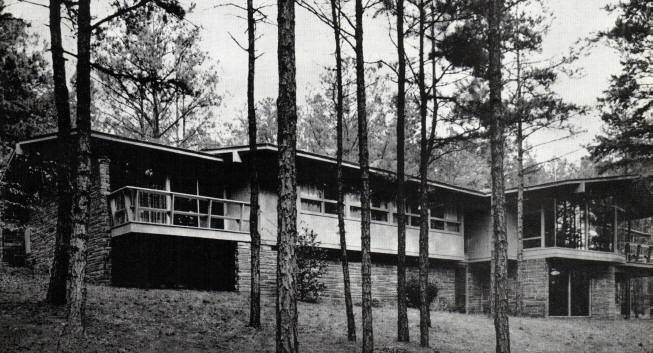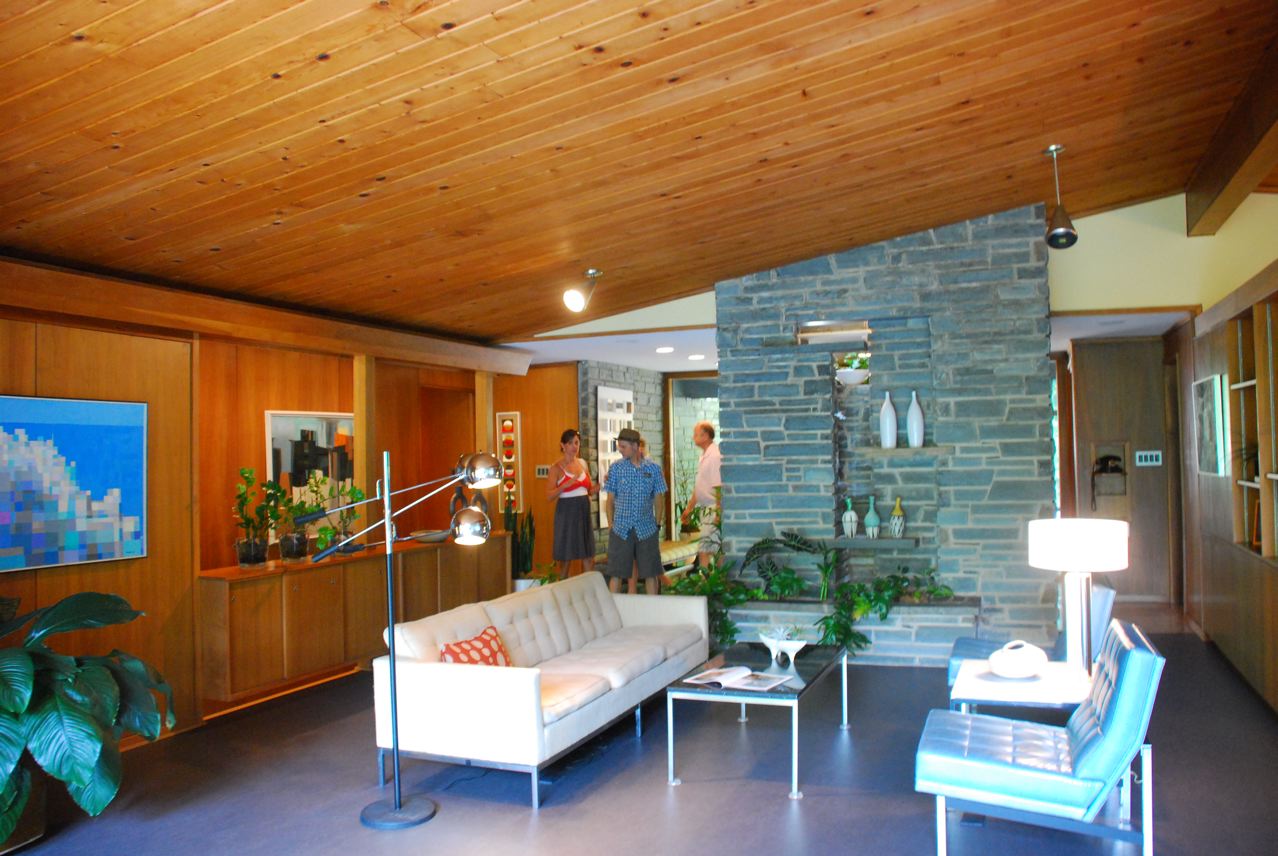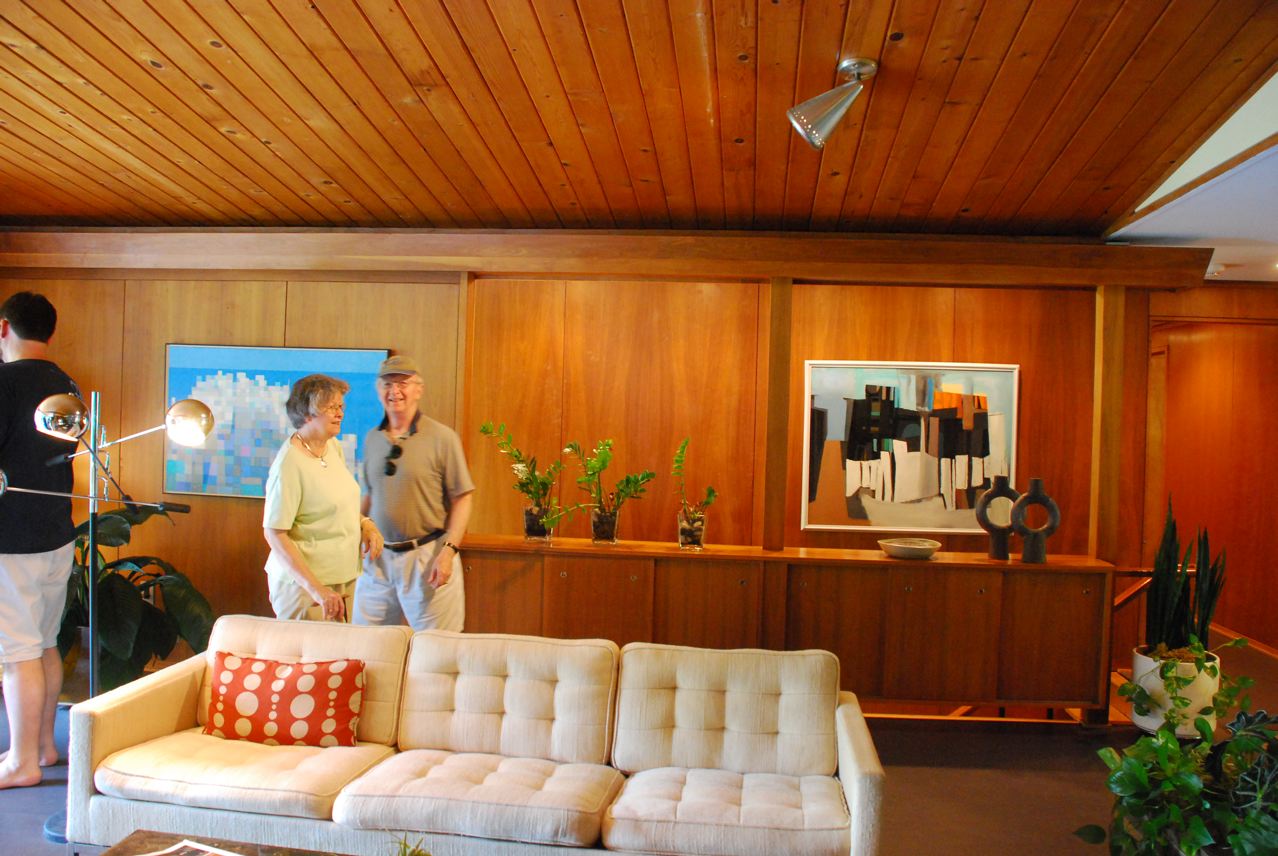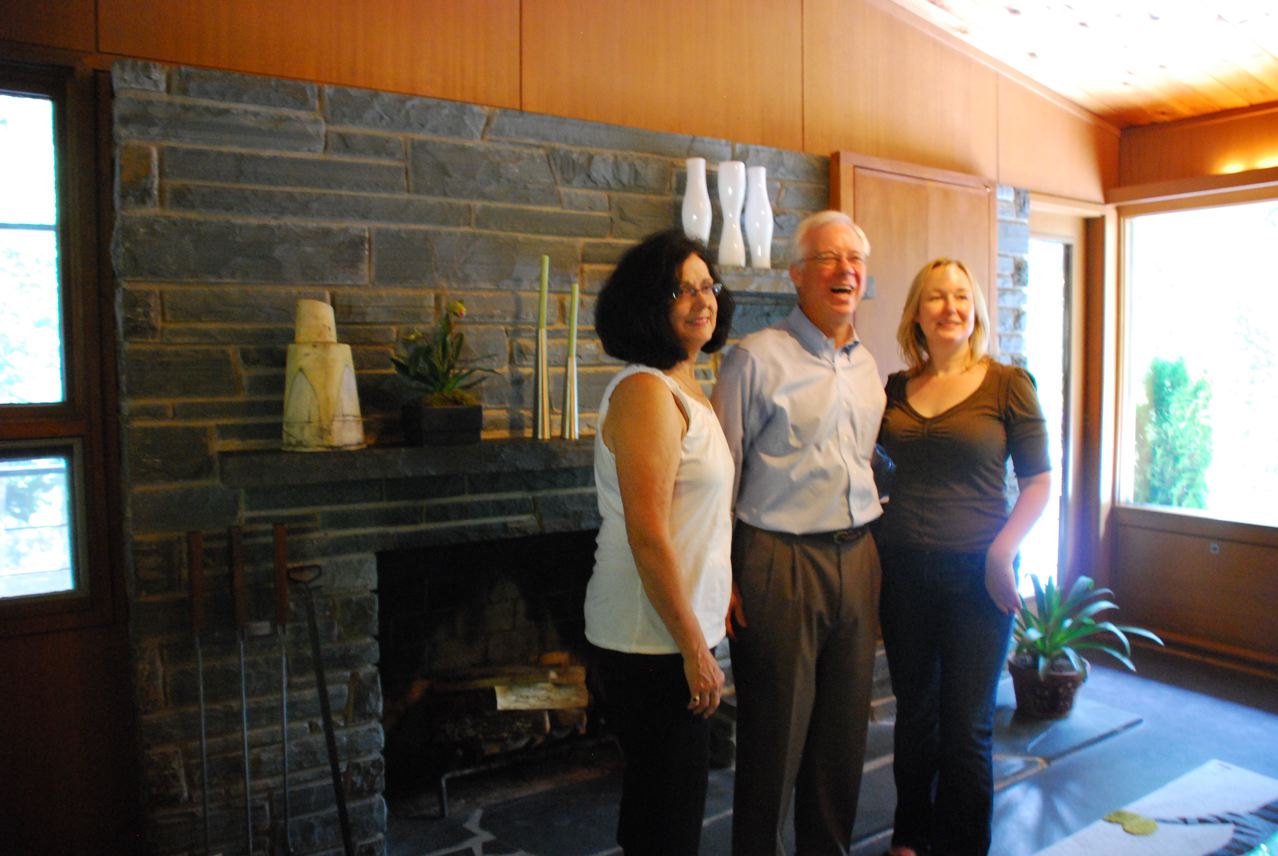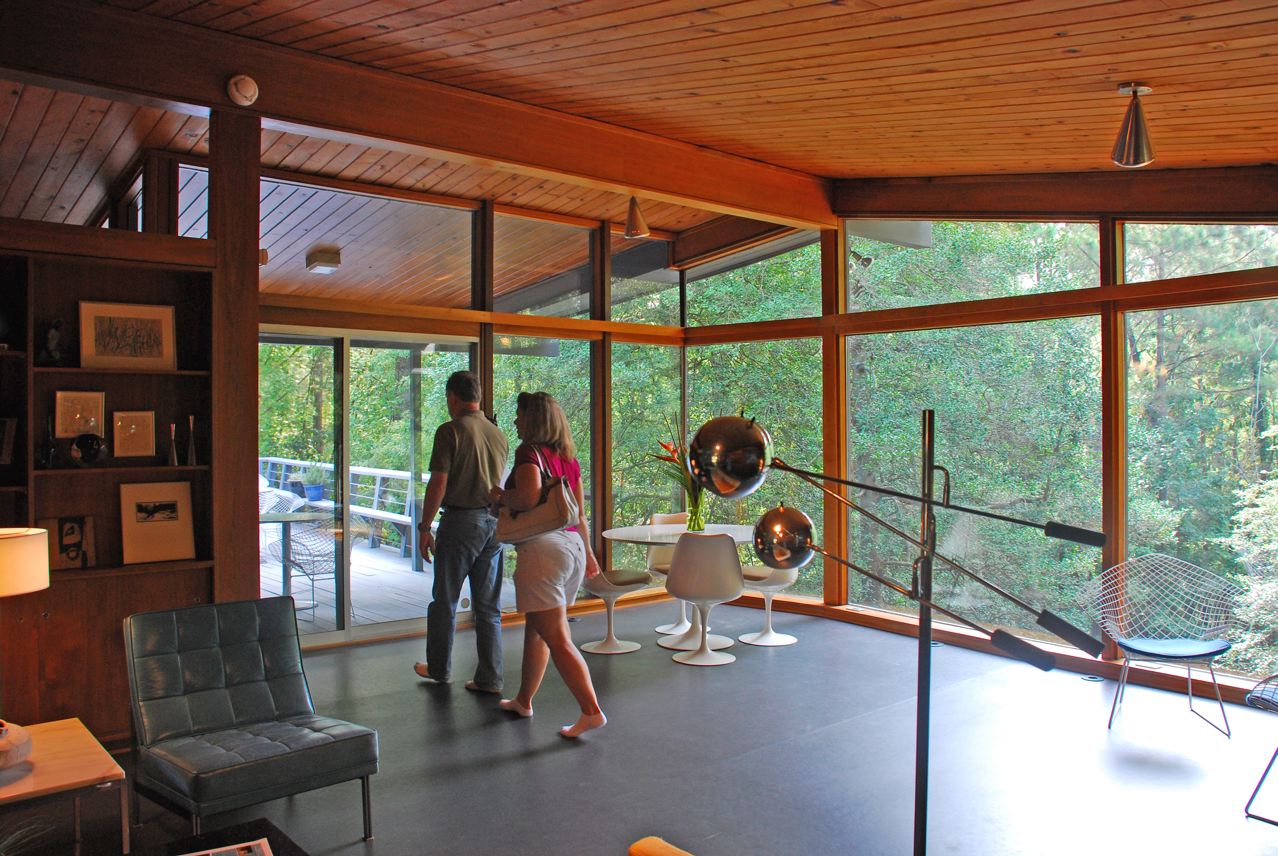 Over a 40-year span, Carter Williams' firm gave shape to more than 600 projects throughout the state, including the NC Archives Library in Raleigh, buildings at East Carolina University, the renovation of the Governor's Mansion, and Raleigh's City Hall Complex. Each year the AIANC awards the F. Carter Williams Gold Medal, their highest honor, to an individual in recognition of a distinguished career or extraordinary accomplishments as an architect. This house, designed by Williams for his family, is a classic example of mid-century modern design. About 90 people attended, despite the blazing 100-degree day. Color photos by Leilani Carter.
---
July 2011
Congress of Residential Architects
Charlotte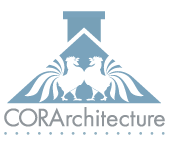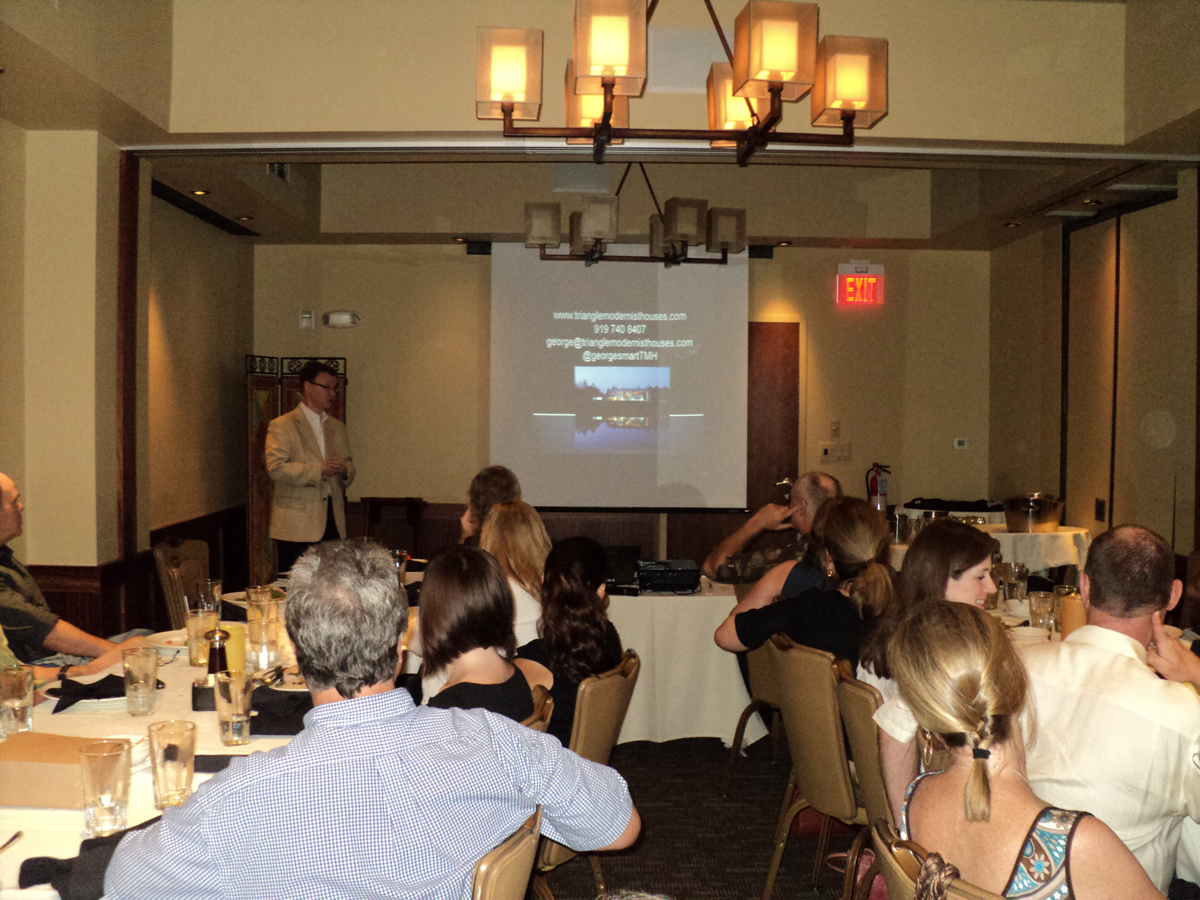 George Smart spoke on Mayberry Modernism to the Charlotte Chapter of CORA at 131 Main on East Boulevard in Charlotte. About 35 attended. Thanks to Gail Jodon and
Modern Charlotte Realty
for sponsoring the event.
---
July 2011
NCSU College of Design, Raleigh


George Smart spoke on Mayberry Modernism to a graduate architecture class taught by Margret Kentgens-Craig and Frank Harmon. The next day he assisted those faculty members with a tour of five Raleigh Modernist Houses.
---
June 2011
South Square Area, Durham
George Smart spoke on Mayberry Modernism to about 40 Durham-area Realtors.
---
May 2011
North Carolina Museum of Art, Raleigh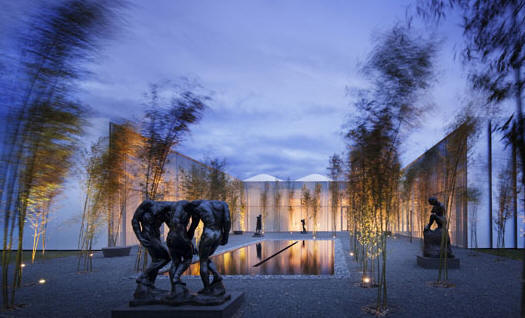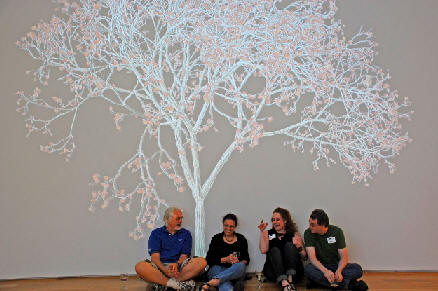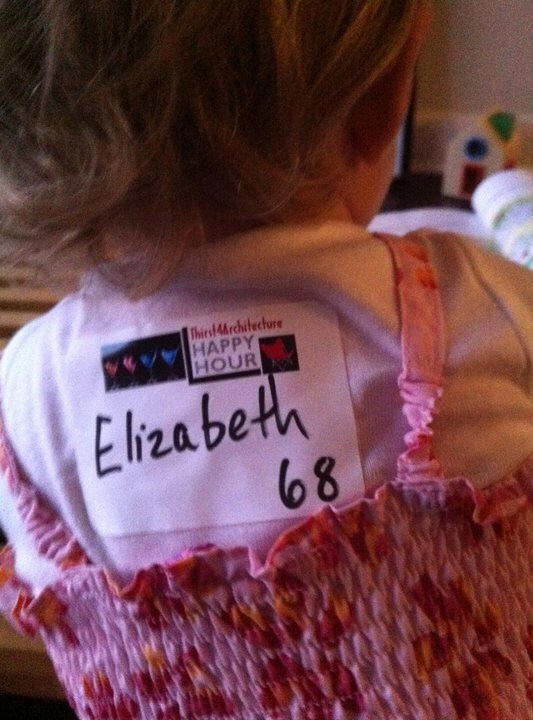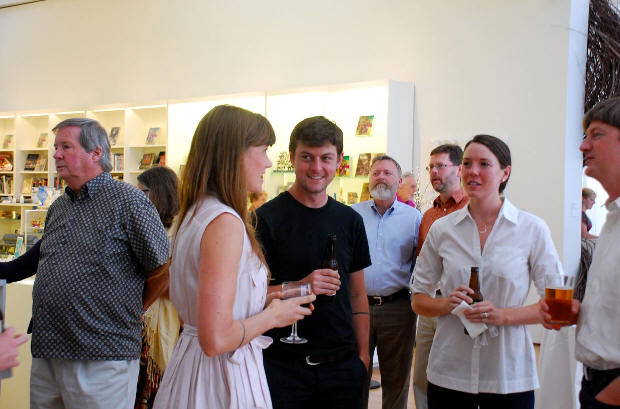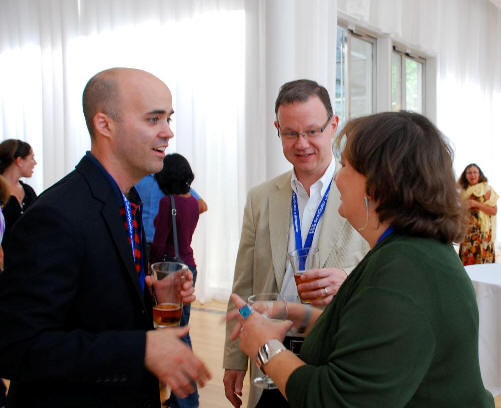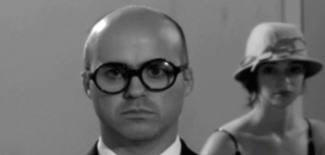 Special Guests:Mitch Magee, producer/writer/star of theMister Glassesseries (the.best.architecture.videos.ever); and Jody Brown, the genius behindCoffee With an Architect.
These exciting, informal happy hours are free and open to the public. We welcome architects, artists, designers, interior designers, realtors, engineers, contractors, property investors, building managers, Modernist homeowners, materials and furniture dealers – or anyone with a huge crush on great architecture. Co-hosted by NewRaleigh.com. Well over 225 attended! Photos by Leilani Carter.
---
May2011
The James House Tour
North Raleigh/Wake Forest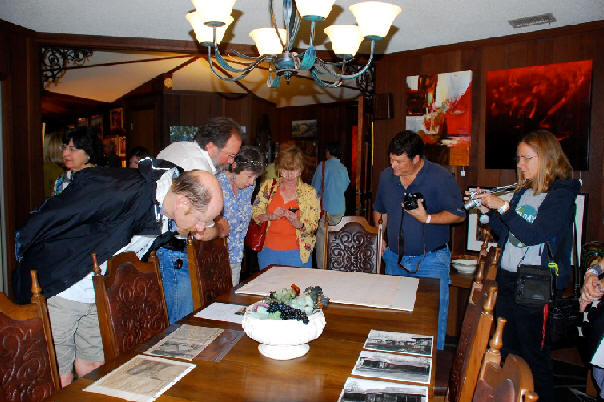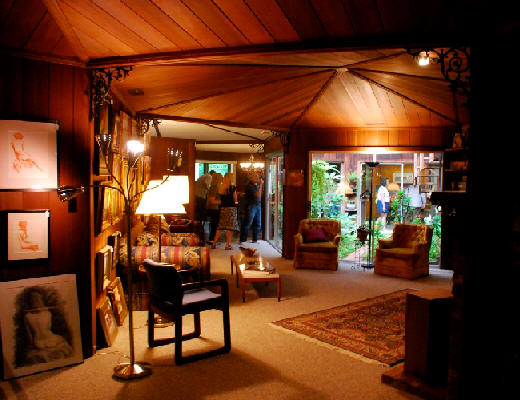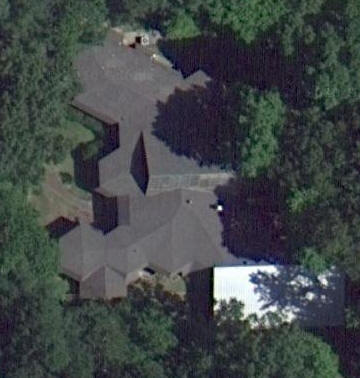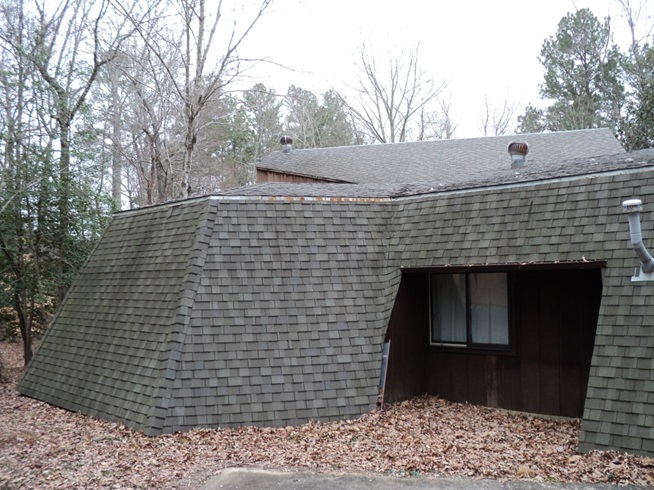 If you've ever enjoyed Popular Mechanics or reading plan books, you know the lure of the completely custom do-it-yourself house. In the early 1970's, Renaissance man Jay James designed and built fifteen 240-square-foot hexagonal structures and connected them together to form a wondrous 5000 sf house. The family has lived there and has loved it ever since.
Dean Henry Kamphoefner of the NCSU School of Design regularly brought students to view and sketch this innovative concept house. James was a consummate jack-of-all-trades, and the residence features both passive and active solar power, including a mirror that tracked the sun. The house was open for public viewing for the first time in over thirty years. Despite the Memorial day weekend, over 140 people attended! Top two photos by Leilani Carter.
---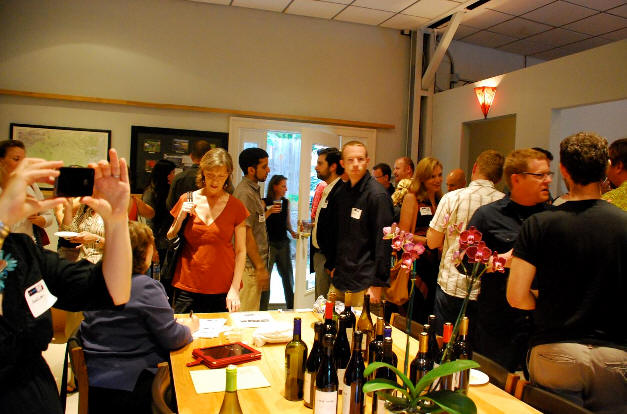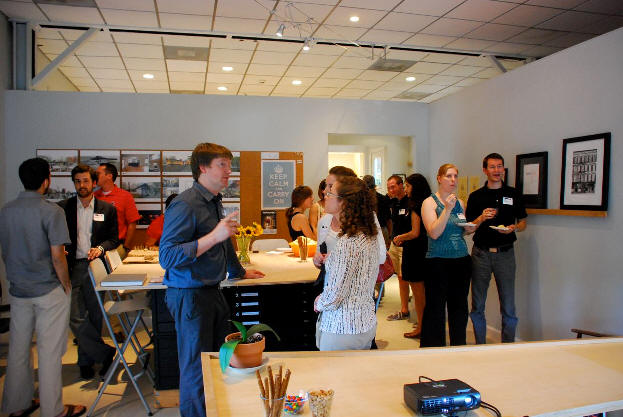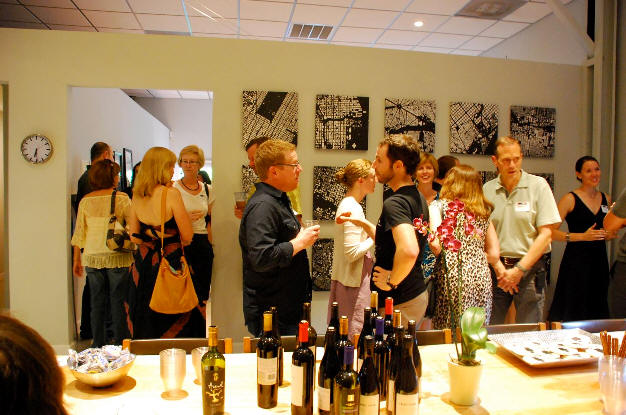 These exciting, informal happy hours welcome architects, artists, designers, interior designers, realtors, engineers, contractors, property investors, building managers, Modernist homeowners, materials and furniture dealers – or anyone with a huge crush on great architecture. An amazing 130+ people showed up! Photos by Leilani Carter.
---
May 2011
ModShop III
The Historic Charlotte Modernist House Tour
40 people journeyed around Charlotte for a day of exceptional Modernist
houses and a few hours of shopping at IKEA. Many thanks to Historic Charlotte for organizing the tour, and to tour sponsors Becky Shankle and Gail Jodon.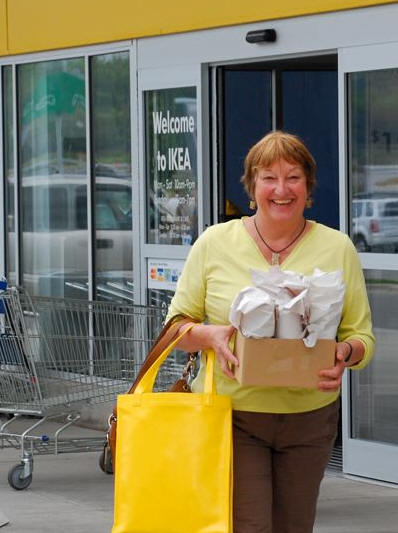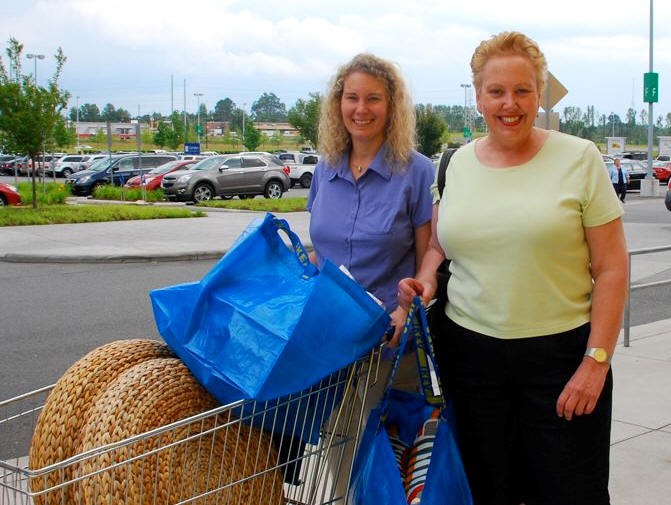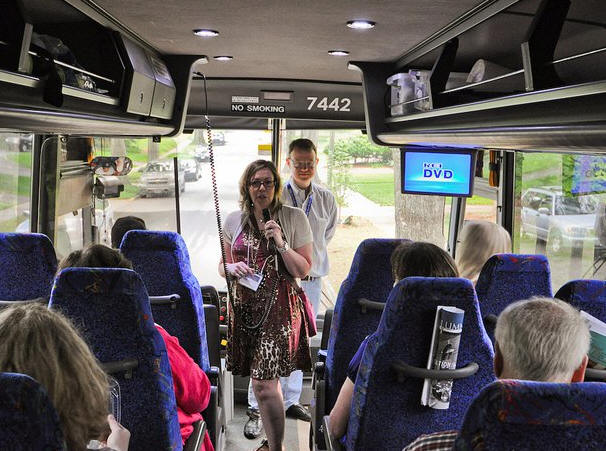 "OMG the Charlotte tour is incredible. The houses are coffee table book quality. Great design and landscape ideas!" -- Leslie Glascock
"Once again, an impressively planned tour today with Charlotte Modern and a nice link to their audience, but I think TMH's tours have the special advantage of allowing in house photos. I had a hard time resisting!!! Thanks George for somehow providing us with that advantage!!!" -- Leilani Carter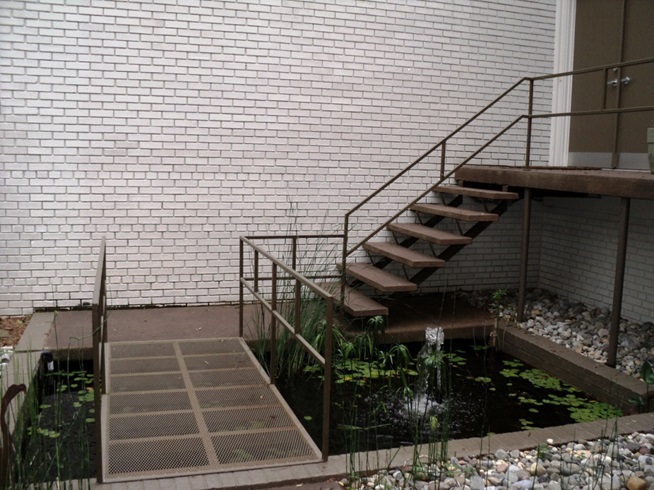 1960 - The David and Lila Mann Residence,1141 Lynbrook Drive,
Charlotte.Designed by Alan Ingram.
2200 Cloister, Charlotte, a major renovation of an 1955 ranch. Fred Gregory designed a front addition in 2003. Dee Blackburn designed a second bedroom addition in 2009.
1956 - The Solomon and Shirley Levine Residence,
2300 Cloister Drive, Charlotte. Designed by Jack Boyte.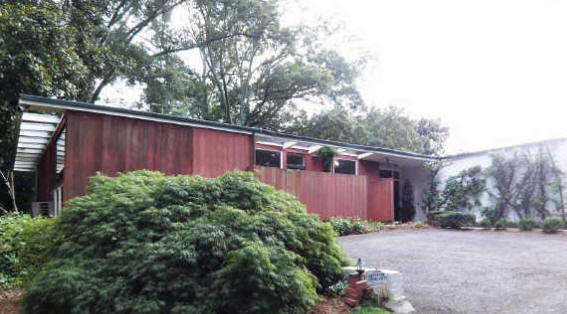 1952 - The Robert (Bob) and Elizabeth Lassiter House,726 Hempstead Place, Charlotte.Designed by AG Odell. Charles McMurray did an addition in the 1970's.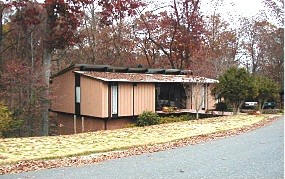 1966 - The Edgar and Mary Jones House, 3409 Knob Hill Court, Charlotte. Designed by Gene Midyette, who worked for Odell but did houses on the side.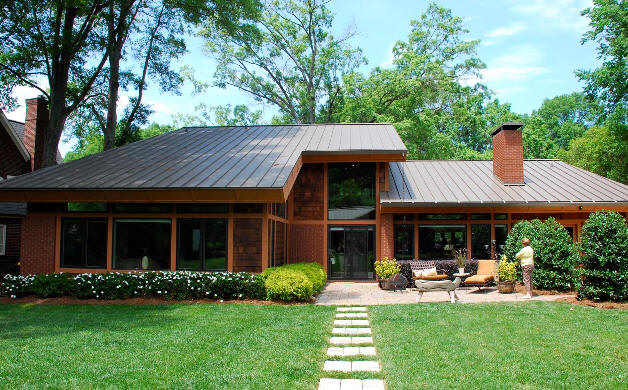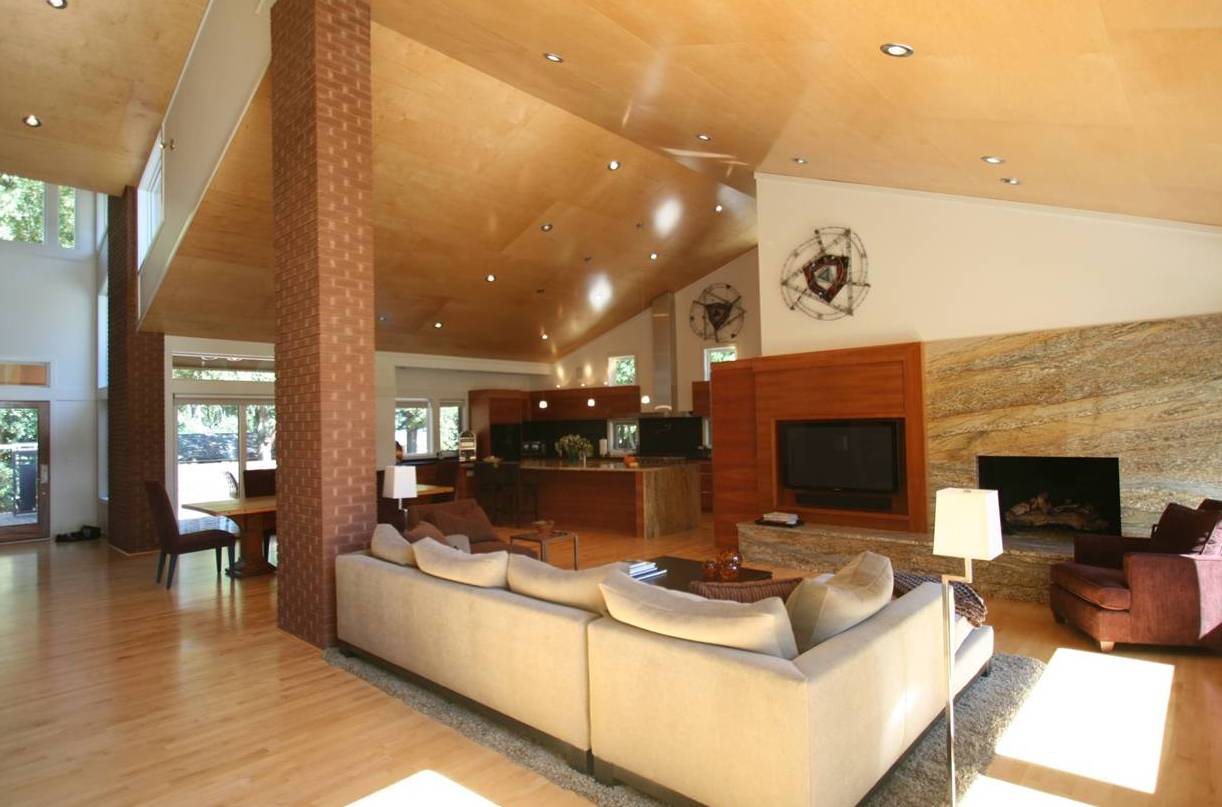 2006 - The Catherine Powell Residence,
2522 Cornell
, Charlotte.Designed by
Stan Russell
.
3647sf plus a 1061sfguesthouse. Built by Randy Causey.
---
May 2011
North Raleigh Regional Library, Raleigh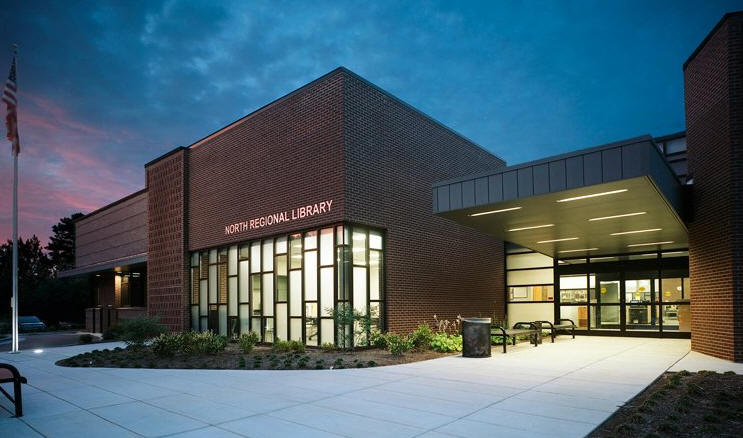 About 20 people attended George Smart's keynote presentation Mayberry Modernism at Raleigh's North Regional Library, designed by
Clearscapes
and completed in 2006.
---
May 2011
Preservation Durham's Duke Park House Tour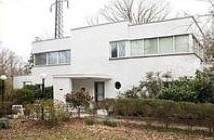 .
This year TMH supported Preservation Durham's annual neighborhood tour.
We visited classic homes in Duke Park (including two Modernist
houses, the Gamble House (above) and the King House).
---
April 2011
The Anderson House Tour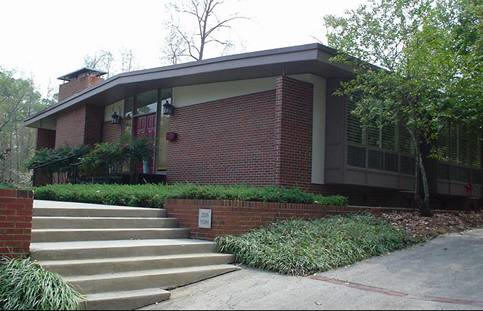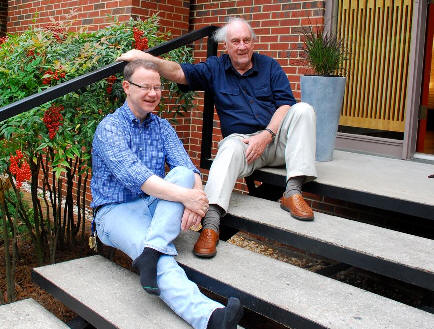 Through special arrangement, Mod Squad members got an exclusive tour of the Anderson House, the best-preserved example of Milton Small's residential work in Raleigh. Bottom photo of George Smart and Brian Shawcroft by Leilani Carter.
---
April 2011
Thirst4Architecture
Natty Greene's, Downtown Raleigh

These exciting, informal happy hours are free and open to the public. We welcome architects, artists, designers, interior designers, realtors, engineers, contractors, property investors, building managers, Modernist homeowners, materials and furniture dealers – or anyone with a huge crush on great architecture. Co-hosted by GoodnightRaleigh.com. Sponsored by VMZINC. About 60 attended! Photos by Leilani Carter.
---
April 2011
Frank Lloyd Wright / Fallingwater Trip 2
Mill Run, Pennsylvania
Featuring Fallingwater, Kentuck Knob, the Abrams House by Robert Venturi, the Duquesne Incline, and a short tour of downtown Pittsburgh.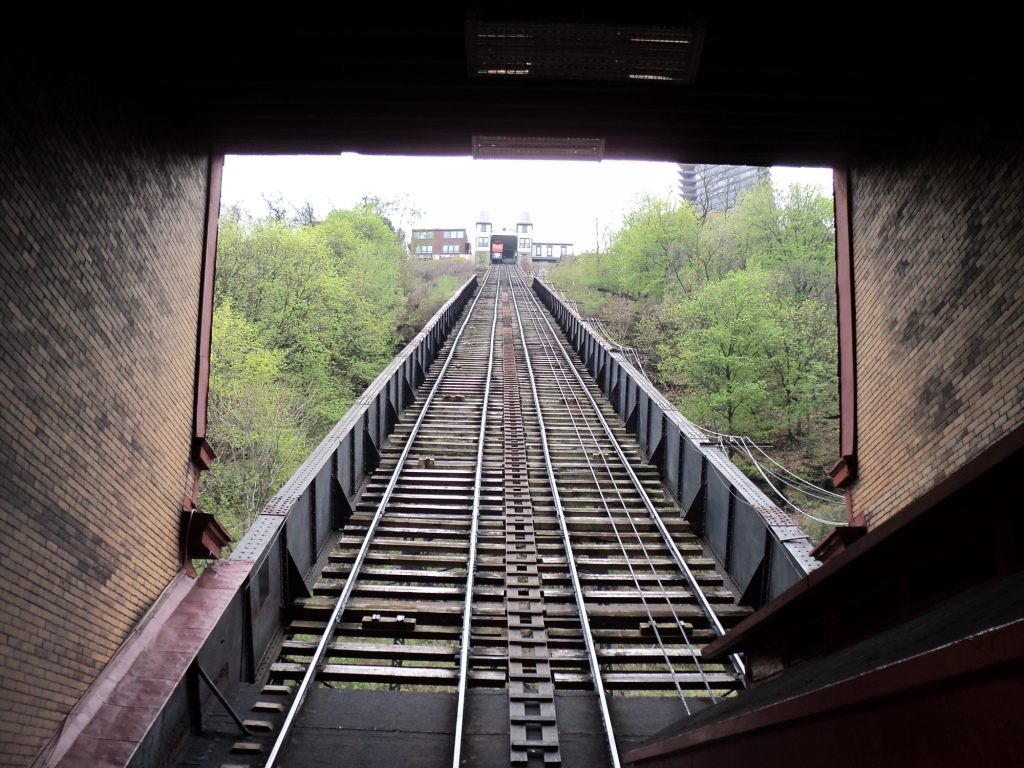 "Another outstanding TMH trip... a friendly group of architecture lovers all enjoying FLW...what a great Easter gift. "A+", George !" -- Deborah Rodgers
"George Smart is the best event organizer ever!! He uses his charming and outgoing demeanor to get us into the most private of homes – and also the most special of tours! At Fallingwater, we saw areas of the house not regularly open to the public, were allowed to take photos wherever we desired, and topped off the day with wonderful hors d'oeuvres presented in a room of the house only a few visitors experience. George's tours top all that I've ever been on. He's the best!" - Lynn Sullivan
"The most inspiring FLW tour yet, thanks George." -- Leslie Glascock
"Many thanks for organizing and for the extra help you gave us."-- Fidelia Thomason Beth Harris / Leslie Glascock / Karl Sakas / Monica Hunter
---
April 2011
Modernism at Risk Panel Discussion
Sponsored by Historic Charlotte, Charlotte

Moderated by Historic Charlotte Executive Director Diane Althouse, the panel discussion included TMH's George Smart, Bob Ciucevich, principal and founder of Quatrefoil Consulting, Savannah, GA; and Peter Wong, Associate Professor of Architecture, UNC-Charlotte School of Architecture. Over 200 attended. Afterwards, there was a reception at the Bechtler Museum next door.
---
April 2011
Mayberry Modernism
Durham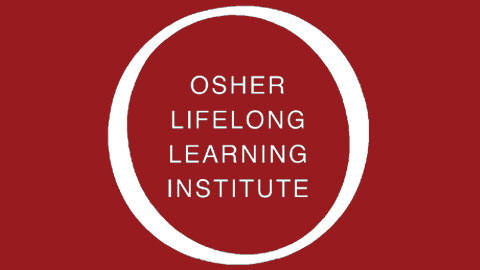 George Smart spoke on Mayberry Modernism to a class of about 30 people.
---
March 2011
Mayberry Modernism
Cameron Village Library, Raleigh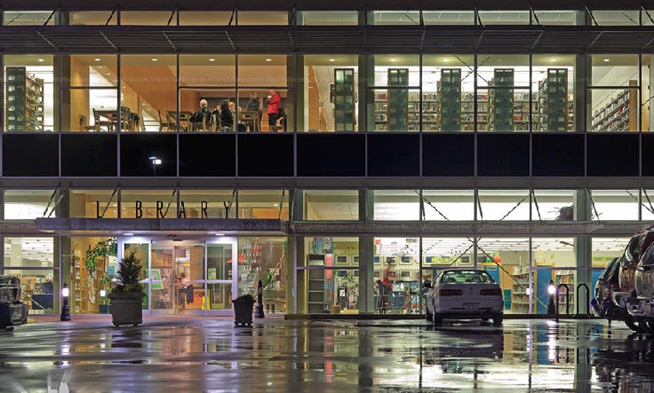 About 60 people attended at the Cameron Village Library, designed by Louis Cherry of Cherry Huffman Architects (later RATIO). Photo by Matt Robinson.
---
March 2011
Citizen Architect
2010-2011 Nowell's Architecture Movie Series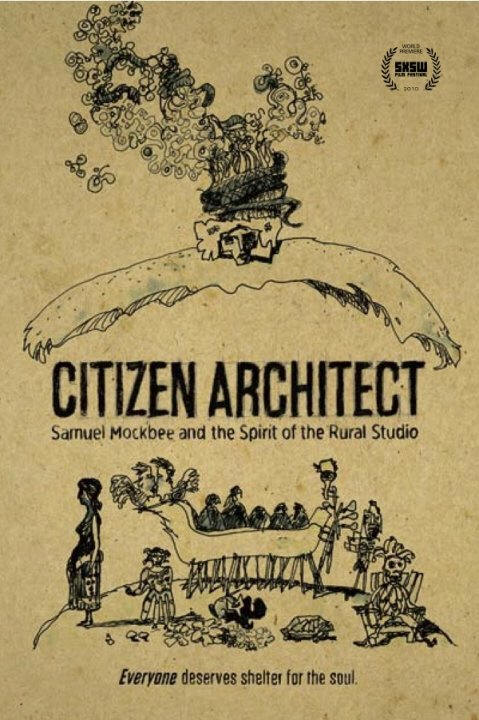 Citizen Architect: Samuel Mockbee and the Spirit of the Rural Studio.Trailer. A documentary film on the late architect Samuel Mockbee and the radical educational design/build program known as the Rural Studio. Hale County, Alabama is home to some of the most impoverished communities in America.
Revealing the philosophy and heart behind the Rural Studio, the documentary is guided by passionate, frank and never-before-seen interviews with Mockbee himself.The filmsupplements Mockbee's words and the students' experiences with perspective from other architects and designers who share praise and criticism of the Rural Studio, including Peter Eisenman, Michael Rotondi, Cameron Sinclair, Steve Badanes and Hank Louis.
Their dialogue infuses the film with a larger discussion of architecture's role in issues of poverty, class, race, education, social change and citizenship.
---
March 2011
The Downeast Modernist Tour
Rocky Mount and Greenville NC
The 1952 Jesse Dowdy Residence, the finest surviving example of Modernist architecture in Rocky Mount. Designed by architectGeorge Harrell, who grew up in Rocky Mount and went on to start OmniPlan, one of the larger design firms in Texas.
The 2009 Bobby and Kristi Walters Residence, Greenville.Designed and built byTonic Design and Tonic Construction. 4042 total square feet, integrating photovoltaic technology, solar hot water, and geothermal HVAC systems.
The 1962Matthew and Edna Yenney Residence, Rocky Mount. Designed by John L. Thompson. Current owners John and Megan Hammer did an extensive renovation including a 1500 sf garage and guest house.
"Your Down East trip was another in a long list of beautifully planned and executed trips. You sliced through the history of Modernism in NC: an early 50's house thoughtfully sited above the Tar River and seemingly untouched by time, a creatively renovated one which reflects how today's owners can make this kind of architecture timeless, and a remarkable new version of Modernism with all the bells and whistles that the 21st century has to offer. Congratulations!" -- John and Molly Chiles

40 architectural adventurers headed downeast to visit three Modernist houses in Rocky Mount and Greenville. On the way back, we stopped for North Carolina barbeque, sausage, bacon, cheese, chicken salad, and pies at the famous Smith's Red and White. Special guests: Katherine Hogan of Tonic Design and Robby Johnston AIA, who was in charge of the Walters House while at Tonic and lived in Greenville duringconstruction. "Saturday was my very first outing with the group! It was a great day! I really enjoyed all 3 houses. I'm ready to move in the 2nd house...the couple and their son can even stay there too - ha, ha! Living in the garage would work for me! Not only were the houses of interest but I enjoyed the diverse group of people on the trip. It was fun getting to know people on the bus! Stopping at the Red & White was an experience...I'm not a big pork or meat eater but it was a cultural experience. Thanks for arranging things and for the delicious boxed lunch." -- Holly Yanker

It was a great tour. Some interesting houses, congenial group, and perfect weather. Thanks for the good planning and preparation. I know it was a lot of work." -- John Suddath "My first Mod House tour and it was great. Everything went smoothly, lunch was delicious, and we kept right on schedule at all times. I look forward to doing this again." -- Irene Lejman

And what a great experience! Thank you George!" -- Nikki Wilson
"The tour was my first but won't be my last. A well-organized and lovely tour of three beautiful and inspiring homes. Thank you." Marge Yanker"I enjoyed meeting the group from Raleigh on the Downeast Tour this weekend. It was a great chance for M-squared Building Solutions and the Hammers to show off their beautiful Rocky Mount home." -- Michael Grover, contractor for the Yenney/Hammer renovation.

"Thank you so much for organizing the Downeast Modernist Tour. My husband and I had a great time and we are so happy that we decided to make the trip down from Maryland. We loved seeing the wonderful examples of North Carolina modernist architecture and felt so lucky that TMH worked with the owners to allow us to tour their homes. We learned so much and truly enjoyed the trip from start to finish. The bus, the catering, and our tour group were all top notch. Not only are we interested in participating in more TMH events, we've also been recommended them to our friends and family. Be prepared for more Marylanders on your trips!" -- Krystyna & Joe Olmstead

"Thank you so much for giving us such a lovely tour. The houses were perfectly chosen, one fifty years old and in great shape, one a few years old with all the latest and one in between, beautifully restored. We hope to be with you on many more excursions. I am so pleased that I found TMH. I could spend several hours a day on your wonderfully managed and fascinating site." -- Karin and George Stephens
---
Appetite4Architecture
Cassilhaus, Durham
February 2011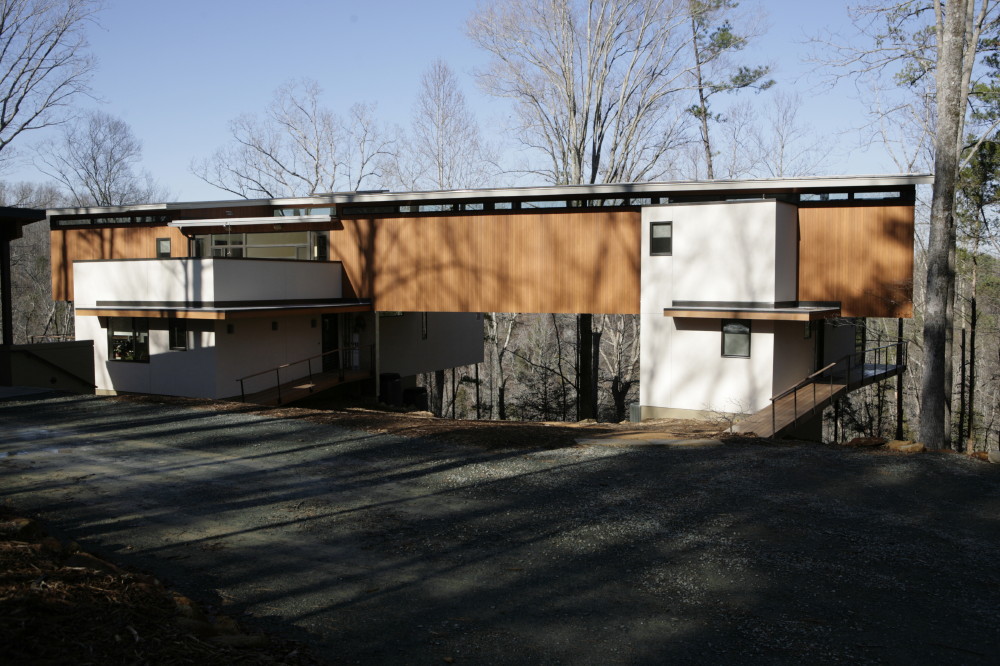 Cassilhaus, designed by Ellen Cassilly AIA and her husband Frank Konhaus. Built by Leon Meyers. Along with artist-in-residence, Ann Ehringhaus, they all hosted the Mardi Gras-themed evening.
"With clear appreciation I offer my thank you(s) once again to Ellen, Frank and Jeanne for the fine dinner and gracious hospitality at this event. I certainly enjoyed meeting and conversing with many of the participants as well and look forward to doing what I can with your organization." -- Alan Davisson
---
February 2011
The Bugg House Tour
For Mod Squad Members Only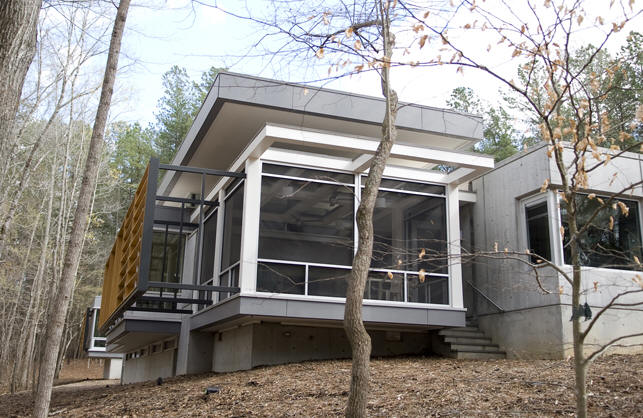 Mod Squad members got an exclusive tour of the John and Sally Bugg House, an amazing new residence. Designed by Kenneth Hobgood and built by Tonic Construction, the project took ten years from concept to move-in. Yet before the first spade of dirt was turned, the Bugg House won an AIA North Carolina design award. From the concrete walls to the uniquely offset doors, windows, and cabinets, the four remarkable living pavilions are set against the seemingly limitless forest. Special guests Kenneth Hobgood and Vinny Petrarca. Photos by Leilani Carter.

"I just want to say that Bugg House was more than one could imagine.Both the house and the owner were wonderful."
---
February 2011
Appetite4Architecture
18 Seaboard, Raleigh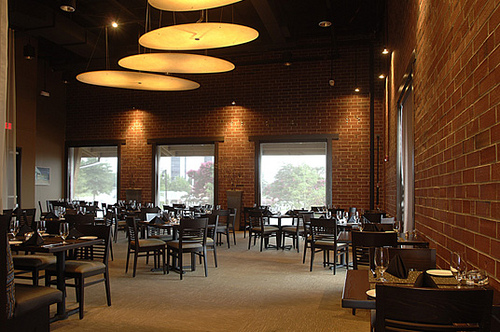 Who's behind some of North Carolina's most unique residential architecture? Featuring nationally recognized architects Dail Dixon FAIA, Kenneth Hobgood FAIA, and Louis Cherry FAIA. Sponsored by Eidolon Designs.
---
February 2011
Koolhaas HouseLife
2010-2011 Nowell's Architecture Movie Series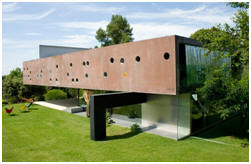 Koolhaas HouseLife examines the daily life of one of the masterpieces of contemporary architecture of recent years: The House in Bordeaux, designed in 1998 by Rem Koolhaas / OMA. Unlike most movies about architecture, this feature focuses less about explaining the building and its virtuosity and more on letting the viewer experience the daily intimacy of an architectural masterpiece. Following the footsteps of the housekeeper who has to clean it, we learned what it takes to live inside an icon. Special Guest: Charlotte V. Brown Wainwright, co-author of the History of the NC AIA, 1913-1998. The 100 people who attended got a free autographed copy.
---
February2011
Appetite4Architecture
18 Seaboard, Raleigh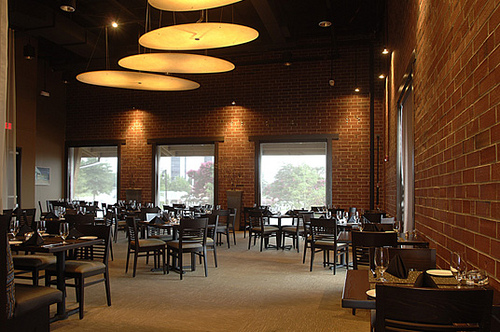 What's the latest on the new AIA North Carolina Center for Architecture and Design indowntown Raleigh? And what's the state of architecture in general? Is this a good time to hire an architect for a new house or renovation? Featuring Frank Harmon FAIA (architect for the new AIANC building); David Crawford, Executive Vice President of AIANC; and Steve Schuster FAIA of Clearscapes (who helped lead the effort to secure financing).Proceeds from this event benefitted the AIANC building fund. Sponsored by VMZINC.
"Thank you for arranging a most wonderful evening with Frank Harmon, Steve Schuster, David Crawford and the other extremely interesting and personable guests. The environment was very comfortable and the food excellent. I had great conversations and a real opportunity to get to know several very interesting people. Of course it was for an excellent cause - the new AIA Headquarters. We were offered updates on the project, met several generous donors, and you were a truly gracious host." -- Stan Pomeranz, LightTech
---
January 2011
Appetite4Architecture
18 Seaboard, Raleigh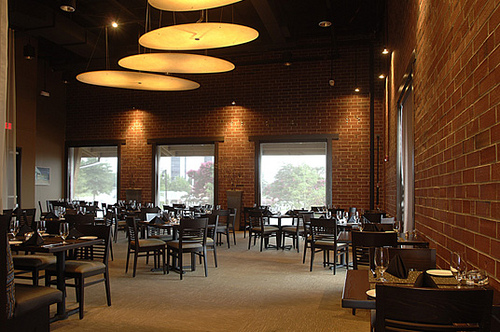 Featuring Dean Marvin Malecha FAIA of the NCSU College of Design, Randy Lanou of Buildsense and Studio B, Will Alphin of Alphin Design Build and Kamphoefner Prize winners Phil Szostak FAIA and Jeffrey Lee FAIA. Sponsored by VMZINC.
"For the past 18 hours, my mind has been turning over all the things I learned at last night's dinner/discussion at 18 Seaboard and all the discussion and delightful company. Delicious food, too! Wow. What a tremendous event.Thank you for your thoughtful planning and organizing, and for an unforgettable experience." -- Kim Yaman
"The experience surpassed my expectations. I am thrilled that you are guiding all this positive energy to make a difference for so many folk."
"Great company, great dinner, great venue - I'm looking forward to doing it again. Appreciated getting an excellent explanation of what is facing graduates of architecture programs these days as well as discussion of budget cuts at NC State. Met all kinds of interesting and wonderful people."-- Sarah Sonke

---
January 2011
Sketches of Frank Gehry
2010-2011 Nowell's Architecture Movie Series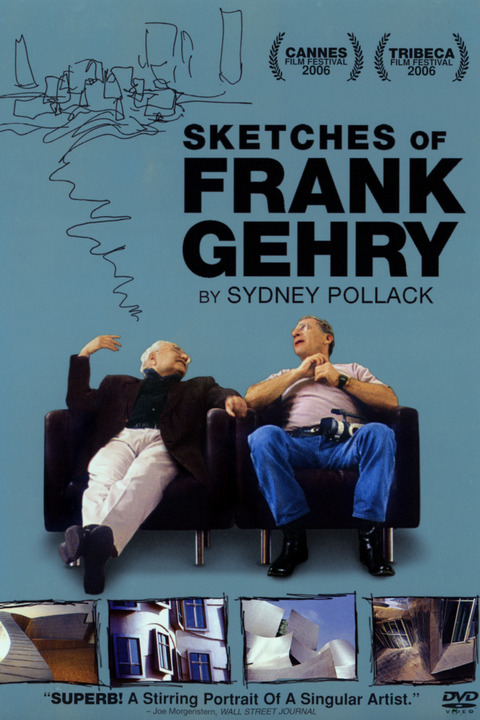 Frank Gehry is a Canadian-American Pritzker Prize-winning architect based in Los Angeles. His buildings, including his private residence, have become tourist attractions and many customers seek Gehry's services as a badge of distinction. His works were by far the most often cited as being among the most important works of contemporary architecture in the 2010 World Architecture Survey, which led Vanity Fair to label him as "the most important architect of our age." Gehry's best-known works include the titanium-covered Guggenheim Museum in Bilbao, Spain; Walt Disney Concert Hall in downtown Los Angeles; Experience Music Project in Seattle; Weisman Art Museum in Minneapolis; Dancing House in Prague; MARTa Museum in Herford, Germany; and the Art Gallery of Ontario in Toronto - but it was his private residence in Santa Monica which jump-started his career. One of Sydney Pollack's last films and his only documentary.