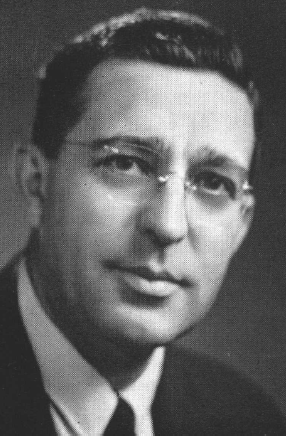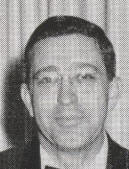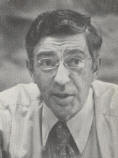 GEORGE MILTON SMALL, JR., FAIA (1916-1992)
Small was born in Collinsville OK. He graduated from the University of Oklahoma with a bachelor's degree in architecture and another in engineering. He later attended the Illinois Institute of Technology studying under Mies van der Rohe. In Chicago he worked for Perkins Will and Hudgins Thompson Ball.
At the recommendation of Henry Kamphoefner, who was his professor at Oklahoma, Small relocated to North Carolina in 1948 to be Chief Designer for William Deitrick, at the time Raleigh's largest architectural firm. While there he and Matthew Nowicki designed the 1947 Carolina Country Club, the first such club in the country of Modernist design. Small left Deitrick in 1949 to start his own firm. In the 1950s, he partnered with Joseph Boaz, also from Oklahoma. According to Jim Brandt, who was the firm's superintendent, Small and Frank Walser went into business to develop houses in Drewry Hills in the mid-1950s. The first houses didn't make much money so they stopped.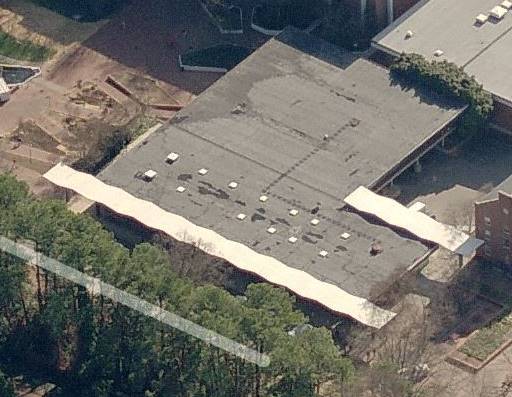 Small is noted for designing Carter Stadium, the NCSU Student Center (aerial shot above with its signature concrete walkways), WRAL-TV studios (with Joseph Boaz), St. Stephen's Episcopal Church, Durham's Home Security Life Building, and his prolific Modernist houses below. His son, G. Milton III, became principal at the firm, renamed Small Kane Architects.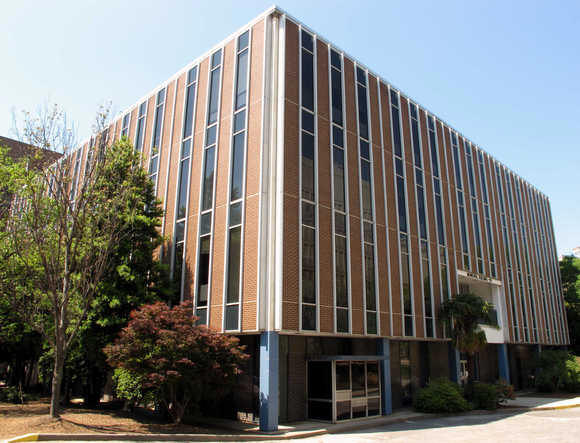 Small designed the Raleigh Municipal Building (City Hall) in 1960, above, which was later converted to the Raleigh Police Headquarters. Scheduled for demolition. As of 2017 the City has not announced a date.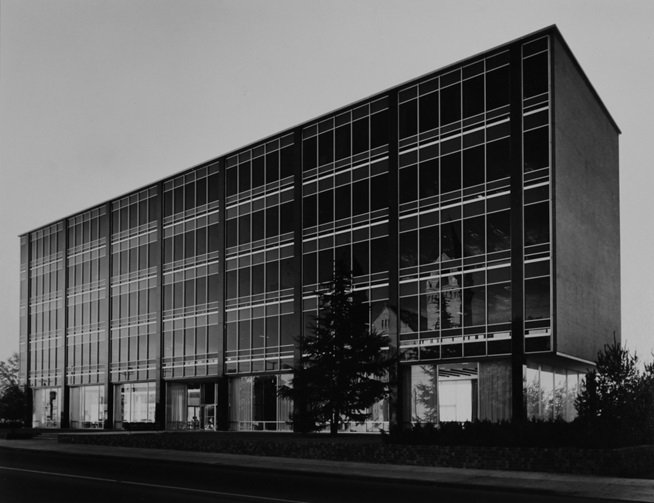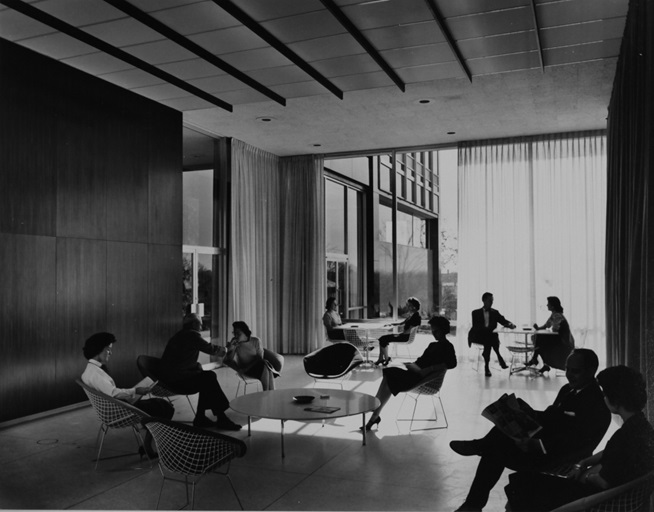 Small also designed the 1957 Home Security Life building in Durham. Like Raleigh, it became a Police Headquarters. As of 2018, the City is considering options which include demolition.
Small designed 3515 Glenwood Avenue, Raleigh, above, for an insurance company, which was so happy with the building they asked Small to design a similar one in Chicago, destroyed in 2014. 3515 Glenwood was destroyed in March 2016. Details on both buildings here.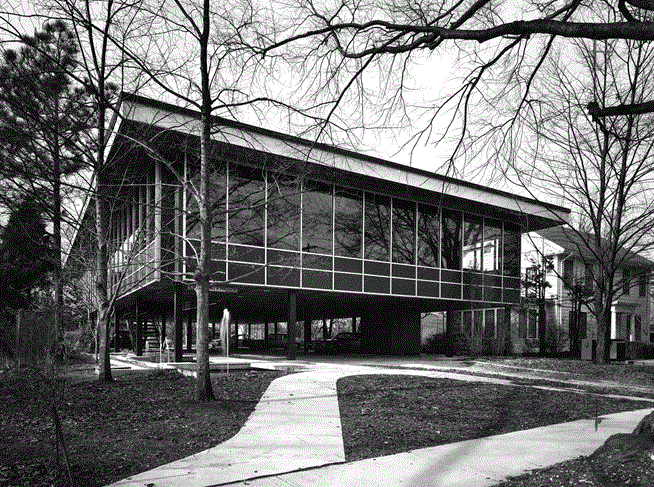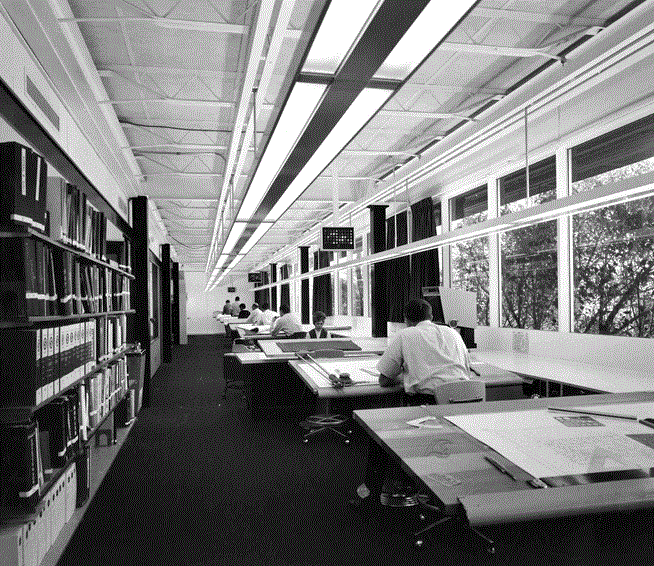 Small designed his own office at 105 Brooks Avenue, Raleigh. Still owned by the Small family as of 2018. Leased for offices.
---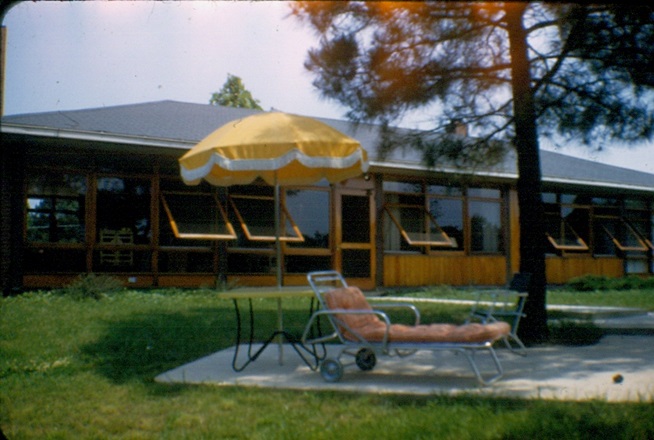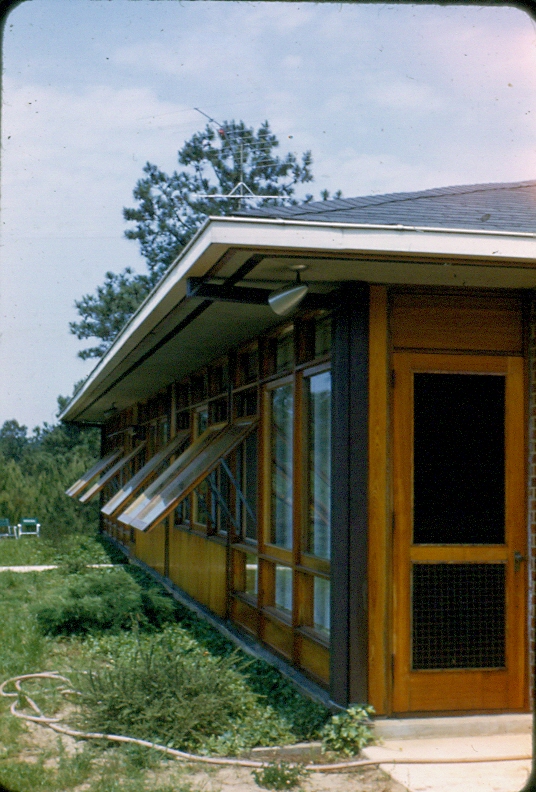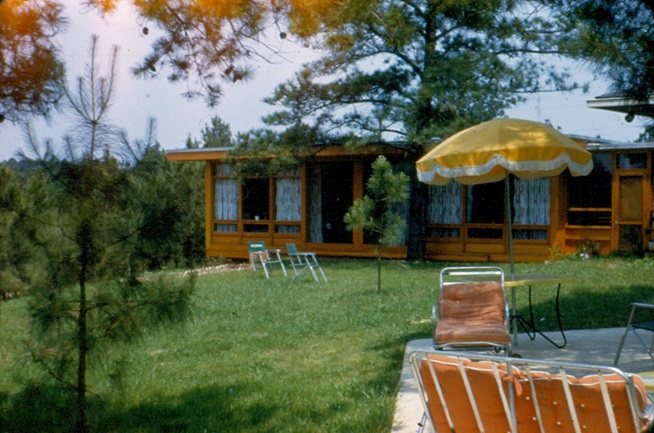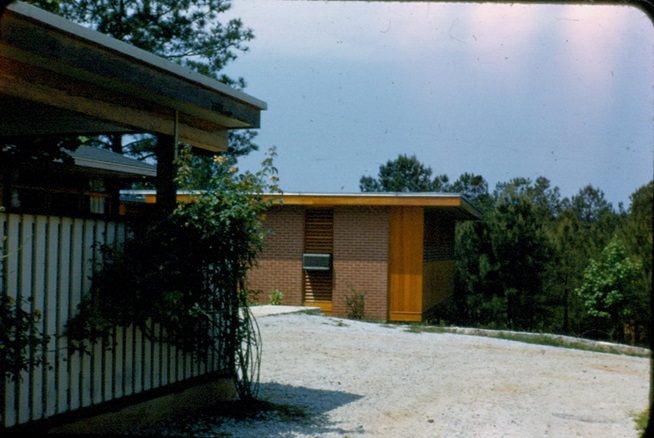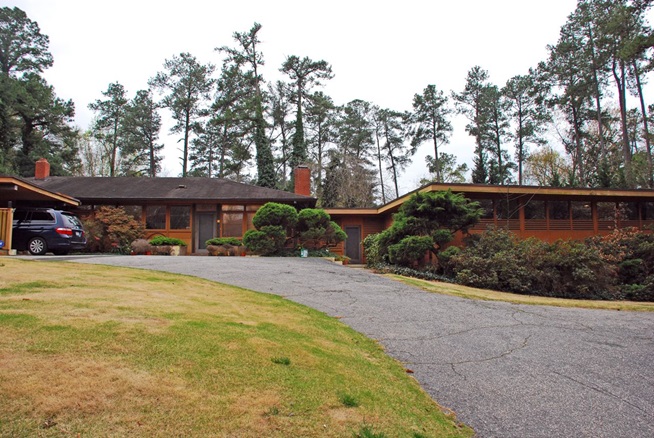 1951 - The Robert Rothstein House, 2337 Churchill Road, Raleigh. This house was Small's first residential commission after leaving William Deitrick's firm. Landscape architecture by Lewis Clarke. The house includes radiant heated floors.Davidson and Jones built the original house; Frank Walser built a separate wing around 1952 for Rothstein's mother and father. The Rothstein brothers would become big clients for Milton Small. Sold in 1977 to Grover and Jane Cauthen. Sold in 1985 to Adam Thomson. Sold in 2000 to Margaret Poyner Galbraith. Bottom photo by Leilani Carter.
---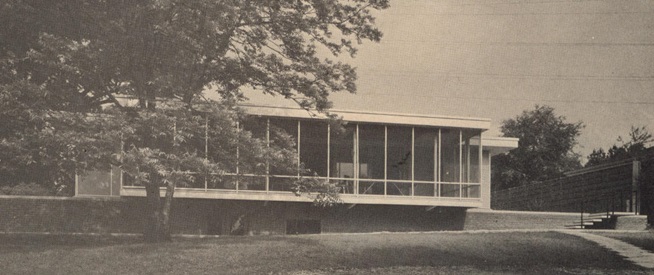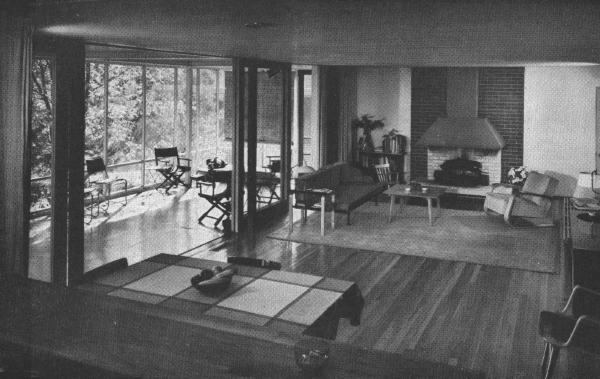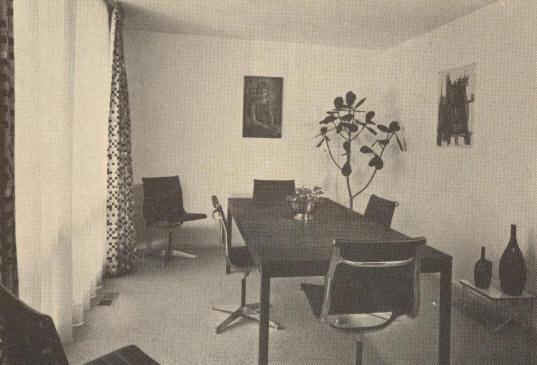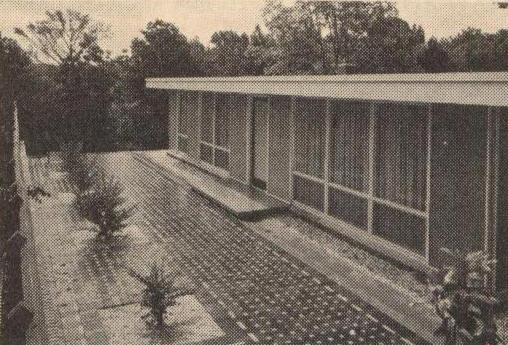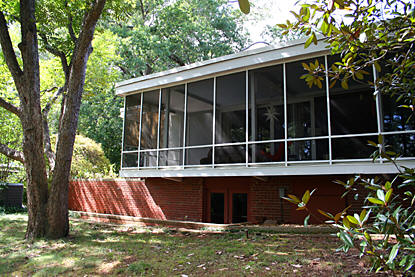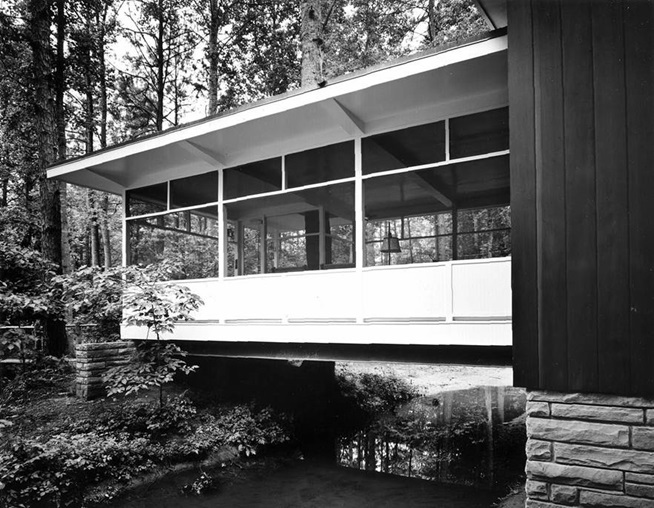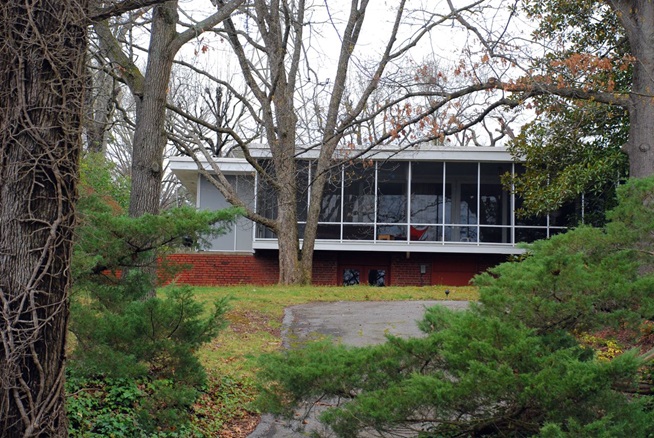 1951 – The George Milton Small, Jr. Residence, 310 Lake Boone Trail, Raleigh. Sold in 1990 to Parley Avery Salmon, still owner as of 2016. Built by Frank Walser. Appeared in Architectural Record in June 1954 and March 1966. B/W photos by Joseph Molitor. Middle color photos by David Hunt. Bottom photo by Leilani Carter.
---
1952 - The Ben W. and Mary Thompson Smith Residence, 700 Runnymede Road, Raleigh. A conventional design with some Modernist aspects. Sold in 1986 to Bennett and Snow Foy Roberts. Sold in 1987 to Surry P. Roberts. Sold to Donnell and Elizabeth Cobb in 1991. Sold to Paul and Teresa Hart in 1992. Sold in 1996 to Conley and Robin Hilliard. Sold in 2018 to Melissa Smith Richter and Thyra R. Smith.
---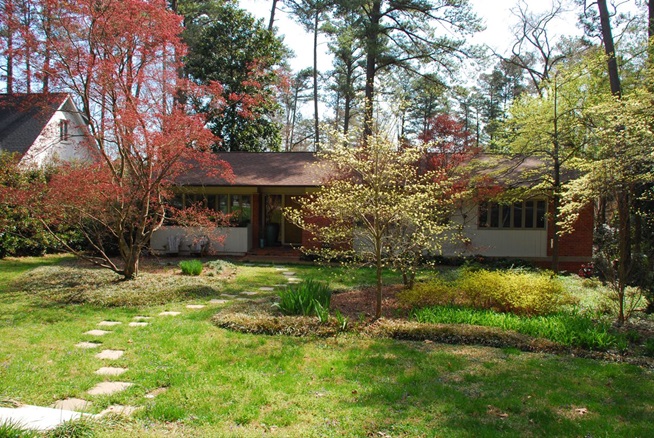 1952 - The Frank and Margaret Walser Residence, 3350 Alamance Drive, Raleigh. They never moved in as she didn't like the house. Sold to Claude Eury, Jr. in 1953. Sold in 1956 to James and Helen Rhodes. Sold to John and Beverly Manifold in 1976. Sold in 1997 to William Barnes and Ellen Kinsinger. Photo by Leilani Carter.
---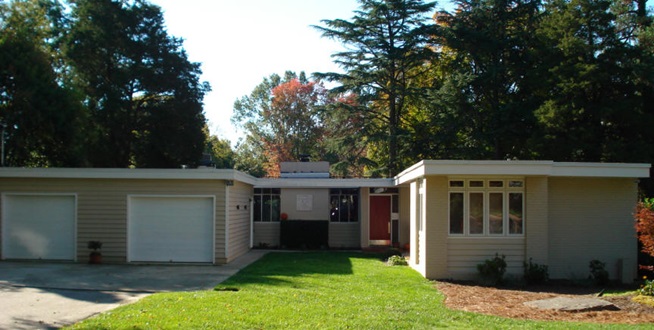 1953 - The Glenn and Flora Bowers House, 423 Chesterfield Road, Raleigh.Sold to Raymond and Emma Catlette in 1966. Sold in 1989 to Robert Hawkins. The garage was added on, date unknown. Sold in 1996 to Bob Langford. Sold in 2000 to Marilyn Miller-Fox. Sold in 2000 to Erik and Stacie Schreiner, still owners as of 2014. Photo by George Smart.
---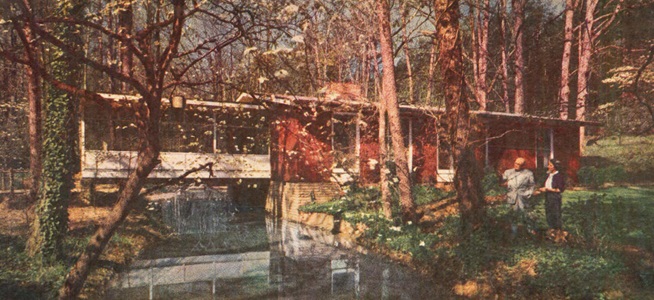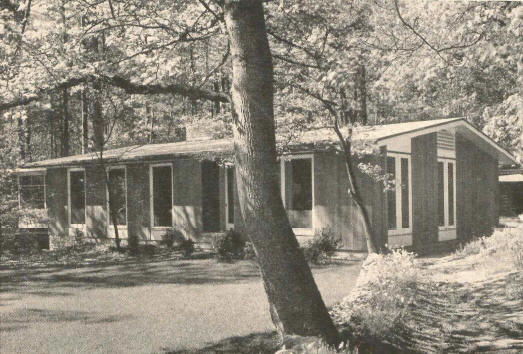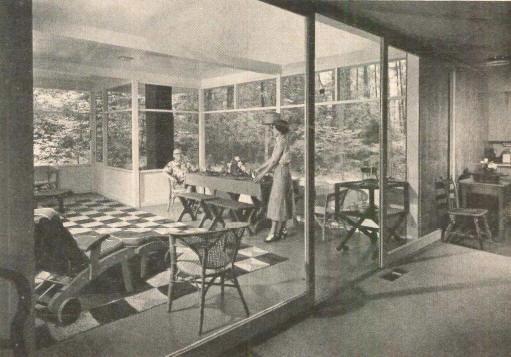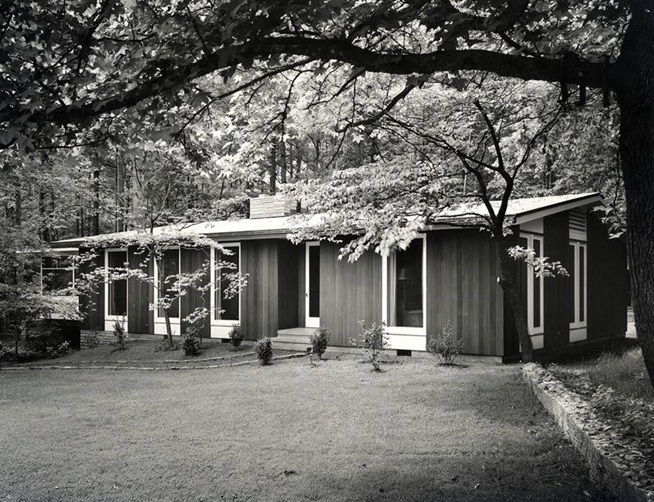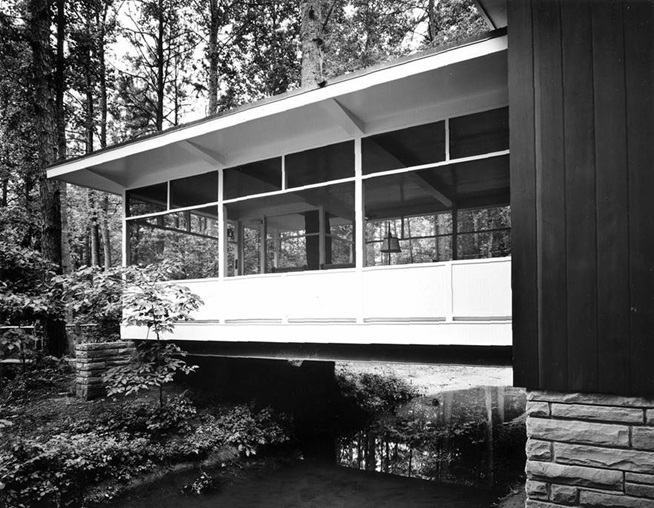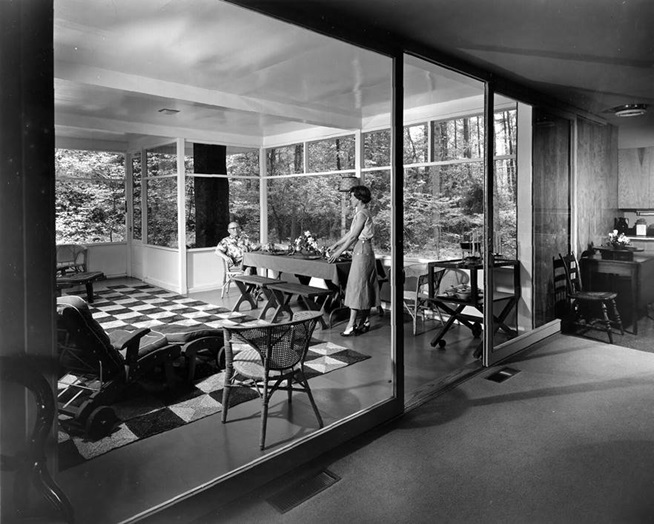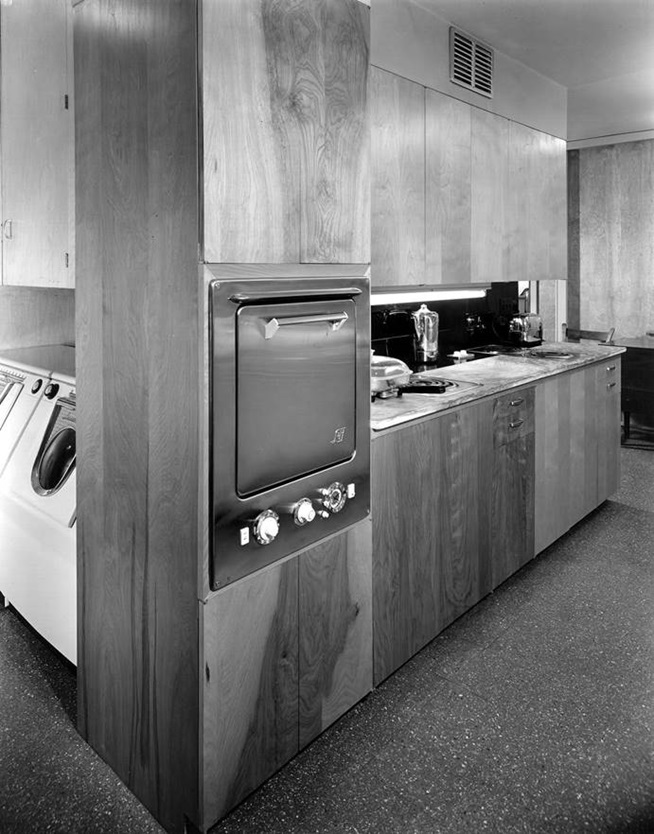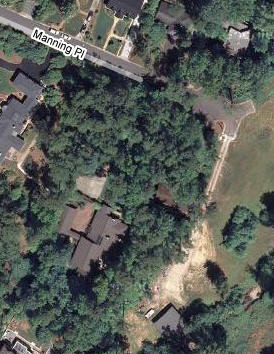 1953 - The Wade Columbus Lewis and Margaret Watts Lewis Residence, 2700 Manning Place, Raleigh. Uniquely built over a stream on what was the original Lewis Farm property. The house made the cover of a few magazines at the time, including Better Homes and Gardens, March 1957. Sold by Margaret Watts Lewis to nephew Richard Watts in 1995.Deeded in 1999 to Watts' Truswood Properties which also owns adjacent lots to the north.As of early 2008, it was being somewhat repaired but looked abandoned. Still standing as of 2017, occupied occasionally by Richard Watts.
---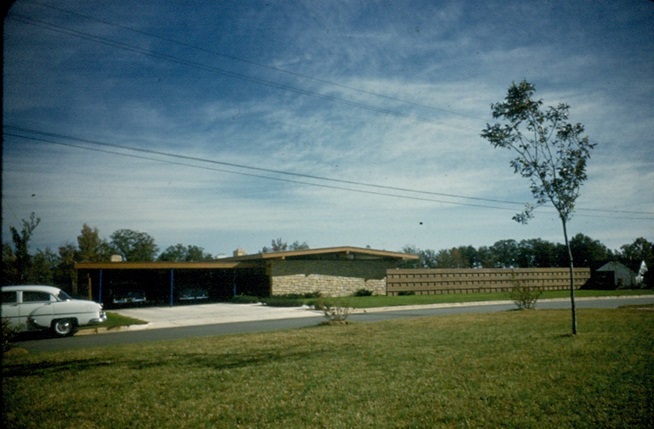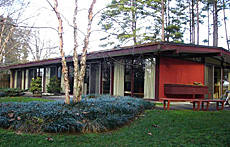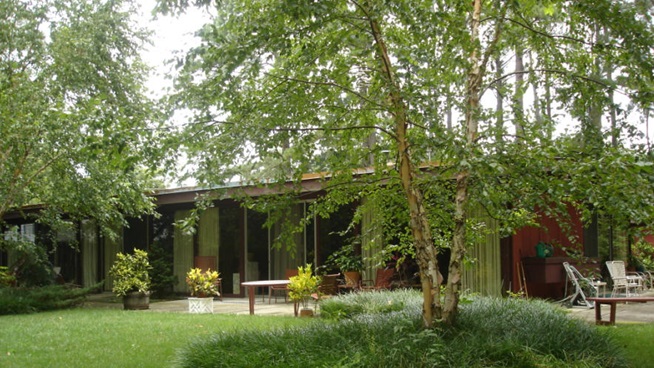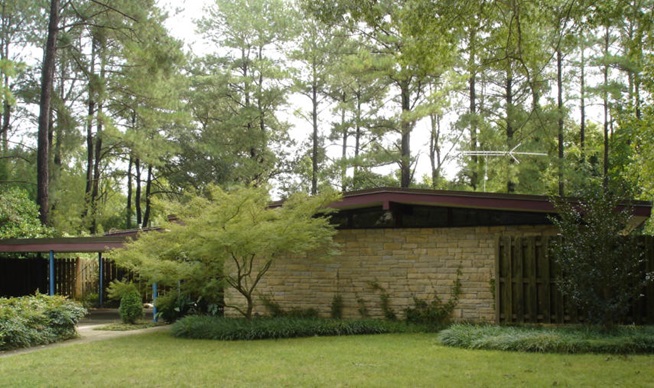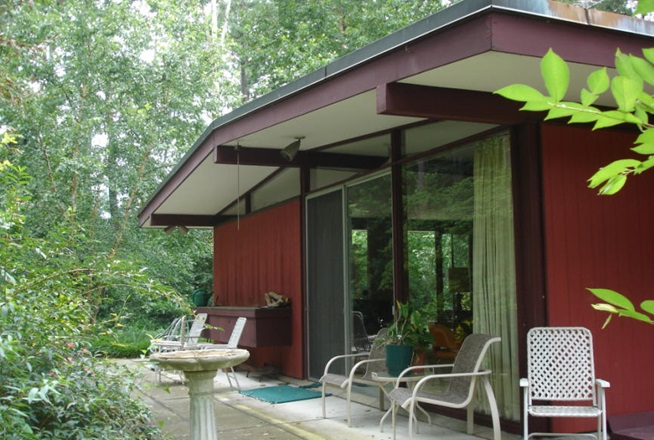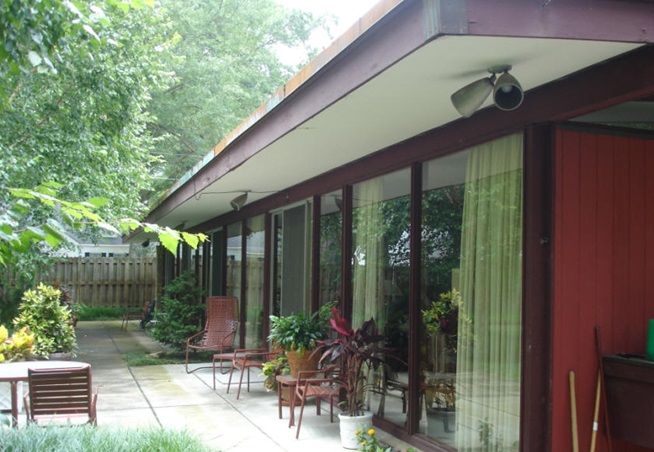 1954 - The Thomas and Lois Wheless House, 106 John Street, Louisburg, NC. 3 bedrooms, 2 1/2 baths. Sold by Preservation North Carolina in 2007 to Ken and Merry Ketterer. Photos by Preservation North Carolina.
---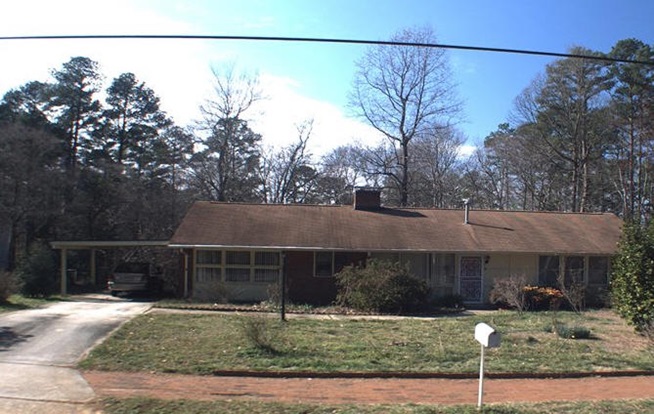 1954 - 1613 Ridge Road, Raleigh. Developed as a spec house by Lillian and Fred Ammons. Sold in 1954 to Joseph and Jessie Barnes. Sold in 1965 to Norman (Bart) Bartholomew. Sold to 1973 to Janet and Robert Howard. Sold in 1977 to Elton and Georgia Gullie. Sold in 1985 to Mohamed and Nadia Fikry. Deeded in 2008 to Nadia Fikry. Sold in 2015 to William and Margo Pitts. Destroyed around 2015.
---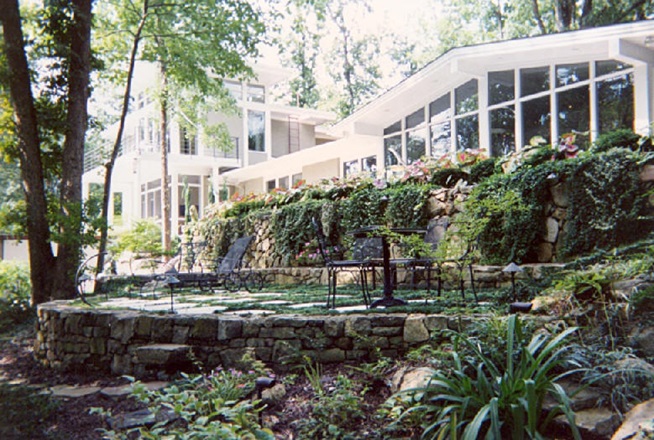 1954 - The Norval Neil and Ermina Luxon Residence, 27 Mount Bolus Road, Chapel Hill. Luxon was the newly appointed Dean at the UNC School of Journalism when he commissioned this house. First sold in 1992 to Timothy Isley and David Johnson who put in a two-story addition, shown above.
---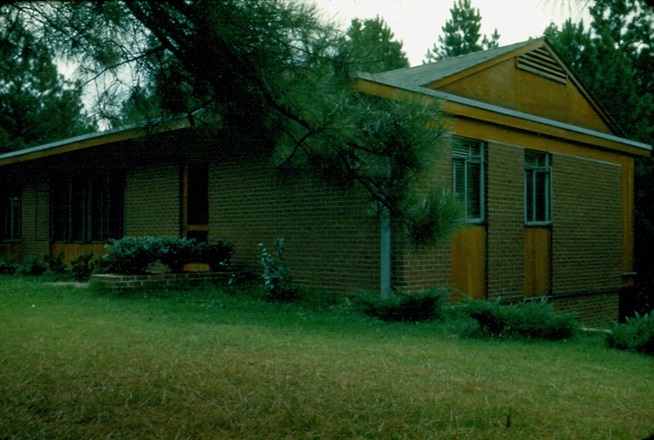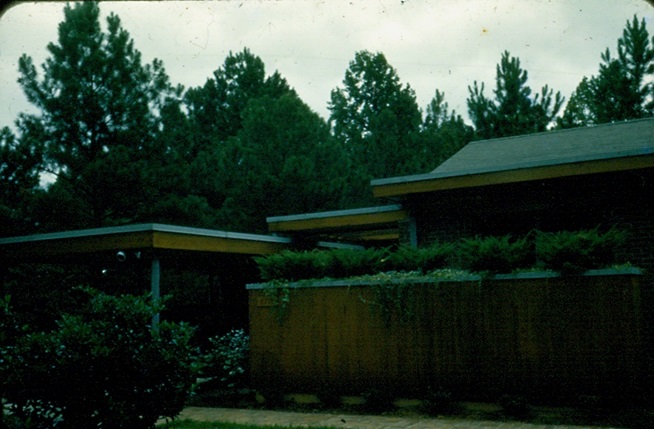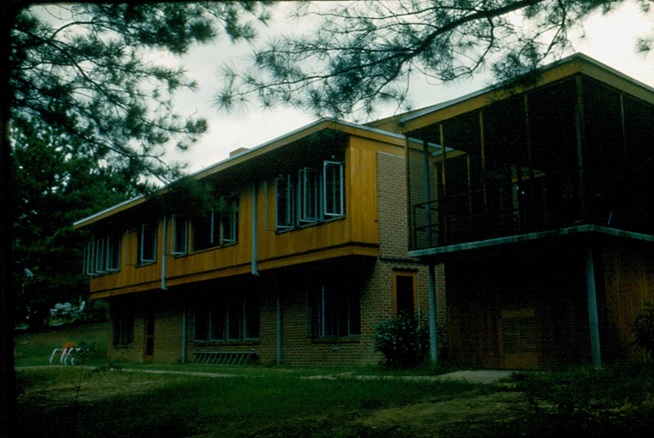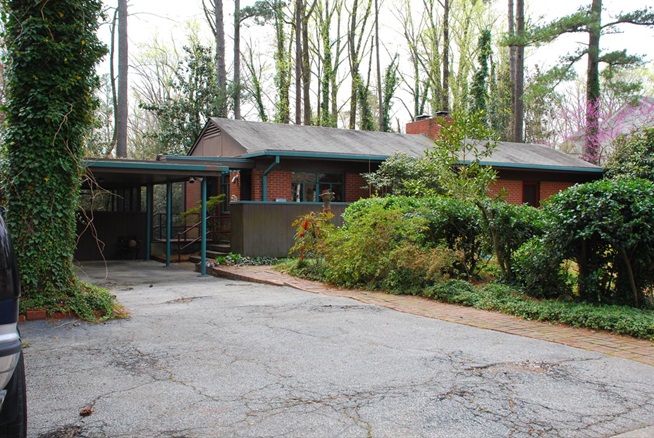 1954 - The Donald B. and Marian R. Anderson Residence, 2715 Rosedale Avenue, Raleigh. Sold to Arthur Clovis, Jr. in 1959. Sold to General Motors in 1966. Sold to Charles J. Nusbaum in 1966. Sold to Sallie Ricks in 1988, still owner as of 2015. Photos by Leilani Carter.
---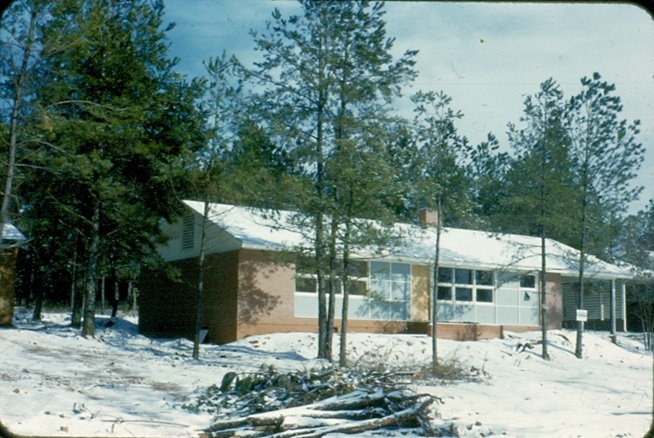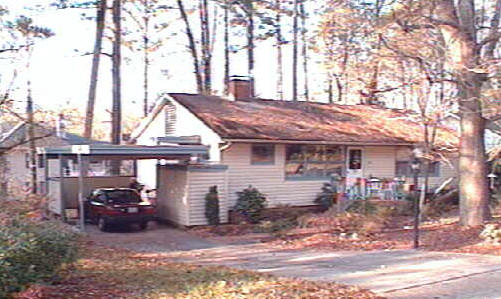 1955 - The Charles and Jane Richardson house, aka Five Star Plan 2706, 216 East Drewry Lane, Raleigh. Built by Frank Walser. Deeded in 1987 to Jane Richardson. Deeded in 2000 to Jane R. Richardson and Elizabeth R. Riddle Trustees. Sold in 2006 to Charles and Elizabeth Ladd Jr.
---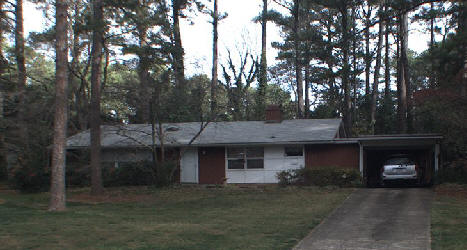 1955 - The Junius J. and Alma G. Andrews House, aka Five Star Plan 2706, 207 East Drewry Lane, Raleigh.Built by Frank Walser. Deeded in 1999 to Junius J. Andrews. Deeded in 2013 to the Junius J. Andrews Revocable Trust. Sold in 2014 to WR Partnership of Raleigh.
---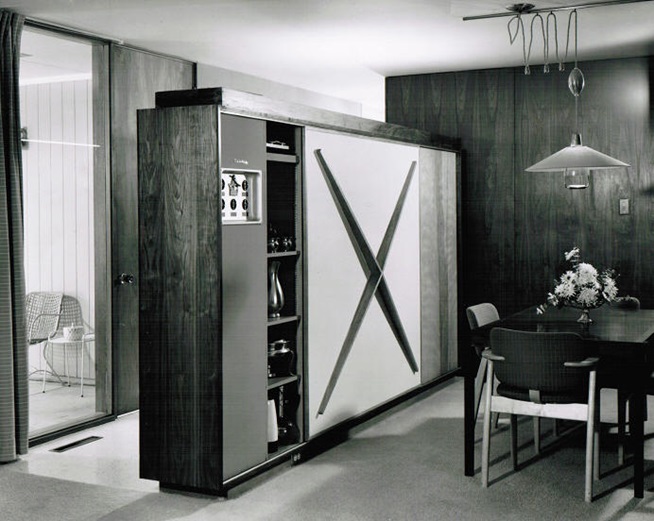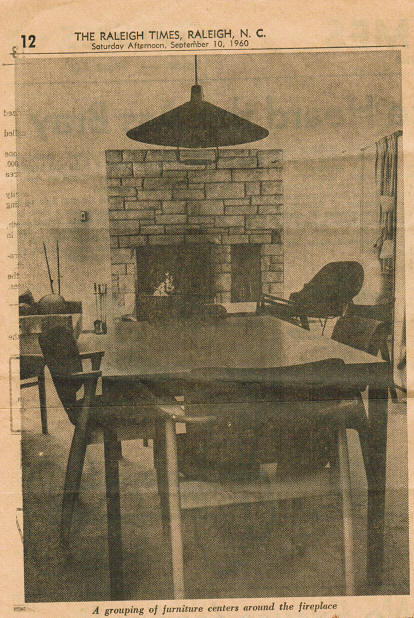 1956 - The Paul O. and Elsie Stahl Residence,3017 Granville Drive, Raleigh. This was a variation of Small's Celotex House 48. Deeded to their son and daughter-in-law, Paul and Carol Stahl, Jr., owners as of 2015. Declared a Raleigh Historic Landmark. Top photo by Leilani Carter; second by Lisanti.

Stahl House Report by MdM Historical Consultants.
---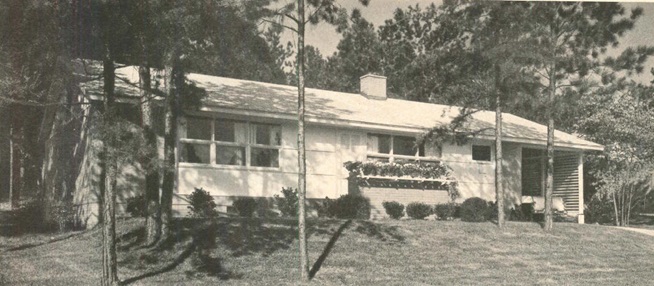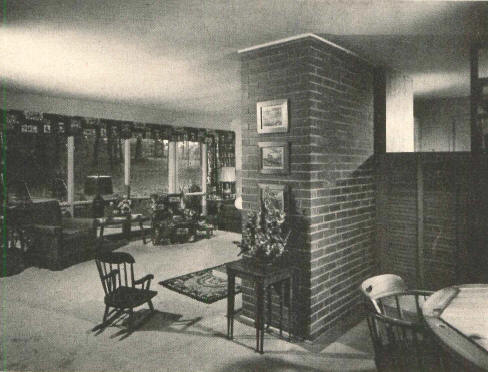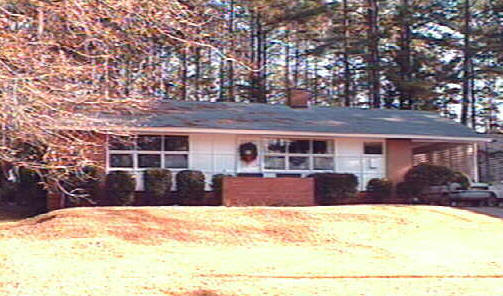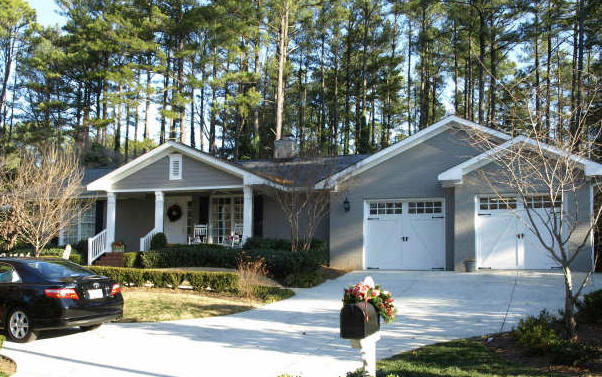 1956 - The Tom and Sue Briggs House, aka Five Star Plan 2706, 215 East Drewry Lane, Raleigh. 1328 sf. Built by Frank Walser. Dow Pender Jr. was the landscape architect. Featured in Better Homes and Gardens, June 1957. Sold to Frank and Dixie King, Jr. Deeded to their children, Frank III and Jane King Andrews. Sold in 1997 to John L. and Gwen D'Amelio. Most of the Modernist appearance was removed around 2000. Sold in 2001 to Clyde and Caroline Cheek III. Deeded in 2005 to Caroline Cheek. Garage addition around 2008. Sold in 2009 to Donald and Debra Hadley. Deeded in 2011 to Debra Hadley. Sold in 2013 to Brandon and Ivie Duckson.
---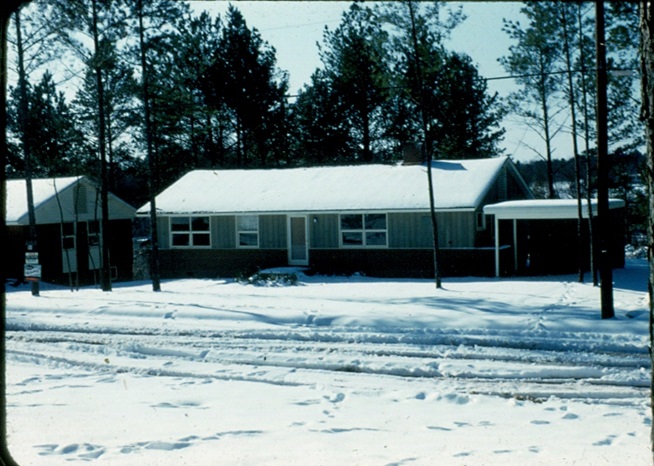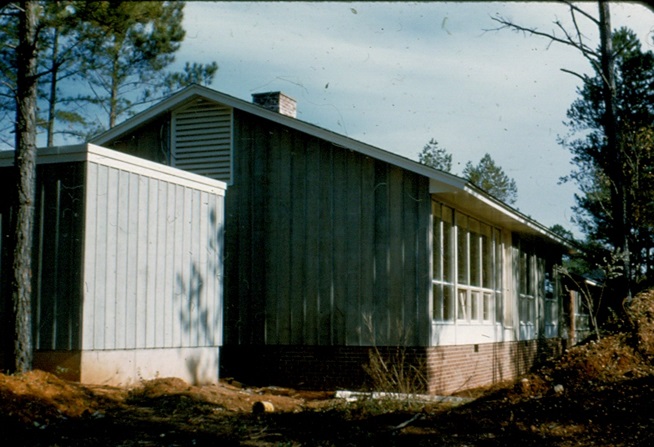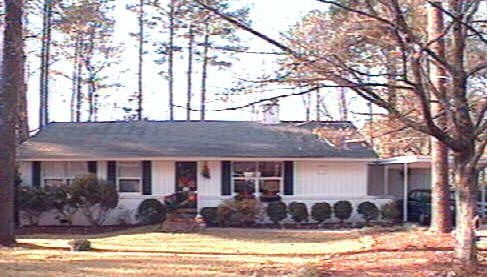 1957 - aka Five Star Plan 2706, 212 East Drewry Lane, Raleigh. Built by Frank Walser. Sold in 1979 to John Lloyd Watson, Jr. Sold in 1983 to G. Rhodes and Ann Craver. Sold in 1984 to Robert and Kathleen Christian. Sold in 1993 to J. Lee and Lisa J. Parker. Sold in 1996 to Samuel and Jennifer Fogleman. Sold in 2003 to Thomas I. and Kathleen Lyon. Sold in 2012 to John F. and Elizabeth M. Watson.
---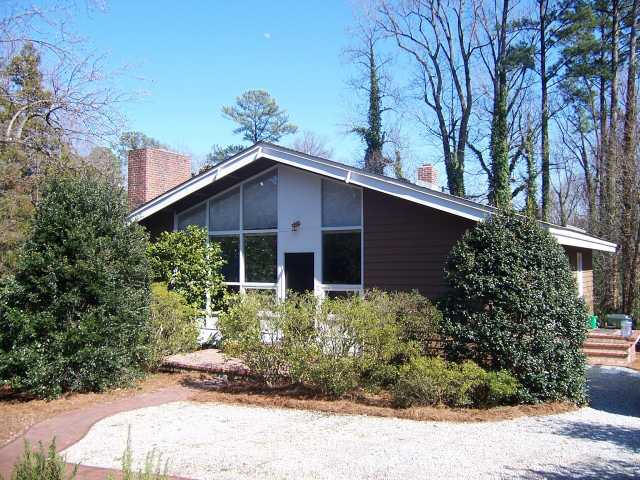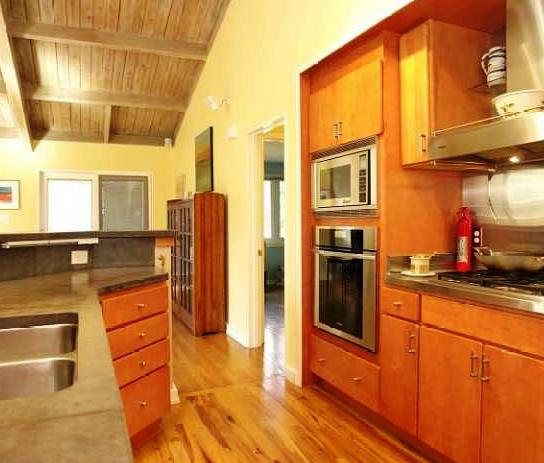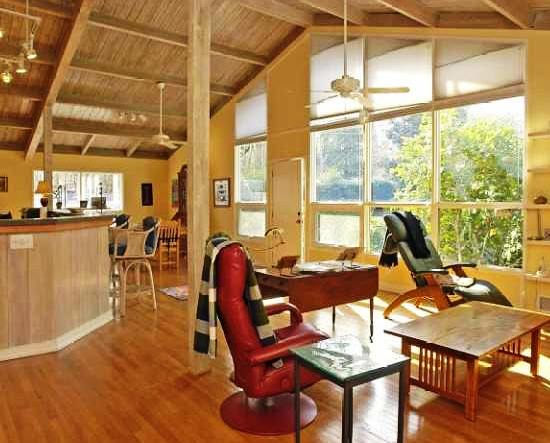 1958 - The Lillian Allen Residence, 2602 Cambridge Road, Raleigh. After her death it was sold to Carolyn and James McChesney in 1987. Bought by Charles M. Reeves III in 1988.Restored. Sold in 2011 to Matthew Steindl and Katherine Lehman. Sold in 2019 to Molly A. Stevens and Ashlee R. Lawson.
---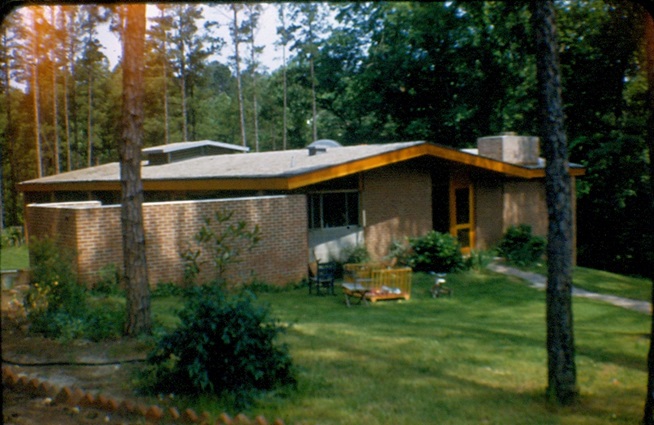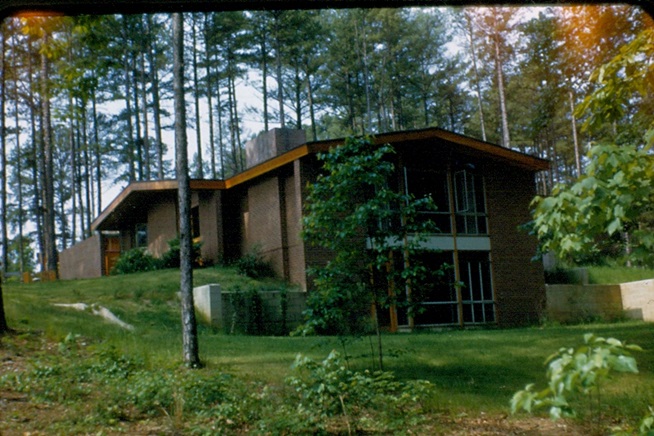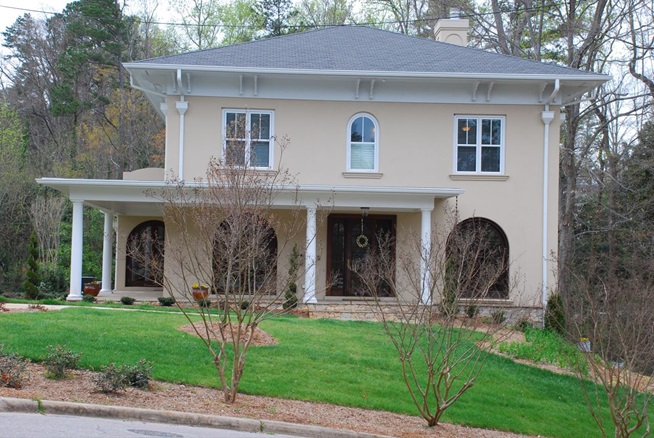 1958 - The Howard Manning Residence, 2100 and 2104 Banbury, Raleigh. Landscape design by Lewis Clarke. A house on two lots, top picture, now destroyed (bottom photo). The lots were recombined and sold to Thomas and Amanda Williams. Bruce Maness designed and built the new house, bottom photo by Leilani Carter.
---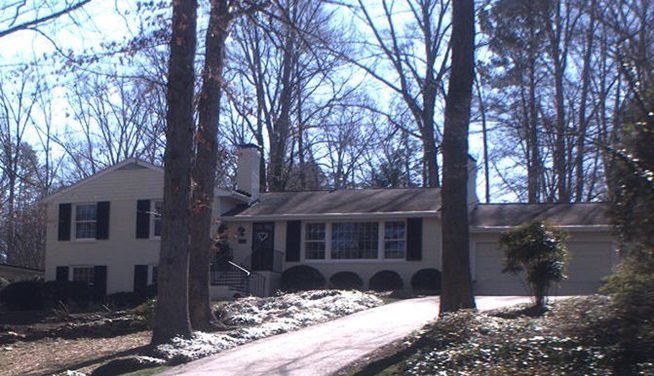 1958 - The H. Palmer and Sarah Edwards Residence, 525 Hertford, Raleigh. Sold in 1999 to Harold and Judith Blondeau. Sold in 2006 to Corey B. and Robert Turnage Monk III. Sold in 2017 to Martha Zaccaria and Timothy Bradley.
---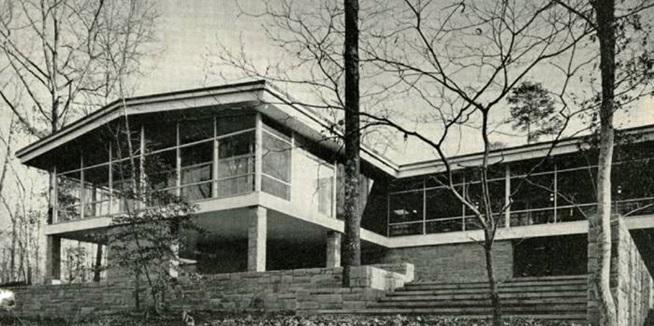 1959 - The Gregory Poole Residence, 2745 Lakeview Drive, Raleigh NC. Designed with George Matsumoto. Built by Frank Walser. Featured in Architectural Record, March 1960. During its heyday, it was the most striking residence in Raleigh, second only to the Catalano House. Destroyed and replaced by one of Raleigh's largest houses.
---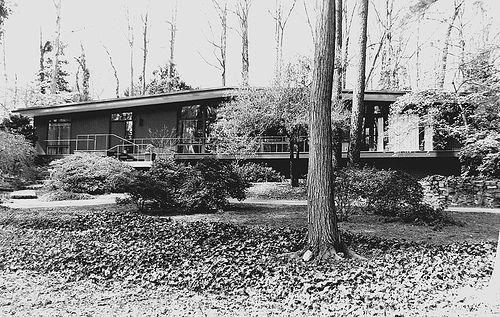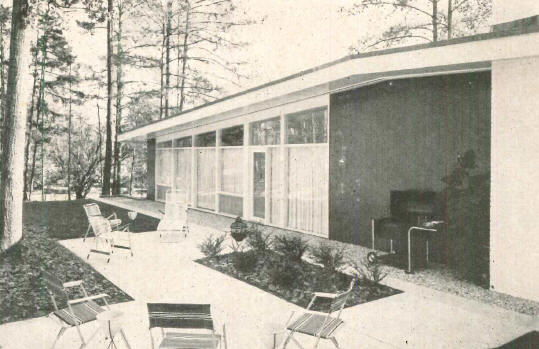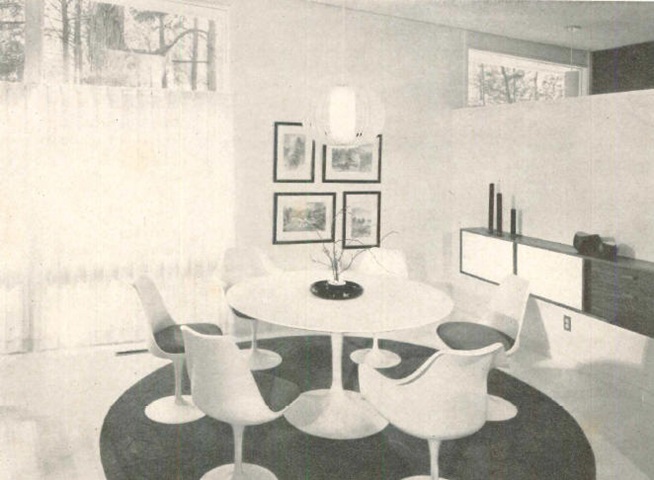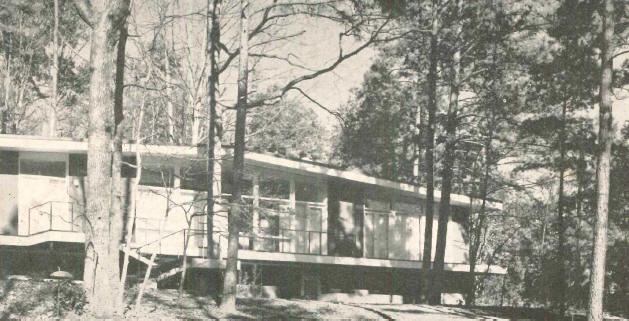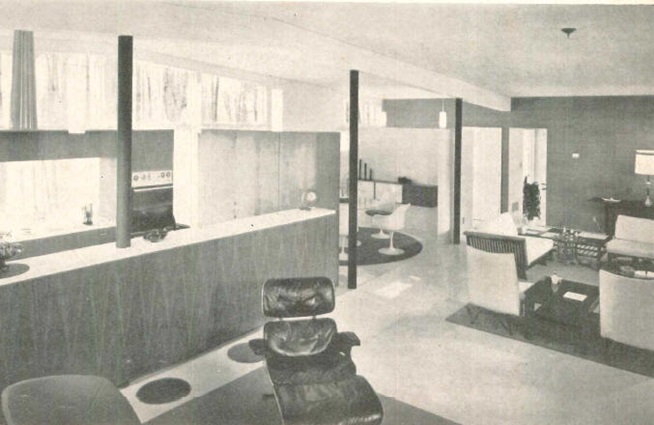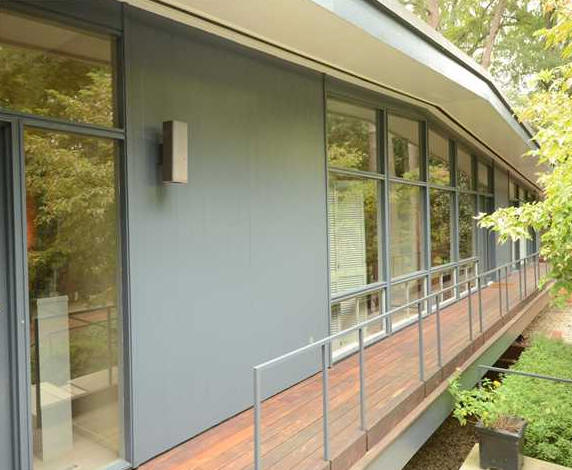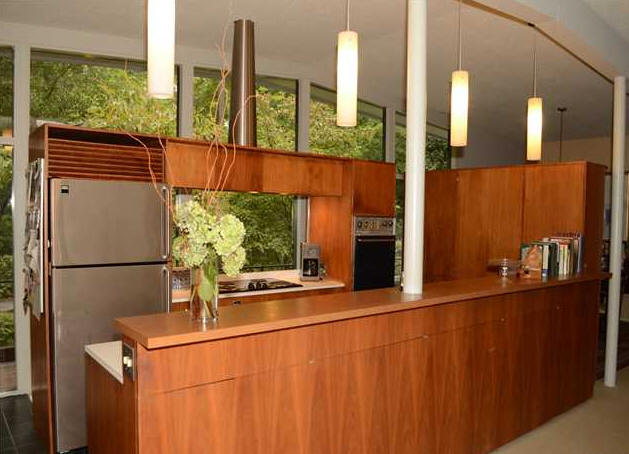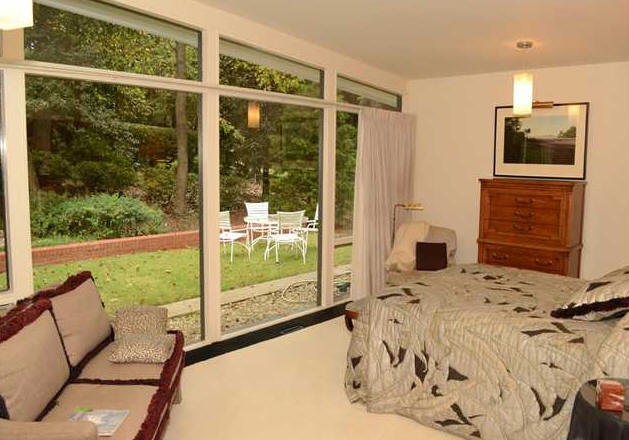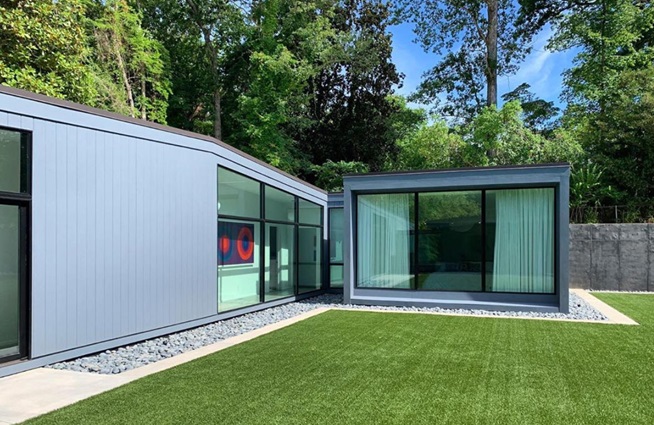 1959 - The Philip L. Rothstein House, 912 Williamson Drive, Raleigh.He was Robert Rothstein's brother. Designed with Joseph Boaz. Gene Brown worked on the project. Charles Williams was the mechanical engineer. Built by Frank Walser. B/W photos by Joseph Molitor. Featured in Architectural Record Houses of 1960. Won an AIANC Award in 1962. Sold in 1976 to the Crossland Company.Sold in 1979 to Alfred Williams III. Sold in 1981 to Marita Higgins Gilliam. Porch added in 2001. Sold in 2015 to Nathan and Anne Singerman, who did a renovation with HGTV's Love It or List It. 2019 major addition, bottom photo, designed by in situ studio, Matt Griffith and Erin Sterling Lewis; built by Neese Construction.
---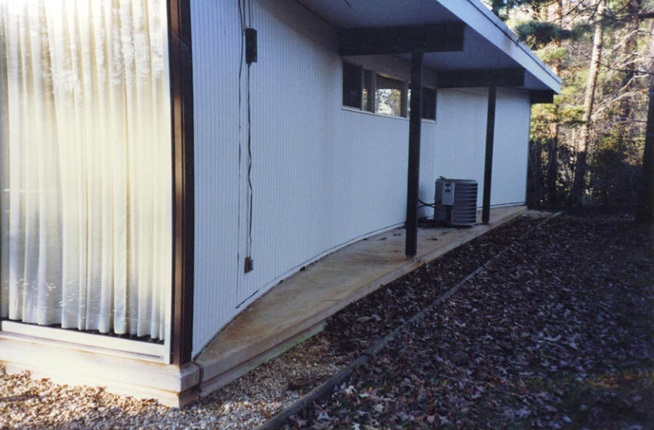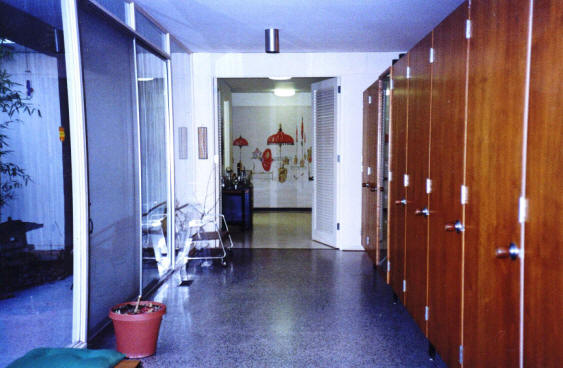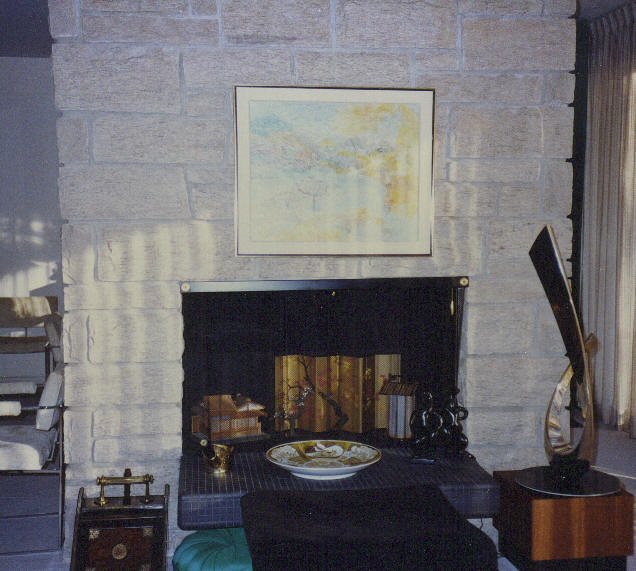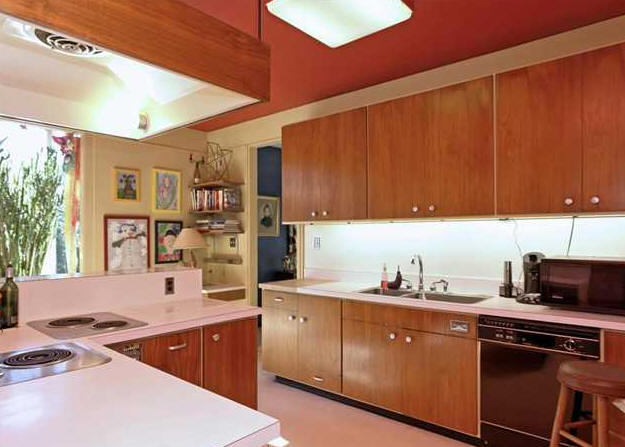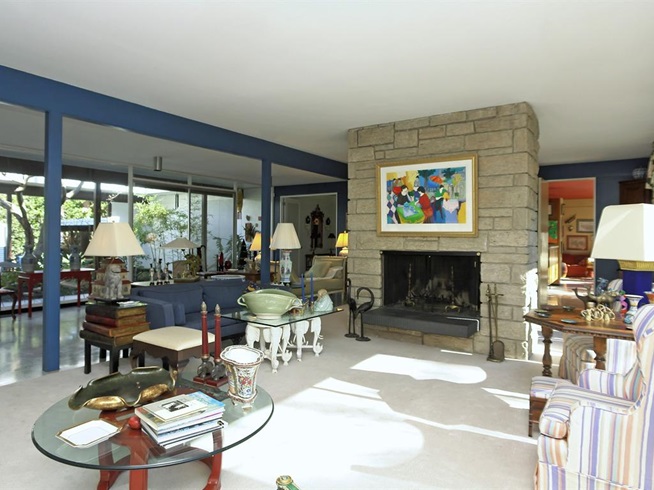 1962 - The Aland Sara Rothstein House, 2100 Barfield Court, Raleigh. Another Rothstein brother. Built by Frank Walser.Landscape design by Lewis Clarke. Sold in 1992 to Mary Martin. Older color pictures by Lyn Satisky, Al's Rothstein's daughter. Sold in 2013 to Rebecca Anne Goldman and Susan M. Orton. Sold in 2017 to Heidi A. and Joseph J. Schreiber.
---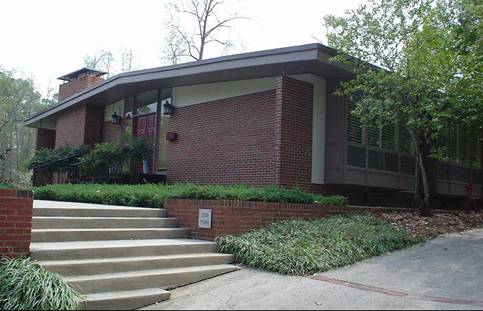 1962 – The Frank and Jean Anderson Jr. House, 2505 York Road, Raleigh. Anderson owned Sir Walter Chevrolet. Sold in 2002 to William (Harry) and Marsha Whyte. 3600 square feet. Landscape design by Dick Bell. Sold in 2012 to the Bryan Benton Family Trust.
---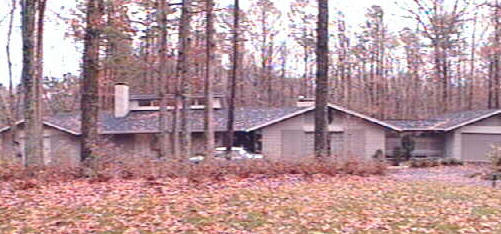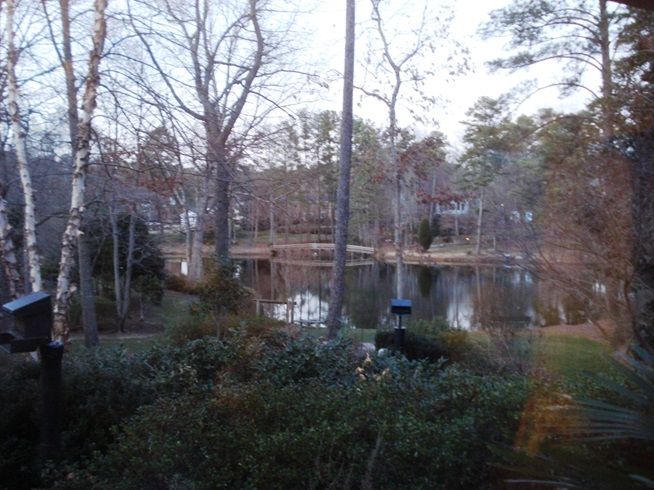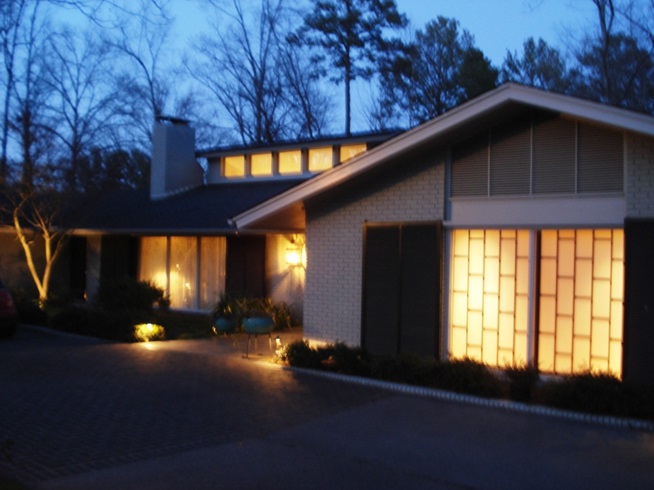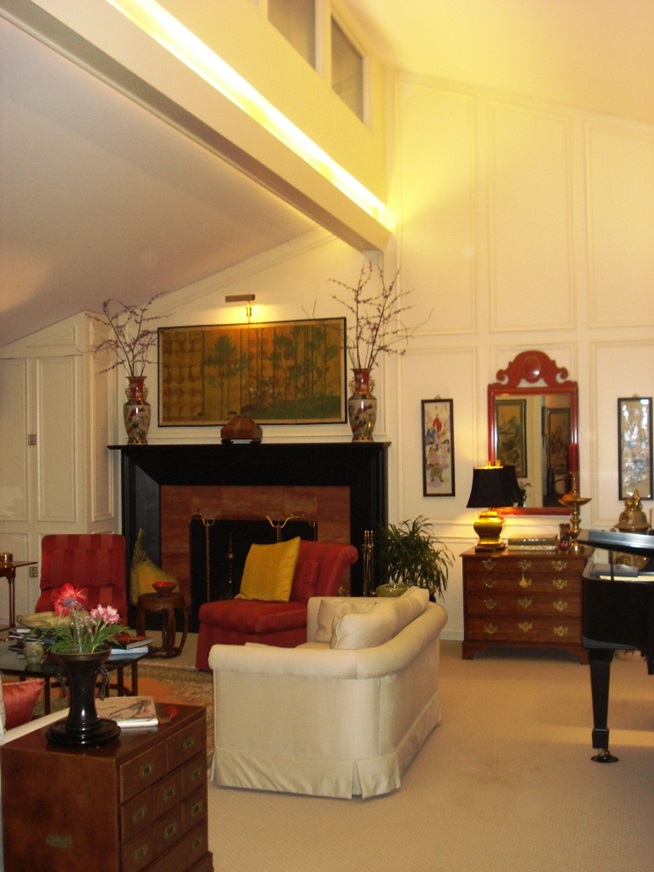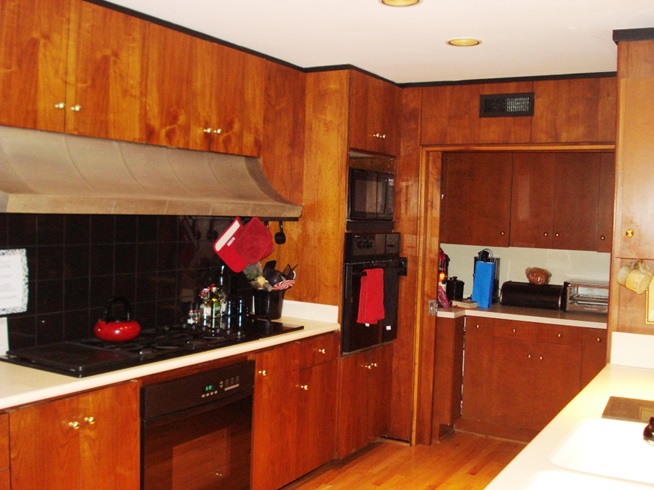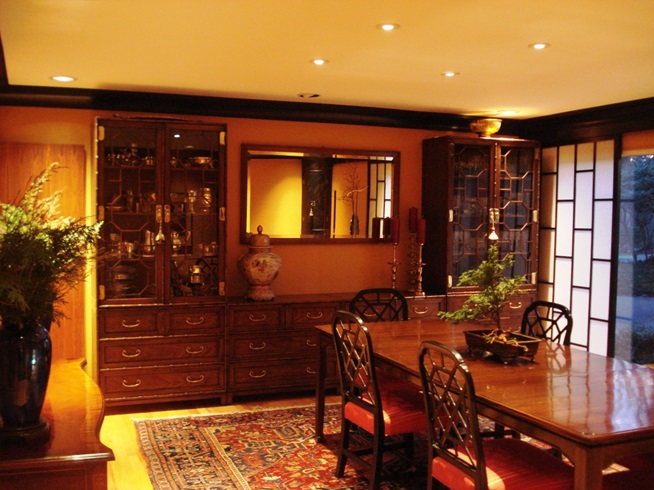 1963 - The Kenneth L. and Charlotte Johnson House, 3206 Sussex Road, Raleigh. Backs up to a small lake. Sold in 1994 to Robert and Carol Bilbro, Carter Williams' daughter. Mark Dickey at Williams' firm remodeled and raised the roof over the living room shortly after the Bilbro's bought the house. Featured on the TMH April 2009 Tour.
---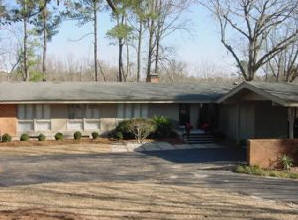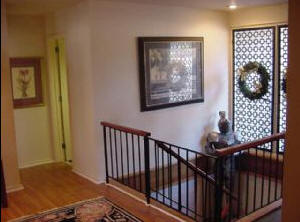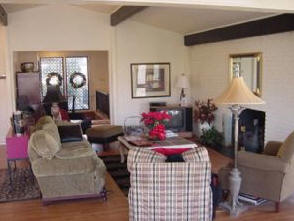 1964 - The Leonard Asher Edwards Residence, 301 Glen Oak Drive, Goldsboro NC. Landscape design by Lewis Clarke. Construction by Robert Helms. The kitchen cabinets, study paneled walls and book shelves, wet bar, etc are solid walnut. Edwards' son, Eddie, recalls moving in when he was seven years old. He remembers making trips to Raleigh to meet Milton Small at both his office and home on Lake Boone Trail. "I recall Mr. Small being adamant that the wood grains consistently match from one cut to the next. Additionally, I remember the builder did not use the specified thickness for flagstone flooring. Mr. Small made the builder tear out the flagstone and replace it with the proper thickness. The exterior siding was imported from Belgium. It took a little over a year to construct the house and the cost in 1963 was $117,000." Sold in 1979 to Samuel Samuelson. Sold around 1997 to Mike Pate. Sold in 2013 to Alicia L. and William J. Artis.
---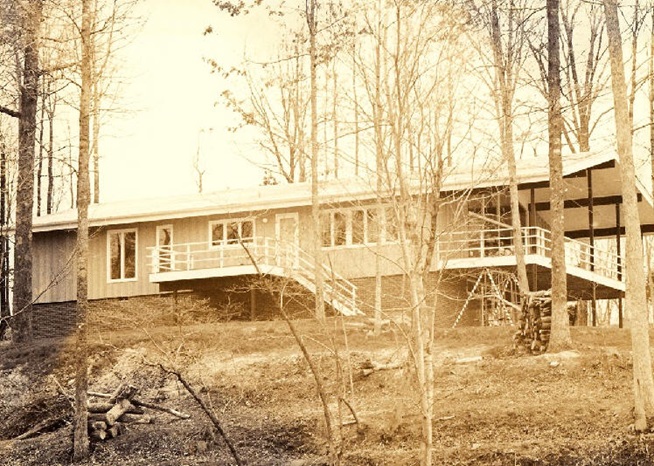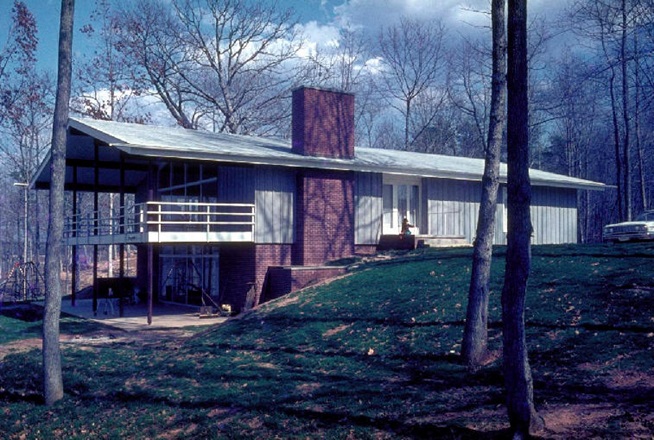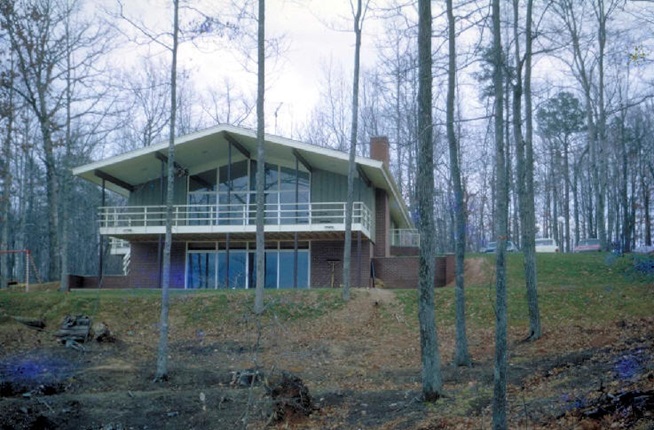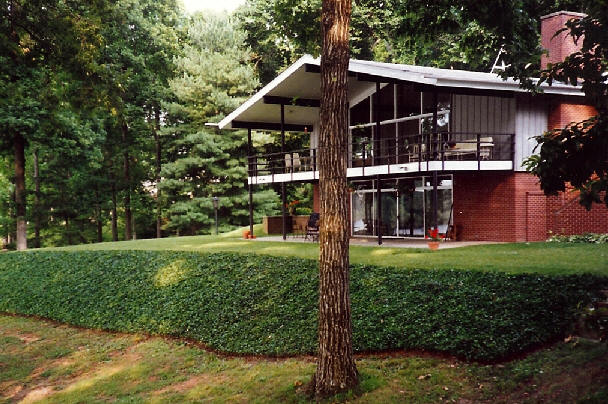 1964 - The Edmund C. Glover III Residence, Rock Hill Road, Route 2 Box 173M, Clarksville VA. The clients got Small's name from the Yellow Pages after being referred by a friend in Raleigh. A garage and breezeway were added in 1989. Sold in 2004 to Frank Vance. Located in the Prestwould subdivision on Bluestone Creek. Jim Brandt supervised construction. Landscape design by Lewis Clarke.
---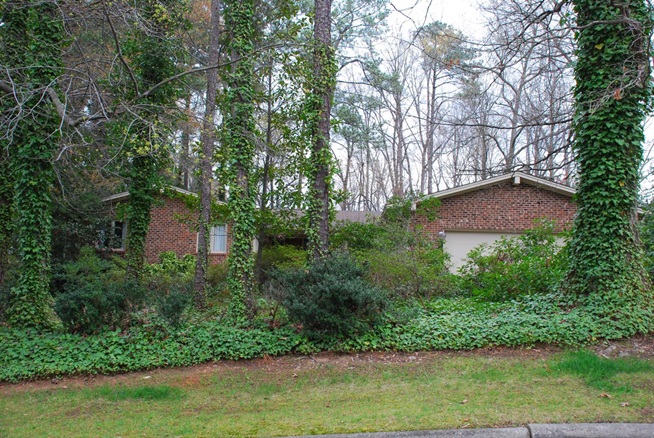 1966 - The Percy and Idell McElrath Residence, 3910 Stratford Court, Raleigh. Bought by Frank Beacham, Jr. in 1969. Sold in 1970 to Newton and Betty Griffin, who still owned it as of 2013.
---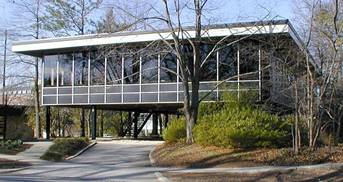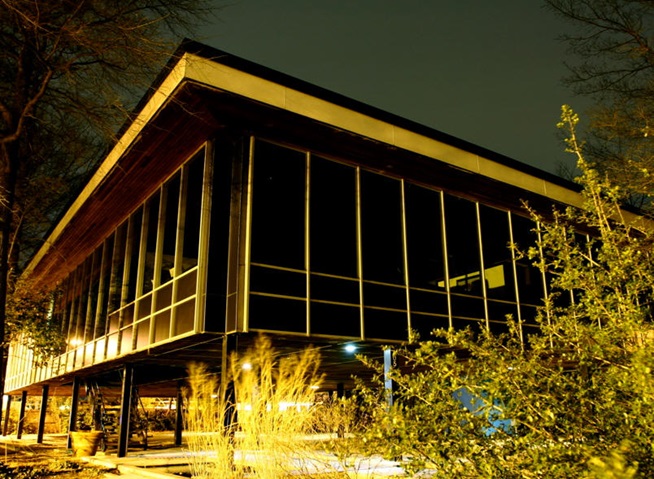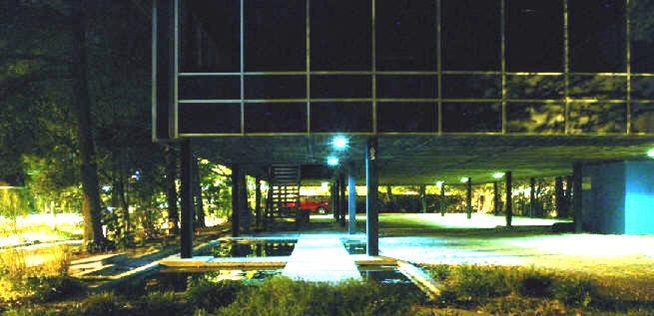 1969 - Small's first office was on Tucker Street. His second office at 105 Brooks Avenue is strikingly similar to his house. Landscape architecture by Lewis Clarke. Limited by growth, the firm moved out in 1999 to its third office on Glenwood Avenue, one of the Great American Insurance Company buildings the firm designed.
For a time, the Brooks Avenue office was occupied by HR Associates PA, the successor firm from John Holloway and Ralph Reeves. As of 2016, still owned and rented out by the Small family. The photos, taken by John Morris, show off the koi pond.
---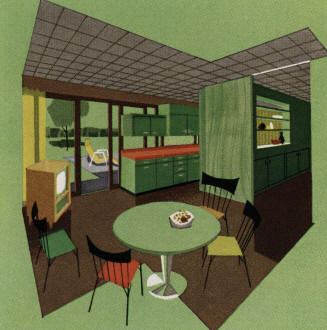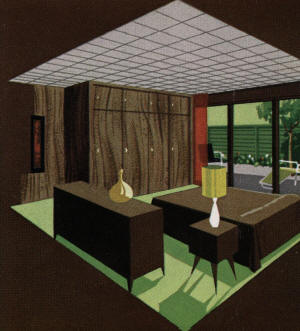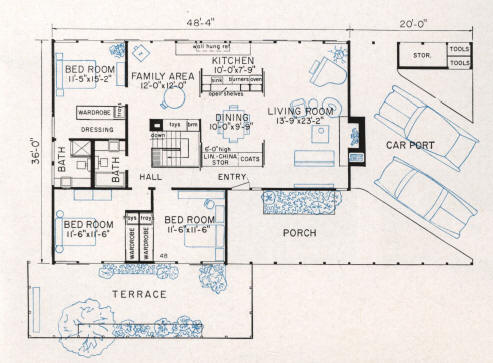 Year unknown - aka the Celotex House, featured in the Celotex Book of Today's New Homes. None were built, as far as we know. View the book here.
---
Sources include: G. Milton Small Jr. Papers at NCSU, Obituary for June V. Small, Tim Isley, Edwin Friedberg, Lyn Satisky, Obituary for G. Milton Small, Jr., National Park Service, AIANC, Wheless Family Archives at NCSU, History of The North Carolina Chapter of the AIA 1913-1998: An Architectural Heritage by C. David Jackson and Charlotte V. Brown, Dick Rice, son G. Milton Small III, former employee James Brandt.